No one even comes close to the impact Anil Kumble has had on Indian cricket, when it comes to winning matches and series, say Aakash Chopra and Impact Index.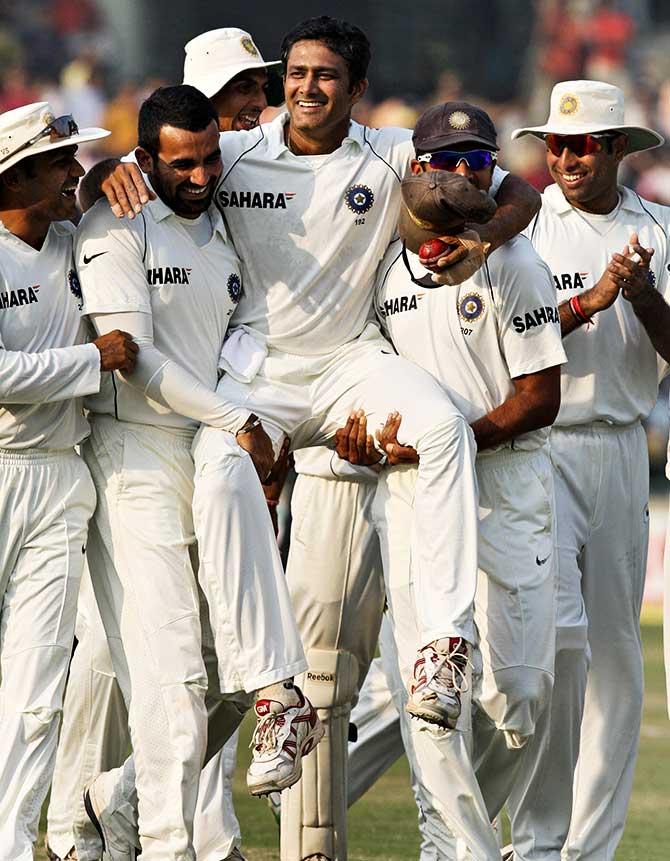 IMAGE: Captain Anil Kumble is chaired by his team mates during the last day of the third Test between India and Australia at the Feroz Shah Kotla stadium in New Delhi, November 2, 2008.
Kumble had announced his retirement from Test cricket with immediate effect.
Photograph: Prakash Singh/AFP/Getty Images
India is a batting country.
The biggest cricket stars are batsmen or those remembered for their batting.
And yet, no one even comes close to the impact Anil Kumble has had on Indian cricket, when it comes to winning matches and series. It seems fitting to begin this with India's highest impact Test cricketer of all time, who was also India's most successful bowler.
Anil Kumble is the third highest wicket taker in Test history, but is often regarded in a league below the two above him -- fellow spinners Muttiah Muralitharan and Shane Warne.
Some say he took fewer wickets per Test, others that his away record is weak.
While that is what conventional stats suggest, it is not the full story at all.
In the 139 years of Test cricket so far, Kumble is the seventh highest impact Test bowler of all time (minimum 50 Tests) after Muttiah Muralitharan, Dennis Lillee, Malcolm Marshall, Shane Warne, Richard Hadlee and Dale Steyn.
He is the 10th highest impact top/middle-order wicket taker, after Muralitharan, Lillee, Allan Donald, Glenn McGrath, Marshall, Steyn, Hadlee, Alec Bedser and Jeff Thomson.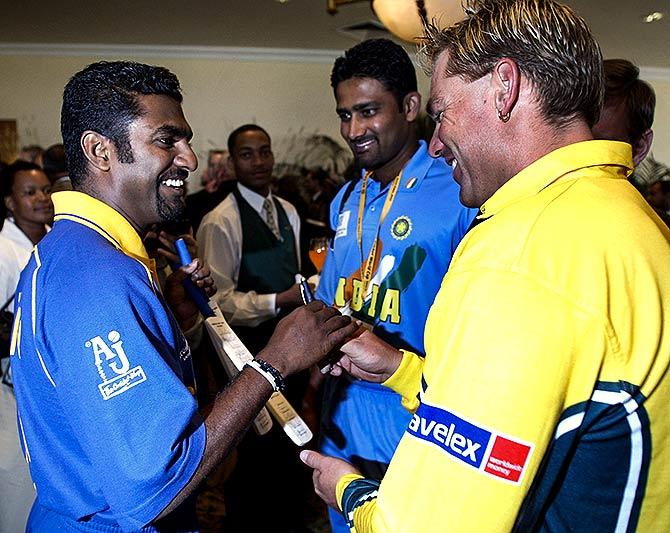 IMAGE: Sri Lankan spin-bowler Muttiah Muralitharan, Australia's Shane Warne and India's Anil Kumble sign souvenir bats at the official welcoming ceremony before the cricket World Cup in Cape Town, February 8, 2003. Photograph: David Gray/Reuters
Aakash Chopra (former Indian cricketer, commentator, columnist, author): So, except Muralitharan, every one of these bowlers is a pacer. And Muralitharan was one of the two bowlers Sri Lanka had; he was bowling from one end early on anyway, and probably bowling 50 per cent of the overs.
For 80 per cent of his career, he was the only dangerous bowler for Sri Lanka.
It was never like that with Kumble -- he was never a lone ranger. There were (Javagal)m Srinath and (Venkatesh) Prasad, (Rajesh) Chauhan and (Venkatapathy) Raju, and later Zaheer Khan and Harbhajan (Singh) -- essentially, other wicket takers to share the numbers.
For Kumble to be on a list like this means a lot more.
It is the fast bowlers who pick up top/middle-order batsmen, not spinners, which only makes his record all the more remarkable.
Kumble is also the fourth highest impact lower-order wicket taker, after Muralitharan, Warne and Steyn.
Aakash Chopra: India always had a problem with the tail.
It takes a special skill to get the tail out cheaply before it wags. Kumble was that kind of a bowler.
In fact, since Kumble has left the scene, India has had this problem again.
That he is so high in Test history in this respect is a significant fact.
He is the second highest partnership-breaking bowler in Test cricket after Alec Bedser.
Most significantly, he has the second highest number of series-defining performances (SDs) in Test cricket history. Muralitharan has 10, Kumble has nine.
One of Kumble's nine SD performances is actually for an all-round performance so, when it comes to just bowling, Kumble and Warne are level on that count.
This means that Kumble is actually the biggest series winner in Test cricket history after Muralitharan -- that's Test cricket royalty.
It gets more interesting.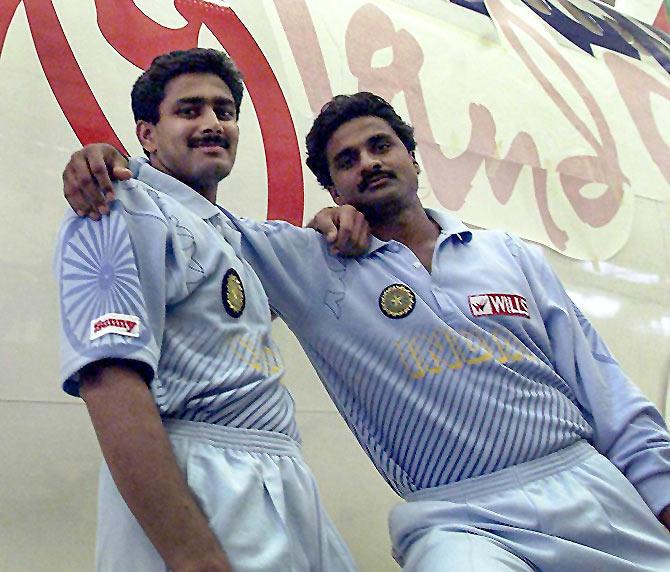 IMAGE: Anil Kumble and Javagal Srinath with an Emirates Airline Boeing 777 decorated with ICC cricket World Cup England 1999 livery, April 10, 1999. Photograph: Reuters
Mediocre traveller?
Anil Kumble took 619 wickets in 132 Tests at an average of about 29.6 apiece.
Outside India, he took 269 wickets in 69 Tests at an average of about 36 apiece. This difference in away conditions has been used to temper the greatness ascribed to him.
After all, Muttiah Muralitharan averaged 28 in away games, Shane Warne 25.5, Daniel Vettori 32, Lance Gibbs 29, Derek Underwood 27 and Graeme Swann 31.5.
Aakash Chopra: All of them, except Muralitharan, got better conditions to bowl in abroad (for a spinner) than at home -- it was the subcontinent that posed away conditions for them.
Kumble, on the other hand, travelled to conditions which were less friendly to spinners.
The Holy Trinity of Indian spinners from the 1960s and 1970s fared better too, but not by much -- Bishan Bedi averaged 34, B S Chandrasekhar 33 and E A S Prasanna 34 in away conditions.
In this company, only Harbhajan Singh has been worse than Kumble abroad, with a bowling average of 39.
Therefore, despite being the third highest wicket taker in Tests after Muralitharan and Warne, Kumble has never been truly considered to be in their league.
But it is worth asking: What is the objective of competitive sport if not to dominate as a team, both home and away?
Fine, India in the 1990s were a poor travelling team, winning just one Test series outside India. But what about what they did in India?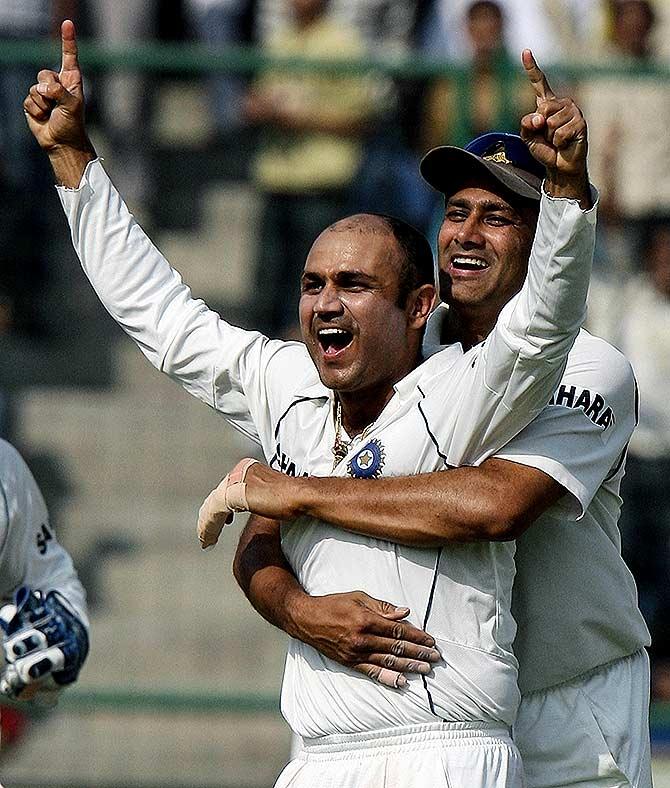 IMAGE: Virender Sehwag and Anil Kumble celebrate Cameron White's wicket during the third Test between India and Australia at the Feroz Shah Kotla stadium, November 1, 2008. Photograph: Prakash Singh/AFP/Getty Images
Uncompromising at home
The fact is, India did not lose a single Test series at home in that entire decade.
How is that significant? Let's see.
Only three other Test teams have managed to do that after the Second World War: Australia in the 1960s, Pakistan in the 1970s (interestingly enough, although Australia and the West Indies, the two best teams, did not visit them) and, unsurprisingly, the West Indies in the 1980s.
Even Australia's alltime great sides in the 2000s could not accomplish this (they lost to South Africa in 2008).
Some indigenous fans and even experts called it winning on 'doctored pitches.' As if the pitch and toss were manipulated by India to favour their players at different times during the game. As if both sides did not get the same surface.
Aakash Chopra: If you give a flat pitch to a batsman, there is still no guarantee that he will score a century, even if he is the best batsman in the world.
But if you give a spinner-friendly pitch to Kumble, he won't just give you a five-wicket haul, he will win you a Test match. That's a huge thing.
Also, India did not play on doctored pitches during Kumble's time, not most of the time anyway.
India often scored 350-plus on the same pitches that the opposition batsmen were struggling on. If only one team couldn't bat, you cannot call it a doctored pitch. It was just a spin-friendly pitch, which you should expect in India.
People need to remember this.
India's unbeaten record in the 1990s set the standard for home performances in contemporary cricket. Even Steve Waugh, leading an all-time great Australian team to India in 2001, called it 'the final frontier'.
During this decade, Kumble was overwhelmingly the highest impact bowler in the world. McDermott, Warne, Akram and Muralitharan followed him.
The big differentiator was the six SDs Kumble got in this period, more than anyone else.
This is also why he was the highest impact Test cricketer in that decade, not just bowler.
He was the one who made India impregnable at home.
Aakash Chopra: Kumble was unplayable on pitches which had some bounce and on a day-four or day-five pitch.
No one ever has been quite as unplayable in those conditions, with so much consistency.
This very significant legacy is why, to date, Kumble is the second highest impact bowler in the history of Test cricket in home conditions.
It should not be hard to understand why Muralitharan is the highest impact: Sri Lanka has been a team very hard to beat at home. That said, they still do not have that unbeaten home series record in any decade.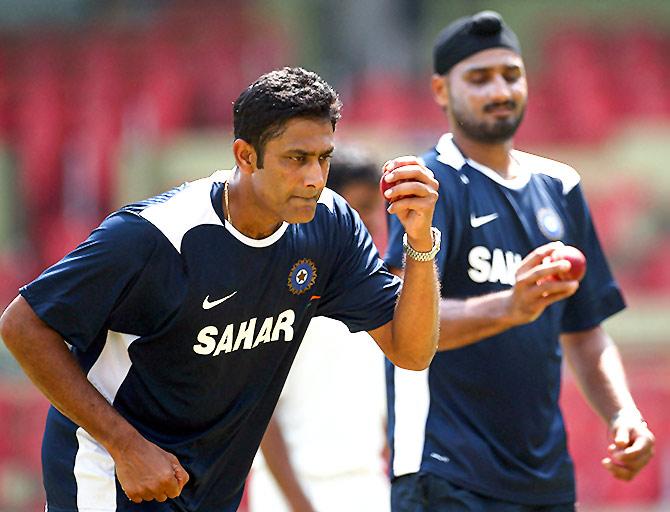 IMAGE: Anil Kumble and Harbhajan Singh during a training session at Bengaluru's M Chinnaswamy Stadium, October 7, 2008. Photograph: Michael Steele/Getty Images
Overseas conundrum
Kumble has always maintained that a big reason why his bowling (and Harbhajan's) was less effective abroad had to do with the non-performance of the batsmen, which put enormous pressure on the bowlers.
This was certainly true in the 1990s.
It is especially hard for spinners to lead a Test match abroad; the conditions usually work for them only in the second half of the game, by which time indifferent batting could have already put them on the back foot.
When that didn't happen, the bowlers were that much more effective.
Aakash Chopra: Obviously, when you play in Australia, England, South Africa and New Zealand, pitches are much more seamer-friendly on the first two days, and spin really only comes into the picture as a wicket-taking option on days four and five.
Unfortunately, the Indian batting was such in those conditions that matches didn't last that long. So, Kumble often did not even come into the game.
One thing that did go against Kumble in those conditions was that he did not deceive batsmen in the air, but off the pitch.
He was not like Warne or Vettori or Swann, or even Muralitharan to some extent. Muralitharan could spin the ball on a glass top, which was an ability Kumble did not have.
He did not turn the ball much, especially for a perceived legs-pinner, and that was a clear disadvantage. He had nothing going for him on day one and two of a Test which had nothing to offer.
Harbhajan, for example, still beat people in flight and, therefore, could have more of a say than Kumble in the first innings. Which is also why Ganguly preferred him over Kumble a lot of the time in overseas Tests.
An example of what Kumble was talking about manifested during India's tour of Australia in 2003-2004.
When India took the lead in the second Test, the pressure was on Australia and Kumble took five wickets in an innings in three consecutive Tests.
In the last Test, buoyed by India's total of 705, Kumble finished with 12 wickets, where Australia survived by the skin of their teeth (and a Steve Waugh special, playing his final Test innings).
If someone else had helped him a bit with the wickets (or had taken catches consistently behind the stumps), or had left him with more time to dismiss Australia, that would have been an overseas SD for Kumble (pushing him up even higher on the all-time list).
The lack of consistently successful fast bowlers abroad also set India back -- Javagal Srinath and Venkatesh Prasad notwithstanding. It led to a situation where Kumble was often the stock bowler, trying to contain scoring, instead of looking to take wickets.
The primary spin-off was another problem.
Indian batsmen did not appear to have sufficient experience against the rising ball, and this led to many an embarrassing collapse.
Having said that, here are the two occasions when Kumble provided India with two famous overseas wins.
IMAGE: Anil Kumble celebrates his 600th wicket -- that of Australia's Andrew Symonds -- during the third Test at the WACA stadium in Perth, January 17, 2008.
By achieving this record, Kumble became the third bowler in the history of Test cricket to claim 600 wickets.
Photograph: Prakash Singh/AFP/Getty Images
Vs Sri Lanka, Colombo, 1993
The only Test India won outside Indian shores in the 1990s.
After the Indian batsmen put up a substantial 366, Kumble's 5/87 resulted in a 112 run lead for India -- the crucial moment of the game.
He took 3 wickets in the second innings too as Sri Lanka chased a well-nigh impossible target.
Vs West Indies, Jamaica, 2006
Series level as the fourth and final Test began on a difficult batting pitch.
Rahul Dravid's brilliance in both innings saw India post totals of 200 and 171.
Harbhajan Singh (5/13) and Kumble (6/78) took charge in each innings to ensure India still won by 49 runs.
Significantly, Kumble's 45 with the bat in the first innings almost separated the two teams in the end -- a classic all-rounder's effort from him. And India won a Test series in the West Indies after 35 years.
These were Kumble's two overseas SDs, both hugely significant. The remaining seven, all in India, bookmark recent Indian Test history memorably.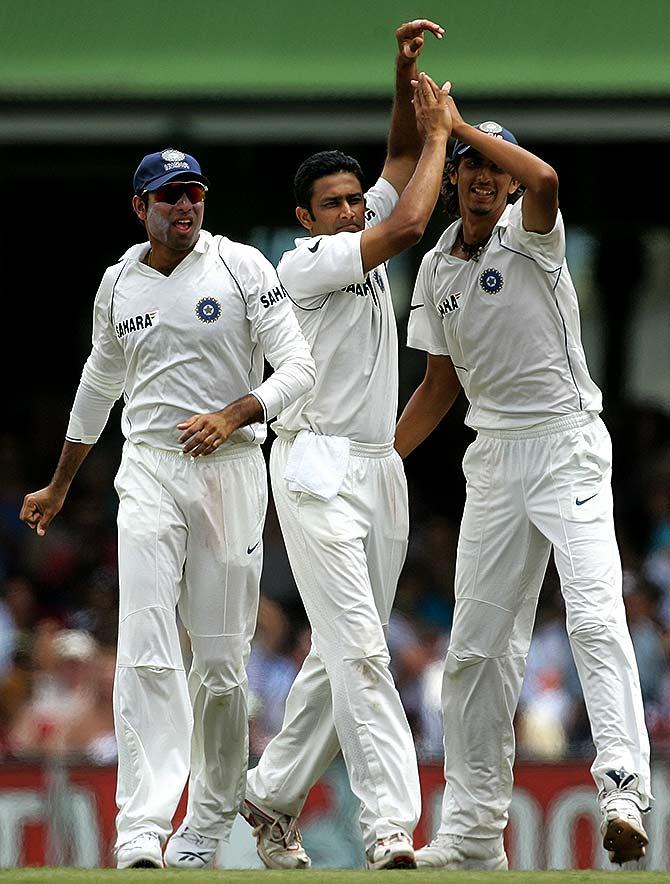 IMAGE: V V S Laxman, Anil Kumble and Ishant Sharma celebrate Phil Jacques' dismissal during the second Test between Australia and India at the Sydney Cricket Ground, January 5, 2008. Photograph: Ezra Shaw/Getty Images
Vs England, Kolkata, 1993
A stunning innings of 182 from Mohammad Azharuddin changed the complexion of the match, and eventually the series.
The spinning trio of Kumble-Raju-Chauhan did not allow the English any space to manoeuvre -- Kumble was the highest impact bowler, not just in this match, but the series.
The clean sweep of 3-0 against a highly regarded English side was inarguably one of India's most significant Test series results ever. It set the foundation for what was to follow that decade, as Kumble stamped his authority as the leader of India's bowling pack.
Vs South Africa, Kanpur, 1996
The series was level, and the final Test was shaping up to be a humdinger.
From 160/2, India had been dismissed for 237.
The same happened to the South Africans -- from 121/3, they were dismissed for 177, Kumble's 4/71 calling the shots again.
Nightwatchman Kumble then came out to bat at 2/1 and stayed long enough to give India stability, with a two-and-a-half-hour 42. Thereafter, a stunning 163 from Azharuddin pretty much finished off the match.
The other bowlers put in the finishing touches and India won the series 2-1.
Vs Australia, Chennai, 1998
A classic Test match, in which Tendulkar's 155 in the second innings appeared to change the course of the match and the series.
Kumble's eight wickets in the match (and a valuable 30 runs in the first innings) played a big part. He went on to take eight wickets in the next Test at Kolkata too, which decided the series.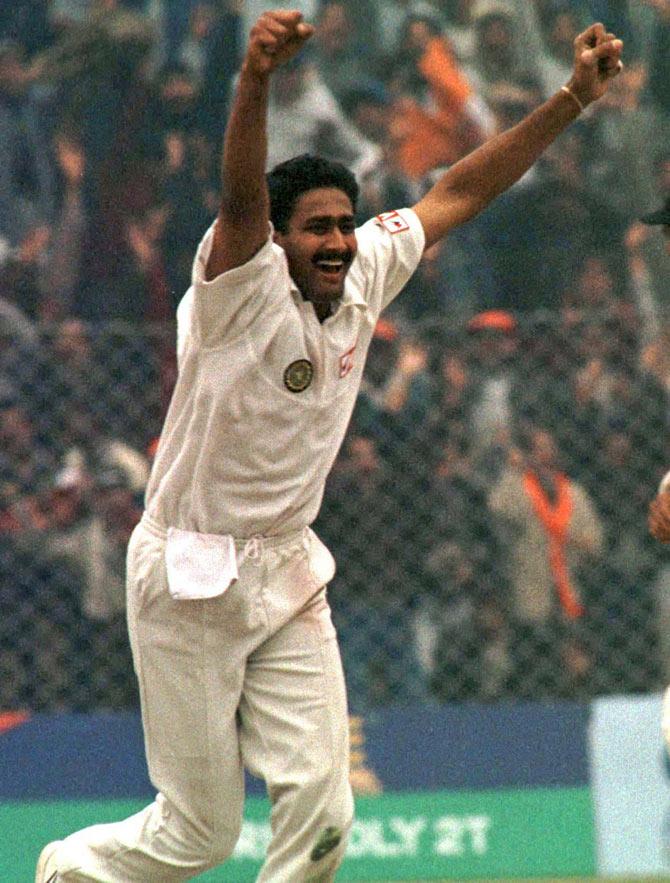 IMAGE: Anil Kumble celebrates after taking all 10 Pakistan wickets in the second innings to equal Jim Laker's world record for most wickets in an innings at the Feroz Shah Kotla, New Delhi, February 1999. Photograph: Reuters
Vs Pakistan, Delhi, 1999
Kumble's most famous moment, when he got 10/74 in the second innings. He had also got 4/75 in the first innings and dominated the match so much that no one remembers S Ramesh's hugely impressive 60 and 96 in only his second Test match.
India came back to level the series 1-1 in a tacky sequence.
The next Test (which India lost) was part of the Asian Test Championship, because of which this Test assumed an SD status.
Vs New Zealand, Kanpur, 1999
Kumble's 4/67 and 6/67 helped India win comfortably.
Experts take these kinds of performances for granted because the opposition is unfancied (though this was the strongest Kiwi side of that era).
It is worth remembering, therefore, that this was the only result Test of the series.
The Kiwis competed hard in the other two, and a drawn series had seemed fairly probable.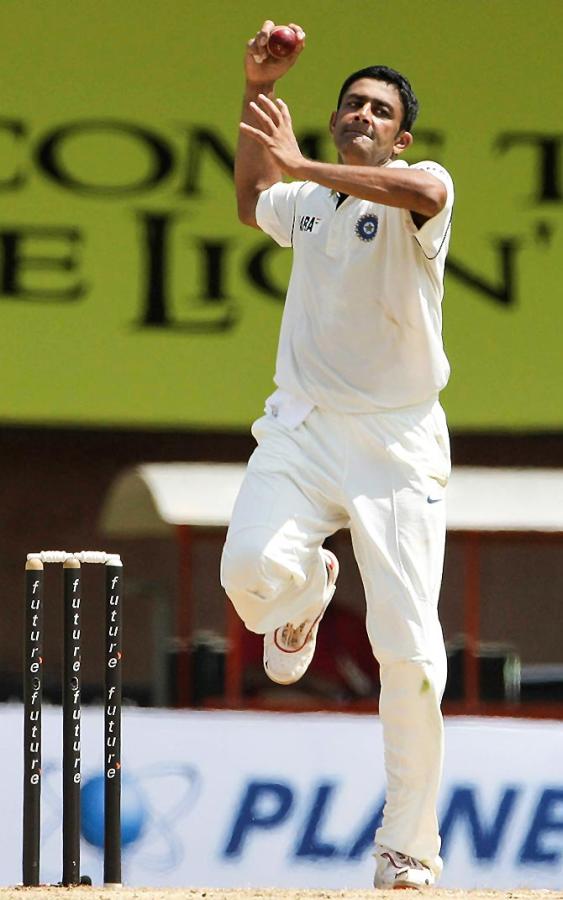 IMAGE: Anil Kumble during the first Test between India and South Africa at the M A Chidambaram Stadium, Chennai, March 26, 2008. Photograph: Duif du Toit/Gallo Images/Getty Images
Vs England, Mohali, 2001
Kumble's eight wickets in the match and Harbhajan's seven along with a uniformly strong batting performance from India (including 37 as nightwatchman from Kumble) won this on a canter for India.
Kumble was Man Of The Match, and this turned out to be the only result Test of the series.
Vs Pakistan, Delhi, 2007
In his first Test match as captain, Kumble took 4/38 in the first innings and 3/68 in the second (all top order wickets) in a moderate-scoring thrilling game as India sped home by six wickets.
His 24 with the bat in the first innings contributed too. Once again, the only result Test in the series, and hence an SD.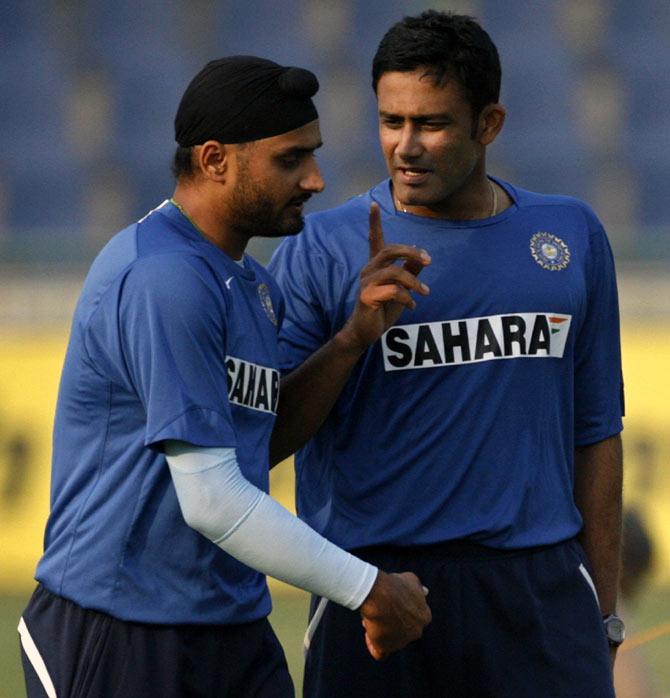 IMAGE: From Anil Kumble's Test debut in August 1990 till Harbhajan Singh's sensational series in March 2001 (for which Kumble was injured), Kumble was the highest impact Test bowler in the world. Photograph: Reuters
After Harbhajan's 2001 Performance
From Kumble's Test debut in August 1990 till Harbhajan's sensational series in March 2001 (for which Kumble was injured), Kumble was the highest impact Test bowler in the world.
Harbhajan's once-in-a-lifetime series performance of 32 wickets in three Tests against Australia, then the best team in the world (when Kumble was injured) changed the equation somewhat.
Kumble took some time to get back to full throttle after that injury and Harbhajan strongly established himself in the meantime.
After Kumble rejoined the team, even though Harbhajan and he combined brilliantly off and on, when only one spinner could be picked, captain Ganguly often preferred Harbhajan Singh.
Partly, it had to do with Kumble being lethal after the pitch had gone through wear and tear, while Harbhajan did not necessarily rely on that as much.
Aakash Chopra: It rarely happened that both Kumble and Harbhajan were at the peak of their powers when they played together.
While Anil was going great, Harbhajan was coming back from injury and hence didn't have form on his side, and when Bhajji (Harbhajan) got his form back, Kumble either got hurt or lost a little bit of form.
It's rather unfortunate that the two best Indian spinners didn't produce enough results even when they played together.
Despite this, Kumble ended up playing marginally more Tests than Harbhajan from that landmark 2001 series until the end of his career in November 2008. This is due to Harbhajan's own issues with injury.
Kumble also had a slightly higher impact than Harbhajan in that period.
Both were the fifth and sixth highest impact bowlers in the world then (with Muralitharan, Warne, McGrath and Danish Kaneria occupying the top four spots; minimum 40 Tests), which explains why India were a force to reckon with (and of course, there was Rahul Dravid, at the height of his powers).
There is also no doubt that both ate into each other's impact during that period too, as it happens in strong teams.
Yet, after Kumble's retirement, and till October 2015, Harbhajan was again India's second highest impact bowler, after Zaheer Khan this time.
Timing perhaps plays a larger part in sporting careers than all others. But the greatest sportsmen, like Kumble, tend to give time a lesser say.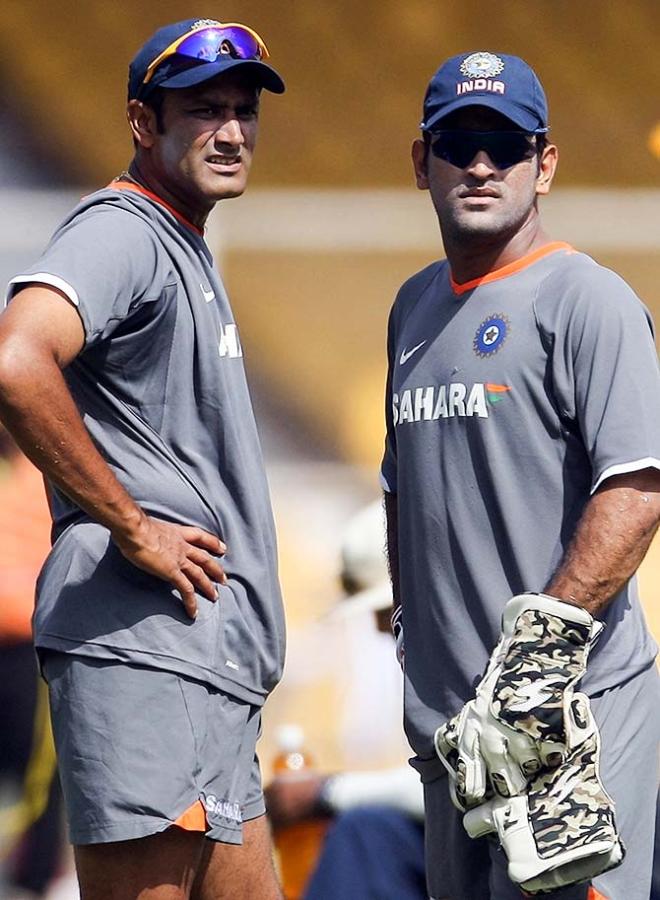 IMAGE: Anil Kumble and Mahendra Singh Dhoni watch team-mates during a training session ahead of the second Test between India and South Africa in Ahmedabad, April 2, 2008. Photograph: Indranil Mukherjee/AFP/Getty Images
Aakash Chopra: Anil Kumble made his Test debut barely 10 months after Tendulkar had (during which time Tendulkar played just two away series in Pakistan and New Zealand). Yet, both had different goals.
One guy was trying to prove people right -- which was Tendulkar, as the child prodigy, trying to live up to the expectations people had of him. The other, Anil Kumble, had to prove people wrong.
He started as a leg-spinner who couldn't spin the ball as much, and therefore was destined to fail rather than win. A bowler who wore specs and did not bowl the kind of balls we were used to seeing from a leg-spinner.
As Mukul Kesavan observed in his book Men In White...
JV (Jaideep Varma, creator, Impact Index): That's one of the great cricket books, truly, and perhaps the biggest inspiration for Impact Index. The writing is great, of course, but I admire it primarily for Kesavan's ability to arrive at so many fresh observations.
Aakash Chopra: Yes, absolutely.
So, Kesavan writes there, and I paraphrase, it was a failure of people to understand Kumble's craft.
He was viewed as a leg-spinner, which led to a lot of confusion because you did not see the drift or dip or prodigious turn you expected.
What was Kumble bringing to the table?
We did not really acknowledge his craft. And he had to keep proving people wrong. First, at home, when people said that he was only fit to bowl on certain surfaces and then, of course, overseas.
Towards the latter part of his career, he found his mojo there as well, so that average of 36 would have looked 10 much worse if he had finished earlier.
He found other things to do; he got that googly going, he started bowling slower in the air so there was some amount of dip. But with his height, there was obviously a problem getting that kind of parabola dip that other leg-spinners could get.
His trajectory was generally flat but, within that restriction, he did some pretty impressive bowling, and eventually proved a lot of people wrong. He probably took 600 wickets more than what people thought he could.
Excerpted from Numbers Do Lie by Aakash Chopra and Impact Index, with the kind permission of the publishers, Harper Collins India.
MUST READ features in the RELATED LINKS below...