Despite their growing success at the Olympics in the last two editions, Indian athletes are not getting enough support from the corporate world, says Grishma Shah.
When I was a kid I used to believe in fairy tales. I was convinced that Santa Claus used to visit us every Christmas, placing gifts under our pillow. 
I was so convinced that I even heard Santa leaving our room. My sister was sure as well hearing bells ringing softly, which she told me were on the reindeers.
- My dream is to help OGQ athletes get the best of everything: Viren
As I grew up, I looked back in disbelief how I could be so naïve. But, then, it was the power of belief that made everything possible.
The magic of believing doesn't just apply to Santa alone; it is true with everything in your life. Of course, a lot happened behind the scenes then to make sure that Santa delivered us gifts every Christmas.
But isn't that always the case? Making anything happen takes some effort. What you want doesn't come just because you believe, but you must believe you can make it happen.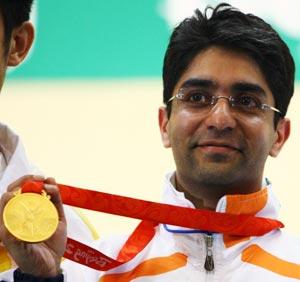 Having worked with commercial celebrities in the past never gave me a feeling of contentment. But working with Olympic athletes in the last couple of years has made me realize how much hard work, dedication and commitment goes into preparing for the Games, which gives just one chance after a long wait of four years. One little mistake and you are left to regret for the next four years, and that is if you get a chance next time.
So the Olympic Games are like a once-in-a-life-time opportunity.
Our Olympics athletes put the country on the global map of sport because a medal at the Games gets you the headlines worldwide and makes you an instant hero.
But despite India's growing success at the Olympics in the last two editions, they are not getting enough support from the corporate world.
I think more and more brands must come forward to encourage these sports; they have to believe that there is a world beyond just cricket.
For me, it was challenge I relished, that is taking up a non-cricket or non-Bollywood or non-mainstream celebrity and building them into top brands or a nationwide hero.
It was something that I always wanted to do but, for the longest time, I didn't really think I could. I learned a little about how hard it was to get them featured across media or convince brands to use them as endorsers and with time I assumed it was just impossible.
But, then, I thought I would not give in without a fight and I decided to atleast make one try, and as one thing after another started falling into place I started to believe.
In fact, such was the power of belief that I convinced myself I would take up the challenge of managing non-commercial celebrities.
Recently, I was at the National Institute of Sports in Patiala and witnessed how hard our Olympic-bound athletes were training. The Games are now just a month away and I could see that twinkle in their eyes and how desperate they are to make it count in London.
And there are some positive developments recently on the sponsorship front. Our ongoing efforts to promote and popularise alternative sports across target audiences in India has received a huge fillip. More and more companies in India are seeking inspiration from sportsmen who excelled in their respective games and not only cricket.
 As we move to a hyper consumer-driven and digital age, where the access to everything through the Internet is making us aware of what we are missing out, I am convinced that our foray into boxing will be a path breaking one.
For any good product, once the target group has been defined one can choose to either go wide as a marketer or go for depth. Today cricket has achieved the marketers' dream of achieving both, and football has done this across the globe.
Through the platform of boxing, we are hoping to achieve depth at the beginning and in time achieve a 'distribution model' where we get as many people from across the country to 'consume' the product that we have to offer.'
I believe that someday we will live the dream that boxing is making us see now.
To everyone who has taken the effort to read this, I thank you and forthright urge you to keep watching sport -- aspire, be unabashedly marvelous, truly experience life and the scope of emotions sport will bring to you.
I aspire that more and more women and children step out and watch sporting events as we have been seeing during the IPL. Believe me, ask any guy this and he will fall for you. As a sports marketer, I keenly look forward to one new and potentially more valuable consumer.
Watching how things have been unfolding recently, I feel the Olympic bug is finally biting India. And I just hope and pray that the bite is golden.
(The writer Grishma Shah is Head -- Image Management at Percept Talent.)