News of all that's transpired on and off the football field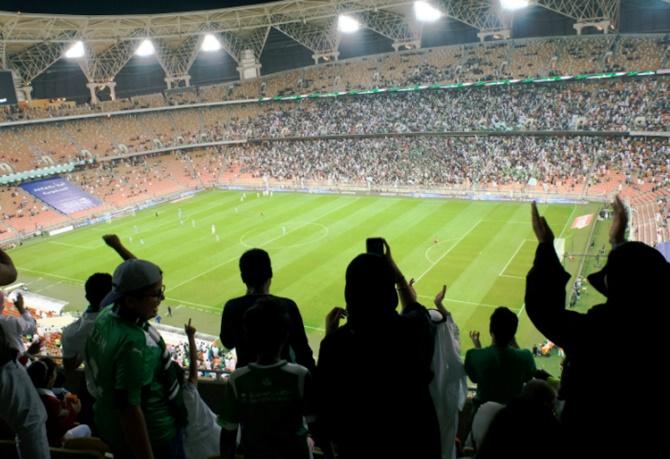 IMAGE: Saudi women cheer during a soccer match between Al-Ahli and Al-Batin at the King Abdullah Sports City in Jeddah. Photograph: Reem Baeshen/Reuters
Women in black abayas and fluorescent orange vests stood at the gates at King Abdullah Stadium, welcoming people into the family section that, for the first time in Saudi Arabia, allowed women to attend a men's soccer match.
As the two teams al-Ahli and al-Batin faced each other in the city of Jeddah, women showed up to their first public sporting event in the Kingdom to support the sides with their spouses, children and friends.
The General Sports Authority announced in October that stadiums in Jeddah, Dammam and Riyadh will be set up to accommodate families starting in 2018.
"Honestly this decision should have happened a long time ago," said Muneera al-Ghamdi, an attendee. "But thank god that it came in the right time, and hopefully what's to come will be even more beautiful for women."
The decision to allow women to attend a mixed public sporting event is one of many changes the country has undergone in recent months, hailed as proof of a new progressive trend in the deeply conservative Muslim Kingdom.
On Thursday, Jeddah held Saudi Arabia's first car exhibition aimed at women, a few months after Saudi Arabia announced it would grant them the right to drive..
A soccer match on Saturday in the capital Riyadh will also be welcoming women fans.
Crown Prince Mohammed bin Salman, 32, has been hailed as the face of these changes.
Many young Saudis regard his recent ascent to power as proof their generation is taking a central place in running a country whose patriarchal traditions have for decades made power the province of the old and blocked women's progress.
"Today the percentage of those who participate in exercise and sports is only 13 percent," said Hayfaa al-Sabban, who heads a sport organisation.
"We aim god willing to raise it to 40 percent by 2030, through several events, and today's is one of these events."
Bayern down Leverkusen 3-1 as Bundesliga restarts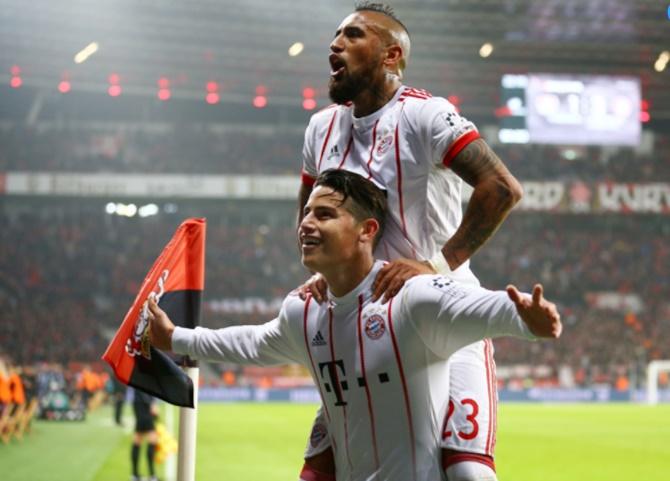 IMAGE: Bayern Munich's James Rodriguez celebrates scoring with Arturo Vidal. Photograph: Wolfgang Rattay/Reuters
Champions Bayern Munich survived some late pressure to win 3-1 and end Bayer Leverkusen's 12-game unbeaten league run as they stretched their lead at the top to 14 points on Friday when the Bundesliga resumed after the winter break.
Javi Martinez and Franck Ribery scored either side of the break for Bayern before Kevin Volland pulled one back for the hosts to set up a frantic finale.
The visitors, without top scorer Robert Lewandowski and central defender Mats Hummels, made sure of the points when James Rodriguez curled a free kick into the top corner in the first minute of stoppage time to lift them to 44 points.
"Tactically and defensively my team did it well for long stretches," coach Jupp Heynckes told reporters.
"We lost our concentration a bit after leading 2-0 but it is just difficult to win here. Leverkusen are young and talented and they attacked today."
New Bayern signing Sandro Wagner, who made a late substitute appearance, set a club record with his league comeback for the Bavarians over 10 years after his previous Bundesliga game for them. The 30-year-old Germany striker joined from Hoffenheim.
Second-placed Schalke 04 are in action at RB Leipzig on Saturday while Leverkusen stay fourth on 28. Borussia Dortmund, in third also on 28 points, host VfL Wolfsburg on Sunday.
Leverkusen initially showed the fine form they have displayed over the past few months with a strong start that saw them press Bayern high and launch lightning quick counter attacks with speedy wingers Leon Bailey and Karim Bellarabi.
Dominik Kohr's 18th minute header narrowly missed the target but was their best chance before Bayern gradually took control.
The visitors took the lead in the 32nd minute when Martinez fired in from close range after Leverkusen failed to clear an Arturo Vidal header.
Ribery, battling for a contract extension, added the second goal on the hour, shaking off two players to score with a low shot past Bernd Leno before Volland's 70th minute deflected strike saw Leverkusen get back into the match.
However, Rodriguez's free kick dashed home hopes as Bayern won at Leverkusen for the first time since their 2013 treble-winning season.
Chelsea back investigation into racism allegations against two former coaches
Chelsea will cooperate with any investigations into allegations of racism and bullying made against former coaches Graham Rix and Gwyn Williams by three former youth team players, the Premier League club said on Friday.
A report in the Guardian newspaper alleged that Rix and Williams racially abused and physically attacked black players during the 1990s.
"We take allegations of this nature extremely seriously," a Chelsea statement said.
"We are absolutely determined to do the right thing, to fully support those affected, assist the authorities and support their investigations."
The statement was read out by Chelsea's director of communications, Steve Atkins, in manager Antonio Conte's news conference ahead of Saturday's Premier League match at home against Leicester City.
Eddie Johns, the solicitor representing Rix and Williams, released a statement on his clients' behalf saying: "Our clients deny all and any allegations of racial or other abuse.
"These allegations were the subject of a thorough investigation by specialist officers of the Metropolitan Police Service. The MPS did not consider there was sufficient evidence even to report it to the Crown Prosecution Service. Our clients cooperated with that investigation.
"The allegations in The Guardian newspaper are contained, as we understand it, within correspondence sent to Chelsea Football Club. That correspondence has not been seen by our clients or by us.
"No correspondence has been sent to our clients or us by these individuals or those representing them. We will of course deal with any allegations if made directly to our clients.
"Our clients are cooperating fully with the FA in this matter."