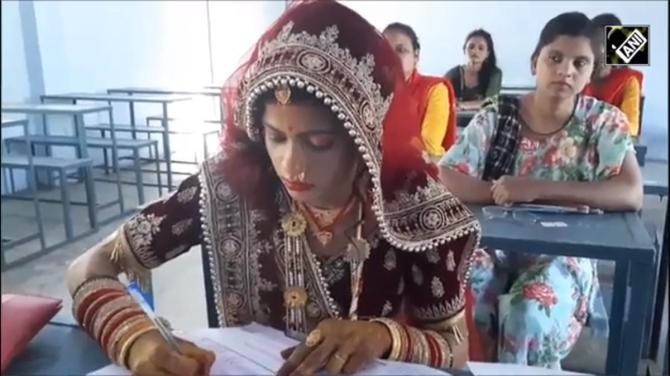 Why we should all be proud of Krishna Rajput.
The Top Videos of the Week, listed by Shailajanand Mishra.

Also see: A child-friendly police station.
An acid attack survivor's incredible achievement.
A man's unusual hobby.
Videos chosen by you through your likes on iShare.
---
IAF Showcases Its Might
Location: Greece, France
Watch the IAF at INIOCHOS, hosted by the Hellenic Air Force at the Andravida Air Base in Greece.
And at Orion 2023, yet another multilateral exercise held at Mont-de-Marsan, a base used by the French Air and Space Force.
How fantastic is our air force!
---
Bhubaneswar's Child-Friendly Police Station
Location: Bhubaneswar
Even adults face a sense of unease when it comes to visiting a police station; imagine, then, how children must feel.
In an applause-worthy move -- and we hope many other police stations will be inspired to do the same -- here's what the Nayapalli police have done to make the experience easier for young children who, for whatever reason, have to visit their station.
---
Acid Attack Survivor's Amazing Achievement!
Location: Chandigarh
She suffered the trauma of an acid attack at the tender age of three.
Her entire face was burnt.
She lost her sight but not her indomitable spirit.
Beating all odds, 15-year-old Kafi -- whose father works as a peon -- has scored 95.02 per cent in the Class 10 CBSE board exams.
She shares her plans for her future in the video below.
Way to go, Kafi!
---
Villagers Worship STF Jawan
Location: Bastar
He fought the Naxalites fiercely at Tekal Gudem in Bijapur. And laid down his life for his people, his country.
Martyred Special Task Force Head Constable Shravan Kashyap was posthumously honoured with the Kirti Chakra.
In their own way, the residents of Baniyagaon village wanted to honour him as well; this is what they did.
---
Why This Bus Is A Mobile School
Location: Surat
Their classroom has benches, rugs, a television, lights, a fan and Internet connectivity.
And it can move from place to place.
Classes are held for three hours and 32 children can study here.
For the children living in the slums and footpaths of Surat, Vidyakunj-Vidyapeeth Group's mobile classroom has come as a blessing.
---
Why Ram Singh Collects Radio Sets
Location: Amroha
He has over 1,100 of them.
Some are over a hundred years old.
Ram Singh, a retired government employee, believes no one in the world has a radio collection like his.
And here's what inspired him to take up this rather unusual hobby.
---
Just After Her Wedding, She Did This
Location: Jhansi
"My wedding is important," says Krishna Rajput.
But something else was just as important.
Kudos, Krishna!
---
Feature Presentation: Ashish Narsale/Rediff.com