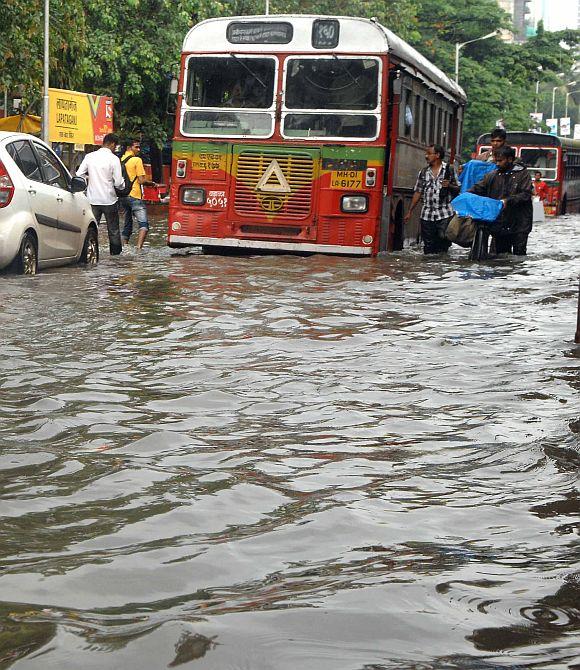 Mumbai is not prepared for a natural disaster, warns Amitav Ghosh.
July 26, 2005.
If you were in Mumbai that day, you'll never forget what happened.
The skies opened up and Mumbai nearly drowned in its wrath.
If you thought that scenario was grim, then you will be terrified at what Amitav Ghosh had to say at the launch of his latest book, The Great Derangement.
Hitesh Harisinghani/Rediff.com brings you Ghosh's words of warning.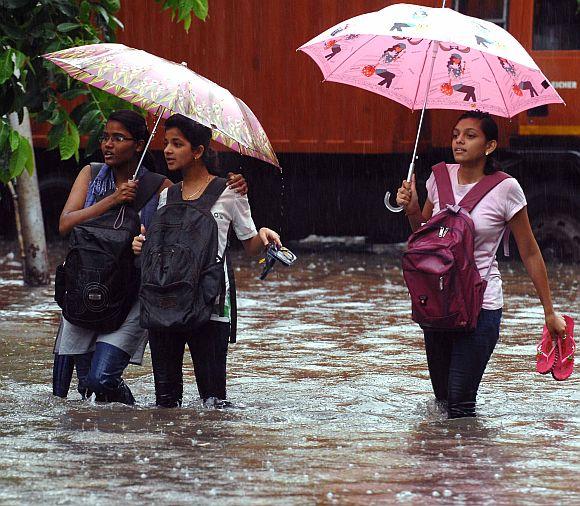 IMAGE: Waterlogged Mumbai. Photograph: Sahil Salvi
"This city of Mumbai is directly threatened by climate change. The sea will reclaim the city as water levels rise. And unlike the east coast of India, which almost has an instinctive knowledge of cyclones, the western part of India is woefully inept to deal with them."
IMAGE: A comtemplative Amitav Ghosh at the launch of his latest book, The Great Derangement.
"Precipitation is changing and as we all know, dry places will become drier and wet places will become more wet. So, in the future, Mumbai will have more rain."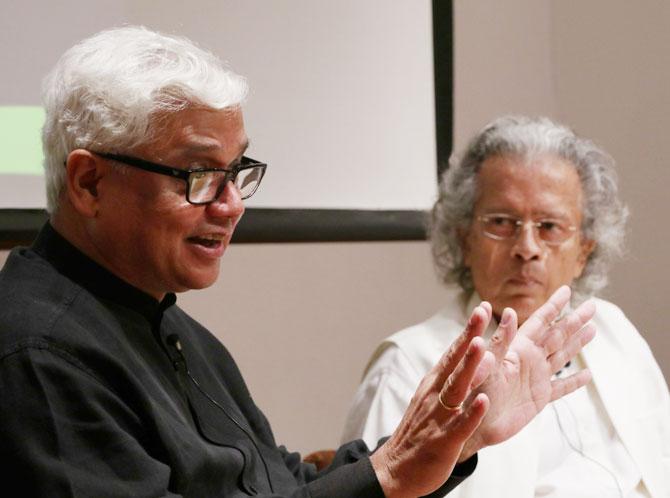 IMAGE: Journalist Anil Dharker listens attentively as Amitav Ghosh makes a point.
"Over the last 10 years, several cyclones have hit the Indian coasts. They have hit Gujarat, they have hit Pakistan, Karachi, etc, but because of its location Mumbai is uniquely vulnerable. Mumbai is this thin finger of land stretching into the sea."
"I actually tried this exercise with a climate scientist; we tried to think of how the climatic impacts on Mumbai."
"If you think of what a super storm Sandy did to a New York... Manhattan is shielded by barrier islands, even though New York was devastated, imagine the devastation had the barrier islands not been in place."
"Mumbai has no barrier islands so when a storm surge comes it will hit Mumbai directly."
"Also, the storm surge will come up from the Arabian Sea so it will have a very long fetch. So when it hits Mumbai, it will be monumental in size."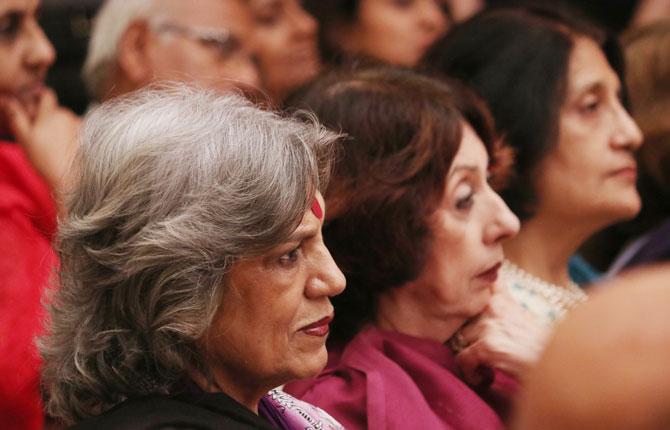 IMAGE: Theatre personality Dolly Thakore was in the audience.
"What has worked very well on the east coast (of India) is the evacuation plan. With all the modern machinery, evacuation has become much easier than it used to be."
"Evacuating 11 million people from south Mumbai over two narrow roads which open up to a bottleneck... just think what kind of circumstance it will turn out to be."
"This is a very real possibility and something for which planning must be done."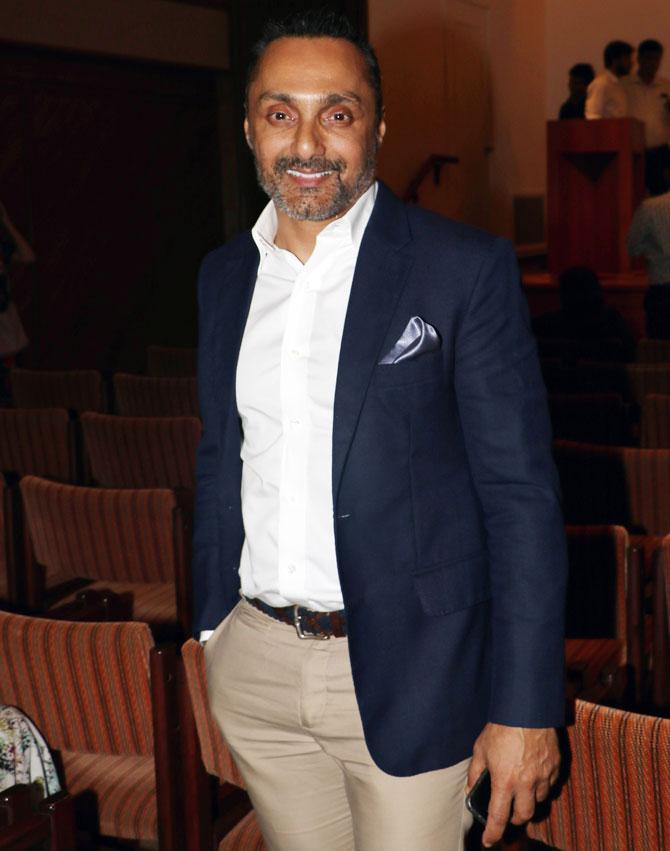 IMAGE: As was actor Rahul Bose.
"It was during my Masters, when I was also part-timing as a journalist. I witnessed a tornado for the first time in my life."
"This is one of the rarest of tornadoes that has ever occurred in India and I happened to be in the middle of one of them, where I saw, cycles, scooters, tea stalls flying up in the air."
"An entire wall of the Miranda House library was sucked out -- it was an extraordinary sight. Had it been today, I probably would have stayed back to take a selfie, but thankfully I ran for shelter."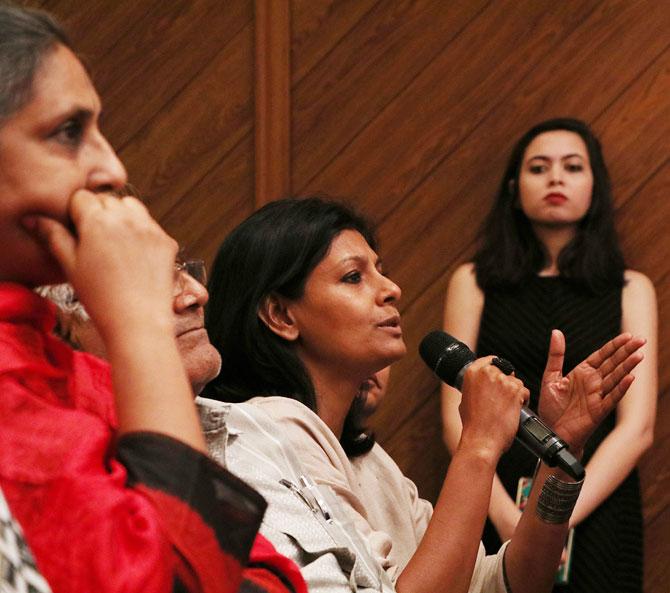 IMAGE: Actor-filmmaker Nandita Das had a question to ask Amitav Ghosh.
"We have seen that the more efficient an energy becomes, the more people tend to use it. Moreover, it takes enormous energy to create this green technology. It's not like solar panels come free. It might be disastrous to build solar and wind technology on such a scale."
"Most of what is written about climate change is incredibly boring and it's written in a technical language which is very hard to penetrate. But what is happening in the world today, this whole change in our atmosphere today, is not just a discrete thing; it is affecting the totality of our experience."
"The first thing we have to ask ourselves is do we think about it? If we do, how do we think about it? What sort of impression does it make on us?"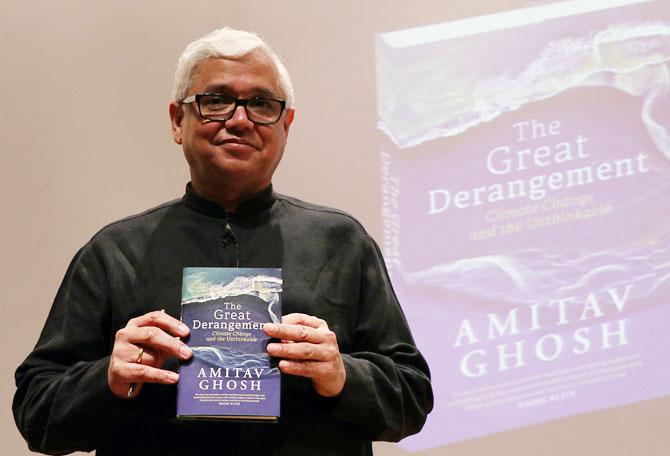 "Those writers who write about environment or those writers whose work for the environment are clear they may be writing about the environment, but environment and climate change are two completely different things."
"When we speak about environment we are speaking of a particular ecosystem, we are speaking of a particular landscape. But when we speak of climate change, we are speaking of something over arching, something that is affecting everybody, everywhere at the same time."
At the end of the launch, Amitav Ghosh spent some time chatting with readers and signing copies of his new book for them.
Photographs and Text: Hitesh Harisinghani/Rediff.com Video: Afsar Dayatar/Rediff.com