Lalit Modi's interview with a television news channel explaining how Vasundhara Raje took his wife to Portugal for cancer treatment shows that he is seeking revenge against the Rajasthan chief minister. Prakash Bhandari explains.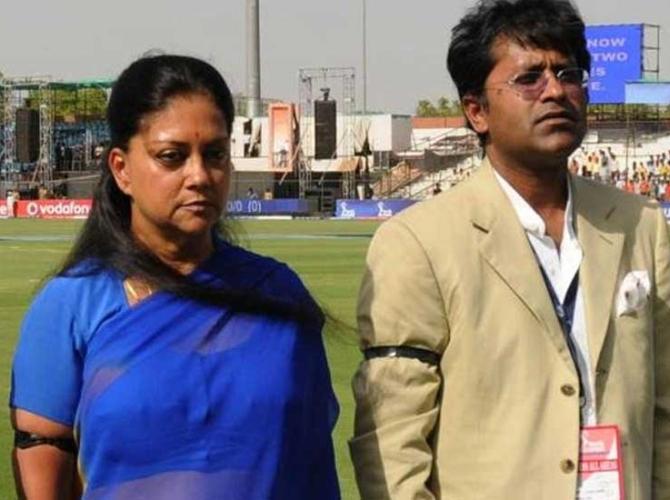 Lalit Modi, the former Indian Premier League Czar, once a close friend and confidante of Rajasthan's Chief Minister Vasundhara Raje, is today clearly in revenge mode.
His revelations, especially that it was Raje who took his ailing wife Minal to Portugal for cancer treatment in 2012 and 2013, shows that the chief minister was in contact with Modi at the time when he was absconding.
When Raje took over as the chief minister in 2013 for a second tenure, she realised that continued friendship with Modi could be a political liability.
She also realised that allowing Modi to act as an "extra constitutional authority" during her first tenure as the chief minister between 2003 to 2008 was a big mistake.
Modi enjoyed the fruits of this friendship for long.
Modi was also a thorn in the flesh of the former Board of Control for Cricket India chief N Srinivasan and present Finance Minister Arun Jaitley.
But despite not being present in India, he won the Rajasthan Cricket Association election by a massive margin last year with the support of the state government's bureaucrats. Subsequently, the BCCI disaffiliated the RCA for electing Modi whom it had banned for life for alleged irregularities with the IPL funds.
Raje and her son Dushyant Singh helped Modi stage a comeback in the cricket administration after he lost the election former Congress Union minister C P Joshi when the Ashok Gehlot-led Congress government was in power in the state.
But Raje was very uncomfortable keeping her friendship with Modi. She realised that any association with Modi would allow her detractors to thrive.
Modi's company Amer heritage Construction Company bought two old heritage Havelis (mansions) in the heritage zone of Amer city near Jaipur.
Despite doubts lingered over ownership of the old mansions, Modi managed to purchase them. Bina Kilachand, a close friend of Raje, too bought a mansion. Kilachand like Modi managed to get the sale deed registered allegedly using the influence of the Raje government.
However, when Gehlot came to power he initiated an inquiry into the deal. It came to light that the mansions were heritage property and that the deed was fraudulently made as the ownership lay with the Amer municipality.
The property was seized by the state government. But neither Modi nor Kilachand made any attempt to assert their rights on these properties.
Raje knew that the opposition, particularly Gehlot, would target her if she continued her relationship with Modi.
The same set of bureaucrats who used to take orders from Modi during Raje's first tenure as the chief minister reportedly advised her to dissociate herself from him.
A master plan was hatched to ouster of Modi from the RCA. Dushyant and a few officials in the chief minister's office were assigned the task.
She engineered the coup against Modi by encouraging Ameen Pathan, one of his close associates and the BJP's face of the minority community, to oust him from the RCA president's post.
Pathan led a rebel group who voted Modi out of the RCA through a no-confidence motion. Pathan, who became the president of the RCA's ad hoc committee, admitted that the step had to be taken in the larger interest of cricket and cricketers. He said the ban on the RCA by the BCCI came only because Modi became its president and his presence would ruin cricket in the state.
This came as a big shock to Modi. Moments after the no-confidence vote, he posted on Twitter that Raje was being misguided by some of her aides. Raje was more worried about her son Dushyant, whose alleged financial deals with Modi had landed him in controversy.
Jaipur-based lawyer Poonam Chand Bhandari wrote a series of letters to the Enforcement Directorate claiming that Modi had laundered black money for Raje's son.
It was Bhandari, who informed the Enforcement Directorate that around Rs 11 crore was routed to Niyant Heritage Hospitality Limited -- in which Dushyant and his wife are directors -- by a company owned by Modi and his wife.
The money was transferred from Mauritius.
After severing ties with Modi, Raje tried to paint a picture with the Bharatiya Janata Party high command that she was no longer associated with him.
Modi, on the other hand, was targeting her indirectly by tweeting sarcastic comments against Jaitley and BJP general secretary Bhupendra Yadav. He even tried to sour the relationship between Jaitley and Raje.
In the run up to the May 2014 Lok Sabha elections, Modi tweeted, "Elections round the corner... Seems coterie of Arun Jaitley-Bhupendra Yadav has started to sell tickets. Cash-for-tickets seems to be new mantra. Sad."
In another tweet, he warned Raje: "Be careful... Arun Jaitley's Man Friday Bhupendra Yadav and your man (Dhirendra) Kamthan sell tickets for cash."
The tweets not just damaged Raje's image, but also was a clear embarrassment for the BJP.
Ever since her name cropped up in the controversy that erupted over Foreign Minister Sushma Swaraj granting travel documents to Modi, Jaitley has not defended the Rajasthan chief minister.
A senior functionary in Rajasthan unit of the BJP, on the condition of anonymity, said: "It seems that while the senior party leadership has decided to defend Swaraj, they are not sure whether Raje is defensible or not. Considering the financial dealings of her son's company with Modi and the very fact that the party lost the 2008 assembly election because the Congress successfully tried to dub her government as the most corrupt government to rule the state and named Modi as the broker, the party may take a tough stand against her."