Rachakonda Police Commissioner Mahesh Bhagwat has thrice been awarded by the International Association of Chiefs of Police for his unusual efforts in community policing and welfare.
The only Indian police officer to be honoured thus.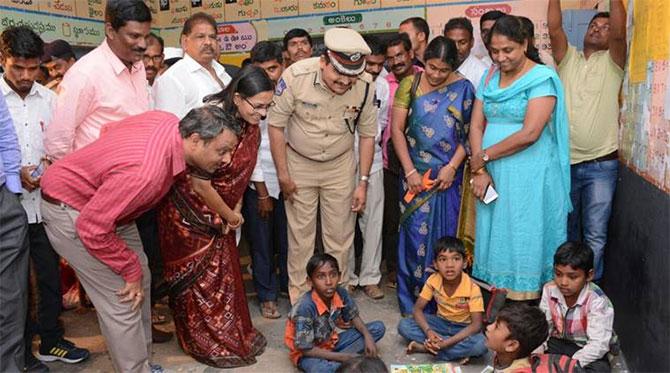 Last week, Mahesh Bhagwat, commissioner of police, Rachakonda in Telangana, could have been in Orlando receiving an award at a conference addressed by United States President Donald J Trump.
But he could not despite the International Association of Chiefs of Police conference offering a fraction of the ticket fare and three days hotel accommodation.
"The state election has been announced and I am bound by the model code of conduct," Bhagwat -- an Indian Police Service officer who was awarded the IACP's Leadership in Human and Civil Rights Award -- tells Rediff.com's Archana Masih.
The award was in recognition of his initiative in setting up schools for the children of Odia migrant workers employed in brick kilns in two districts of Telangana.
This was the third time Commissioner Bhagwat received the IACP award for community work.
He had attended the two previous ceremonies in Boston and Los Angeles in 2004 and 2006.
Hollywood star-turned California Governor Arnold Schwarzenegger was the guest of honour at one of them.
In 2004, he won the award for community policing in the Naxal-affected areas of Adilabad. In 2006, he was honoured for an anti sex-trafficking project in Nalgonda.
"Law enforcement agencies from all over the world send entries about the work undertaken by them. There were more than 100 countries and more than 3,000 police officers," says Bhagwat who began his IPS career in 1995.
He entered the award category and sent the details of the school initiative which was scrutinised by the IACP. In August, he received a letter informing him that he was a winner. The award will be sent to him by post.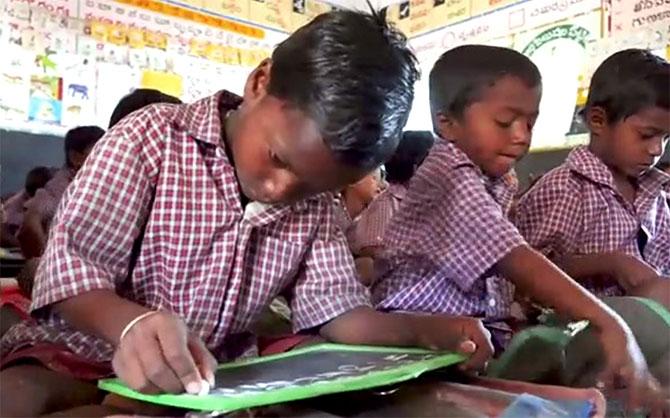 Last year, Bhagwat received the US State Department's 2017 Trafficking in Persons Report Hero Award for prevention of forced labour.
Ivanka Trump, President Trump's daughter and senior advisor, presented the award in Washington, DC and mentioned Bhagwat's effort in rescuing 350 children. Since he could not travel to the US last summer, the award was presented to him by the US consul general in Hyderabad.
He is the third IPS officer to receive the award. Amod Kanth and S Umapathi are previous recipients.
Bhagwat, who has also done relentless work to prevent sex trafficking, started the school initiative for migrant workers last year.
889 children have received education in these two years through Operation Muskan.
"Brick kiln workers come in November and return in May. Children come and work with the parents and just get Rs 10,000 for 6 months. It is more like bonded labour," Bhagwat says over the phone from Hyderabad.
The children engage in drying, flipping and moulding bricks. The older ones carry brick loads on their heads.
Mostly hailing from western Odisha, the children were deprived of education and health care.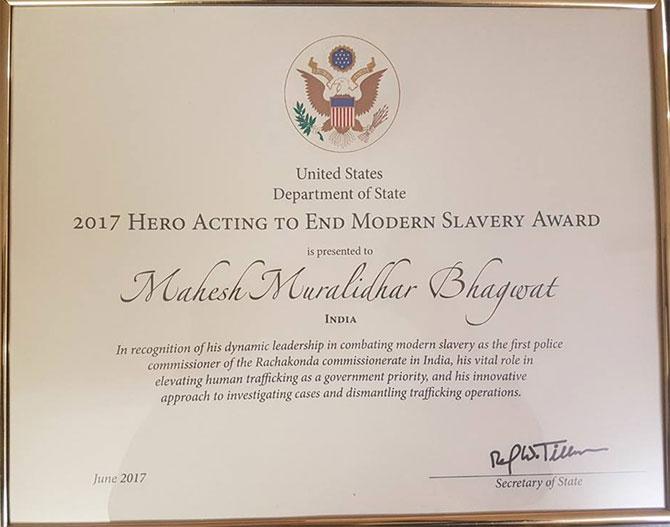 Bringing them back to school brought together departments of the state, a non government organisation and brick kiln owners.
Classes between 1 and 4 were set up on the premises of three government schools for 6 to 7 months. Midday meals, Rs 1 per kg of rice were provided by the district administration, while transport for the children, uniforms and teachers's salaries were provided the Brick Kiln Owners Association.
Teachers were brought from Odisha so that children could be taught in their mother tongue.
NGO Aide et Action mobilised and trained the teachers from Odisha, provided books and continues to track the children on return to their home state.
"The next group of migrant workers will arrive in November. The labour department of Odisha and Aid et Action will keep tabs to ensure that they continue their education," says Bhagwat.
Classes for the next batch of children will be set up in December.
"Nobel Laureate Kailash Sathyarthi has seen this initiative and said he will talk about this in different fora because migrant workers are everywhere," says Bhagwat whose Project Aasra in 2005 rescued many sex workers.
"Many were rehabilitated by self help groups, some got married," he says about Project Aasra.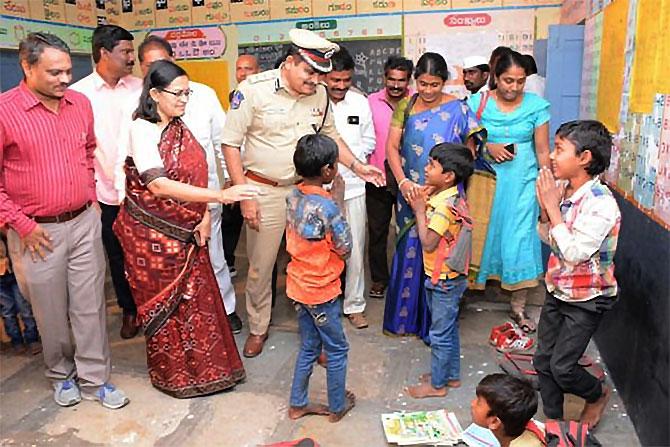 Last year, he started the 'SHE for HER' programme in colleges to educate girls to report crimes against women.
Under the programme, SHE teams can be contacted through Whatsapp groups and on the phone. 500 students have been trained in 250 colleges. 25 cases have been reported and solved, according to Bhagwat.
The officer, who was involved in social work before joining the IPS, has also been mentoring civil service aspirants for the last three years.
He has also formed Whataspp groups to help selected candidates before the main interview.
"I especially help them for the personality development before the main interview and devote two to three months after work and holidays talking to them on the phone."
With his efforts to rescue children from bonded labour, women from sex trafficking and mentoring civil services aspirants, Mahesh Bhagwat is infusing humanity into policing.
It is a lesson many of his colleagues could learn from.