When the highest court gave a decision on the Navtej Singh Johar case, it held that LGBT citizens have a right to not be discriminated against on the basis of their sexual orientation.
It was keeping this in mind that this same sex couple approached the Delhi high court.
Rashme Sehgal reports.
All illustrations: Dominic Xavier/Rediff.com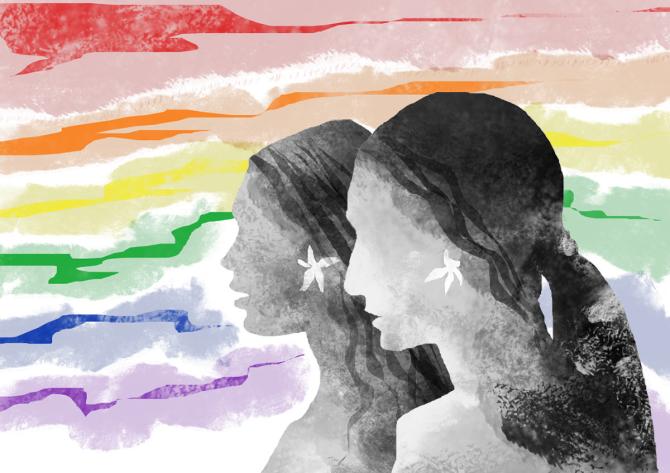 Dr Kavita Arora (47) and Ankita Khanna (36) are mental health professionals who have been in a relationship for eight years.
While Kavita grew up in the Alaknanda Colony in New Delhi, Ankita grew up in Mussoorie and Dehra Dun.
Their educational credentials sound perfect.
Kavita completed her MBBS from the Lady Harding Medical College and her MD in psychiatry from the Maulana Azad Medical College.
She then went on to do a specialised course in psychiatry at the Royal College of Psychiatry in the UK.
Ankita studied psychology from Jesus and Mary College in Delhi and specialised in clinical psychology from IP College in Delhi.
When Kavita returned from the UK, she joined the Sitaram Bhartia Institute of Science and Research working as a consultant in child and adolescent psychiatry.
Some years later she set up her own NGO Children First to provide specialised care for adolescent and young adults suffering from mental issues.
Ankita went on to work as a counsellor at the Shri Ram School in Gurgaon and then as a psychologist at the Sitaram Bhartia Institute.
Some years later she also joined Children First which over the years has expanded to employ a large team of psychiatrists, psychologists and occupational therapists.
Like any young woman Kavita was introduced to several prospective grooms by er parents so she could 'settle down' to a good match.
But she soon realised that she was not attracted to the opposite sex.
Ankita by contrast, realised from her teenager days that she was bi-sexual who was attracted to both men and women.
The two met in 2006 and struck up a friendship so much so that Kavita was one of the invitees to Ankita's marriage in 2008.
Four years later, the situation began to change.
Both women found themselves spending a great deal of time with each other and also to be attracted to one another.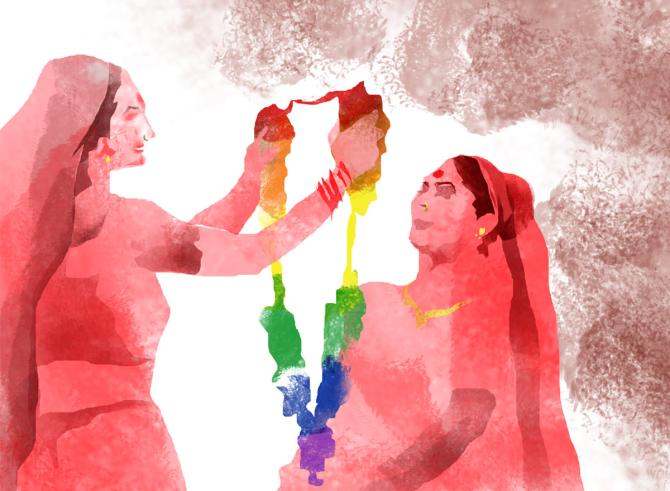 For Ankita, ending her marriage was a painful decision.
Fortunately, her husband proved to be understanding and they separated by mutual consent in 2012.
Making their parents and close relatives understand was an uphill task, but gradually, they too accepted the relationship.
According to them, simple things that a married couple take for granted were denied to them such as opening a joint bank account, buying family health insurance, or securing an address proof as was the case when Ankita applied for a passport.
Their journey was not been easy.
Not only did they have to struggle to come to terms with their sexuality, but till the Supreme Court decriminalised Section 377 of the Indian Penal Code in 2018, they lived under the shadow of a criminal law.
Sources close to the couple pointed out, "They live together. They share finances. They take care of Kavita's father, who is over 88 years old. They go on vacations with their parents. When they are ill, they care for each other sharing their highs, the lows as do any couple who have come together in love.'
Their legal counsel Surabhi Dhar pointed out that "The law bestows a myriad legal rights and protections in matters of succession, taxation, insurance, maintenance, pension, health and marital privileges that are unavailable to unmarried couples. But both of them felt deprived of all the legal rights and social benefits that come to same sex couples."
Sources close to the couple pointed out that "The couple wanted to create economic stability for each other, just like married couples do. But this is not at easy for the same sex couple.The lack of legal structure for same sex couples does not allow them to be nominees in insurance and financial plans or to co-own assets."
When Ankita applied for a passport, she told the policeman who came to verify the proof of residence that she was a co-owner of the flat.
He did not understand this since she did not have any proof of residence since the flat was owned by Kavita.
She was put down as tenant which she believed to be an affront on her dignity and Constitutional right.
Other problems they face is their inability to make medical decisions for each other if the other partner is unable to give her consent to a medical procedure or take end-of-life decisions.
Even writing their will proved an uphill task.
After Kavita and Ankita wrote out their will, they reportedly informed all their family members they had done so to ensure that they inherit each other's assets.
Same-sex couples are always apprehensive that their wills may be challenged in probate proceedings if their legal heirs do not respect and acknowledge the relationships.
Also, the couple want their relationship to be blessed and sanctified by society and by law.
Marriage provides legal protection and social recognition of the commitment a couple offer each other.
They also believe that marriage helps bring two families together.
Keeping this in mind they approached the Marriage Officer which in their case was the sub-divisional magistrate in Kalkaji on September 30 2020 seeking solemnisation of their marriage under the Special Marriage Act, 1954.
They maintain that Article 15 allows a woman freedom of choice which has been reiterated by the Special Marriage Act 1954 which allows couples to marry as per their choice.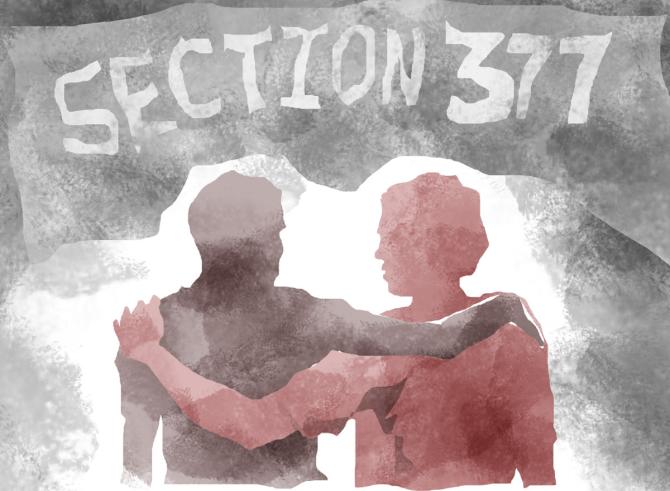 Sexual orientation discrimination they believe is Constitutionally prohibited under Article 15, but they were nevertheless refused to exercise their choice.
Their counsel, Delhi-based advocate Surabhi Dhar believes that marriage and family are not a static institutions -- the rights and duties of the parties, the age at which they may marry, and who may marry whom have all undergone radical changes.
"For instance," Dhar points out, the Supreme Court has declared triple talaq to be unconstitutional and elucidated that Hindu daughters are part of the Hindu undivided family from the moment of their birth."
Dhar also insists that the Supreme Court has a history of protecting inter-faith and inter-caste couples who are marrying in contravention of social and familial norms.
When the highest court gave a decision on the Navtej Singh Johar case, it held that LGBT citizens have a right to not be discriminated against on the basis of their sexual orientation.
It was keeping this in mind that this same sex couple approached the Delhi high court.
A gay couple presently residing in the US have also approached the Delhi high court to be granted legal recognition as a married couple.
For Vaibhav Jain and Parag Mehta, the two applicants who were married in the US in 2017, it was important that their marriage receive legal acceptance in India.
Keeping this in mind, they approached the Indian consulate in New York to register their marriage under the Foreign Marriage act 1969.
The consulate refused the application on grounds of their sexual orientation which they believe is a violation of their rights under Article 14,15,19 and 21 which the Supreme Court upheld in the Navtej Singh Johar verdict.
Getting their respective families to accept has taken time and patience.
Parag Mehta could only bring himself to inform his parents about his sexuality in 1999 on the day of his college graduation when he was 23 years old.
After the initial shock, his parents reconciled themselves to their son being gay.
Vaibhav found informing his parents back home in India a more difficult task.
He had met Parag at a gay parade and they had gone on to become a couple.
At Parag and his parents' persuasion, Vaibhav informed his own parents of own sexual preference when they met in Switzerland in 2013.
It was not an easy acceptance.
It was Parag -- who works as an executive director and senior vice president of the Mastercard centre for Inclusive Growth -- who got an encouraging response from his Nani.
In fact, his Nani's response's response set the tone of acceptance for both families.
When she heard about his sexuality she remarked that as long as he was healthy and happy and doing well, why should anyone be concerned about his sexuality.
Parag had written a letter to Vaibhav's parents prior to their marriage spelling out what his feelings for their son.
The letter read, 'I love Vaibhav with all my heart. I believe Vaibhav is truly my life partner. It is my belief that our coming together was solely due to God's grace. I wish to live the rest of my life with Vaibhav, to start a family with him, and grow old with him...'
'Today, Vaibhav and I are ready to move forward together in life. With great respect, today I seek your blessings for when Vaibhav and I propose marriage to each other.'
'We have already promised this each other many years ago -- but today we wish to place this promise officially, publicly and legally before the world...'
'I am not only asking Vaibhav's hand in marriage, but also a relationship with both of you and your family.'
'Would you, as always, love us, be with us, fight for us, provide us with security, place faith in us and give us strength to keep our faith in each other?'
'What I ask of you today, every parent will without hesitation give their children. Perhaps, what I am really asking of you is, "Would you also be my mummy and daddy?"'
The importance of the wedding rituals for this couple cannot be emphasised enough.
In a show of bravado that symbolises the kind of diversity that all communities enjoy in the US, both grooms arrived on horses to be greeted by their respective mothers-in-law with a tilak and aarti
After the exchange of jaimalas, a puja was held where the Navkaran and Shakti mantras (sacred prayers in Jainism) were recited in the presence of a pandit.
Each of the grooms led two of the four pheras and the traditional kanyadaan was instead held as a 'var-daan'.
The marriage celebrations culminated with the couple making their exit from the venue in a helicopter in true Bollywood style.
The extended Jain family had flown in from Delhi to attend the wedding and since many of their relatives could not attend the wedding in Texas, a grand reception was subsequently held for the couple at the Lalit Hotel in New Delhi.
Feature Presentation: Ashish Narsale/Rediff.com