Rediff.com's Dominic Xavier introduces you to the new look CCS, the most elite club in government.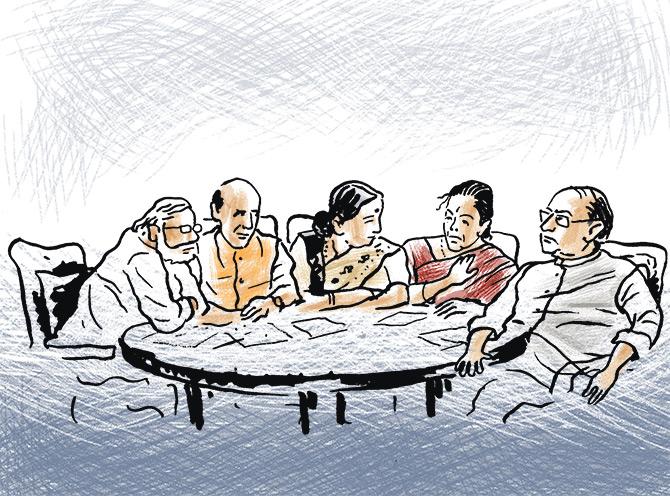 After Arun Jaitley returns from Tokyo -- where he traveled to attend the India-Japan strategic dialogue as officiating defence minister -- Nirmala Sitharaman will assume change as India's second lady Raksha Mantri.
Then prime minister Indira Gandhi was the nation's defence minister from January 14, 1980 to January 15, 1982.
As defence minister Sitharaman will be a member of the most elite club in government -- the Cabinet Committee on Security.
The CCS has only five members -- the prime minister, the home minister, the finance minister, the external affairs minister and the defence minister.
For the first time in Independent India's history, the CCS will have two women on it -- External Affairs Minister Sushma Swaraj and Defence Minister Sitharaman.
The prime minister, who turns 67 on September 17, is the oldest member of the CCS, followed by Home Minister Rajnath Singh (66), Swaraj (65), Jaitley (64; he will turn 65 on December 28) and Sitharaman.
The new defence minister celebrated her 58th birthday last fortnight, August 16.