'When Fadnavis takes our help, it was sabka saath.'
'But when we support his rival, the latter is branded as appeasing Muslims.'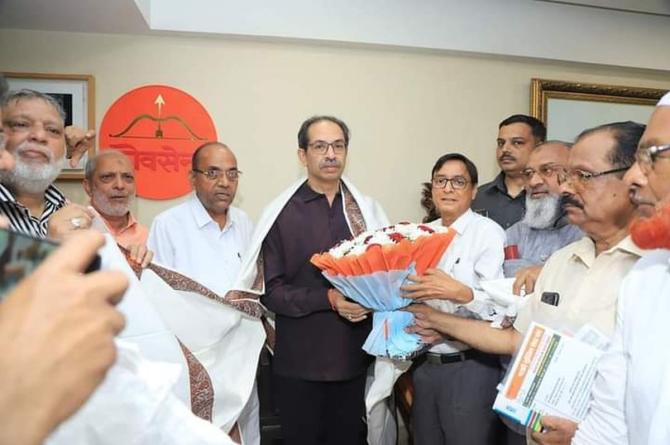 Devendra Fadnavis's statement against Urdu banners in Malegaon welcoming Uddhav Thackeray to the power-loom city in Maharashtra, where the Sena chief held a rally on Sunday, March 26, 2023, evening, drew sharp comments from Muslims in Mumbai and Malegaon.
News agency ANI reported the Maharashtra deputy CM as having said on Sunday: 'We are not against any religion, Urdu is also a language and we are not against it. We only oppose those who are trying to please others like they (Uddhav faction) are doing. Uddhav Thackeray will have to answer this (sic) to Balasaheb Thackeray sometime.'
"Isn't it natural to use the language of the minority where the minority lives?" asks Irfan Patel, former district president of the Shiv Sena in Malegaon. "The area where the posters have been put up is a Muslim area, Urdu is their mother tongue," he adds, asking, "Can a party rule a state by leaving out one section of society?"
The posters and banners have been put up by the Uddhav faction of the Sena, in which, according to Patel, there are 4,500 Muslim members.
For the first time, say Malegaon's old-timers, autorickshaws fitted with loudspeakers were roaming through the Muslim section of the city, calling them for a Shiv Sena rally. And though the timing of the rally clashed with the timing for iftaar, the breaking the Ramzan fast, Muslims turned up in large numbers for a Sena rally held in an area dominated by Hindus.
"The Uddhav Thackeray government did a lot for us," says Patel. "Be it in scholarships, or through the Maulana Azad Minorities Financial Development Corporation, or for problems regarding kabrastans, they were very responsive."
It is Fadnavis however, who Malegaon's Muslims thank for the successful completion of a project very close to their heart. Ironically, that's Malegaon's spanking new Urdu Ghar.
Senior journalist Aleem Faizee, who runs the news Web site ummid.com, reveals that though the Urdu Ghar project was conceived of by the previous Congress-Nationalist Congress Party government, it took shape only after the Bharatiya Janata Party-Sena alliance took over in 2014, with Fadnavis as CM.
When the project was held up due to lack of funds, the then Congress MLA from Malegaon Asif Shaikh (now with the NCP), requested the government for help and received generous aid from then education and cultural affairs minister Vinod Tawde.
"It didn't suit Fadnavis to polarise voters then," laughs Faizee. "It does now."
In fact, Fadnavis had taken the help of Muslim groups in the 2014 assembly election. Says Faquir Thakur, president of the Marathi Muslim Sewa Sangh, a confederation of Marathi-speaking Muslim groups in Maharashtra, "Not only did we campaign for Fadnavis' candidates in the 2014 assembly elections, he also asked us to get our community's support for his candidates in the municipal elections held in the subsequent years in Sambhaji Nagar, Kolhapur and Latur. We also put up banners in his favour, in both Marathi and Urdu. Whom was the BJP trying to please then?"
The BJP had even included three of the Sangh's demands in its 2014 manifesto for Maharashtra. These were: Publication of the Action Taken Report on the Mahmoodur Rahman Committee set up in 2008 by the Congress-NCP government to inquire into the status of Muslims in Maharashtra; handing over the running of the government-run Ismail Yusuf College in Jogeshwari, north west Mumbai, to a Muslim trust; and removal of encroachments from wakf land.
Work on the last demand had started under the supervision of then minister for minority development and wakf Eknath Khadse. However, after Khadse resigned in 2016, communication between the Sangh and the state government became progressively difficult.
In 2018, the Sangh decided not to support the BJP any longer.
Last year, after the Sena split in June and the Eknath Shinde-Fadnavis government took over, the Sangh decided to support Uddhav Thackeray.
"When we met Uddhav Thackeray in October last to pledge support to him, he predicted that the BJP will accuse him of having betrayed Hindutva by accepting our support," addS Thakur. "That's exactly what the BJP did. When Fadnavis takes our help, it was sabka saath. But when we support his rival, the latter is branded as appeasing Muslims."
Incidentally, it was a journalist who drew the attention of Eknath Shinde and Devendra Fadnavis to the Malegaon Urdu posters. At a press conference on Sunday addressed by the CM and Deputy CM, Shinde was asked to comment on the poster in which Uddhav Thackeray is addressed as 'Aali Janaab'.
After taking some time to understand what the phrase meant, Shinde said: 'They must be hesitating even to describe Balasaheb Thackeray as Hindu Hruday Samrat. They have no right to talk about Hindutva.'
In response, Shiv Sena (UBT) leader Ambadas Danve posted a picture of an Urdu poster which featured Eknath Shinde prominently, and advised: 'Janab Eknath Shinde yeh bhi dekh lo (Look at this too).'
Interestingly, when he was CM, Fadnavis himself had been addressed as 'Janab Devendra Fadnavis Sahab' on an invitation card printed by the BJP's Mumbai Minority Morcha. The card also mentioned other BJP leaders: 'Janab Adv Ashish Shelar Sahab, Janab Vinod Tawde Sahab, Janab Gopal Shetty, Janab Dr Kirit Somaiya and Mohtarma Poonam Mahajan.'
"It's the politics of convenience," says Faizee. "People have seen through it."