United States President Donald Trump will visit India -- Ahmedabad and Delhi -- on February 24 and 25.
Rediff.com travels down memory lane when previous POTUSes booked a passage to India.
Dwight D Eisenhower, 1959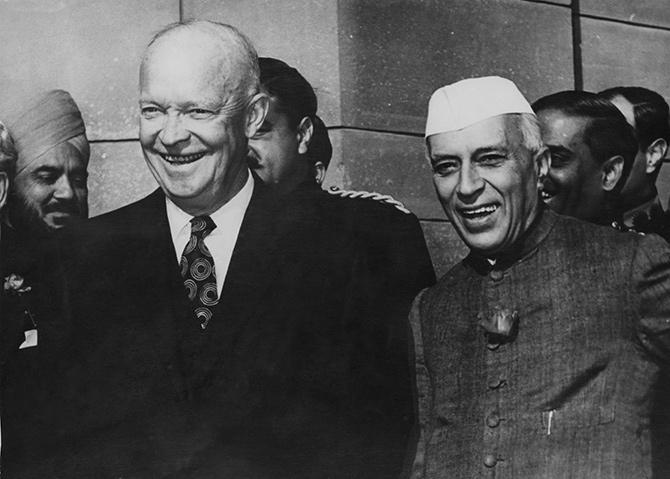 More than 50 years ago, US President Dwight D 'Ike' Eisenhower became the first American president to visit India. Ike's visit in December 1959 was part of his Asian tour.
During the visit, Ike spoke at a huge public rally at New Delhi's Ramlila Ground, addressed a joint sitting of Parliament and fulfilled his childhood dream of visiting the Taj Mahal.
Buoyant optimism marked Ike's four-day stay in India.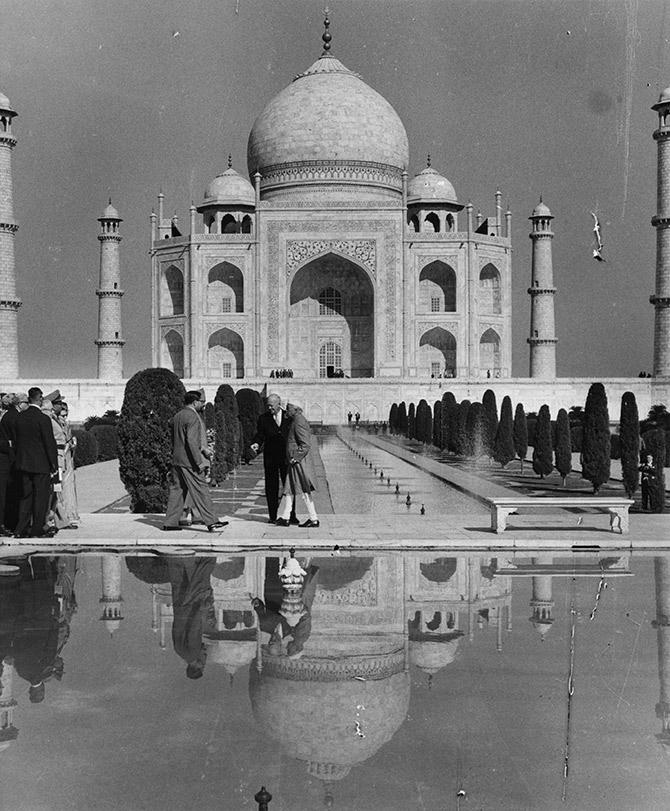 The unprecedented reception accorded to Eisenhower changed the US media's opinion of Indian neutrality and its perceived tilt in favour of Communist regimes in Moscow and Peking.
The low point of the visit was Ike's comment that while the American relationship with India was of the head, that with Pakistan was of the heart.
Richard M Nixon, 1969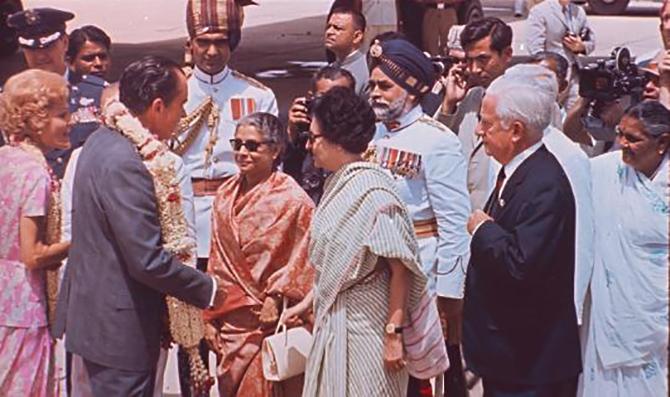 This trip was nothing like Ike's visit. Richard M Nixon, Ike's vice president, visited India as part of his Asian tour, six months after becoming America's president. He spent barely 22 hours in New Delhi.
The shortest visit by an American president to India reflected the unease between him and then prime minister Indira Gandhi, which worsened in the run-up to and the aftermath of the 1971 War.
Nixon's visit came at a politically turbulent time in India. Indira Gandhi and the old guard in the Congress party were then squabbling over who should be President after Dr Zakir Husain died suddenly, which led to the Congress split later that year.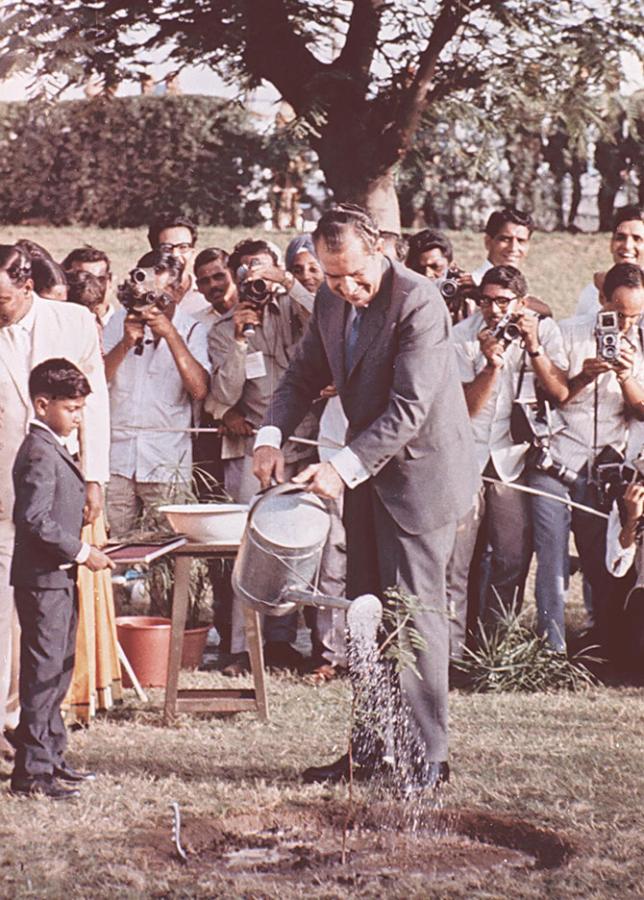 Jimmy Carter, 1978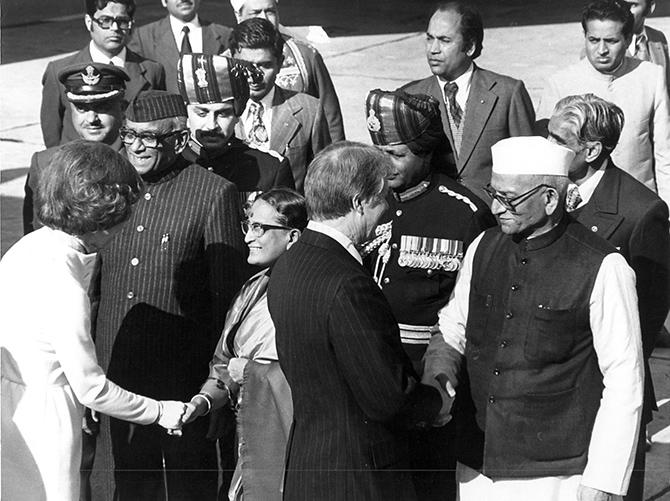 Jimmy Carter, the third American president to visit India, came by in January 1978. His three-day stay came months after the Janata Party's historic election win and Indira Gandhi's humiliating loss.
Carter's visit was meant to break the thaw in India-US relations after the 1971 War and India's 1974 nuclear test.
Carter -- whose mother 'Miss Lillian' had spent several months in India as a Peace Corps volunteer -- addressed a joint session of Parliament and also visited a village near Delhi.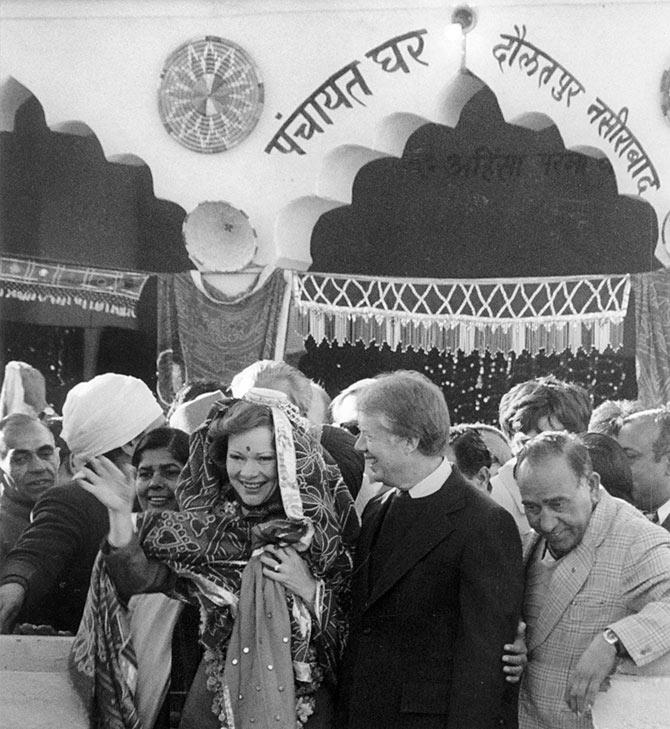 The Carters gifted a television set to the village and promised funds. The village, in Daulatpur Nasirabad, changed its name soon after and is called Carterpuri to this day.
However, the visit didn't go according to plan. Carter wanted the Indians to put an end to their nuclear ambitions. He was caught by microphones telling his aides that a 'cold and blunt message' should be delivered to Desai over India's nuclear ambitions.
Bill Clinton, 2000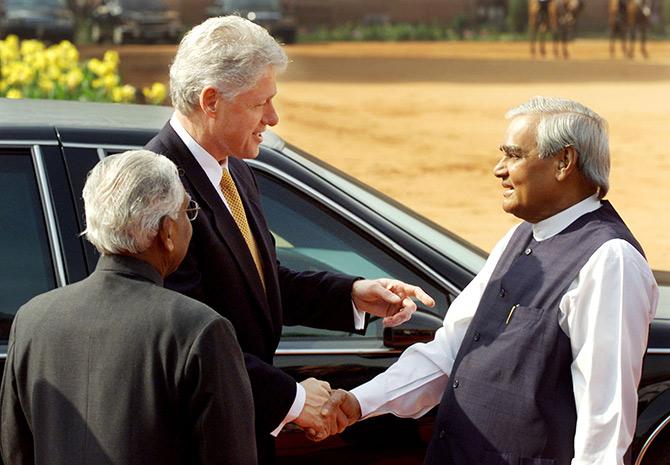 In March 2000, very much like Eisenhower, US President Bill Clinton came a calling in the last months of his second term.
His daughter Chelsea accompanied him. Clinton's itinerary was packed with visits to Agra, Jaipur, Hyderabad and Mumbai besides Delhi. His five-day trip was the longest by a US president.
Despite the fact that he faced criticism over the Monica Lewinsky scandal and the consequent attempt to impeach him back home, Clinton was a rock star in India. So much so, that he was mobbed by MPs after his address to Parliament.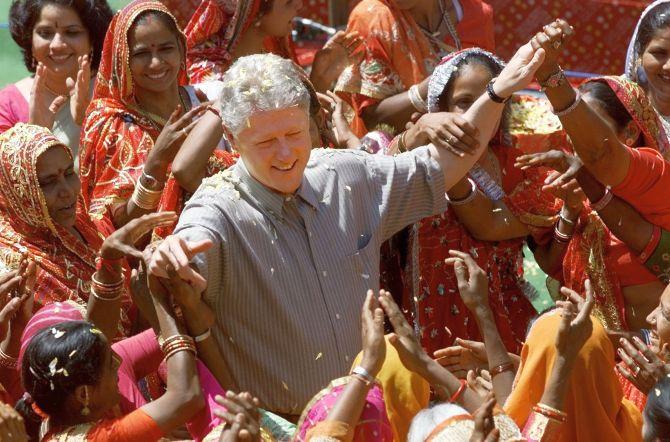 Clinton's visit came less than two years after he imposed crippling sanctions on India and Pakistan for the 1998 nuclear tests conducted by both countries. On his visit, Clinton sent out a clear message to Pakistan -- after spending five days in India, he spent barely five hours in Pakistan, clearly indicating that India and Pakistan stood de-hyphenated in Washington's scheme of things.
Clinton's trip marked the beginning of closer US-India strategic and economic ties.
George W Bush, 2006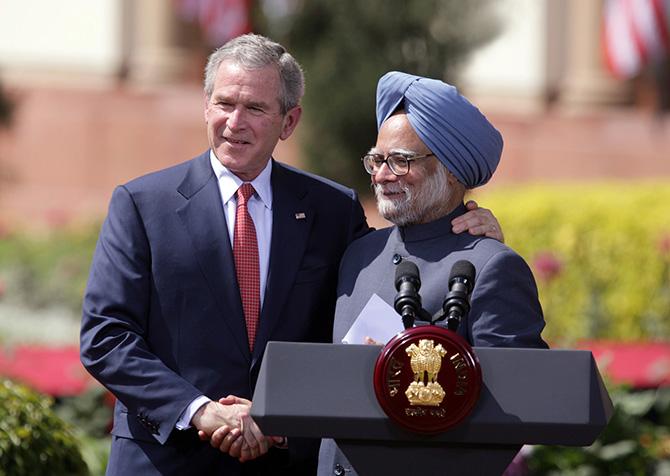 Almost six years to the day after the Clinton visit, George W Bush traveled to New Delhi. 'W' and First Lady Laura Bush barely spent 60 hours in India -- the shortest by a US president after Nixon's 23-hour stopover.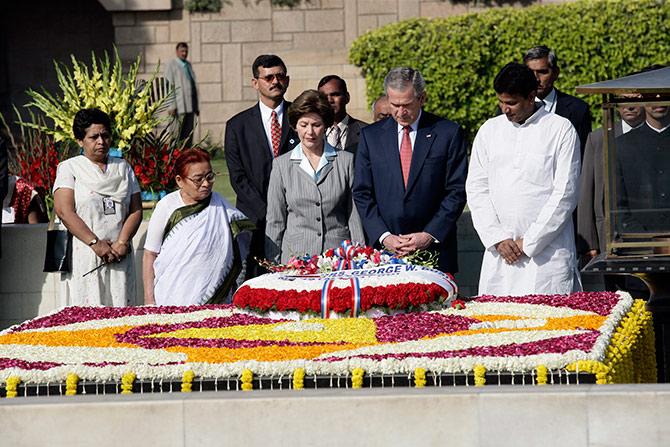 The Communist parties, which then supported the Manmohan Singh government from outside, were opposed to honouring Bush with a joint address to Parliament, so the American president delivered his address to a select audience at New Delhi's Purana Qila.
During the visit, Bush and Dr Singh finalised the framework of the India-US nuclear deal which paved the way for India to become the only country outside the Non-Proliferation Treaty to be allowed to pursue nuclear commerce.
Barack Obama, 2010 and 2015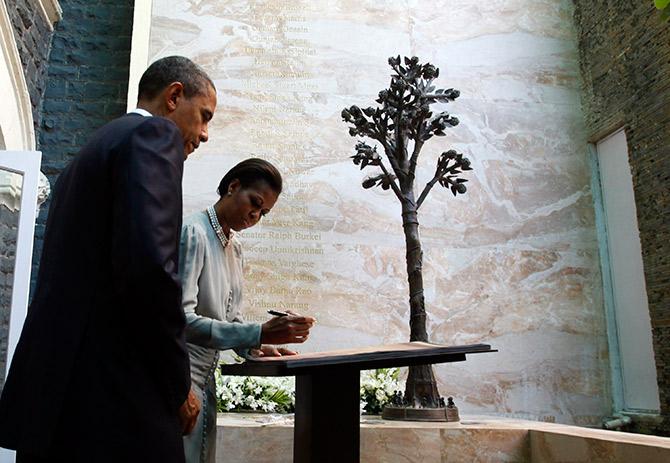 In November 2010, Barack Obama became the sixth US president to visit India. Obama and wife Michelle visited Mumbai and Delhi and met survivors of the 26/11 terror attacks which had occurred two years earlier, besides students at Mumbai's St Xavier's college and underprivileged children at a non-government organisation.
The US first couple won millions of Indian hearts as they spoke freely, and on one occasion Michelle sang and danced.
Obama addressed Parliament, backed India's ambition to become a permanent member of the United Nations and said India-US was the defining partnership of the 21st century.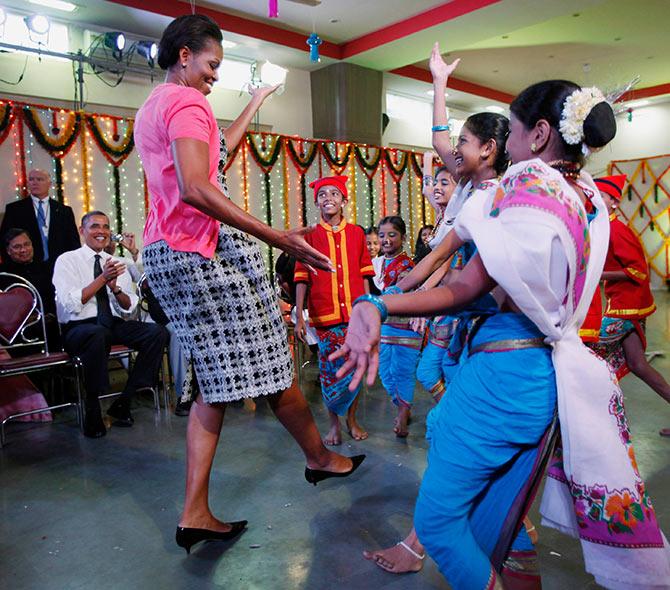 In January 2015, the Obamas once again visited India, months after Narendra Damodardas Modi was sworn in as India's prime minister.
Obama became the first American president to be chief guest at India's Republic Day parade.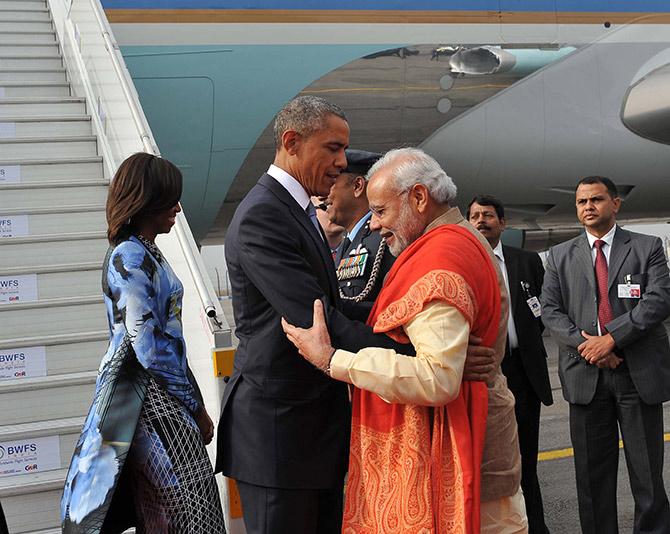 'It was hugely symbolic, the fact that the US president came to India for the second time in his presidency,' former Indian ambassador to the US Lalit Mansingh was quoted as saying. 'It showed that New Delhi had become important in the US scheme of things.'
Obama's visits to India -- in 2010 and in 2015 -- underlined how far the relationship had evolved from the days that India and the US were known as 'estranged democracies'.