'A tiger knows his territory in and out.'
'A tiger demarcates his terrain and never lets anyone enter.'
'Similarly, Ashu knew the trees, houses, rivers and rocks of the Rajwar jungles.'
'He didn't allow any militant to come into his territory.'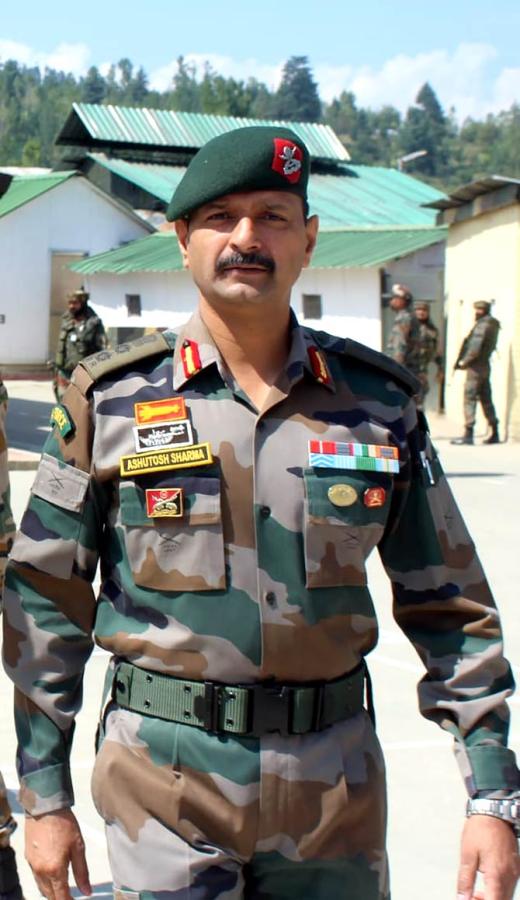 Two months before Colonel Ashutosh Sharma sacrificed his life on May 2, he was awarded the Sena Medal for gallantry.
The commanding officer had led a daylight mission against terrorists in the Kashmir Valley, taking enemy fire. He had eliminated a terrorist who was just five feet away.
This was the second time he had been awarded the Sena Medal for gallantry, an impressive military accomplishment.
At an earlier time, at a party to celebrate his first Sena Medal, as he stepped forward to say a few words, the first person he thanked was not his wife or family -- but the soldiers who served with him.
"It was never about 'I, me and myself' for him," his wife Mrs Pallavi Sharma tells Archana Masih/Rediff.com, over the phone from Jaipur. Mrs Sharma takes great pride in calling herself "the wife of Colonel Ashutosh Sharma" and has borne her unspeakable grief with immense grace.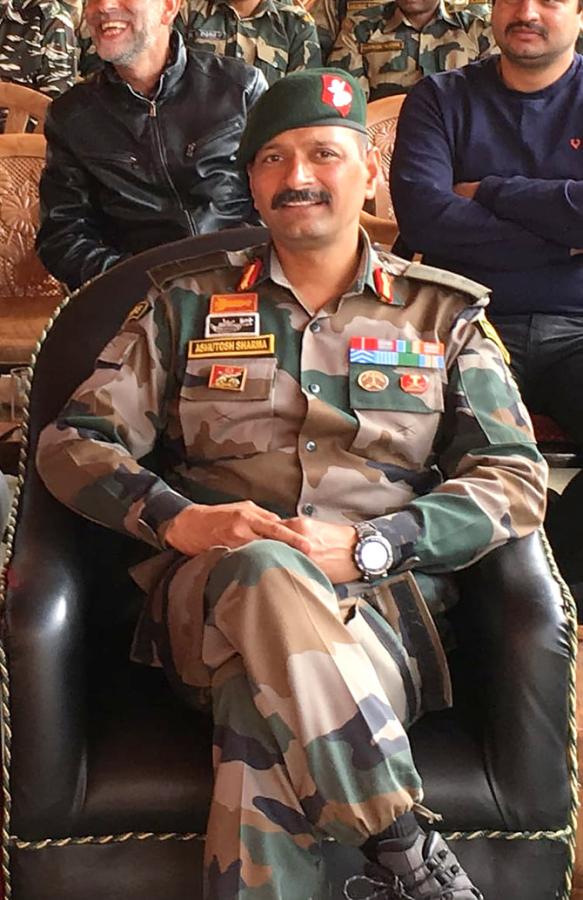 The photograph of her saluting her husband during the last rites, closing her eyes tightly lest tears escape, is a lesson in courage. It is also a glimpse into the character of army wives -- young women who bear their grief with exceptional courage and soldier on, strengthening the foundations of their young families.
The medals, camouflage uniforms and all of Colonel Sharma's belongings have yet to reach his wife in Jaipur. The lockdown has delayed the movement of the boxes.
The national flag that had embraced his mortal remains has been carefully kept by her in their Jaipur home.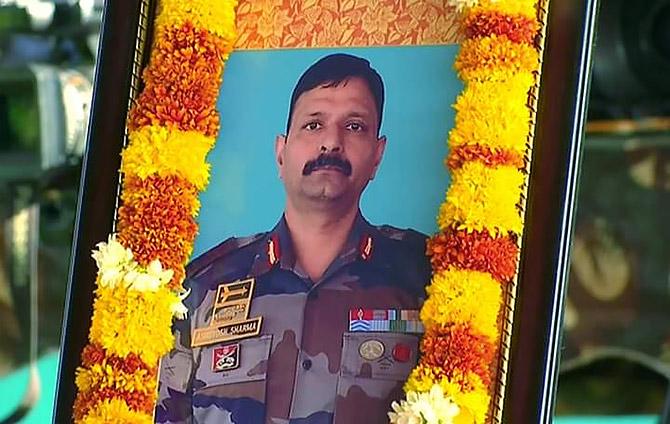 The other day, a relative asked if the flag could be taken out and refolded. "I said no -- it has his smell, don't open it, leave it like that. I have kept it very carefully," she says, holding onto every memory of her beloved husband for safekeeping in the treasure-chest of her soul.
"I feel honoured. I feel blessed. I feel complete. I accept his decision of barging into that house to eliminate terrorists to save civilians and sacrificing his life. I have no complaints, no regrets. I accept even that with a smile because that was his decision and the right thing to do according to him," says Mrs Sharma, her voice steady and unwavering.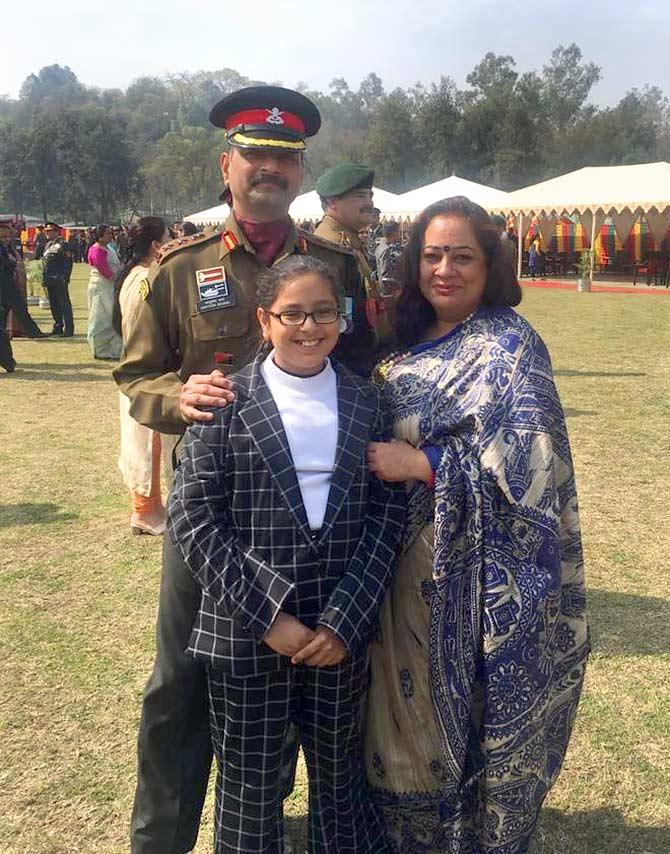 The operation to rescue hostages in Handwara had continued for one-and-a-half days. In the true ethos of the Indian Army, Commanding Officer Colonel Sharma and Company Commander Major Anuj Sood had led their team of three men from the front.
All five men fell in the line of duty.
Colonel Sharma was away on missions for nearly 10 to 14 days and nights in a month and had immense military and tactical experience in operating near the Line of Control, says his elder brother Piyush Sharma.
"His decision-making and tactical knowledge was very good and many senior officers have called to tell me that. Officers conducting ops in other areas used to ask him for tactical advice. He was an institution. I am going to write a book on him so that it can be inspiration to young people and officers," says Mr Sharma, a senior pharmaceutical executive.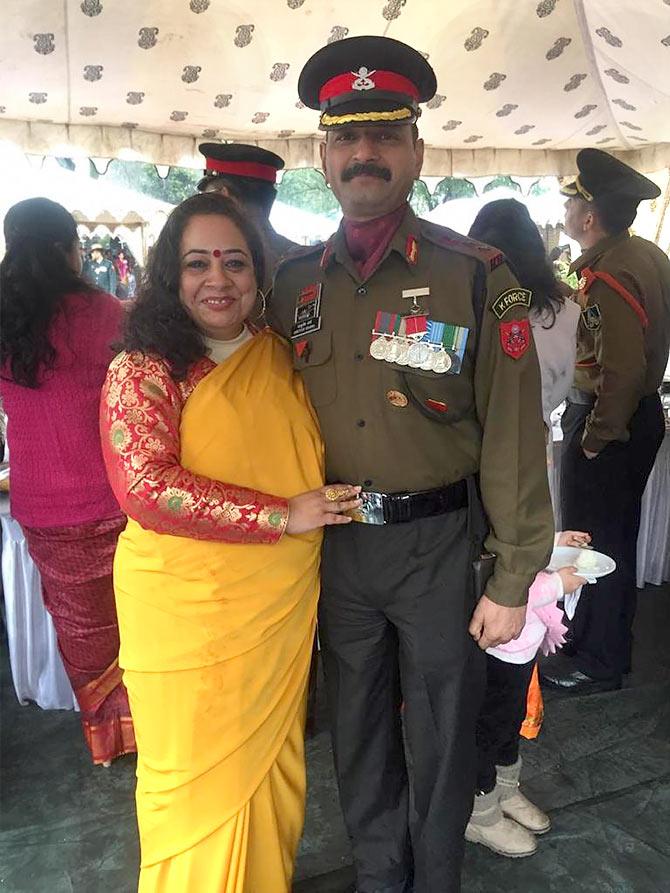 The family settled down in Jaipur in 2004, a few years after Colonel Sharma joined the army on his 13th and final attempt.
"He was passionate about the army uniform and spent a six year-long battle to get into the army. Every time he did not make it, he cried into my arms when I used to go to pick him up at the railway station on his return. 'Bhaiya, I tried my best', he would say," remembers Mr Sharma, recalling how his younger brother would sit for hours in the mandir in their home coping with rejection and cycle to Peer Baba's shrine every Thursday.
When finally selected on that last do-or-die effort at the selection board in Allahabad, he informed his older brother on the phone and the two broke down in tears.
There was no turning back after that. The officer excelled in his 18 years in the Indian Army.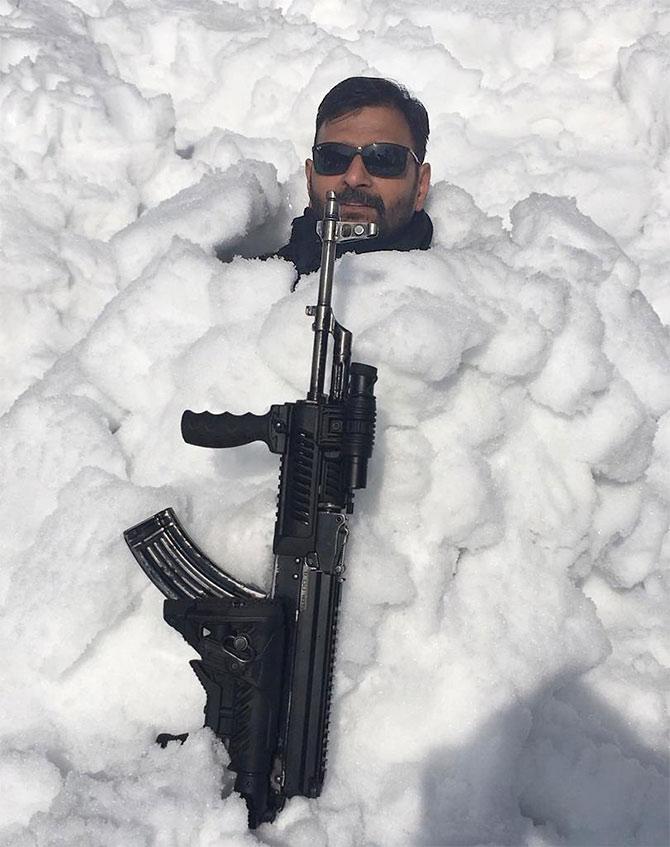 "He had alpha grading in all courses which is the highest grade. He was a commando instructor eligible to train officers and did the prestigious staff college. He twice won the Sena Medal and two commendations. His men admired him," says Mr Sharma who lived his own dream of joining the army through his younger brother.
"The day my brother became a shaheed, I felt as if I had retired. Now I will wear the uniform again when my younger son joins the army," he says.
He calls his younger brother 'Tiger'.
"A tiger knows his territory in and out. A tiger demarcates his terrain and never lets anyone enter. Similarly, Ashu knew the trees, houses, rivers and rocks of the Rajwar jungles. He didn't allow any militant to come into his territory. I used to call him the 'Rajwar Tiger'."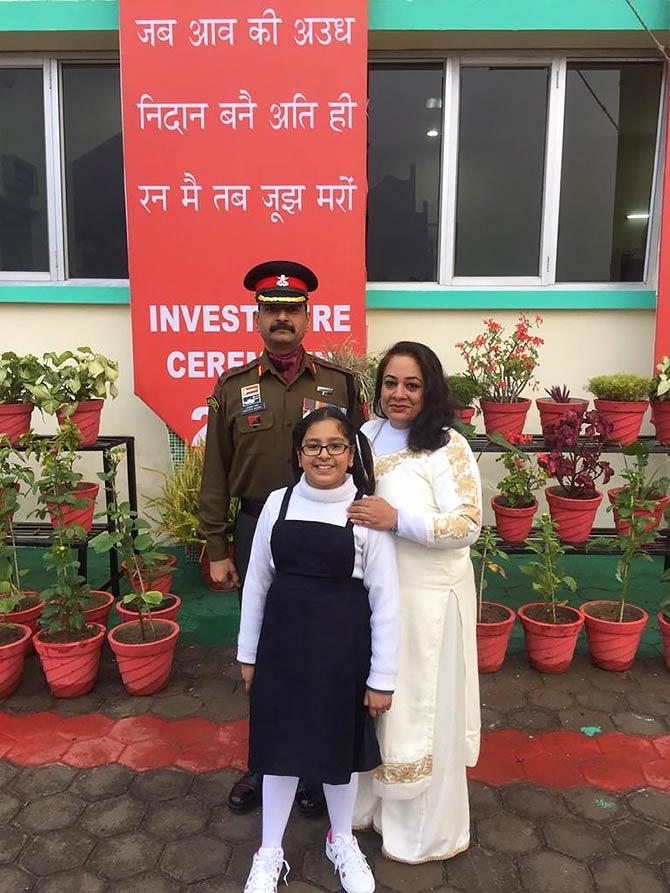 When the link with Colonel Sharma's team was lost during the operation and information about their martyrdom had not even come, the CO's wife and brother had an inkling that something was not right.
"We said that neither of us would cry. Pallavi's loss is monumental and she had set a standard by her courage," says Mr Sharma.
The Indian Army lost a commanding officer after five years.
The loss of a CO comes as a mighty blow to the morale of the troops and Mrs Sharma knew she had a tremendous responsibility in the way she faced her husband's martyrdom.
She knew it was something her soldier husband would have wanted her to do.
"One martyr had come to my house, but five martyrs had come to their unit. If I had cried that unit would have disintegrated. My emotional outburst or feeling does not have to be in public. At the funeral, I was Mrs Colonel Ashutosh and many eyes were on me. I knew I had a responsibility," she says.
The first person Mrs Sharma called was not her twin sister, a former army officer, or her friends -- but Major Anuj's Sood's wife, Aakriti, married two-and-half years ago.
She told her that if something happened to Major Anuj and nothing to Ashu, then 'How would I have faced you?'
She then called Major Sood's father, a former army officer and told him how proud she was of his son.
She called each and every officer and wife of 21 Rashtriya Rifles, asking them to keep calm and take care of themselves.
"I am the lucky person on earth who will honour his loss for my whole life," she says.
"From the moment I got the news, I believe I am honouring his loss by my actions."
"Ashu would have wanted me to do these things and I could never betray his trust."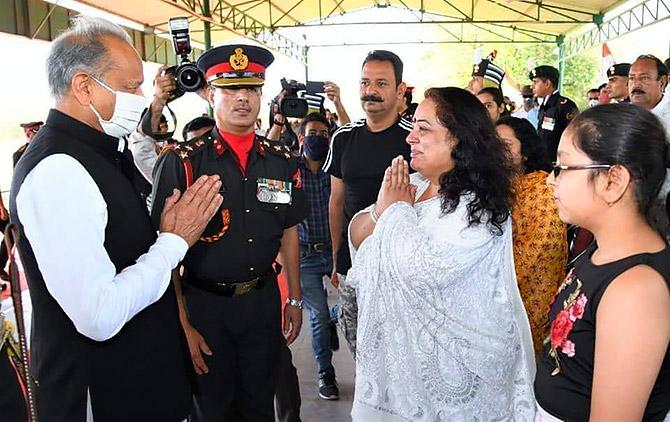 In life and in death, she was with him every step of the way. At the airport to receive his Tricolour draped coffin, lighting the pyre alongside her brother-in-law and at every ritual.
The last conversation she had with him was on the night before he fell, after he had returned from a mission. It was raining and he was soaked. 'It is so windy and I am so cold,' he had told her.
The words remained with her and Mrs Colonel Ashutosh Sharma stood as close to the funeral pyre. When asked to step back from the flames, she did not move an inch.
"Those were his last words to me. He had told me he was very cold, so I thought let me pass on this heat to him."
On April 22 was their 16th wedding anniversary and he had telephoned her to say that he was missing her a lot this time and they should have been together.
"Maybe he had some intuition, we sometimes don't come to know at that moment, but definitely something was to happen," says Mrs Sharma, sharing snatches of memories old and not so old.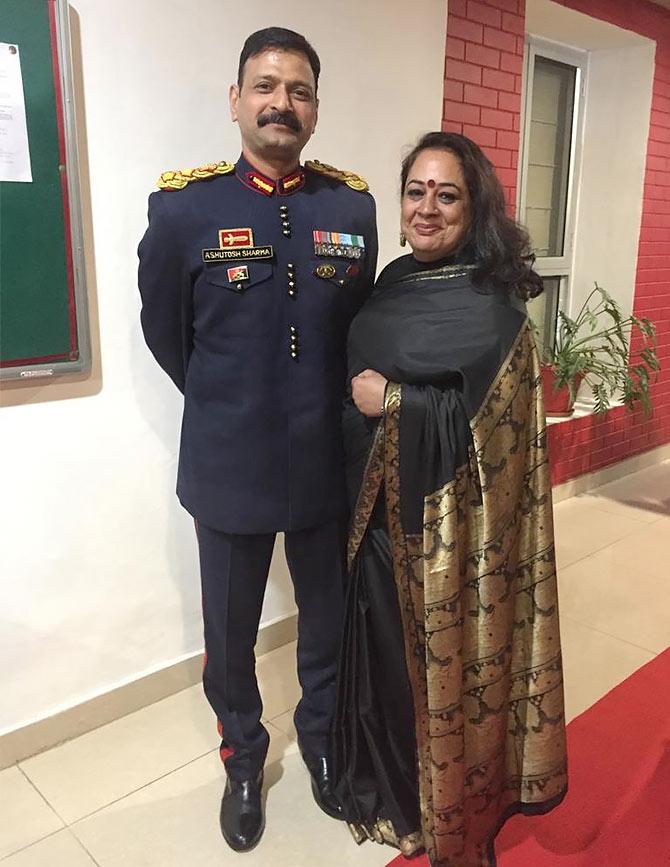 Like the first time they met at a coaching centre for entry into the armed forces in Dehradun. She was wearing a blue salwar suit and they were married four years later.
She knew him from before he became an army officer and remembers the sparkle on his face when he received the medal for gallantry.
His love for reading books on military leadership and listening to Kishore Kumar and Jagjit Singh.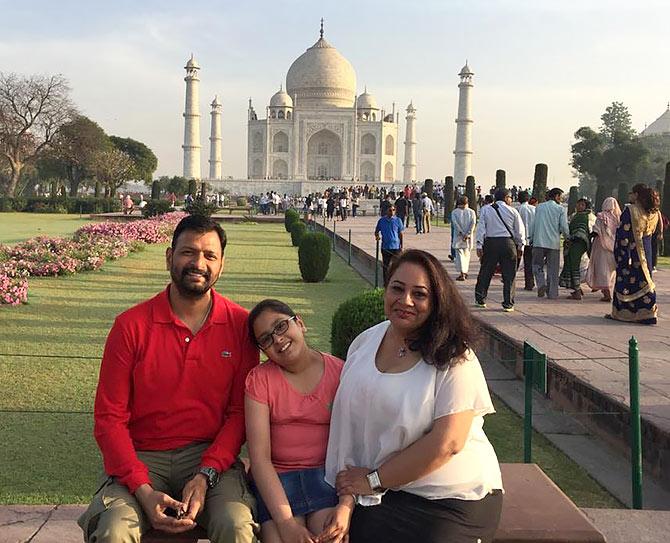 "He was my friend. He was passionate about his uniform, his profession, his juniors, seniors. He was true to his uniform," she says with tremendous poise and courage.
"There is a different attitude, tone, ring in my voice when I say 'I am Mrs Colonel Ashutosh'. Ek alag sa gurur, abhiman hota hai (it gives a sense of pride and honour)."
"He has taught me well. I have learnt so many things from him in the last 20 years."
A true fauji-wife, just as she is proud of her martyred husband, her soldier-husband would be proud of her.