Even as India battles the COVID-19 threat on a war footing, it cannot lose sight of the threat building up in Kashmir, cautions Lieutenant General Syed Ata Hasnain (retd).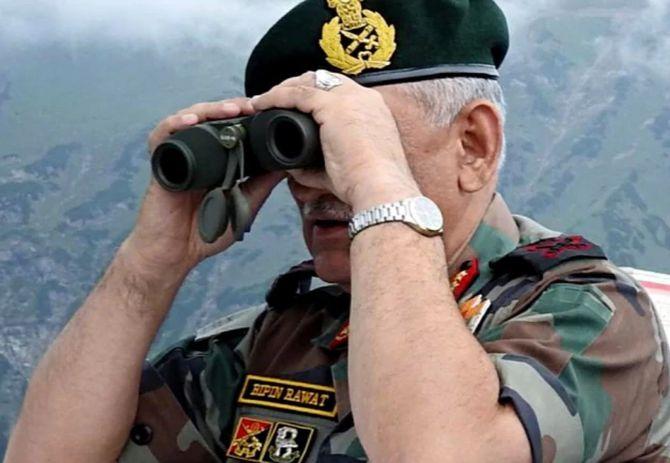 While we may not be able to confirm the rumour that Pakistan was attempting to push COVID-19 afflicted people into Pakistan occupied Kashmir and thence possibly into India through Kashmir, no one could have doubted that the threat from COVID-19 would in no way dilute Pakistan's obsession with Kashmir.
In fact a cursory glance at some curated recent Pakistani media output confirms that the Kashmir obsession continues unabated.
This was evident too from Pakistan's Health Minister Zafar Mirza's attempt to flag Kashmir during the SAARC video conference on COVID-19 on March 15, 2020.
The reported long encounter between the Indian Army and terrorists on the Shamshabari range north of Kupwara in the first week of April 2020 stands testimony to what was anticipated this season.
Five terrorists probably owing allegiance to the Jaish e Mohammad and infiltrating across the LoC from Dudhnial were killed, but five Indian Army Special Forces personnel too were martyred in the bargain.
Before any further analysis, a word on the nature of this operation is important to put at rest any speculation about the professionalism displayed by the Special Forces personnel during the encounter.
The area of contact lies high up on the Shamshabari range where levels of snow can exceed 10 to 15 feet with soft snow from recent snowfall being over 3 to 4 feet deep.
Movement is greatly restricted and the LoC fence, which is the anti-infiltration obstacle system, lies buried deep under ice during this season.
This is the most opportune time for infiltration attempts as another month from now efforts by the Indian Army's Corps of Engineers to refurbish the anti-infiltration obstacle system would be underway on a war footing just like they have been each year for the last 15 years; an earlier effort to refurbish is not possible due to the presence of ice and snow.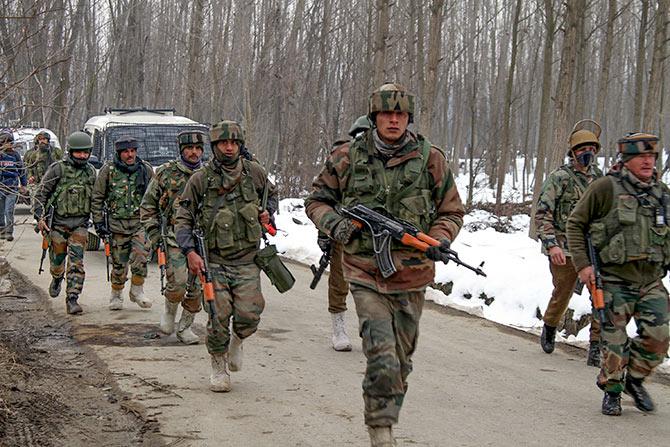 Terrorist groups know this well enough and risk large scale attempts to get through at any cost.
The degree of difficulty in counter infiltration is high even though telltale signs of terrorist movement on soft snow are a sure giveaway.
The challenge is response since covering even a kilometer on foot in such conditions may take a couple of hours.
Thus, when the infiltrating JeM track managed to get through the gaps between deployments of the infantry unit, patrols discovered the trail on soft snow.
Search elements from adjoining posts responded too, but movement constraints prevented completing an early contact with the terrorist group which descended into a deep gorge.
The troops who the group had managed to bypass then also deployed to prevent its exfiltration after being discovered.
To overcome inevitable movement delays Special Forces squads were dropped by helicopter closer to the gorge area.
One of the squads while moving along a cliff at night to establish contact unrealisingly stepped on an ice cornice and fell into the gorge and onto the terrorists.
A virtual close quarter battle ensued in which all five terrorists were killed and the six man squad lost five of its members.
There are bizarre and unpredictable contingencies which arise in such terrain, climatic conditions and operational environment.
This was one of those contingencies, but the grit and valour displayed by the Special Forces troops is indeed praiseworthy.
Reports suggest some more terror groups are awaiting an opportunity to infiltrate.
Perhaps the snow levels may daunt them, thus forcing attempts to lower altitude areas.
Troops along the LoC in Kashmir can never discount any part of the LoC to be outside the ambit of infiltration attempts.
The level of desperation in Pakistan is now palpable. It is important to get seasoned terrorists back into Kashmir, reorganise the militancy to deliver body blows and hope like hell that the comprehensive measures being undertaken by India to stabilise do not gel with the population.
Two of the eliminated infiltrators were Kashmiris from Shopian who had exfiltrated to PoK in 2016-2017.
Their level of training as seen in the encounter appeared to be high and their return was an imperative to add substance to the flagging South Kashmir militancy. More such return should be expected.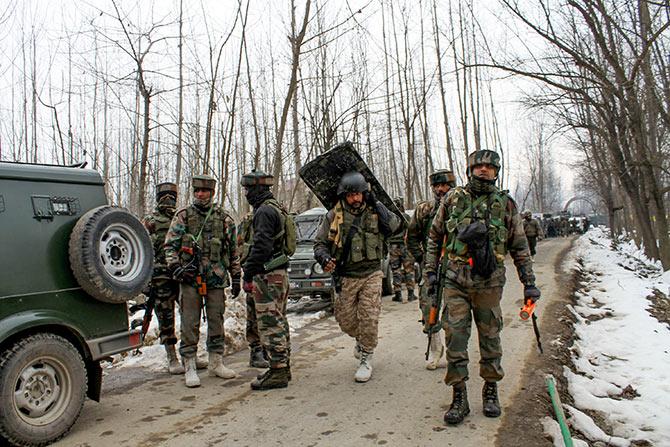 One of the important factors in the future strategy will be to ensure that terrorist numbers are kept under manageable limits through detailed surveillance over youth vulnerable to recruitment.
In addition, traditional hot spots of Tral, Shopian and Kulgam must be kept under constant pressure to prevent new concentrations and fresh hideouts.
But the most important factor will remain countering infiltration from PoK since there is a surety about that and vast scope exists along the over 300 kilometre-long LoC in Kashmir itself.
Considerable scope for infiltration exists in Jammu too with efforts to subsequently reach the Kashmir valley by transport arranged through the network of over ground workers.
What is certain is that the use of technology by the army is becoming a force multiplier and more of this should be integrated from the plethora of startups in India that are doing some yeoman work.
It may seem surprising that under such intense pressure from the FATF Pakistan continues to pursue a policy of sponsored terror in Kashmir unmindful of the economic impact of the misdemeanour it pursues.
If in the worst of times that the world is passing through Pakistan perceives its national interest to be the pursuit of a kinetic campaign in Kashmir through acts of terror, there is little else that India can do except to redouble its capacity to neutralise this and undertake every offensive measure to compel Pakistan to withdraw from the calamitous path it is pursuing.
In the post COVID-19 period Pakistan's deep state may further throw caution to the winds expecting India to be deeply committed to the recovery process and thus less prepared for response.
A high visibility act in Kashmir or elsewhere could be on the cards. The module for this too could come from PoK and would depend upon successful infiltration for that.
Among other options, spectacular acts need not be aimed at the hinterland where it could be difficult to reach.
The model of 2015-2016 stands out for its potential for adoption. This model focused on shallow infiltration to target installations in near vicinity of the LoC discounting deep movement to the hinterland.
The Uri and Mohra attacks in the Jhelum valley were a result of this. It was simply an adaptation of the normal pattern of infiltration.
WATCH: Lieutenant General B S Raju, General Officer Commanding, 15 Corps, describe the Indian Army's Kupwara operation. Video: Kind courtesy AGDPI
The LoC remains quiet for the present, but the possibility of forcing change in deployment pattern through actions by Pakistani border action teams against Indian patrols remains live.
These can be offset by swift counters across or proactive measures as per the strategy adopted by field commanders.
The first flush of the season for infiltration has witnessed as much desperation as visible in the political stance taken by Pakistan's leadership.
Even as India battles the COVID-19 threat on a war footing it cannot lose sight of the threat building up in Kashmir.
---
Lieutenant General Syed Ata Hasnain (retd) -- former general officer commanding of the 15 Corps in the Kashmir valley -- is one of India's most astute commentators on strategic affairs.