Air Commodore Nitin Sathe discovers how the IAF trained Pakistani air force pilots, during the 1971 War, which led to the birth of the Bangladesh air force.
My association with this Indian Air Force veteran -- who does not wish to be named for this feature -- goes back a long way. Although he was very senior to me in the IAF, we spent many an interesting hour together in and out of the cockpit over the years.
Calling him brilliant in flying and academics would be an understatement... but the only problem with this man was that he loved, and still loves to, remain out of the spotlight!
Post-retirement and out of the cockpit, his quest for knowledge only increased manifold and it was not long before he became a wizard of sorts.
With dates and names at his fingertips, he could rattle out stories about Chhatrapati Shivaji Maharaj's, Erwin Rommel's and Bernard St Law Montgomery's military campaigns and strategies. He has researched the many wars India has fought in recent times.
Ask him a question and he dives into memory (which he says is fading!) -- and in a few seconds, you hear fascinating tales from history.
And that is exactly what happened. I was researching a book that I am contemplating writing and decided to call the guru for information.
In the next hour or so, he left me spellbound with a captivating story, which I share with you here.
The IAF veteran first quoted from Prime Minister Indira Gandhi's speech to the nation on December 3, 1971.
"This is relevant to what I am going to say subsequently," the guru tells me.
'I speak to you at a moment of grave peril to our country and our people. Some hours ago, soon after 5:30 pm on December 3, Pakistan launched a full‐scale war against us.'
'The Pakistan air force suddenly struck at our airfields in Amritsar, Pathankot, Srinagar, Avantipur, Utterlai, Jodhpur, Ambala and Agra.'
'Their ground forces are shelling our defence positions in Sulemankhi, Khemkaran, Poonch and other sectors.'
'Since last March we have borne the heaviest of burdens and withstood the greatest of pressure and a tremendous effort to urge the world to help in bringing about peaceful solution...'
'...Today, the war in Bangladesh has become a war on India, and this imposes upon me, my Government and the people of India an awesome responsibility. We have no other option but to put our country on a war footing. Our brave officers and jawans are at their posts, mobilized for the defence of the country. Emergency has been declared... we are prepared for any eventualities.'
'...I do not doubt that it is the united will of our people that this wanton and unprovoked aggression of Pakistan should be decisively and finally repelled. In this resolve, the Government is assured of the full and unflinching support of all political parties and every Indian citizen.'
'We must be prepared for a long period of hardship and sacrifice. We are a peace-loving people, but we know that peace cannot last if we do not guard our freedom, our democracy and our way of life. '
'So today we fight, not merely for territorial integrity, but for the basic ideas which have given strength to this country, and in this alone we can progress to a better future.'
'Aggression must be met and the people of India will meet it with fortitude and determination, with discipline and the utmost unity.'
Mrs Gandhi had to wait to make this declaration almost till the midnight of December 3, the IAF explains.
Bengali pilots from the Pakistan air force trained by the IAF, flying an Indian helicopter and transport plane (hastily modified for delivering armaments) from airfields in India, were used to fire the first shots in East Pakistan on the night of December 3.
As soon as the news of the safe recovery of these aircraft after their successful mission reached Delhi, as if on cue, Mrs Gandhi declared war, the clouds of which were looming large from the beginning of 1971 itself.
The Bengali PAF pilots were trained by the IAF at several bases located along the eastern border of that country.
'Kilo Flight', as it was called, was a small part of the larger 'Kilo Force' formed from the large population of East Pakistanis (of Bengali origin) fleeing their country into India.
This story is how these pilots were trained by the IAF and achieved the impossible, braving all odds. They went on to become the pioneers of the soon to be Bangladesh air force.
"But before we get to know more about the Kilo Flight, it would be pertinent to know how the 'Kilo Force' was formed and we need to go back in time," the guru said to me as the chat warmed up.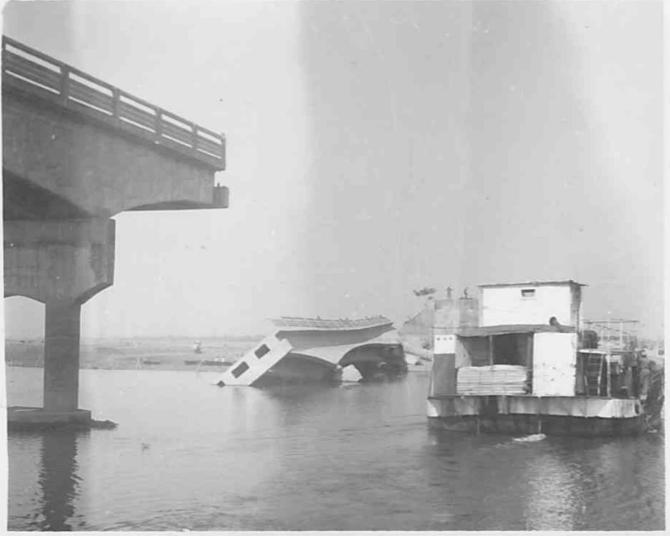 In early 1971, Sheikh Mujibur Rehman announced on Chittagong radio that East Pakistan was separating from West Pakistan and a new country was to be formed. He was trying to garner as much local support within and outside the armed forces deployed in East Pakistan.
This led to a general revolt among the Bengali population in East Pakistan and a retaliatory crackdown -- Operation Searchlight -- was launched by the Pakistan army.
This led to a mass exodus from East Pakistan into India.
Also fleeing the brutal Pakistani army repression were government officials and soldiers of the Pakistan armed forces of Bengali origin.
Although the easiest route to India was to come westwards towards Calcutta, it was found to be easier to escape by penetrating the porous border in the east around Agartala at that point of time.
"We had a large number of dissidents coming in," recalls the IAF veteran, "Of these, 40 odd VIP dissidents were taken to Calcutta. They formed the core group of the government in exile. They were housed in a building named Ramkutir in Tollygunj near the Hoogly. The army signal unit located alongside provided them with much needed security."
"Mind you, there were a lot of Pakistani jasoos (enemy agents) in Calcutta then, whose task was to eliminate these so-called traitors," the veteran remembers.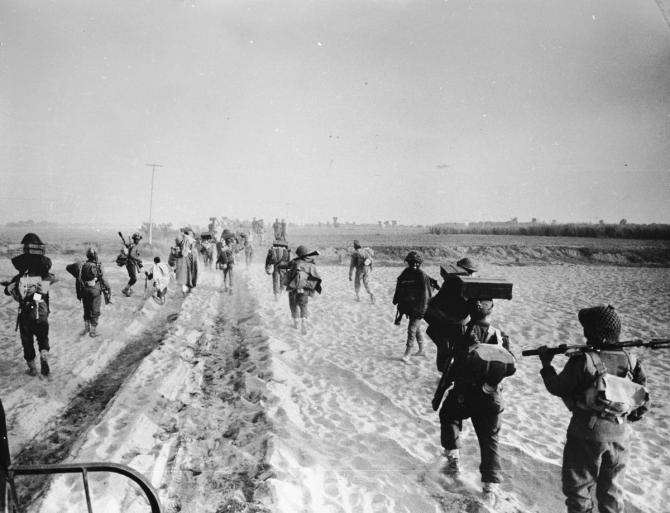 There were these two outstanding military officers among these 40 VIPs -- Colonel M A G (Muhammad Ataul Goni) Osmani and Wing Commander Abdul Karim Khondker.
Besides them, we also had civil servants and powerful politicians like Tajuddin Ahmed, Nazrul Islam, Mansoor Ali and Qamruzzaman who worked tirelessly manning various portfolios of the government in exile.
Some of these men were arrested and murdered in the 1975 uprising which saw Sheikh Mujib and most of his family (barring current Bangladesh Prime Minister Sheikh Hasina and her sister who were abroad then) assassinated.
"Colonel Osmani was soon sent back into Bangladesh. He had a good local following and was tasked to start the resistance movement," the IAF veteran tells me.
Khondker was tasked to work out strategies to deal with the Pakistani army in East Pakistan. He was also assigned to create a fighting force by recruiting able-bodied Bengalis and train them at ten-odd camps set up all along the eastern border with India.
Wing Commander Khondker was a distinguished fighter pilot who had been head of Pakistan's air force academy.
He was appointed deputy chief of the nascent Bangladesh air force during the 1971 War and later took on the mantle of the BAF's chief of air staff.
After retirement, he became Bangladesh's planning minister before retiring from public life in the 1990s.
The idea of providing guerrilla training to the Bangladeshis in exile was finally accepted amidst scepticism that India should not end up arming the East Bengali dissidents so heavily that they became a problem to handle at a later stage.
The requirement at that time was to create enough trouble for the Pakistan army and force them to withdraw from East Pakistan thus leading to a democratic setup and local governance to take over peacefully.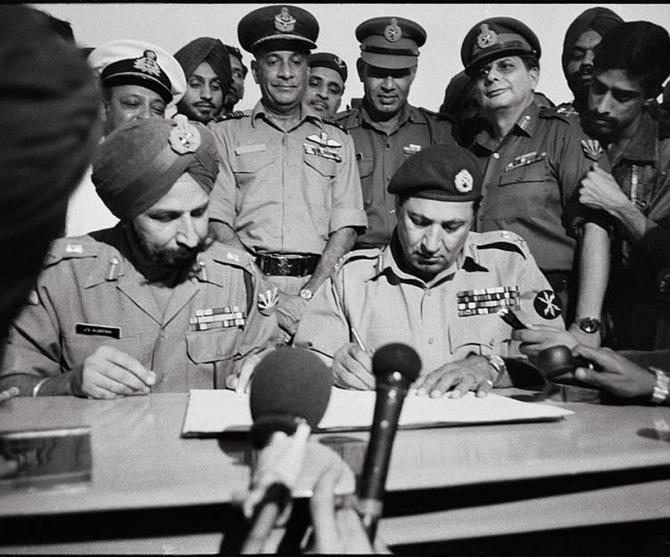 General Jagjit Singh Aurora, the Eastern Army Commander, was given full responsibility for training the cadres while the responsibility of running of the Eastern Army was left to his deputy, General J F R Jacob.
"A brigadier was assigned to head each of the ten training camps which they did admirably. We were churning out quite a handful of motivated fighting 'soldiers' every three months and the numbers kept growing as the influx of refugees increased," the IAF veteran remembers.
Led by and conceptualised by Wing Commander Khondker, the force that was thus formed was called the Kilo Force.
I was told about an instance when Air Chief Marshal Pratap Chandra Lal, the then chief of the air staff, solved a teething problem of command and control in quick time.
"A huge number of demands was placed on the IAF by the army for tackling tasks related to the Kilo Force as well as looking after army requirements," the IAF veteran recalls. "General Jacob was unhappy with the dual command and control of assets in his area; the Central and the Eastern Air Commands provided the air assets at that time in support of all operations in the Eastern theatre."
This was causing unnecessary confusion and delays and affecting the smooth running of operations, General Jacob felt.
At a meeting with the three chiefs who came to Fort William in Calcutta to see how things were progressing, General Jacob and Wing Commander Khondker took Air Chief Marshal P C Lal aside and briefed him on the same.
General Jacob then requested the chief of air staff, 'Can you make my life simpler sir?'
Pronto, orders were issued by the air chief and the Advanced Headquarters at Fort William came into being under Air Commodore Solomon Purushottam.
Air Chief Marshal Lal actually 'neutered' the Command HQs who were to now only give administrative support in terms of provisioning of rations, military hardware and men as and when required.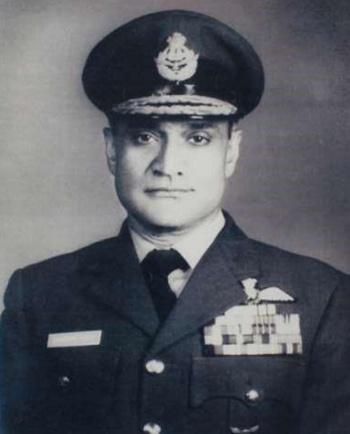 Group Captain (later Air Vice Marshal) Chandan Singh, Mahavir Chakra, AVSM, Vir Chakra.
Similarly, during actual operations starting December 3, then Group Captain Chandan Singh was handed over operational control of the helicopter and transport operations.
"It became as simple as that. The army asked for support to the IAF who were placed within the same HQ and it was approved there and then!" exclaims the IAF veteran.
During the meeting with Air Chief Marshal Lal, Wing Commander Khondker also requested the IAF to part with the Mystere aircraft which were being phased out of service in the IAF for the Bangladesh air force. But Air Chief Marshal Lal was not in favour of arming the fledgling Bangladesh air force with fighters just then.
With one armed Chetak, one armed Otter and one Dakota, 9 officers and 57 men, the Bangladesh air force came into being on September 28, 1971, a day it celebrated as its Air Force Day.
It was on this day that training commenced in Dimapur under the IAF for the Kilo flight.
After the December 16, 1971 surrender and the borth of Bangladesh, the Kilo flight aircraft -- riddled with bullets but still fly-worthy -- were handed over to the Bangladeshis at Dacca.
More about the Kilo Flight next time!
Air Commodore Nitin Sathe retired from the Indian Air Force in February 2020 after a distinguished 35 year career.
The author of three books, you can read Air Commodore Sathe's earlier contributions here.
Feature Presentation: Rajesh Alva/Rediff.com