'It will be a long time before we will see the likes of Vajpayee again.'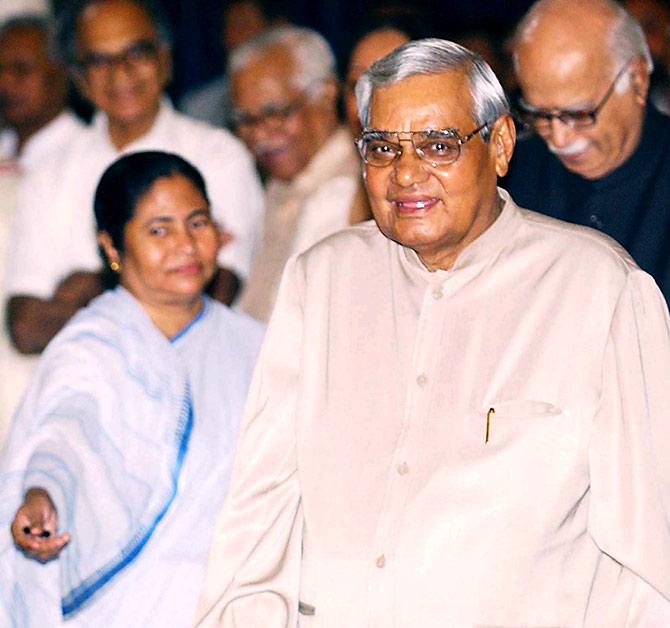 Former Research and Analysis Wing chief A S Dulat remembers then prime minister Atal Bihari Vajpayee in whose office he served as an advisor on Kashmir.
Vajpayeeji was ailing for quite some time and when such a great man goes, it is a great moment of sadness.
In the family, he was referred to as Baapji.
For those who worked in the PMO (prime minister's office), he treated all of us like family.
My heart goes to his family, specially his (foster) daughter Gunnu, as we used to call her.
May the Almighty give them strength to bear this unbearable loss.
Atalji used to speak less and he would hear more.
He would listen patiently and would give you time to finish.
He would rarely interrupt you.
After you finish, he would say what to do.
He expected you to understand and not speak too much.
He was a great man and today, BJP leaders are mourning his loss.
Vajpayee did not belong to the BJP, but to India.
Vajpayee was the greatest of our prime ministers, second only to Jawaharlal Nehru.
It will be a long time before we will see the likes of Vajpayee again.
I saw him closely for five years in the PMO.
I recall his poem Hum Haar Na Manegey (We will not accept defeat) and that is something that struck me about this great man.
He was always unflappable.
He faced maximum crises during his prime ministerial tenure and yet he never deviated from his conviction and beliefs.
One of his convictions was that we need to end this permanent confrontation with Pakistan and move forward in Jammu and Kashmir.
In Kashmir, Vajpayee will be missed hugely.
If there was one leader who was revered in Kashmir it was Atalji.
This news of his death will be another heartbreak for Kashmir and Kashmiris and across the political spectrum of Kashmir.
Be it Dr Farooq Abdullah, Omar Abdullah, Mehbooba Mufti or even the separatists for that matter like Yasin Malik, Mirwaiz Umar Farooq or even Syed Ali Shah Geelani.
They would have to admit that a very great leader has passed.
When he went to Lahore, it was a pathbreaking moment and a defining moment.
It was one moment that people on both sides thought that maybe India and Pakistan will come to some kind of proper understanding (on Kashmir).
Vajpayeeji had the courage to do it single handed.
Sadly, soon after his Lahore visit, the Kargil war broke out.
The only time I saw Vajpayeeji troubled a little bit was when the coup took place in Pakistan.
He had developed a fantastic chemistry with then Pakistan prime minister Nawaz Sharif.
He felt sad for Mian Sahab and he also worried about his safety.
Yet, he invited Pakistan's General Pervez Musharraf to Agra for peace talks.
And still a terrorist attack took place on Parliament. An Indian Airlines plane was hijacked in his time.
He went to Srinagar in April 2003 and told a public meeting that he had tried to reach out to Pakistan two or three times, but he was let down.
He then said he would not give up talking peace with Pakistan.
He said he would try once more.
He then went to Islamabad for the SAARC summit.
Vajpayee gave Kashmiris hope.
The one thing that Kashmiris resents and grudge is defeat.
Vajpayeeji never made them feel a sense of defeat.
He always gave Kashmiris a sense of hope and hope was reinforced by engagement with Pakistan.
He had conviction and immense confidence in peace with Pakistan.
He was not an ordinary leader.
He was a politician par excellence.
He was a mesmerising orator and I don't think anybody can come anywhere near him.
When he had the stage to himself, he could mesmerise anybody.
As told to Rediff.com's Syed Firdaus Ashraf.