Activist Trupti Desai says she will launch an aggressive campaign if trustees Haji Ali dargah in Mumbai don't open the place for women.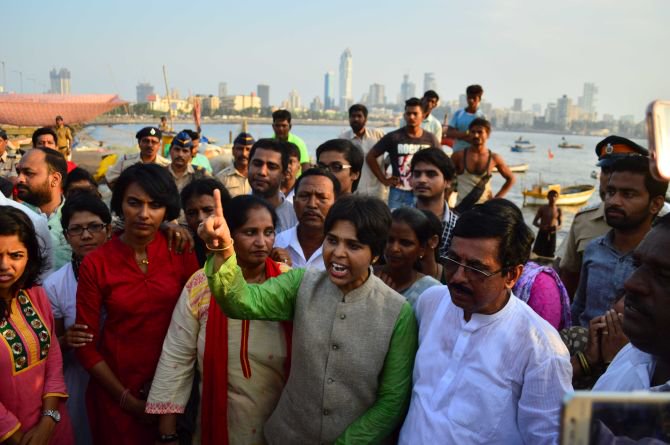 Over the past few months, a young woman has been challenging religious leaders of all hues by questioning their age-old practice of restricting women's entry at places of worship. For this, she was intimidated and even attacked, but nothing seems to have dissuaded her resolve.
Trupti Desai, 31, says she believes in god and her fight is not against any religion. "It is against a few who don't accord women equal right of worship in temples and mosques. They argue that their God will become impure if we touch them. They forget that it is women who give birth to their Gods," says Desai, in a Marathi tone.
In India, gender equality has always been a sensitive issue. Although political parties try to champion the cause, they dodge the issue if religion is involved.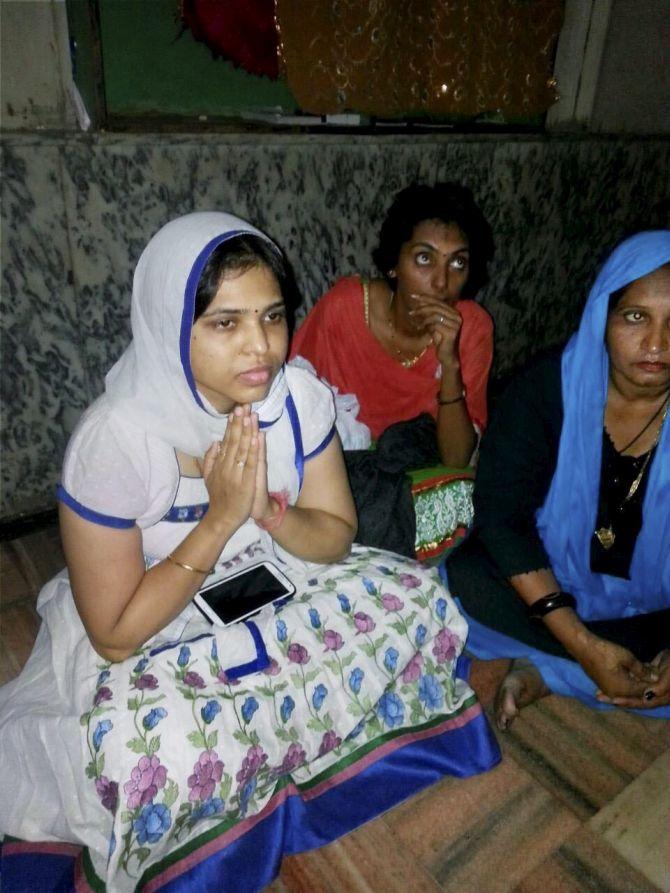 Desai, mother of a seven-year-old boy and married to a businessman, had tried her hands at politics before she took up social activism full-time. Desai had unsuccessfully fought municipality elections on a Congress ticket in 2012. "People see only money in election. They do not see the good work of a person," she says.
She has been successful in raising an issue which is cleverly skirted by politicians and religious leaders. Thanks to her efforts, women could enter the sanctum sanctorum of the Shani Shingnapur and Trimbakeshwar temples. Her next target is to enter the inner sanctum of the famous Haji Ali Dargah in Mumbai.
On Thursday, some activists from the Bhumata Brigade, which Desai founded in 2010, reached the dargah and issued an ultimatum to its trustees to reopen the place for women in 15 days. Women's entry into the inner sanctum of the dargah was restricted in 2011.
"I am not against any religion. If Haji Ali trustees don't open the place, we will launch an aggressive campaign," says Desai.
The brigade has around 6,500 members, including 1,200 active participants. It says it doesn't receive funding from any religious or political organisation. The activists take up issues such as corruption, farmer suicides; their next plan is to launch a campaign to ensure only women priests change the clothes of goddess idols. "Right now, it is done by male priests and it is not right."
Desai says she always wanted to be a social activist. She had to drop out of college due to family problems. "I started my activism days in 2003 and I would take up issues for jhopad patti walas (hutment dwellers)."
She got married to a businessman in 2006 but continued her social work. Her biggest achievement came the next year, when she forced the Ajit Cooperative Bank in Maharashtra to return Rs 30 crore to its 35,000 customers. Her brother was one of the customers. "I had unearthed a fraud in the bank, run by a relative of former Maharashtra deputy chief minister Ajit Pawar."
She formed a committee, which would do sit-in protest, paint the face of bank managers and make other officials wear bangles. "I had used a sandal to hit Ajit Pawar's banner. We also collected Rs 300, of which half was sent to Pawar and the rest to bank officials who used to say that they couldn't return the money," says Desai.
On her political plans, she says: "There is no plan for the next three-four years. I am not saying no to politics, otherwise you would say I was lying if I enter politics in future."