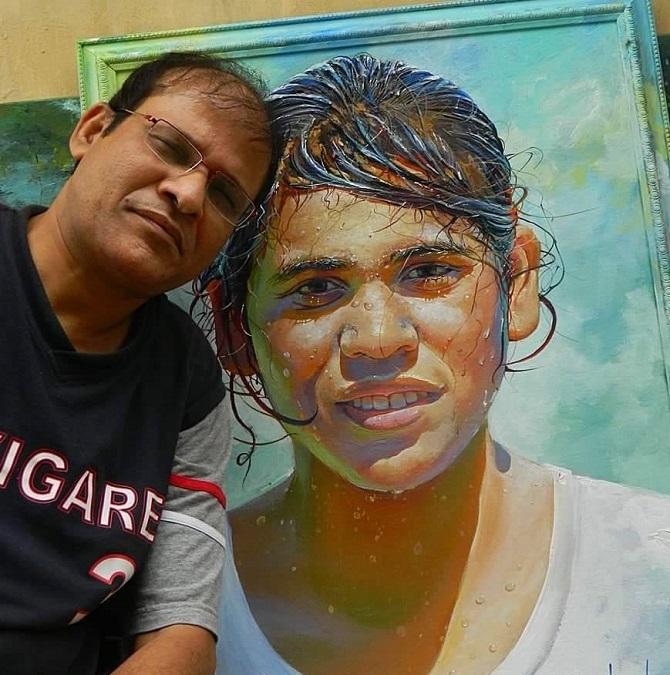 Avantika Bhuyan meets a train ticket inspector who captures everyday scenes beautifully on canvas.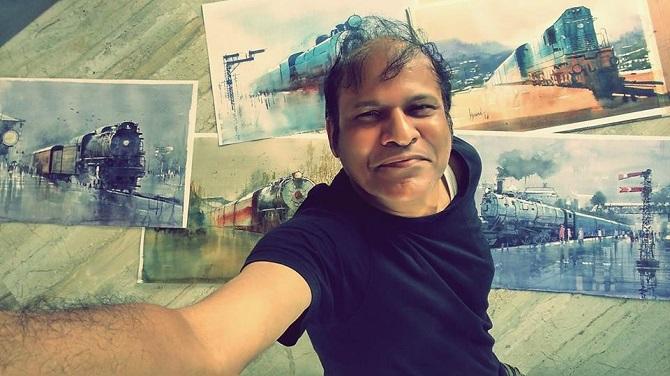 July 26, 2015, is a date Bijay Biswaal is not likely to forget. That was the day Prime Minister Narendra Modi mentioned him in his Mann ki Baat address.
While talking about how a karamchaari should become a karma yogi, Modi lauded Biswaal, who, apart from performing his duties as the chief ticket inspector at the Nagpur division of South East Central Railways, also painted lively scenes inspired by his observations on the job.
"To me, this mention was like winning an Oscar," smiles 52-year-old Biswaal.
A self-taught artist from a small village of Pallahada in Odisha's Angul district, Biswaal has been participating in group shows and art festivals in India and abroad since 2012.
Seven of his works are now being exhibited as part of the show, Lands Within, at the Egg Art Studio in New Delhi, a gallery that promotes upcoming artists from across the Indian subcontinent and the world.
Biswaal is among the 18 artists -- some trained and others self-taught -- who are showcasing 70 works centred around real and imagined journeys.
Biswaal's watercolours have a photograph-like quality about them, with light and shadow adding depth to the scene.
His two paintings about a village in Odisha offer a heartbreaking mix of poverty and beauty with ramshackled barns set amidst verdant surroundings. The works draw from his childhood, when he would use charcoal from the chulha (hearth) to sketch.
"As a child, I would draw leaves, flowers and rivers. When I grew a little older, I became a huge Bollywood buff and would paint small posters of cine stars such as Amitabh Bachchan and Mithun Chakraborty for a video parlour," says Biswaal, who refuses to be typecast by genre or medium. He worked with oils, acrylic, watercolours, charcoal -- whatever he could lay his hands on.
Even when he got a job in the Railways, he didn't let his passion for art die. Instead, he became famous for carrying his painting kit on the job, creating sketches during off-duty hours.
"In 2011, the train halted at a nondescript station near Bilaspur. There were very few people there," he recalls. "Two sadhus were walking around. A mother was pulling her child to the train." He made a rough sketch there and then and translated it onto a bigger canvas at home.
The work received a lot of appreciation at the India Art Festival in Mumbai in 2012. There has been no looking back since.
His series, capturing the beauty of the Railways and the diversity of its passengers, has been winning hearts internationally.
Amrita Varma, curator of the exhibition and co-founder, Egg Art Studio, says his work fits in perfectly with the theme that aims to reinstate the status of landscapes within the contemporary art scene.
"When you say 'landscape', you think of the European paintings or those from the Bengal school. We can't always live on the laurels of the past," says Varma. "Landscapes deserve their status as a visual rendition of the beautiful world we are fortunate to be a part of within and outside."
Works by other artists such as Ashish Kushwaha from Madhya Pradesh, Delhi's Sarika Dandona and Fanil Pandya from Vadodara showcase not just what they see around them, but also reflect on the emotions, sentiments and associations formed around the landscape -- making the work a mindscape of sorts.
The Lands Within exhibition is on at the Egg Art Studio, 23 Barakhamba Road, New Delhi, till September 15.
For those of you who cannot make it, a few glimpses of Biswaal's amazing work. with his own captions: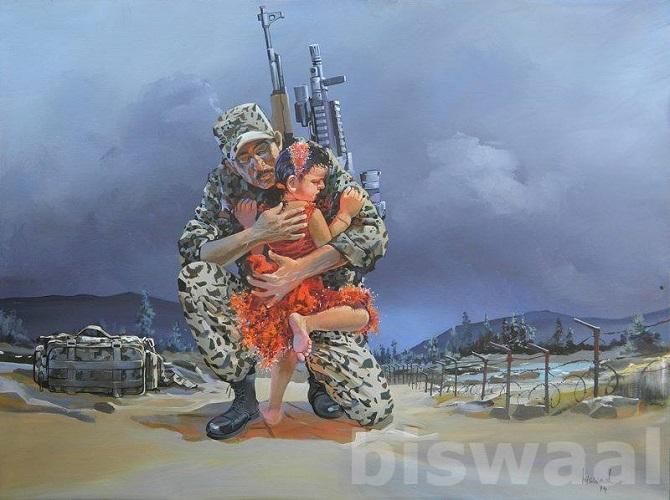 IMAGE: The woods are lovely, dark and deep/
But I have promises to keep,
And miles to go before I sleep,
And miles to go before I sleep... Robert Frost

Acrylic on canvas: 36x48 inches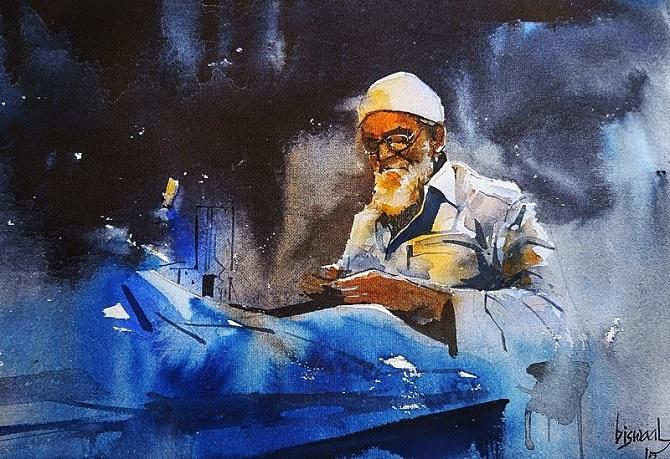 IMAGE: The old tailor

Watercolor on handmade: 14x20 inches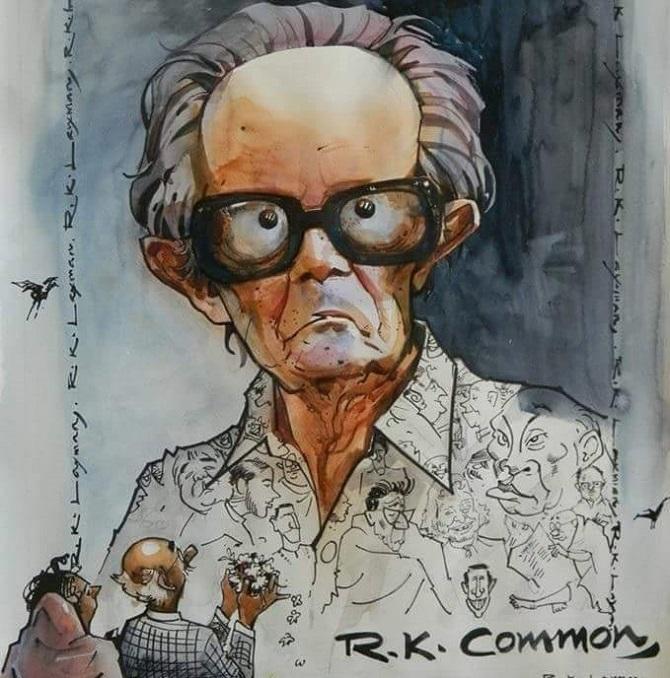 IMAGE: Happy cartoonist day... at the Nagpur Junction railway station.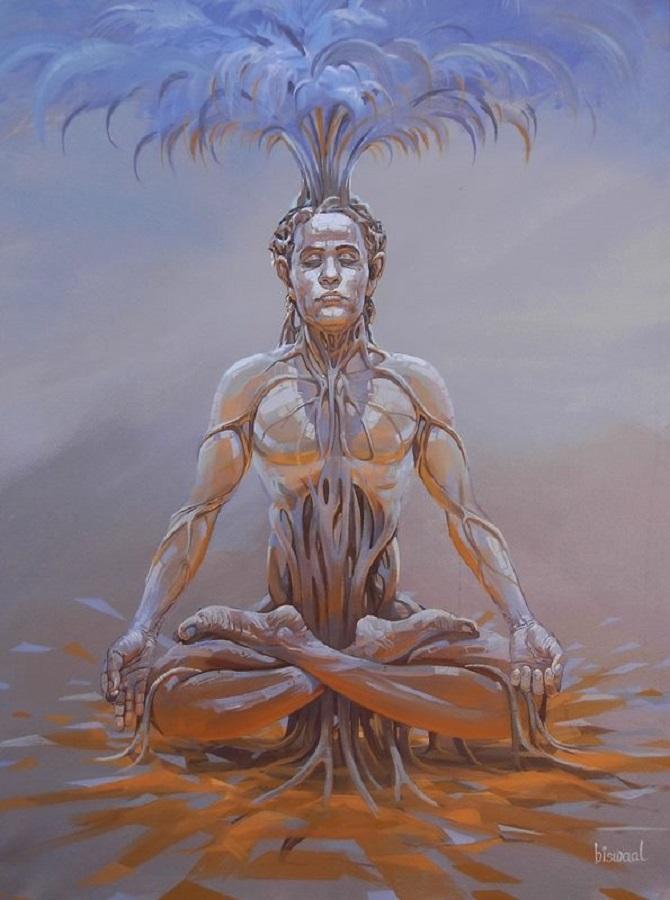 IMAGE: The Yogi
Acrylic on canvas: 48x36 inches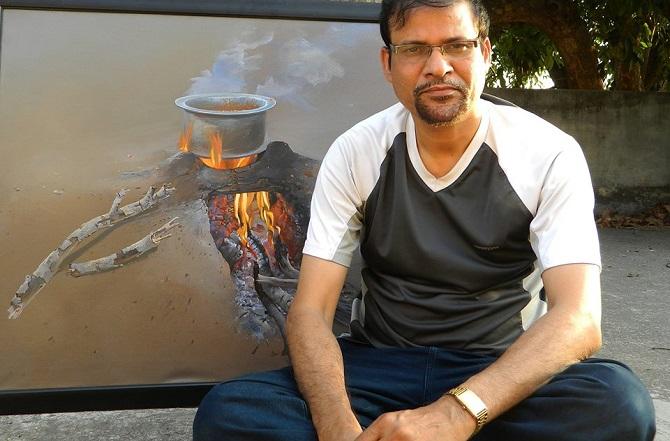 IMAGE: For God's sake..! This is no rangoli... and this acrylic on canvas never stood first in any national rangoli competition.. ;).!!!!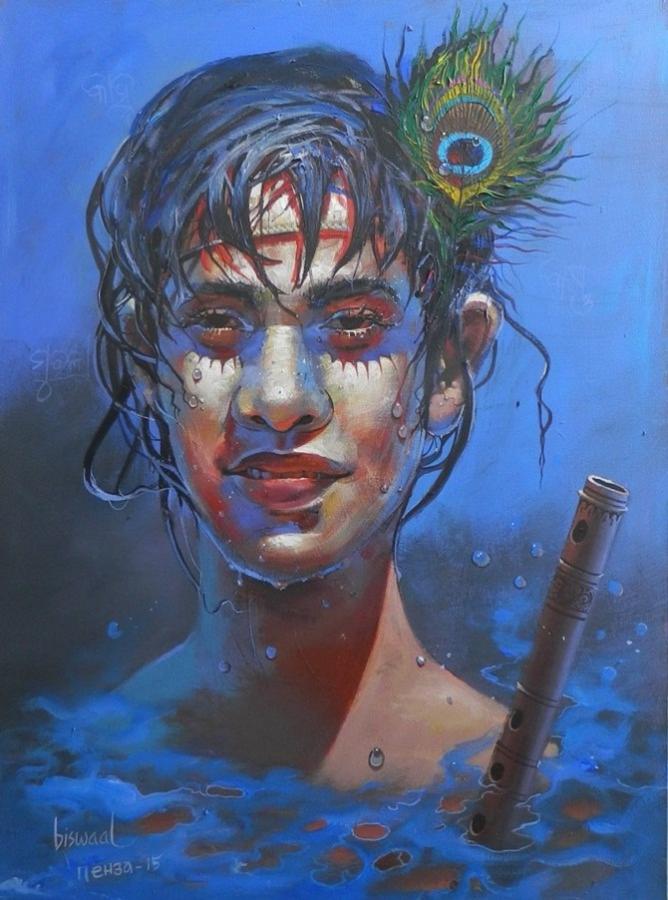 IMAGE: Wet Krishna
Acrylic on canvas: 80x60 cms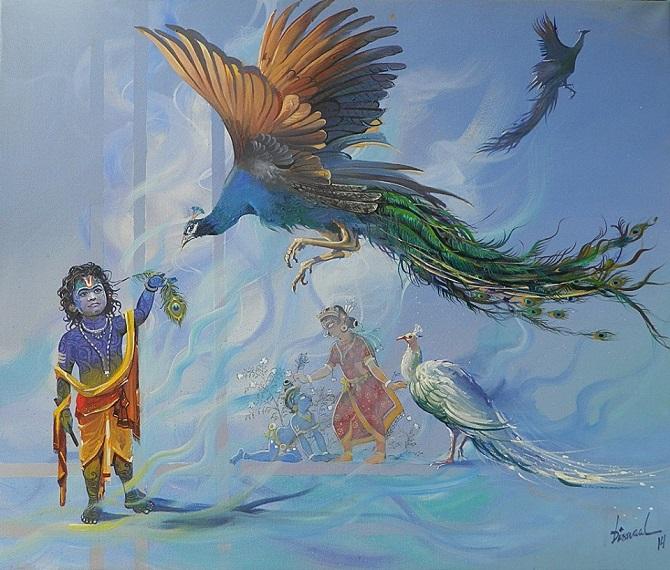 IMAGE: Tera tujko arpan
Acrylic on canvas: 36x30 inches
IMAGE: Barog... the hunting (!) beauty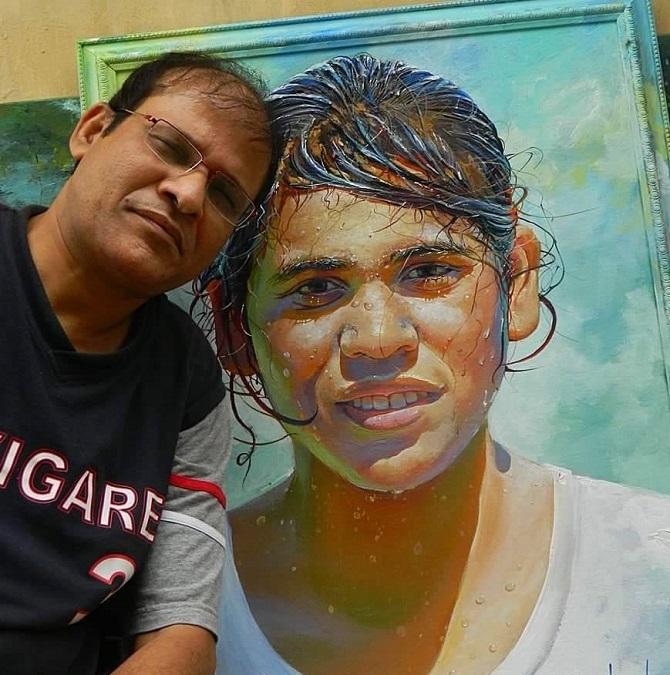 IMAGE: Acrylic daughter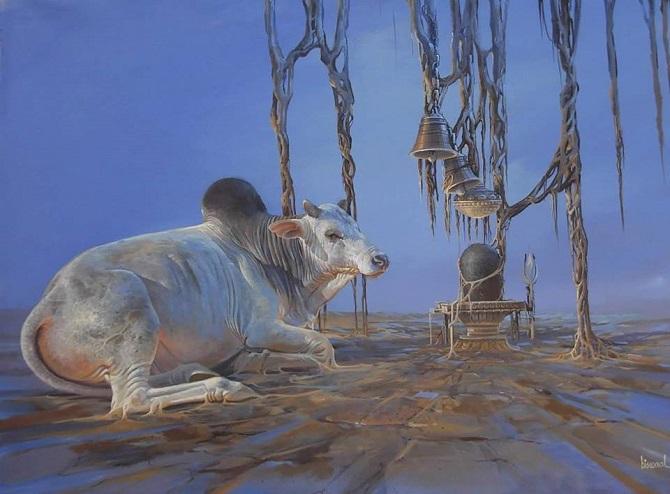 IMAGE: Saawan Somwaar
Acrylic on canvas: 36x48 inches
IMAGE: Crawford market, Mumbai. From memory.
(Demo) Watercolour on handmade paper: 29x22 inches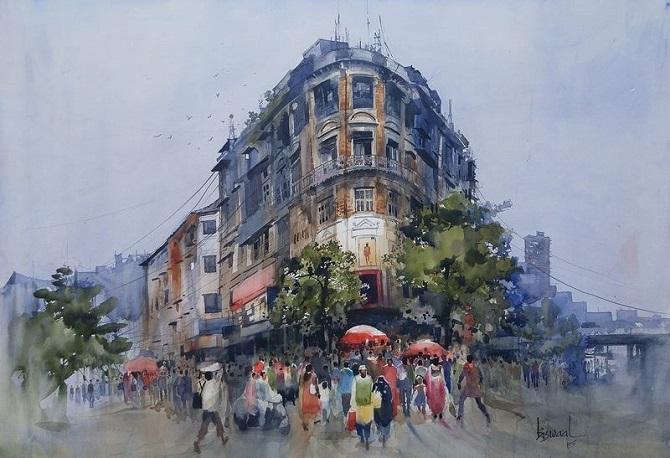 IMAGE: Bombay village
Watercolor on arches: 22x29 inches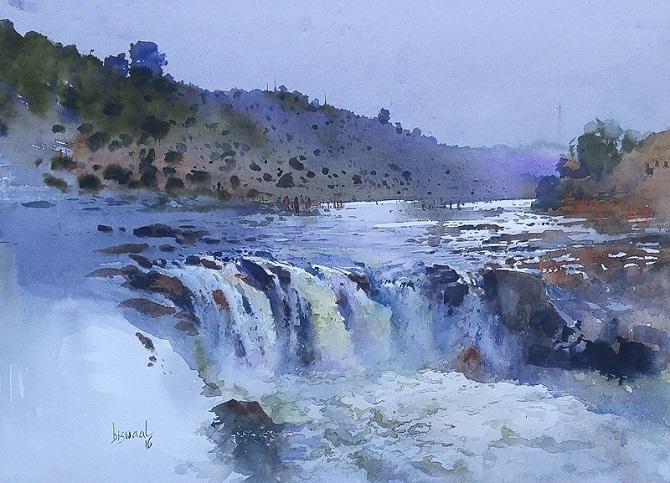 IMAGE: Welcome Aqua-16. Thanks Chandrakant Ashtekar sir for inspiring me with your amazing shots.
Watercolor on handmade: 22x29 inches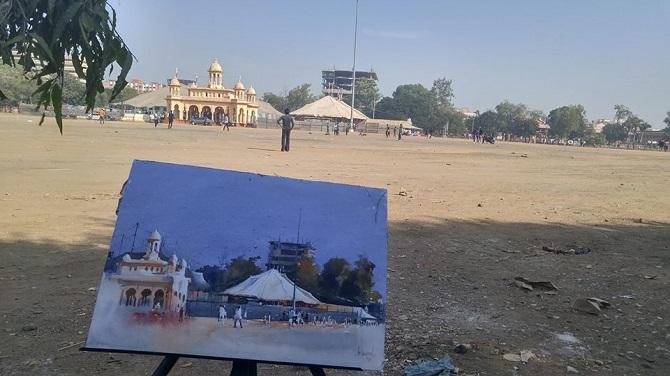 IMAGE: Great location at K P Ground, Nagpur.
Images: Kind Courtesy Bijay Biswaal/Facebook