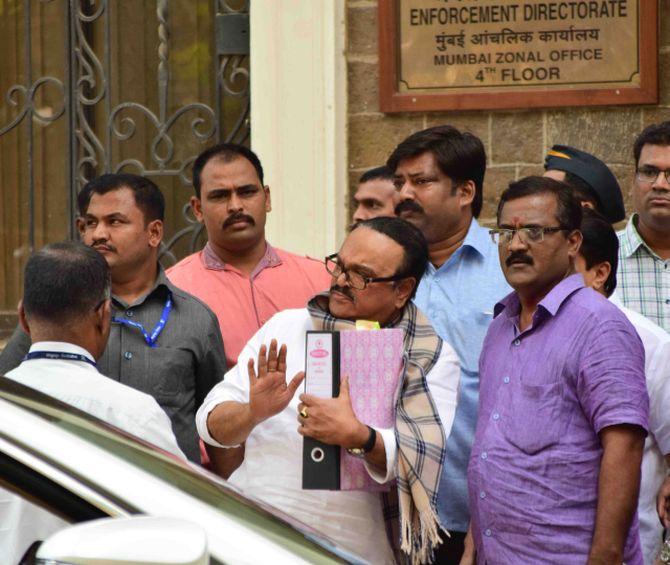 IMAGE: Chhagan Bhujbal arrives for questioning at the Enforcement Directorate in Mumbai, March 14, 2016. Photograph: Sahil Salvi
Chhagan Bhujbal, son of a vegetable vendor, rose through the political ranks by hard work, determination and political opportunism.
Now, past ghosts have come to haunt him.
Syed Firdaus Ashraf/Rediff.com on the life and times of the feisty Maharashtra leader.
As I approached my SYBSc class at Rizvi College in Bandra, northwest Mumbai, I saw two policemen with guns outside the class.
The policemen asked what I was doing near my classroom. I said I was a student. They asked me for my college ID after which I was permitted to enter the class.
I wondered why the policemen were stationed outside my class. A friend told me they were Pankaj's bodyguards.
'Who Pankaj?' I asked. 'Our Pankaj?'
'Didn't you know he is Chhagan Bhujbal's son?'
I couldn't believe that the shy boy who hardly spoke in class was Bhujbal's son. His father was the antithesis -- a firebrand Shiv Sena leader.
Soon after, Bhujbal quit the Sena and joined the Congress along with 18 MLAs, the first defection from the Sena's ranks. Security was provided by the government to him, Pankaj and the rest of the family I suppose.
Bhujbal did what no other Shiv Sainik had then dared to do: Go against Sena supremo Bal Thackeray.
Bhujbal, the son of a vegetable vendor who toiled hard to become a mechanical engineer, has had a life full of ups and downs.
He started his career in politics at the grassroots and rose with sheer determination and hard work. He was among those responsible for the Sena's resurgence in the 1980s when the party's fortunes had ebbed.
Bhujbal felt his hard work was overlooked in favour of old-timer Manohar Joshi, who went on to become the Sena's first chief minister.
Though I did not keep in touch with Pankaj after graduation, I met his father several times as a journalist.
In 1997, when the Congress lost the Mumbai municipal elections badly, I asked Bhujbal why the Congress could not take on the Sena's might in Mumbai.
Bhujbal calmly asked me to put this question to Murli Deora, then the Mumbai Regional Congress Committee president.
'Are there sons of soils in the Mumbai Congress?' he asked.
I got my answer. Bhujbal was referring to the fact that Congress did not have a Maharashtrian at the helm of the party in Mumbai.
The Congress continues to make the same mistake. After north Indian Kripa Shankar Singh, another north Indian -- Sanjay Nirupam, a former Sainik like Bhujbal -- now leads the Mumbai Congress, which gives the Sena a clear advantage among the city's Marathi-speaking Maharashtrians.
Another meeting with Bhujbal followed the attack by a mob of about 100 Sainiks on his home in south Mumbai, opposite Mantralaya, the seat of the state government, in 1997.
Bhujbal was in the Opposition then and giving the Sena-Bharatiya Janata Party government a torrid time after the Ramabai Nagar incident in Ghatkopar, northeast Mumbai, in which 13 Dalits had died in police firing.
Only 15 days before the mob ransacked his home, Bhujbal's 'Z' category security was withdrawn by the state government.
'Bhujbal crossed the limits in condemning the Shiv Sena and that irked the sentiments of our Sainiks,' Bal Thackeray said in a statement.
'Being an Opposition leader, it is Bhujbal's duty to see that people of the state live in harmony,' he added, 'Democratically it may be wrong to ransack one's residence, but people lost their patience.'
Bhujbal did not forgive Thackeray and the Sena for the attack.
When Sharad Pawar quit the Congress party in May 1999, Bhujbal followed him to the Nationalist Congress Party and became deputy chief minister and home minister when a Congress-NCP government was formed.
He demonstrated his power to Thackeray by arresting the Sena supremo for his role in the 1992-1993 Mumbai riots, for writing inflammatory articles in the party newspaper Saamna.
The case was dismissed as it was filed seven years after the riots, but Bhujbal had proved a point to Thackeray.
Another person who crossed Bhujbal was diamond merchant and Bollywood film financier Bharat Shah.
Shah was arrested by the Mumbai police for alleged links with the underworld. When he was released on bail, Shah was so furious with Bhujbal that he did not mention his name. 'Everybody knows who trapped me. I don't even want to name him. If I see him, my blood starts boiling,' Shah said then.
'One thing I have realised all these years,' Shah told me, 'people who are in power are really very powerful. They can misuse power to any extent to trap innocent people.'
Power, it appeared, had gone to Bhujbal's head.
An assistant police inspector then alleged that Bhujbal had directed him to help Abdul Karim Telgi, the main accused in the stamp paper scam.
Bhujbal was asked to resign as home minister after an attack on the Zee TV office in Mumbai. His downfall had begun.
After 2005, as the Marathas in the NCP grabbed more power, Bhujbal was sidelined.
When R R Patil was given charge of the home ministry, Bhujbal was granted the less important public works department portfolio.
It was during his tenure at the PWD ministry that the controversial Maharashtra Sadan building was built in New Delhi, where it is alleged that Bhujbal issued favourable contracts to family members. Bhujbal insists that all the allegations against him are part of a political vendetta by the BJP-led government, which currently rules Maharashtra.
Bhujbal is also accused by the Enforcement Directorate of siphoning off Rs 850 crore (Rs 8.5 billion) overseas and it may not be easy for the former streetfighter to get off easily this time.
Will he end up in oblivion like another Pawar groupie, Suresh Kalmadi, did after the Commonwealth Games scam?