Why did Kamal Haasan name the leaders he did?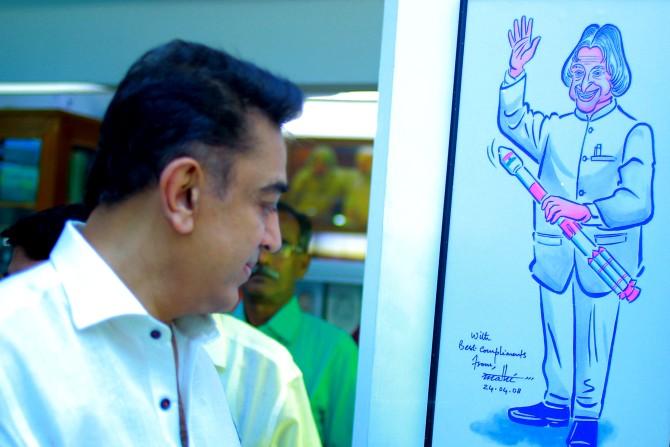 IMAGE: Kamal Haasan at the House of Kalam in Rameswaram, Tamil Nadu, February 21, 2018.
Photograph: Diamond Babu
Tamil movie superstar Kamal Haasan launched his long-awaited political party, the Makkal Needhi Maiam, on Wednesday, February 21, in Madurai, during the course of which he was asked who were the leaders he admired and took inspiration from.
Hassan promptly named them. 'I like Gandhi, Ambedkar, Nehru, Kejriwal, Naidu, Pinarayi and even Obama. All those who work (for the people).'
Surprisingly, or maybe not, there was no Tamil leader in his list.
No Dravida Munnetra Kazhagam supremo M Karunanidhi, who Haasan has often spoken of highly in the past, no poet Subramaniya Bharati, whose revolutionary songs he has mouthed on screen, no E V R Ramaswamy Naicker, whose Dravida movement is the fount of the rational thought Haasan espouses.
No A P J Abdul Kalam either, considering that the former President's home was his first halt on Wednesday morning.
Incidentally, there were no women either in the list.
But why did Kamal Haasan name the leaders he did? Here's a quick ready reckoner.
Mahatma Gandhi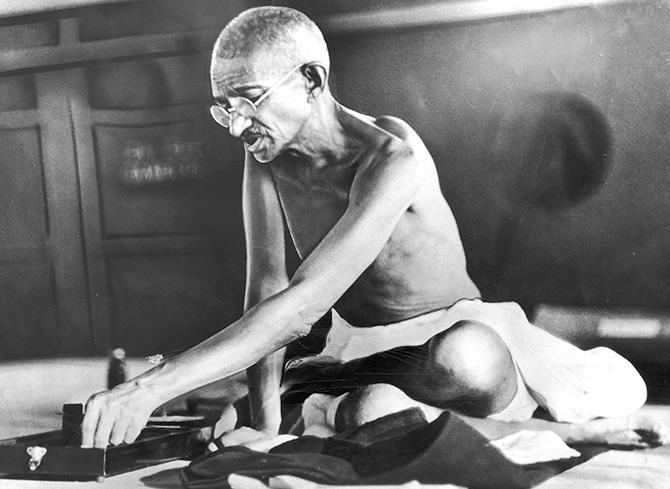 Photograph: Hulton Archive/Getty Images.
What many may not know is that, at least sartorially, Mohandas Karamchand Gandhi transformed into the beloved Gandhiji in Tamil Nadu.
In Madurai, to be precise, the temple town where Kamal Haasan transformed from an actor to politician on Wednesday.
'On 22nd September 1921, Gandhi made a momentous decision to change his attire. From the elaborate Gujarati attire, he decided on a simple dhoti and shawl. This epoch-making decision was taken by Gandhiji in Madurai after he decided that he has to work for and with the with the poor people of India and how can he identify with them if he wears different clothes from them,' Chennai-based journalist S Balakrishnan writes on the Press Information Bureau Web site (external link). 'He stuck to this dress code even on his trip abroad and until his very last moment! And he never regretted his decision.'
B R Ambedkar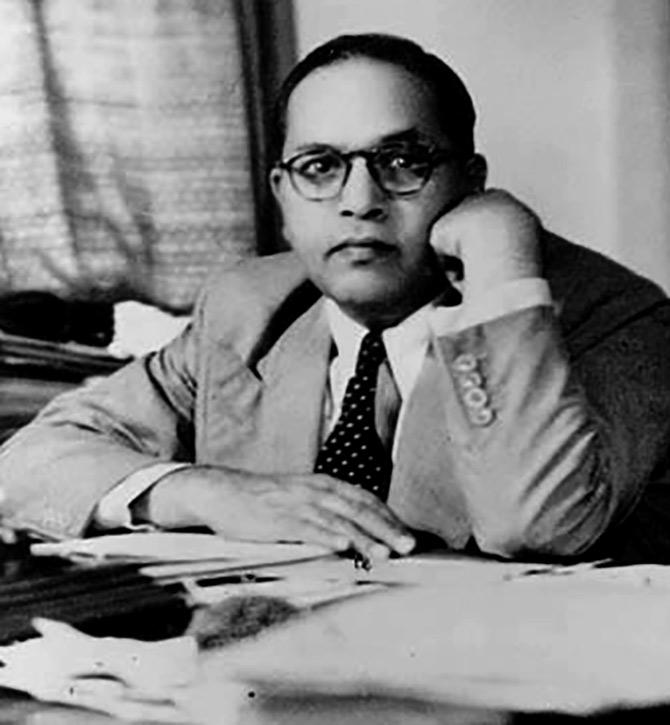 The father of the Constitution has a special resonance in Tamil Nadu, with its almost 20 per cent Dalit population.
With the Dravida movement empowering the intermediate and other backward castes, the lot of the Dalits has been left to organisations like the Viduthalai Chiruthaigal Katchi and Puthiya Thamilagam, which have not really made much headway.
Clashes between the dominant Thevars and Dalits are quite common, and in many villages the community is still discriminated against.
The landscape is dotted with Ambedkar statues, but sadly, most of them are encaged -- to guard against desecration.
Jawaharlal Nehru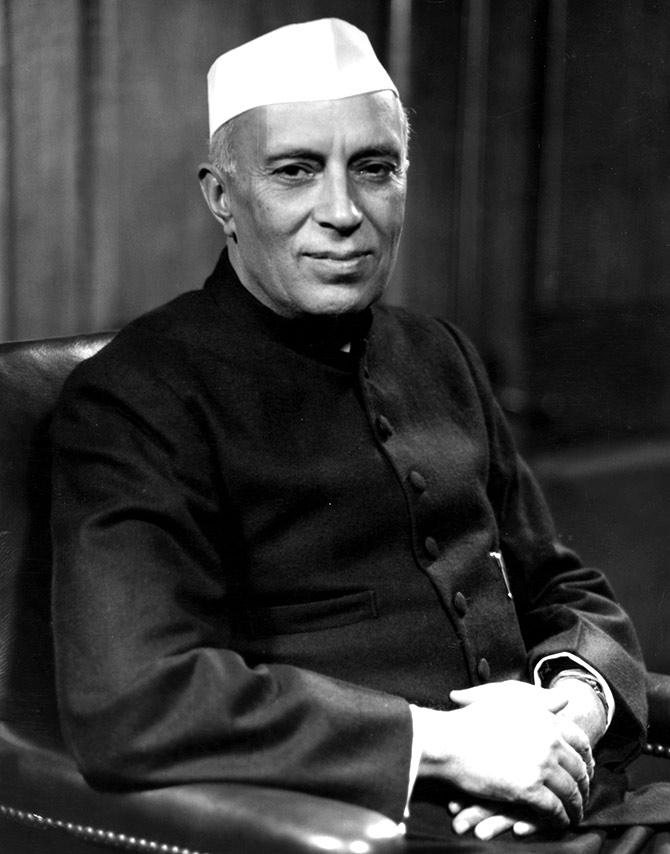 Photograph: Baron/Getty Images
The first prime minister of independent India may not score highly with the current dispensation, but there are millions who revere the man for what he was.
A visionary and a democrat.
Arvind Kejriwal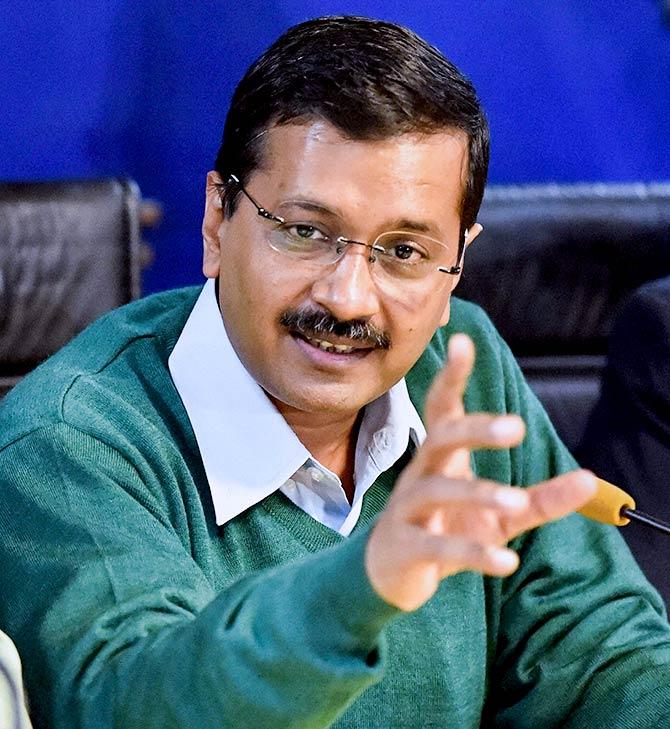 Photograph: Vijay Verma/PTI Photo
The Aam Aadmi Party is a case study for anyone who aims to form a political party in a region that is dominated by giants.
Arvind Kejriwal's vanquishing of both the Bharatiya Janata Party and the Congress in Delhi remains an inspiration for many newbies.
Facing a similar situation in Tamil Nadu, where the polity is divided between the two Dravida giants -- the AIADMK and the DMK -- Kamal Haasan did right in having the Delhi CM on the dais.
Nara Chandrababu Naidu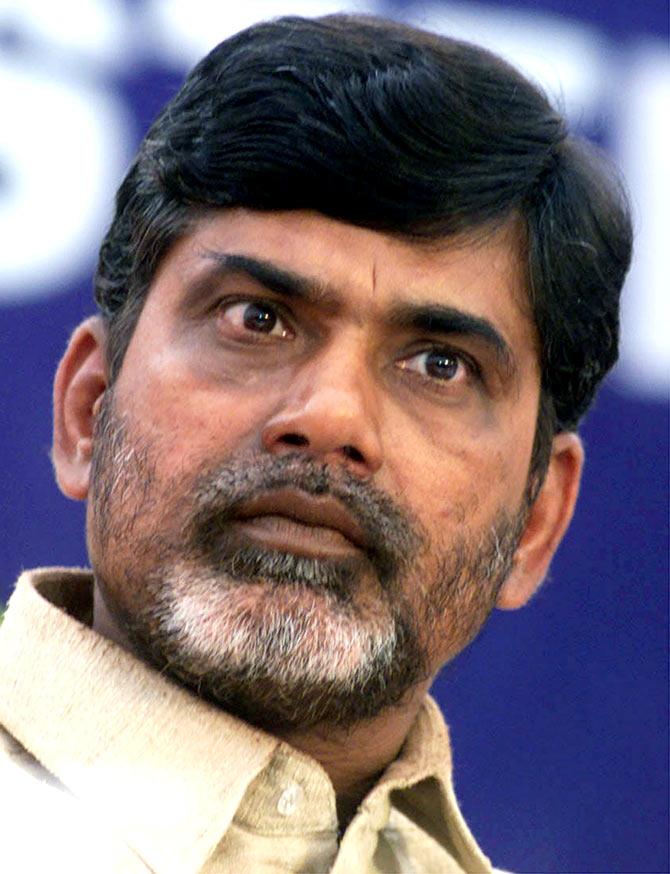 Photograph: Reuters
On Wednesday, while addressing the media in Rameswaram after visiting the House of Kalam, Kamal Haasan said the Andhra Pradesh chief minister had called him the previous night to offer advice on the needs of the people.
In an interview in November, Haasan had said he was a fan of the CM.
The Deccan Chronicle newspaper quotes a senior Andhra bureaucrat as saying, 'Mr Kamal Haasan has been following the functioning of our leader since a long time and he has always admired the style of functioning and commitment of Mr Naidu.'
Naidu's unhappiness with the BJP, the senior partner in the National Democratic Alliance, is well known. So could the mutual admiration and respect transform into something concrete as elections approach?
Pinarayi Vijayan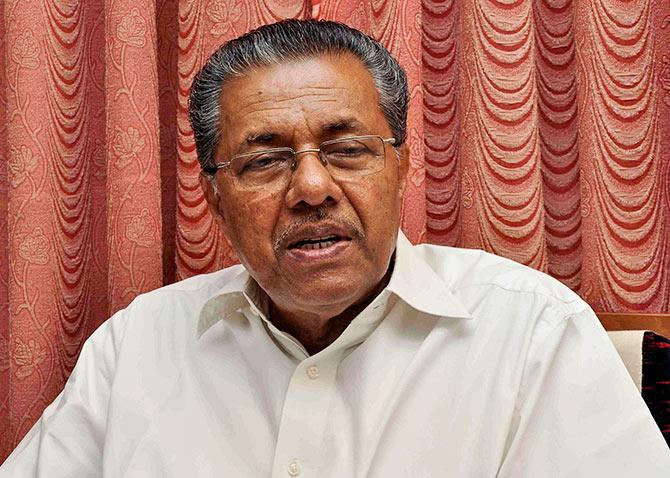 Photograph: Sreeram Selvaraj
When Kamal Hassan first let it be known that politics was an option with him last year, Kerala's Marxist chief minister was the first political leader he called on, in September 2017. But their fondness for each other went beyond that.
When the actor had won France's Chevalier award in 2016, Vijayan had waxed eloquent about the actor on Facebook, leading him to respond that the Marxist was not just the chief minister of another state, but 'my chief minister'.
'Ask any cinema-going Malayali which state I belong to,' Kamal Haasan had said.
No wonder Vijayan sent a video message congratulating him on the launch of the Makkal Needhi Maiam on Wednesday.
Barack Obama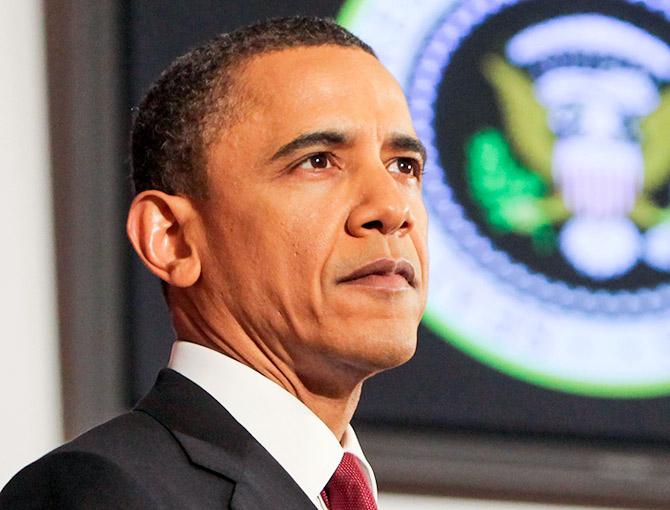 Photograph: Dennis Brack-Pool/Getty Images
The former US president has a legion of fans, especially among the liberal, progressive set.
And by including Obama in his list, Kamal Haasan leaves no one in any doubt over his brand of politics.