'If we're able to make a child laugh or feel happy to come to school, more than half the battle is won,' Katha Founder Geeta Dharmarajan tells Geetanjali Krishna.
Illustration: Dominic Xavier/Rediff.com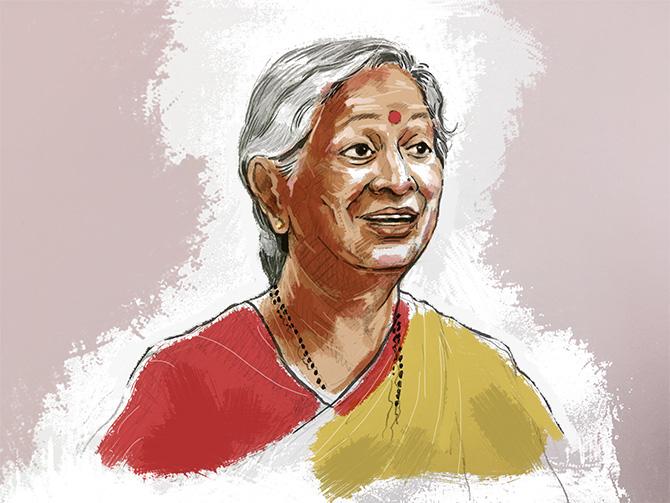 She's an educationist who dislikes exams. She's a translator who eschews literal translations.
Ever the iconoclast, ever the dreamer, everything that Geeta Dharmarajan has accomplished in her prolific career has had but one simple goal -- to bring joy into the classroom.
The 71-year-old founder of Katha, the NGO that creates, in its own words, 'Reader Leaders' radiates positive energy as she walks into Rooh, the modern Indian restaurant in Mehrauli, Delhi, dressed in her trademark handloom sari and a big black bindi.
She has recently relocated to Chennai after 32 years in Delhi, which is why she has been hard to pin down. "I'm enjoying the change," she says as she settles down into a chair that faces the iconic Qutub Minar.
"But it's nice to be back!" And just like that, we get into a free-wheeling discussion on literary translations, education and books -- and how they can save the world.
"When I came to Delhi in 1987, a sheltered young woman from a typical Tamil Brahmin family, I was shocked to find that kids in Delhi barely read any books, let alone those by Indian authors," she says.
"On the flip side, there were hardly any books by Indian authors being published anyway."
Around that time, a chance visit to UNICEF made her aware that at that time, 30 children died every day of diarrhea.
She immediately offered her services to UNICEF and Tamasha, a children's magazine that promoted health awareness through short stories and games, was born.
"The magazine was a big success and the idea that books could affect positive behavioural change caught the attention of the government," she narrates. "They offered me five rooms in a Delhi slum to run a school and Katha was born."
Meanwhile, we have been presented with a drinks menu that resembles a puzzle better suited to a Katha school -- with a series of concentric circles representing flavour groups and ingredients.
Eventually, crisp mocktails arrive at the table as Dharmarajan talks about her vision of education. "There are very good schools available to the few who can afford the fees," she says.
"My concern has always been to ensure that quality education is accessible to even the children in my slum school who had so very little."
Early on, she realised the importance of regarding every child as an individual with a story and a unique set of circumstances that enable or hinder her education -- rather than as one of the many faceless students.
For example, she says, when she discovered that at the time that students often dropped out to augment household incomes, Katha developed successful livelihood programmes for their mothers.
Today, Katha has 1,157 school partnerships across 17 states of India. "Our experience shows us that if we're able to make a child laugh or feel happy to come to school, more than half the battle is won," she says.
It's time to order the food. The appetisers at Rooh look so interesting that we decide to share a few and forgo the main course.
The first, a crisp yoghurt chaat arrives on the table, shrouded in a nitrogen mist. Dharmarajan smiles in surprise when she tastes the icy concoction that manages to taste familiar and surprising at the same time.
Our conversation has moved on to the project for which she has perhaps received the most critical appreciation -- Katha Prize Stories.
Year after year, these volumes, sensitively translated from different Indian languages, gave readers what would turn out to often be their first taste of India's rich and varied regional literature.
For Dharmarajan, translations allowed diverse Indian readers to access the country's rich multi-lingual literary tradition.
"I'd grown up listening to Tamil stories, for example, but unless they were translated, they'd be lost to the rest of the country," she says. "So the idea driving Katha translations was to link India to India, rather than India to the rest of the world, through these beautiful regional stories."
An avocado bhel with a crispy quinoa puff cracker arrives next, accompanied in grand style by a raw mango sorbet.
Between mouthfuls, Dharmarajan talks about literary translation, and all that is lost when it becomes too literal. "A good translation should be able to convey the emotional and cultural nuances of the work," she says.
It becomes an exercise in cultural understanding that allows readers rare glimpses into diverse ways of life and living.
As we nibble at the tasty charcoal biscuits that have arrived with our kappa shami kebabs, she reminisces about the trouble she had translating a short story in which the author compares a woman's pubic area with a cashew nut. "I was up nights thinking about how cashew nuts actually looked and felt," she laughs.
Dharmarajan also recalls working closely with Krishna Sobti over the translations of her short stories and novels. "It was the first time I realised that there were several distinct types of silences in her work which came through beautifully in Hindi but made me struggle to translate them into English."
Some years back, a bout of ill health forced her to downsize her work. "Diverticulitis left me with every editor's bane," she says, merry twinkle in her eyes, "a semi colon!" She laughs about it now, but doctors reckoned at that time she won't be able to survive more than 10 years after the surgery.
"I now know they were wrong, but at that time this prognosis compelled me to stop doing the Katha prize short stories," she says.
In 2012, she was bestowed the Padma Shri for her contribution to the field of literature and education.
We order dessert (a balsamic and tamarind sorbet for her and a besan barfi opera for me) as the conversation goes back to schools and the problem she perceives with the present practice of evaluating learning outcomes ("they are too simplistic and ignore the child's learning journey").
She suggests schools should teach and foster empathy. "At Katha, we've initiated a programme called ECTC -- Each Child Teach a Child under the 300M Challenge," she says.
It is based on the premise that of the estimated 300 million children in the country today, barely half are able to read fluently. "The question we're asking is, why can't the 50% fluent readers teach one child each to read as well as they do?" she says.
To accomplish this, Katha has created the 300M Alliance of like-minded people and organisations. "We've also created India's first story-telling app to facilitate this," she says.
The desserts arrive, along with the young chef who has prepared them for us. The first thing she asks him is telling: "Did you have fun creating them?"
At the end of the day, from Dharmarajan's perspective, everything boils down to fun and joy.
"I'm confident that if we as educators can provide a learning environment in which the children enjoy themselves, they will learn on their own and from each other," she states.
Does she have any regrets when she looks back on her prolific career, I ask. Her expressive dancer's eyes are momentarily lost in thought.
"I wish I were not 71, but 17 all over again," she finally says. "I wish I had more time to impart to every Indian child not an education but the sheer joy of learning and reading..."