What really happened in Sathankulam where a father and son died in an alleged case of police brutality, which is being compared to the George Floyd killing in the US?
A Ganesh Nadar/Rediff.com speaks to family members and friends to piece together the final moments of their lives.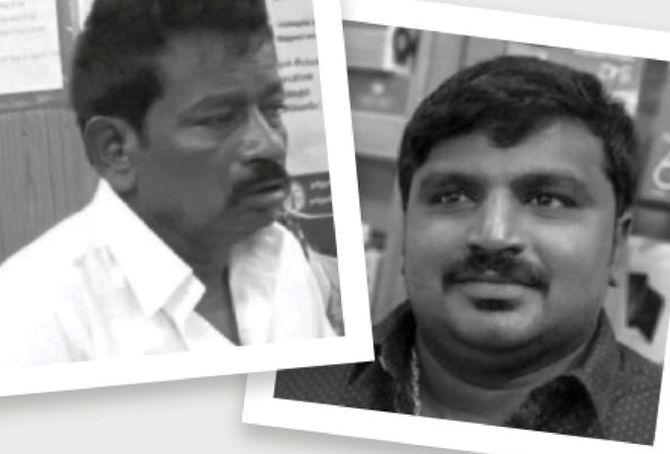 To Tamil Nadu goes the dubious distinction of the country's first lockup deaths during the coronavirus lockdown, a distinction that sits well with its top ranking among states with maximum police brutality cases.
Sathankulam in Thoothukudi is like any other mid-sized town with a bustling bazaar that caters to innumerable villages in that area. Its quiet and idyllic existence was shattered on June 22-23, when a father and son, P Jayaraj and J Beniks, died in a hospital in Kovilpatti after an allegedly brutal thrashing by the police in lockup.
Since then the town and district have erupted in protests against the police. The Tamil Nadu government transferred all the policemen allegedly involved in the brutality, handed over the inquiry to the Central Bureau of Investigation, and the court ordered a parallel inquiry by the CB-CID.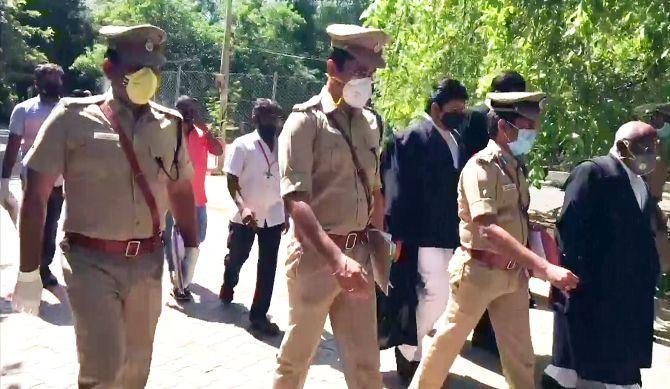 What really happened in Sathankulam? After speaking to family members and friends of the family, this is the picture that emerges of Jayaraj and Beniks's final moments.
On June 18, a Thursday, the father and son were at their mobile store in Sathankulam after 8 pm when policemen came by and told them to shut it as lockdown rules forbade stores remaining open beyond 8 pm. The duo complied and went home.
Persis, Jayaraj's eldest daughter, insisted the family had never had any interaction with the police before this.
The next day, the police came by to the shop around 7.45 pm and took Jayaraj away for 'questioning'. Beniks followed them to the police station riding pillion on a friend's bike.
Jayaraj and Selvarani have four children. The eldest is Persis, followed by Beniks, and then two girls, Beulah and Berlin. All the three girls are married, and the family was looking for a girl for Beniks when this tragedy occurred.
While Jayaraj had a business dealing in palm trees. Beniks has a master's in social work. He worked with an NGO in Chennai for some years before starting a mobile shop in Sathankulam in 2013.
"The police took away my father who was just standing outside our mobile shop to the police station. My brother followed with his friend on a bike. When Beniks reached there, he too was arrested. People who were outside the police station told us that they were badly beaten up," says Persis, trying to sound composed.
"The door of the police station was closed. Many of our relatives went there and requested the police to release them as they were innocent, but they were not allowed inside the station. Two lawyers were also there. After midnight, around 1.30 am, the relatives came back."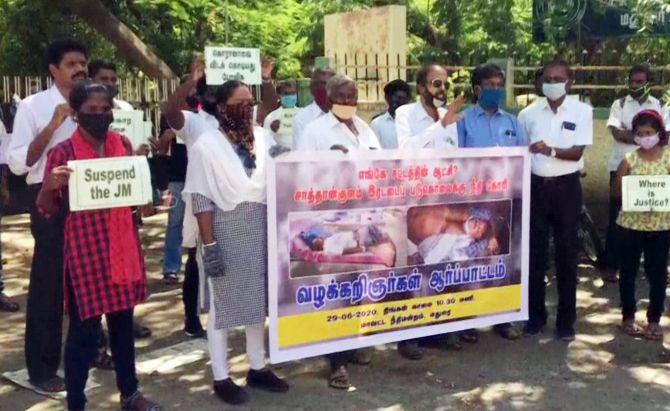 Advocate Manimaran, a friend of Beniks, was present at the police station for another case when the father-son were brought in.
"Around 7.45 pm, they brought Jayaraj there. Beniks phoned me to come to the police station at once as his father had been arrested. I told him I was already there," Manimaran tells Rediff.com.
"I told the police to release Jayaraj as he was innocent, they did not listen to me and told me to go out of the station," the lawyer adds..
"By that time Beniks came there with a friend. I told him to leave and said I would manage it. Beniks did not listen to me, he wanted to go in," Manimaran remembers.
"By then they had put Jayaraj in the lockup. The cops called Beniks in. He asked them to release his father as he had done nothing wrong."
"But the cops refused and they got into an argument. They then started beating up Beniks. They asked me to leave and closed the door."
"Every time a cop came outside I told them not to beat the father and son."
"I could hear them beating up Beniks and Jayaraj in different parts of the police station."
"We were there till 11.30 pm and then we went home."
"On June 18, when the police told them to shut the shop as it was past 8 pm, they complied. But after the police left, Jayaraj, said, 'The police have no other work or what?'," says advocate Susil Kumar, a friend of the family.
"Someone in the crowd present went and told the police this. So the next day they filed an FIR and took Jayaraj to the police station in the evening," he adds.
Saturday morning went by in a blur for the family. Jayaraj and Beniks were taken to hospital to have their wounds treated, and then they were produced before the judicial magistrate and remanded to custody.
The family was told to send three sets of clothes for both father and son.
"We heard that there was so much blood in the clothes they were wearing, that is why they needed so many sets. But we didn't get the clothes back," says Persis.
"We have no idea what the hospital, the doctors and the judge who remanded them did. On Saturday they were taken to the jail in Kovilpatti. On Sunday and Monday we could not see them in jail as visitors were not allowed because of coronavirus pandemic," she adds.
Relatives who went to the jail were asked to buy two dark-coloured towels and hand it over to the police. They were also asked to buy diabetes medicine for the father as the doctor had asked for it. They did so, but could not meet the father or son.
"On Saturday morning I got a call that they were in the hospital so I went there. They were bleeding, their clothes were wet at the back. We gave them a change of clothes," says advocate Manimaran.
"They took them to the judicial magistrate's court, and we were waiting outside the compound. Jayaraj and Beniks were outside the building, the judicial magistrate came and saw them from a distance of 10 metres because of social distancing, and signed the order remanding them to judicial custody," reveals Manimaran.
"'Take us out on bail quickly' were Beniks's last words to me. They were then taken to the jail in Kovilpatti."
"On Monday, June 22, I applied for bail at the judicial magistrate's court in Sathankulam. When it came up for hearing at 3 pm I told the judge, 'They are hurt badly and they are innocent'. He replied, 'I will consider it tomorrow'."
"At 9.30 pm I got the message that Beniks was dead. And the protests started in Sathankulam."
"The next morning, June 23, we got the news that Jayaraj had also died."
"On Monday, June 22, they called my mother at night and told her that Beniks was serious. After a while, they called to say he was dead. The next morning they called to say that our father had also died," says Persis.
"We don't know what happened, but we heard that they were bleeding a lot. My brother's rings, purse, mobile phone, cash, bank cards have not been returned to us," she adds.
Advocate Susil Kumar then filed a petition before the Madurai bench of the Madras high court to videograph the post-mortem of both Beniks and Jayaraj.
The high court complied with the request and also suo motu ordered an inquiry by the judicial magistrate in Kovilpatti into the deaths.
The case has now been transferred to the CBI. The Madras high court has also ordered a probe by the state police's crime branch-criminal investigation department to expedite matters.
When the bodies of the father and son were brought home a huge crowd had gathered. "We saw them only for a minute as it was crowded," says Persis. "We have not received their post-mortem reports yet. They told us that a magistrate will come home to speak to us, we are waiting, they have not yet come."
Activists are not happy with the investigation protocol into the deaths. "There are enough competent police officers in Tamil Nadu who are above board to investigate this case," says Henry Tiphagne of People's Watch, a human rights group based in Madurai. "They should have formed a special investigation team and let them report to the high court."
"But a CBI inquiry?" exclaims Tiphagne. We still don't know what happened to the CBI inquiry into the police firing on anti-Sterlite protestors in Thoothukudi in which 13 people died two years ago!"