A report released by Human Rights Watch states that police regularly disregard arrest procedures and torture suspects in custody to death. The police often blame the deaths on suicide or illness. A Ganesh Nadar/Rediff.com reports.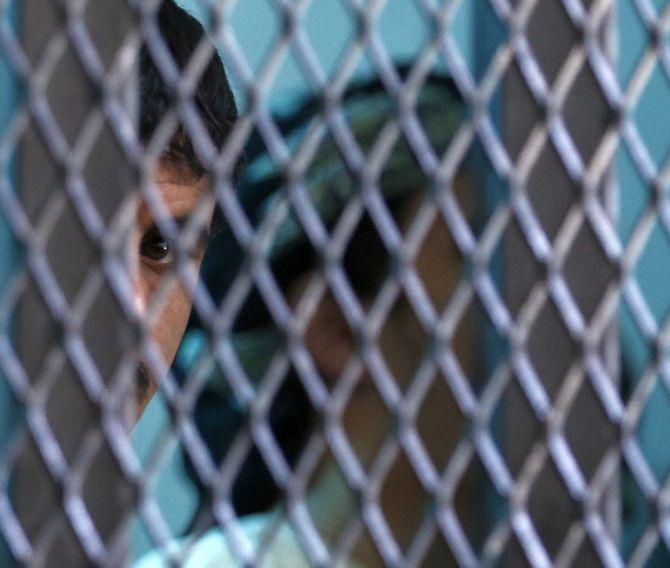 In India, 591 people have died in police custody between 2010 and 2015, the United States-based Human Rights Watch has said in a new report which was released in a press conference in Chennai on December 19.
People's Watch co-founder and leader Henry Tiphange, who has been fighting for human rights for four decades, speaking at the press conference, said that both the police and the judiciary have to share the blame for custodial deaths and violence. "One perpetrates the crime, and the other does not question it," he said.
The report, 'Bound by Brotherhood'-- India's Failure to End Killings in Police Custody (external link), said a failure to follow proper arrest procedures, such as presenting a suspect before a magistrate within 24 hours, was allowing police to get away with murder.
Tiphange, speaking at the conference said that under Section 41-A, B, C and D, the police has to inform the family that the person has been arrested. They also have to inform the local superintendent of police and state director general of police. The DGP has to acknowledge and announce their arrest with their names, why and also which police station has arrested them. "This has been ignored completely" he thundered.
Jayshree Bajoria, author of the report, has investigated custodial deaths in great detail. In her 114-page report, she focused on 17 deaths in custody from 2009 to 2015, including more than 70 interviews with witnesses, victims' families, justice experts, and police officials.
"I chose those cases where the family has approached the court and the court has ordered an inquiry. In such cases, there are documents and evidence available on record." All her findings are backed by such documents and also documents that she obtained by filings RTIs to the appropriate authorities.
She told Rediff.com, "The police invariable say suicide or heart attack or some natural death. They never admit that their beating killed the person. We are trying to establish the truth about the killing."
Tiphange said, "It is shocking that there are more deaths in judicial custody than in police custody. That means it is happening in prison and in the police station. And invariably, the person always dies in the ambulance on the way to the hospital," he said.
Jayshree's report of the 17 cases runs into 110 pages. She says, "The police are bound by a brotherhood and their own investigation will never pin point their own people for killings in custody."
Henry adds, "Earlier it was enquiry by a RDO who gave the report to the home secretary who used to direct the petitioners to file a private complaint in court. Now the enquiry is done by a judicial magistrate and he keeps the report. He does not give any direction and a court ordered him to keep the report when we asked for it."
"What is the point of an inquiry if the findings are not made public?" he wanted to know.
Former Tamil Nadu DGP Dr Shyam Sundar, the chief guest at the event, said, "When I was in service, I used to tell my police that it is okay if you cannot solve a couple of cases but do not violate human rights."
He added that though all cops know the law, around 20 per cent of them feel human rights aren't an issue when dealing with criminals.
Image used is for representation purposes only. Photograph: Khaled Abdullah/Reuters