There was a time when the fierce warriors of the Konyak tribe displayed the skulls of their vanquished enemies as war trophies.
Today, their world is disappearing, discovers Geetanjali Krishna.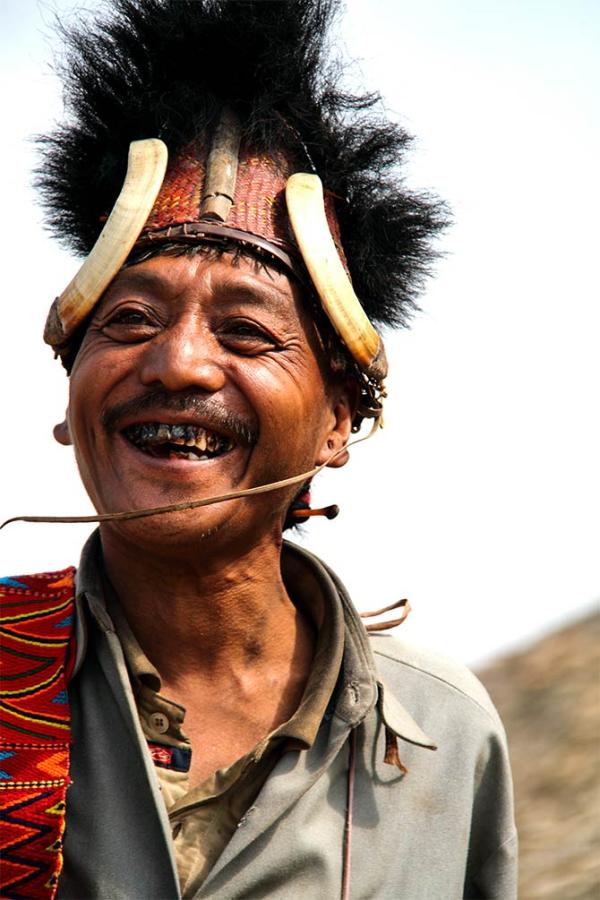 IMAGE: A member of the Konyak tribe. Photograph: Kind courtesy Yves Picq/Wikimedia Commons
It is hard to look away from the fine blue lines on his face. Like strands in a spider web, they mingle and separate with every change of expression.
The octogenarian catches me staring at his tattooed face and smiles gently.
As an anachronism in a rapidly modernising world (and probably even for his jeans-clad sons and daughters, nieces and nephews), he's used to it.
"Did the tattoos hurt when you got them?" I ask.
"The ones on my face hurt like hell," he says. "I got them at 14, and still remember the pain."
The stories of his tattoos bring his past back to life in the smoky longhouse on the edge of Longwa village on the border between Nagaland and Myanmar.
"As a warrior, I lived a cruel life," he says. "But my life as a headhunter also brought me great honour and prestige and my tattoos symbolise that."
There was a time when Wangnam and other fierce warriors of the Konyak tribe, which is spread across Nagaland, Arunachal Pradesh and Myanmar today, displayed the skulls of their vanquished enemies as war trophies, as well as for the magical powers they were believed to endow them with.
Human skulls have now been replaced by the skulls of wild oxen, buffaloes and wild boar.
These adorn much of the wall space in Wangnam's house.
He beckons to us to join him around the traditional Naga hearth.
Meat and firewood smoke overhead and, as Wangnam painstakingly lights his pipe, his facial tattoos crinkle into a fading map of stories.
Later, as I walk to the Morung with Anyam Gangsha, our local guide and translator, I feel like I've dived between the covers of one of my anthropology textbooks.
Morungs are communal longhouses where all young boys used to live and learn the ways of the tribe.
"Now, of course, all boys go to school," says Gangsha. "But this remains the heart of village life."
We see the gigantic log drum on which births and deaths are traditionally announced.
The general air of disuse tells me that times are a-changing here -- indeed, as we step out, I notice that the church is now the most prominent structure in Longwa, not the Morung or the Angh's (king's) house, where we are headed next.
The Indo-Myanmar border cuts through the house of the Angh of Longwa and locals joke that the Angh dines in India and sleeps in Myanmar!
His armoury is grand, but the piece de resistance is a seat ejected from a Japanese World War II plane.
The Angh's living quarters are surprisingly sparse and a far cry from the past when his tribesmen worshipped him.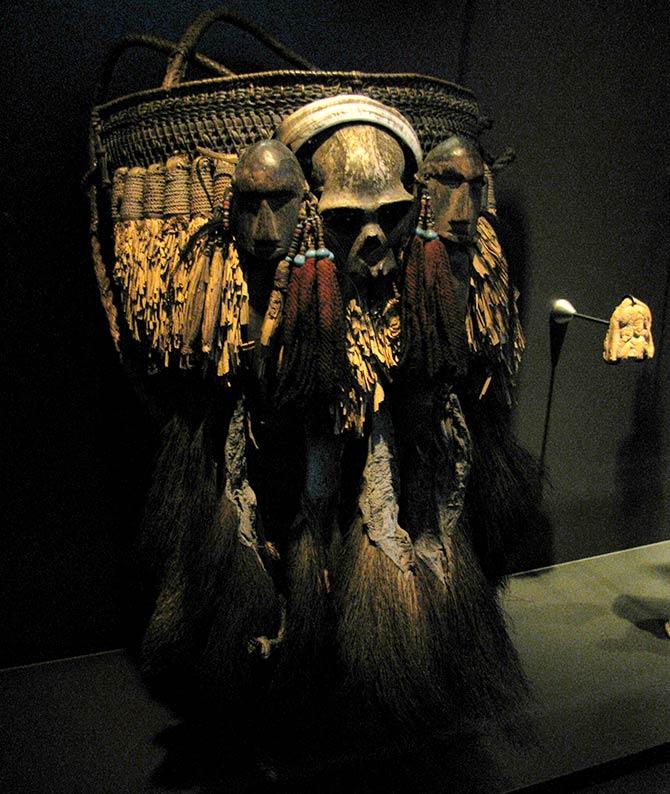 IMAGE: A ceremonial basket of the Konyak tribe with a monkey's skull and two human heads carved from wood. Photograph: Kind courtesy Ease/Wikimedia Commons
Today, the Konyak are all Christian and the Angh's glory days are over.
"They were indeed glory days," says Penjun, another erstwhile headhunter, "but we had no peace."
He amiably changes into his traditional warrior attire for us -- head-dress, large boar-horn earrings, necklace with brass heads and spear.
It seems inconceivable that, not so long ago, this gentle soul cut off his enemies' body parts as trophies denoting power, prestige and respect.
"We didn't just kill indiscriminately," he says. "We observed strict discipline and only killed during battle."
Penjun is in no hurry to change into ordinary clothes and we leave the old warrior in his battle regalia, feeding lunch to his grandchildren.
We head to another Konyak village, Mon, to meet an interesting duo -- the late Angh of Mon's queen and lover.
Polygamous Konyak kings had as many as 50 wives. The senior-most was the queen but another was recognised as his soulmate and lover.
After his death in the 1980s, his queen and lover, now in their 80s, live together in a crumbling house.
We look in to see a mummified wildcat hanging bizarrely over the hearth.
The queen emerges into the sun first, sitting down to bead an intricate necklace.
Her lover comes out next, spitting a large gob that narrowly misses my foot, and goes off to feed the chickens.
I watch youngsters play soccer next door, and wonder if they relate to stories of their grandparents' youth. Probably not.
Wangnam, Penjun, the queen and the lover are the melancholy remnants of a violent but fascinating history and, soon, all that will be left of it will be a few headstones in the churchyard.