In the snow clad Jungfraujoch, Geetanjali Krishna walks straight into a scene from a Bollywood film -- a buxom beauty in a billowing green chiffon sari with an eager partner photographing every move.
But, as expected, Switzerland makes up for it with other delights.

Part 2: Lucerne, a city from a fairytale
Part 3: Others go to the Alps, we explore the gateway to them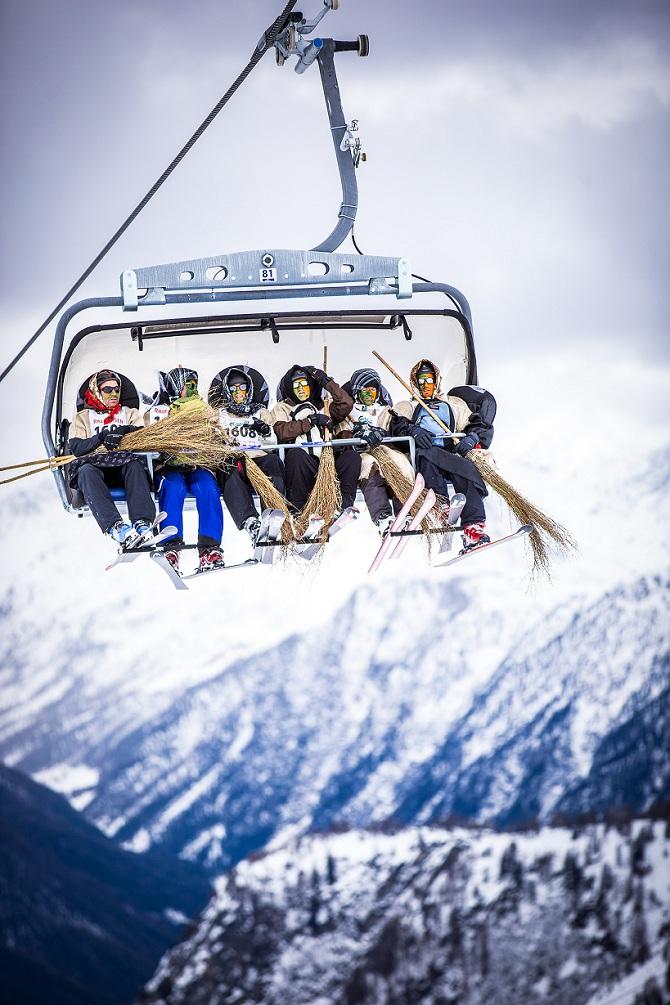 Representational photograph: Valais Wallis/Flickr
I blink as we emerge from an icy tunnel into the blinding light outside. Have I accidentally ingested one of those psychotropic fungi I keep warning my teenagers about?
In front of us, cavorting against the snowy backdrop of Jungfrau is a buxom beauty in a green chiffon sari. She billows Bollywood-style in the wind and screeches when an errant snowball hits her bare back. Then, she stumbles in the snow and holds the rails on the edge of the mountain for support.
'This is too slippery,' she tells her companion, who's photographing her every move. 'Let's go to the Bollywood Cafe for some masala chai...'
As we stand on what the posters promise is the Top of Europe (at 3,454 metres above sea level, Jungfraujoch is Europe's highest railway station) -- the presence of so many of our own countrymen seems unexpected at first. But not really, when you think about it. Immortalised by countless Bollywood hits, Switzerland is one of those places that many Indians aspire to visit.
I just didn't think some would also be inspired by filmstar fashions, but to each their own.
As expected, Jungfraujoch offers other, more predictable delights.
We stand surrounded by 4,000-metre peaks, the Aletsch glacier stretching as far as eyes can see. In spite of the throng of sightseers, it is quiet.
My ear pops painfully. Perhaps the silence is because my ears have shut down in sullen protest following the rapid 3,000 metre train ascent to Jungfraujoch.
While the children try skiing, tobogganing and other strenuous activities in the snow, the husband and I dig bottles of local beer into the snow to cool them down, and watch the antics of a couple of acrobatic Alpine Choughs, yellow-beaked cousins of crows.
Hours later, as we take the train down, our decision to hike some of the distance proves to define the rest of our time in Switzerland.
We pick up some mille feuille, French pastry layered with custard cream, and descend sharply amid bucolic villages and stunning views from Wengen to Lauterbrunnen. Daisies, saxifrage and bellflowers carpet impossibly green meadows where cows graze.
Walking, I realise when we stop to eat the delectable pastry, is the best way to experience the Alps. So, we spend the next week riding uphill on funiculars, cable cars and trains to Switzerland's dizzying heights, and then hiking back through meadows, lakes and forests.
The next hike we undertake is in Zermatt, a quaint village at the base of the Matterhorn.
A jagged tooth of a mountain straight out of a child's drawing, the Matterhorn is one of the toughest and most photographed peaks in the Alps.
We head to Riffelsee, an alpine lake surrounded by snow and scree that mirrors the peak in its emerald waters. This time, our backpacks are happily stocked with Swiss chocolate, and we eat more than a week's quota gazing upon the magical lake.
When we eventually cross the snowline en route to Klein Matterhorn to get a closer look at the Matterhorn, we leave the meadows behind with a bit of a pang.
Days later, Mount Titlis in the Uri Alps offers a different walking experience.
Here, one can actually walk quite a distance on the glacier itself. A narrow suspension bridge, the highest in Europe, allows one to traverse above the glacier between two cliffs.
This is the most snow we've seen in Switzerland, I muse as I shoot off like a dizzy bullet on a zipline and land in a flurry of wet snowflakes.
As we near the end of our time in Switzerland, I compile my top tips for summer visitors to the Alps.
Multiple thin layers of clothing work best; the Alps are no longer as cold as one would imagine (so if chiffon saris in the snow are your jam, wear them by all means -- just ensure you have water-resistant shoes on).
Hydration mitigates the effects of altitude, as does chocolate, some say.
Chewing gum helps the ears cope with rapid ascents.
Most of all, Switzerland's stunning mountains, flower-filled meadows and crystal-clear lakes are best meandered through, rather than ticked off a rushed tour itinerary.
I, for one, can't wait to do it again.