From providing food and succour to pavement dwellers to helping the elderly in times of need, Dinesh Saravanan has been a godsend to the needy.
A Ganesh Nadar/Rediff.com reports on what drives the do-gooder.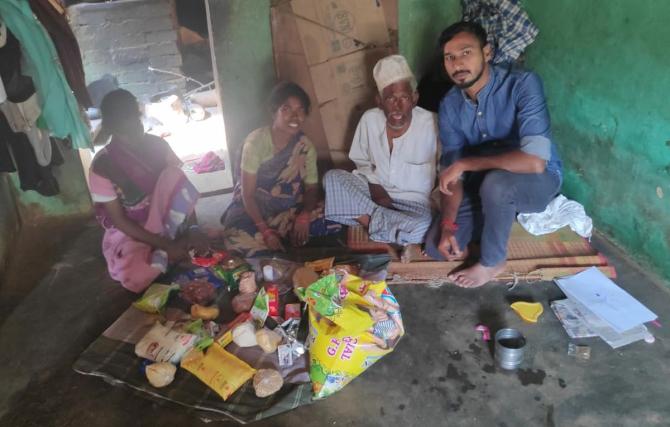 Dinesh Saravanan has set up smart classrooms in the Government Adi Dravidar Welfare Primary School in Vellore, Tamil Nadu. The project cost Rs 110,000 and, as he posted on social media, he received Rs 70,000 as donations. The rest of the money for the project came out of his pocket.
The smart classroom has an LED projector and digital screens on which videos of lessons are played. It has a home theatre set-up so the students get a surround-sound effect. All classes have also been freshly painted with cartoon characters adorning the walls.
The smart classes were inaugurated by Vellore District Collector A Shanmuga Sundaram.
Dinesh, 31, is a graduate in computer science and works at an IT company in Chennai. It was a tragedy in the family that turned this Vellore native to social work.
In 2014, his elder brother, who was deep into social work, died in a road accident. Since then Dinesh has stepped into his brother's shoes. "He has been like a god to our family," he says of his sibling.
Dinesh uses a part of his salary to buy groceries for pavement dwellers and also helps them start small businesses. In the last six years he has given groceries to more than 10,000 families, he says.
A green warrior as well, Saravanan has tried to improve the environment in his area. He has distributed 32,000 saplings to households to cultivate awareness about global warming.
On his own he has planted 25,000 palm tree saplings in the districts of Vellore, Ranipet and Tirupattur.
His greening efforts include scattering 500,000 seed balls over six years in the hilly areas near Vellore to enable afforestation.
As Vellore is very hot, Dinesh believes that greening the mountains will bring rains, which in turn will bring down the temperature.
In Vellore town itself he has planted more than 500 trees in the municipal corporation area, government office buildings and government schools.
To encourage farmers to go in for organic farming, he has given more than 1,000 saplings and natural fertilisers to farmers.
For this he goes to a village and organises an event to distribute the saplings and fertilisers after which he also tells them how to use it. In this manner he has coached over a thousand farmers in organic farming.
In normal times he distributes food twice a month to pavement dwellers. During the coronavirus pandemic, he has also been giving a herbal drink as an immunity booster to more than 10,000 people living near containment zones.
After the Tamil Nadu government's social welfare department contacted him, he bought food from restaurants and distributed breakfast and lunch on more than 100 days to around 100 people who were being housed in Chennai corporation-run schools during the pandemic. He paid for all this himself.
During the pandemic he also distributed face masks to more than 2,000 people, apart from cleaning up two parks in Vellore district.
He has built a new house for four families; for another family he built a toilet, as a widow and her daughter were living there without this facility.
He also helps old people and widows apply for ration cards, old age pension and widow pension provided by the Tamil Nadu government.
Dinesh also manages to take classes for government school students about planting trees and its benefits. He also gives sex education lectures, teaching young students to differentiate between 'good touch' and 'bad touch'.
Apart from this, he distributes sanitary napkins in slum areas.
Dinesh does not have an NGO and does all the work himself. He works in Chennai and travels to Vellore during the weekend when he does all the social work.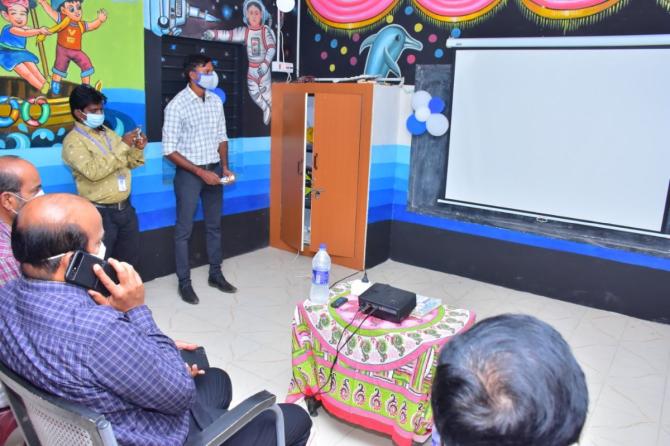 During the pandemic he has been based in Vellore, working from home.
He gets 40% to 50% of his funds as donations from people who read about him in the mainstream and on social media. He acknowledges the donations on his blog and posts the accounts of how much he has spent for a specific project.
"I want everything to be transparent," he says.
After setting up the smart classes in the government primary school he has trained the teachers there on how to use the technology. It is a onetime investment, he says, and for a primary school it was more than enough.
His future plans include distributing 100,000 saplings to households; he has already distributed 32,000, he says.