Bihar has been cleaning its homes and surroundings, including the narrowest of lanes, and especially the roads leading to the Ganga ghats and ponds.
Devotional songs can be heard everywhere you go during Chhath, says M I Khan.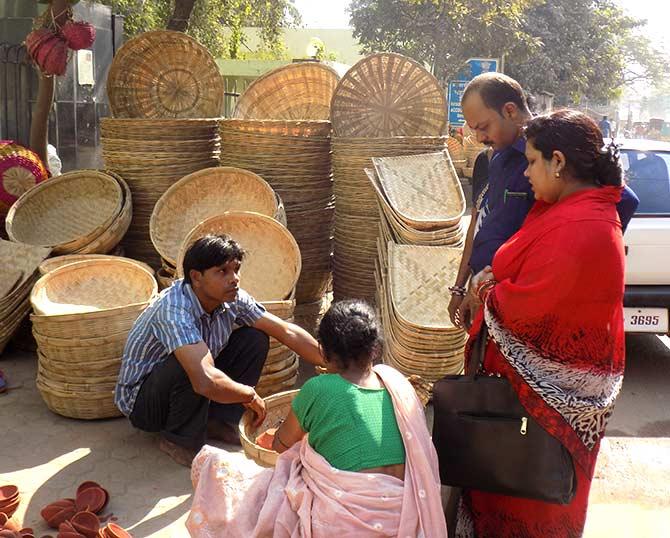 IMAGE: Bamboo products sold during Chhath.
For four days, soon after Diwali, Bihar celebrates its most important festival, Chhath,
During this time, the bazaars look vibrant. Unlike during other major festivals, the products being sold are traditional and natural. You will find devotees buying dry mango tree wood, bamboo products like soops (winnows) and tokris (baskets) -- these are locally known as daura -- mitti ke bartan and chulhas (earthen utensils and stoves), lauki (bottle gourd), ghaagar, nimbu (lime), coconut, newly harvested rice, sugarcane and other products.
"Without these items, it is not possible for devotees to perform the Chhath rituals," says Kumud Singh, a housewife who has been celebrating Chhath for over two decades.
"During this Mahaparv, Hindu devotees worship the rising and setting sun and observe a fast," she adds.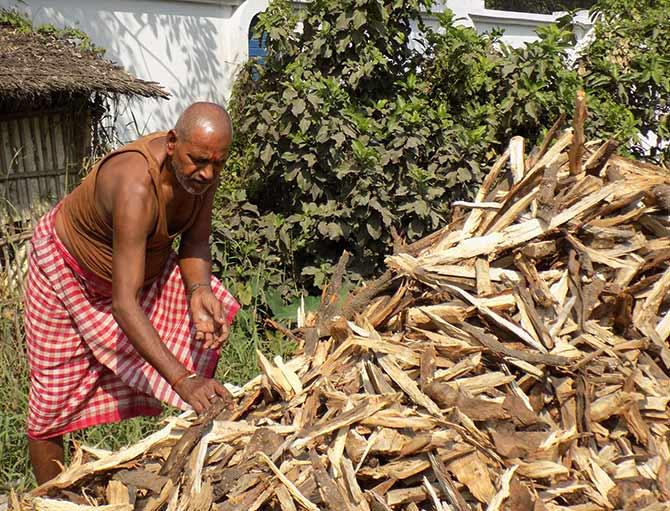 IMAGE: Dry mango wood sold during Chhath.
There are reasons why these items are used.
For example, the wood of the mango tree burns with a low flame, hence it can be used to cook the traditional meal of boiled rice and lauki which is consumed on the first day of Chhath.
"Devotees cannot cook any other vegetable except lauki. It is good for the stomach," says Amit Kumar.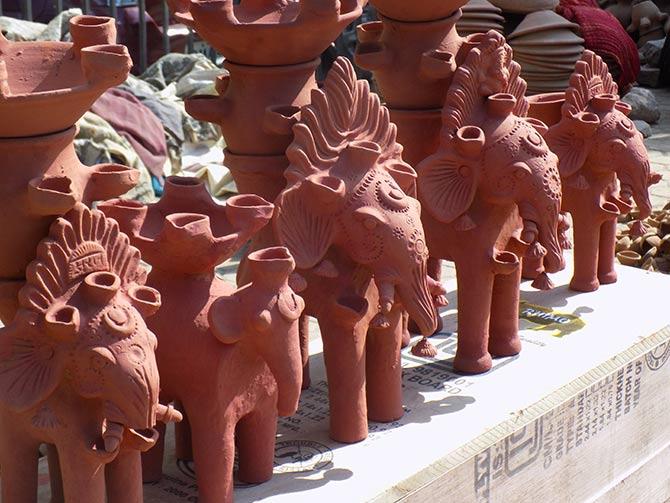 IMAGE: Decorative diyas sold during Chhath.
Meanwhile, in preparation for the festival, people have been cleaning their homes and their surroundings, including the narrowest of lanes, and especially the roads leading to the Ganga ghats and ponds.
Devotional songs can be heard everywhere you go.
If the devotees are upbeat and happy, so are the vendors selling Chhath items -- they hope to earn more due to the high demand and the fact that the devotees rarely bargain during this festival.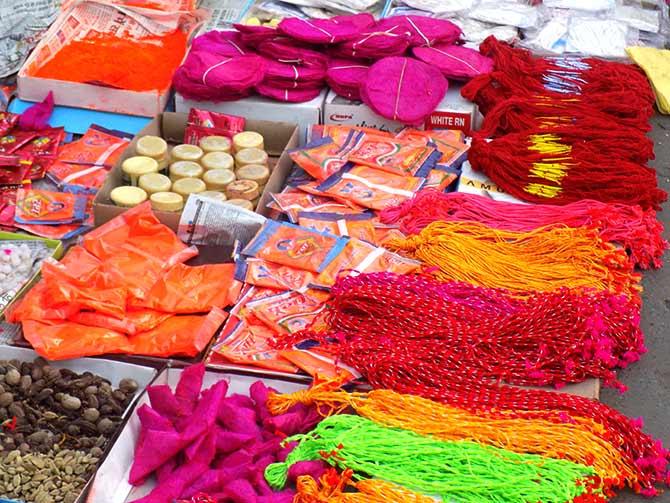 IMAGE: Items used during Chhath.
Bihar, and particularly Patna, are dotted with hundreds of temporary roadside stalls where vendors -- mostly poor men and women -- are seen selling these, along with baddhi (decorated thread), diya (earthen lamp), alta (red dye), sindoor, kapur (camphor), chandan (sandalwood) and other small but essential items needed for Chhath.
Devotees, who are mainly married women, throng river banks and other water bodies for a bath before cooking food. This is known as Nahay Khay (to bathe and to eat) and marks the beginning of Chhath.
According to devotees, banana is essential among the fruit offered to the Sun God during Chhath.
In view of its high demand, bananas -- mostly brought in from Andhra Pradesh -- have flooded the market.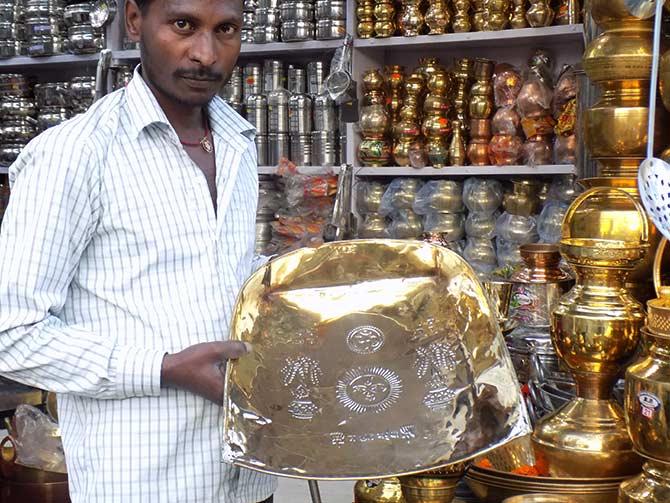 IMAGE: These items are much in demand during Chhath.
During the festival, married women observe a fast for 36 hours and devotees traditionally offer wheat, milk, sugarcane, bananas and coconuts to the sun.
The state administration, along with dozens of voluntary organisations, is working round-the-clock to manage the crowds and keep the area around the river banks clean.
Photographs: M I Khan