Kamakshi Paatti, a sprightly nonagenarian, has the Chennai civic corporation on its toes.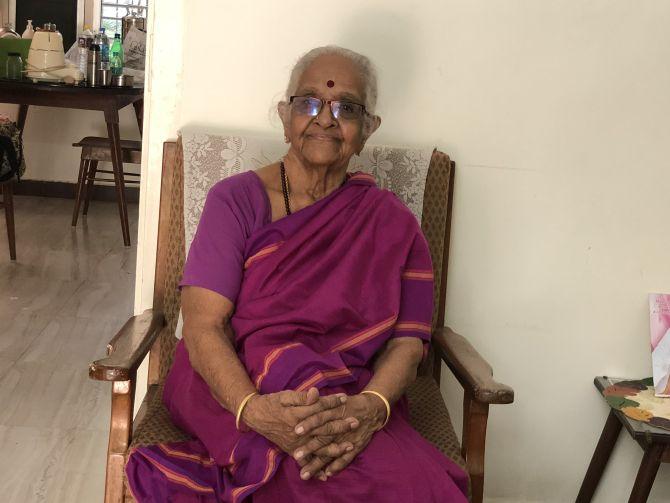 Kamakshi Paatti (grandma in Tamil), as she is affectionately known, is a civic activist in Chennai.
What sets her apart is that she is 92 years old. While most of her contemporaries would be happy tending to the home in their sunset years, Paatti single-handedly made the Chennai municipal corporation clean up her home lane and plant trees there -- not an easy task; it came about after persevering for six years.
Along with her NGO, SPARK, which she co-founded, Kamakshi Paatti even convinced the mayor to sanction Rs 34 lakh (Rs 3.4 million) to renovate a well known memorial on Elliot's beach.
Even now the sprightly lady is thinking up ways to clean up the popular beach in south Chennai.
Here is her story in her own words.
---
I turned 92 in July. I wake up between 5 and 6 am. I meditate for a while and do some exercises. I cannot go for a walk because I have some problems with my knees.
My husband got into government service in 1943. I married in 1946 and went to Calcutta. When India got Independence I attended Mahatma Gandhi's prayer meeting in Calcutta.
In 1948 my husband was transferred to the President's secretariat. We were there from 1948 to 1978, right from Lord Mountbatten to Neelam Sanjeeva Reddy.
By 1948 the Partition riots had stopped, but animosity was still in the air. Every home had one or two refugee families living with them.
We used to take two days to come to Madras by train. We had to queue overnight to book advance tickets first thing in the morning. On the way the ticket collector used to take money from people and let them share the reserved seats.
I used to object vociferously and when they refused to liisten I used to pull the chain and stop the train till all the without reservation people were asked to get down.
If the coach was not clean I used to get down at the big stations and have it cleaned.
I moved to Madras in 1978.
I have one daughter and two sons. I also have six grandchildren and four great grandchildren.
At the end of the lane I live in is Rajaji Bhavan (Besant Nagar, that houses central government offices). At that time it was the largest open ground in Besant Nagar. We wanted a park there.
We formed the Besant Nagar Forum for this purpose. We wrote to the government but they refused. We went to court and lost. The only thing that happened because of our protests was that they were planning a five-floor building here, but built only three floors.
This road in front of my house is an 80 feet road. It was a kachcha road then. Half the road was overgrown with wild bushes. The bushes were so thick that you could leave a car inside and it was not visible.
I told the corporation officials to plant trees here. They refused saying trees are meant only for main roads and not for side streets. I told them this was named an 'avenue' and they should check what that means in a dictionary.
Avenue means a street lined with trees. They agreed and planted a few saplings without clearing the bushes. I was aghast, but could not do anything.
The next time I saw a truck unloading saplings I called up the corporation commissioner and told him, 'If this is for your statistics, why don't you plant them in your compound?'
He was a good man, Commissioner Rajesh Lakhoni. He asked me what the problem was. I told him about the wild growth. They not only cleared all the bushes, but after planting the trees they put up a wire netting to protect the plants.
It took me six years of persistently fighting with the corporation to achieve this. Even today I have made sure they are maintained in good clean condition.
After that with a friend of mine, Dr T D Babu, who is a marine biologist and a very environment conscious person, we started SPARK. This is a public forum for Chennai citizens to voice their grievances and ensure that the government solves them.
We initially started it for Besant Nagar, but now we get complaints from all over Chennai. We advise them about what they should do.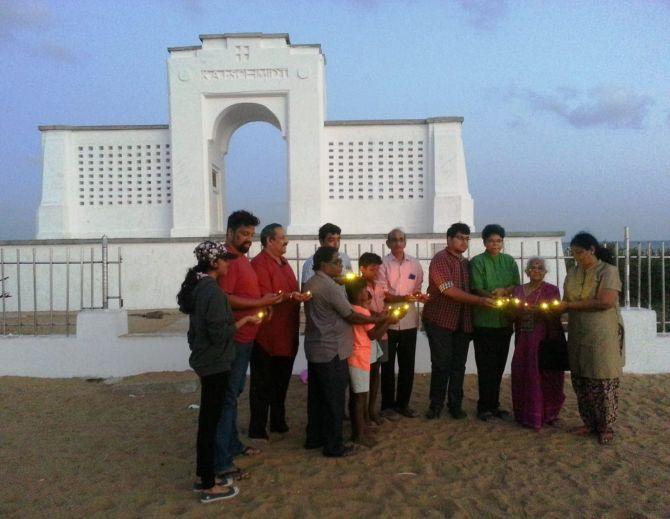 SPARK's first aim was to restore the Karl Schmidt memorial on Besant Nagar beach.
The memorial was constructed in 1930 in memory of Karl J Schmidt, a Danish national who died saving three English girls from drowning in the sea.
It was lying neglected. There were two boards there. One said 'maintained by PWD' and another said it belonged to the Chennai corporation. When we approached them they first said it was with the ASI. They backed off when we asked for written proof.
It was 2012 and on December 30 we decided to light candles there. Nirbhaya sympathisers were also holding a candlelight protest on the beach that night. There were a lot of reporters around.
We got some publicity for our cause. Vincent D'souza of Adyar Times was very helpful. He used to tell us who we should meet for a particular problem.
We got in touch with IIT-Madras and they helped us. They sent people from their civil engineering department to guide us. They told us exactly what needs to be done and how much it would cost.
We met the corporation officials and they too were very helpful as they now knew us very well. Mayor Saidai Duraisamy sanctioned Rs 34 lakh for the work and it was done very well. The ambassador of Denmark attended the function when it was reopened after renovation.
Now it is again lying in disarray. Every year we light candles there on December 30. Fishermen also join us and light candles for those they lost at sea.
After so many years, corporation and police officials listen to us, our voice carries a lot of weight as we go to them only with public issues.
Many a time I have stopped movie shooting in my lane. Hundreds of people gather to watch the shooting and they dirty the place. This is a residential area and we have a right to peace.
I have stopped all construction activities here at night. Among our rights is the right to a peaceful night.
I don't allow bursting of crackers after 10.30 pm. There are some who come in cars with tinted windows and stop in my lane to carry on their nefarious activities like drinking and taking drugs. I don't allow it. I immediately call the police and get them to move out.
We have wonderful laws, but they are not implemented properly. The public is powerful, they don't know that. We have to teach them that.
Youngsters should come forward to do some work for society. I find the youth of today self-centered. They shy away from civic work thinking it is 24-hour work.
I want you to know it is not a 24-hour work schedule. All you need to do is donate half an hour of each day for civic work. That is all it requires to keep your neighbourhood clean.
You should have a sense of possession. You should think this is my road, this is my park. When our rural folk can say my village and can be protective of their village, why can't we city folk learn from them?
If somebody is digging your road ask them if they have permission. Demand to see it or call up the corporation.
People should know their rights and also refuse to bribe. I have been threatened in the past, but now they know that this Paatti won't budge and will persist so people listen to me.
I want to see the youth of today take up civic issues, and when I see that I will know that my life has been a success.
As told to A Ganesh Nadar/Rediff.com