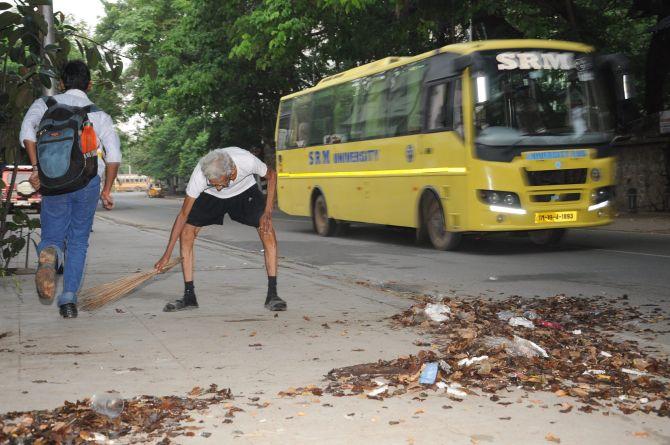 'Unless Modi uses his power to make people work, he will not succeed. He may cry hoarse, but he will not succeed.'
'I treat the broomstick as my God.'
V Kalyanam, Mahatma Gandhi's personal secretary, tells Shobha Warrier/Rediff.com why the prime minister's Clean India campaign won't succeed easily.
The first time I met V Kalyanam, Mahatma Gandhi's personal secretary, was in 1997. He was healthier and fitter then.
Today, at 93, he is frail and walks with the help of a stick, but even today, his inexhaustible energy and fetish for cleanliness have not waned a bit. His day starts at three in the morning with a cup of coffee which he himself makes.
From that moment onwards, he spends all his time cleaning the house, the apartment premise, and tending the plants in his garden and terrace. His daily routine also includes sweeping the road early in the morning, but with age catching up with him, he has abandoned it for the last one year.
But he is angry these days; angry because he says, Indians have no respect for cleanliness and discipline. That is why he decided to write to the prime minister appreciating his efforts to make India 'Swachch Bharat,' but he also warned Narendra Modi that success in the mission is difficult.
He spoke to Shobha Warrier/Rediff.com on why he felt so...
For the first time, a leader in India is talking about cleanliness...
I have been talking about cleanliness from 1948. I joined Gandhi's Sewagram Ashram because of my love for cleanliness. My hobby is cleaning. I treat the broomstick as my God. I don't go to temples, churches or mosques.
Was it because you were inspired by Gandhi's idea of cleanliness that you joined him?
No, I was inspired by Englishmen who were my neighbours in Shimla where I was born and in Delhi where I grew up and worked. I had seen Englishmen coming back from work, put on the cleaning dress and start working in the garden.
I joined Gandhi because he was very clean. He himself had said, 'the British, whatever their faults, had one cardinal virtue. They maintained cleanliness and compelled observance of all laws. I have learnt the laws of cleanliness from the Englishmen.'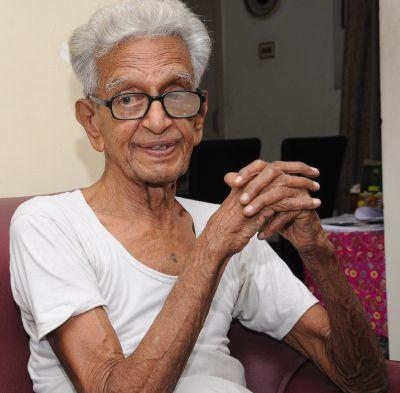 From the day Gandhi died, every day of my life has been spent cleaning my premises. I spend 12 hours a day sweeping; I have a garden in the apartment, a vegetable garden on the terrace to tend and clean.
I used to clean the road at 5 am, but I don't do it regularly now as I am not able to walk properly.
Cleaning fills my stomach; sometimes, I even go without food for three days. If everything is clean, I feel I had a good meal.
Do you think Modi's Swachch Bharat initiative will make India clean?
No. That is what I wrote in my mail to him. I wrote, 'You may not succeed, but I wish you all luck.'
Why do you feel so?
The way he is doing it is wrong. What you have to do is, make the person who has to clean, do it. You should make every household responsible for its surroundings. The corporation is responsible for the main roads. It is the corporation's, panchayat's and municipality's duty to clean the roads.
Look at the roads here. Does the corporation do its duty? Only Modi is doing something somewhere in Delhi.
Unless Modi takes stringent steps, he will not succeed. His steps have to be dictatorial!
What should he do?
He must give the responsibility to some people. Let him hand over Chennai to me. I will show him how this dirty city can be cleaned. But I must be given powers.
If someone from an apartment throws garbage onto the road, I will stop water supply to the apartment but he should not go to court for that. I have no time to run behind such cases; I have better things to do.
Why do you say only dictatorship will work to make India, a democratic country, clean?
Did Gandhi succeed in uniting Hindus and Muslims, eradicating untouchability, stopping lotteries, racing and drinking? He wanted prohibition but who has listened to his words? Here, the government is selling liquor to people.
Now, they no longer are singing Gandhi's praise; they have forgotten him completely.
In your letter, you addressed Narendra Modi as 'No-Nonsense Prime Minister'....
That is because he doesn't want all this nonsense. But he will have to work hard to achieve all this.
At present, he is asking people to participate in the cleanliness drive through the involvement of celebrities. What do you say about it?
What are these celebrities doing? Taking pictures with a broom in their hands. They don't even know how to hold it properly. It is only for photos that they hold a broom; nothing else.
Anil Ambani should ask his people to keep his office clean; he need not stand with a broom in his hand. That is not his job. But Ambani should be made responsible for the cleanliness of his office and its surroundings.
Similarly, principals of all schools and colleges should be made responsible. Principals should be taken to task if the premises are dirty because it is his duty to make those responsible do the work, and it is not his duty to sweep the college premises. You should understand the difference.
Like they do in foreign countries, cleaning the streets should be done at night; from 11 pm to 4 am.
One place in India which I found spotlessly clean was Baba Ramdev's ashram. That is how the entire country should be.
Are you hopeful of the mission succeeding?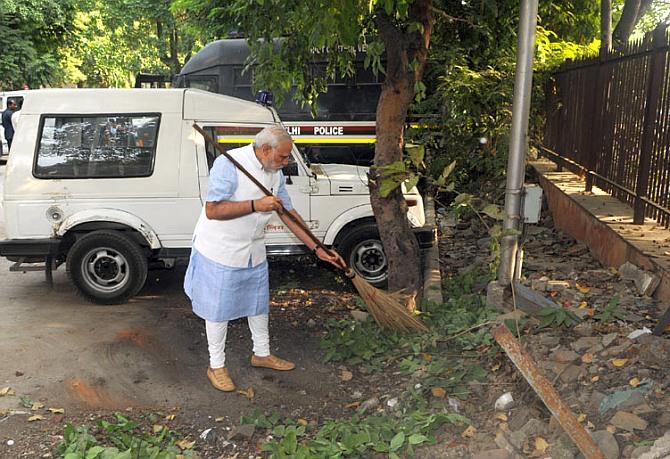 Modi has asked for five years to implement his ideas. Let's see. Unless he uses his power to make people work, he will not succeed. He may cry hoarse, but he will not succeed.
,p>When Gandhi failed after trying so much, how is Modi going to succeed?
In our country, people do not have a sense of discipline. A multi-millionaire staying here throws cigarette butts onto the yard all the time which I clean. Still he does it without any shame.
In your letter to Modi, you have written that like Sachin Tendulkar is to cricket and Viswanathan Anand, to chess, you are to cleanliness and that their records may break but not yours....
I am very confident that nobody will beat my record in cleaning. I have been cleaning from the age of 8; for the last 85 years! They say cleanliness is next to God, but I say godliness is next to cleanliness.
I have no faith in God; I have faith only in cleanliness.
Do you pray or worship?
I don't believe in religion and I don't belong to any religion. I don't go to any temple. Let the God come to my place and see me!
I worship only work, and I will tell you what I worship. Every morning I start my prayers at 3 by writing Sree Rama Jayam, Allahu Akbar and Jesus never fails.
I started writing this after I went to see a friend soon after Gandhi's death. I waited for him in his room as he was taking a shower then. When he came back, I started talking. He asked me to keep quiet in sign language and started writing Sree Rama Jayam in a note book.
From the next day, I started writing my prayers, but improved upon it by adding Jesus and Allah. That was because I was with Gandhi.
V Kalyanam's photographs: Sreeram Selvaraj
YOU MAY ALSO ENJOY: