"It always upsets me when people waste food.
"We have thousands of people in India who go hungry every day.
"One day, I asked the waiter to pack half of the biryani I had ordered at a restaurant.
"I gave that packet of untouched food to an old lady who was sitting outside the restaurant.
"I still cannot forget the smile on her face."
That's how AG Padmanabhan started his mini crusade against stopping food waste in the country. This is his story.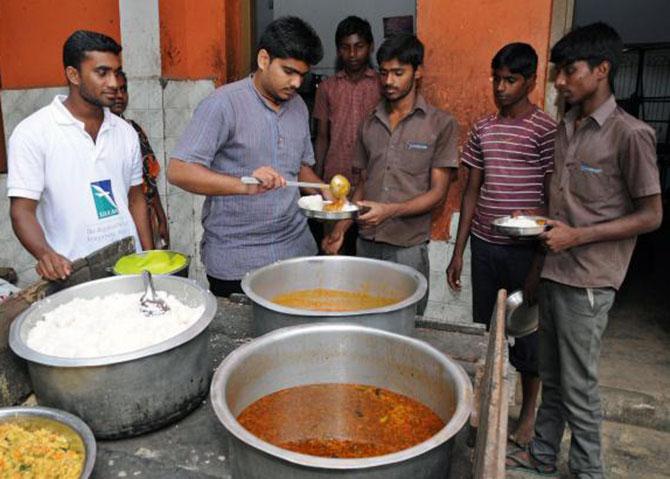 Not many boys dream of becoming social entrepreneurs when in school.
Not many say 'no' to well-paying placements in college.
Not many youngsters go around the city collecting food and serving it to the hungry.
Not many travel by bus to lecture to school children about the need to not waste food.
Twenty-two-year-old A G Padmanabhan is different from most young men his age.
His earliest inspiration was Dr Abdul Kalam.
The former President was in Salem and Padmanabhan, who was in Class VIII, was one of the few students selected to be part of his audience.
Inspired by Kalam's Vision 2020 speech, Padmanabhan and some of his friends put together 20 ideas that India should follow to become a developed country by 2020.
"Apart from Abdul Kalam, my teachers encouraged and inspired me to do something for society.
"I started participating in community events when I was in school. My teachers and principal encouraged me to be a leader and work for society and it continued in college too," he says.
Padmanabhan was a bright student and got admission in Coimbatore's prestigious Government College of Technology to study production engineering in 2010.
"I chose production engineering as I felt it could add value to my journey as an entrepreneur. The course taught me innovation, marketing, entrepreneurship and a little bit of management."
Alternative wood, and an award
Padmanabhan's first experiment as an innovator took place when he was in his second year in college; he developed 'alternative wood'.
'A huge tree plantation drive was taking place in Coimbatore at that time. I knew we had to cut trees for various needs. That was when I thought, why we could not have something that could be used as an alternative to wood?'
Padmanabhan and friends-cum-classmates Hari Prakash and Dinesh M -- they call themselves PHD (the first letters of their names) -- sat down to work on the idea.
"We had taken a vow that, every year, we would develop something that would be of some use to the public or college. Maybe because of our enthusiasm, our college principal and teachers gave us permission to go out and explore things on our own. To them also, we were PHD! In fact, I spent less than 20 days in college every semester. Most days were spent either in some factory or symposium or conference to learn things."
The friends made a composite material from banana fibre, coconut shell powder, sugarcane waste, etc, bound together by soya binder, cow dung and resin.
The end product had 90 to 95 per cent of the qualities of wood and, after lamination, could be used exactly like wood.
"With inputs from our professor, we developed the composite material in our hostel room. What people call R&D is nothing but trial and error. It took us four-five months to come out with a strong product," says Padmanabhan.
Their invention got them an invitation from the International Green Campus Conference organised by international universities in collaboration with the Pondicherry University in Pondicherry.
"There were students from 50 countries and our composite wood, which we named Natural Fibre Wood Composite, won the best innovative natural product award. It was a huge motivation for us."
Padmanabhan and his friends are in the process of fine-tuning the composite wood so that they can produce it on a bigger scale within five to six years.
The Green Club and Paperless Conferences
The conference was an eye opener for PHD in another way.
They saw that the hundreds of pamphlets used in conferences were not read by most of the attendees.
They decided to start a Green Club and promote paperless conferences.
In 2013, they organised a conference in their campus naming it Prakruti and, in the entire conference that had 1200 participants, not a single sheet of paper was used; everything was digital and online. The banners were made of cloth.
The paperless conference was a huge success and inspired other colleges in Coimbatore to follow suit.
Innovate! Innovate! Innovate!
"The mission of the Green Club is not just to plant trees but produce more 'green engineers'.
That is why we started the Student Research Foundation in our campus.
"When we were working on composite wood, we lacked proper guidance and funding. SRF plans to help students innovate, network and get funding for their projects.
"We want to inspire young engineers to innovate and become entrepreneurs," Padmanabhan says of yet another of their initiatives.
A student, and a teacher
While he was studying engineering, Padmanabhan was also teaching school children STEM (Science, Technology, Engineering and Mathematics) learning, which is quite popular in the United States.
His earnings from this part-time job helped him continue with his research projects.
"I didn't want to disturb my parents's finances for my education. This was the way I funded my studies. I taught government school children about the need to innovate, save the environment and become entrepreneurs. That was my way of inspiring young children and it was done for free."
In fact, when the placements were going on in college, he was in a government school taking free classes.
"I had no plans to take up a fancy job with an MNC. My mother and friends forced me to attend at least one interview, so I did. I got the job but didn't join."
Here comes SPICE
Padmanabhan decided to name the society under which Green Club, SRF, and other ideas work as SPICE (Society Promoting Innovation, Creativity and Entrepreneurship).
It was started two days after he graduated.
Dinesh of the PHD is still with SPICE while Hari Prakash is completing his MBA as SPICE needs a management specialist.
Under SPICE, they have created programmes for school curriculum that will encourage innovation and entrepreneurship; two schools have already adopted the curriculum.
Food for eating, not wasting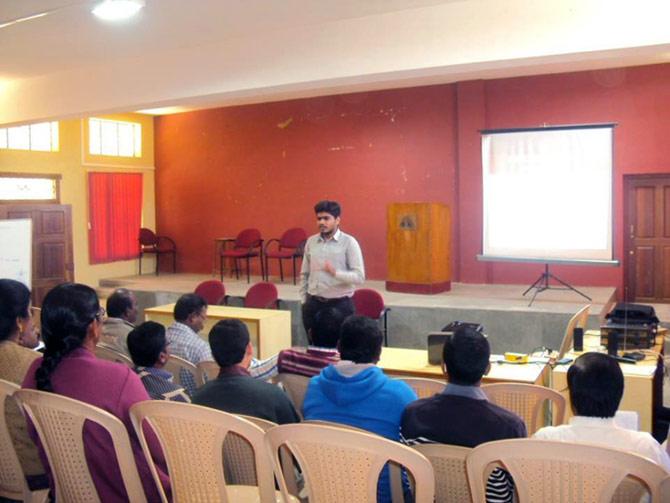 Padmanabhan, who used to spend a lot of time with students during their lunch break, he saw many of them dumping food into dustbins without a second thought.
One afternoon, after they left, he weighed the food they had thrown away; it weighed 18 kilos.
"I got really worried. It always upsets me when people waste food. We have thousands of people in India who go hungry every day. Then, I happened to be at a wedding and there too a lot of food was wasted. One day, I asked the waiter to pack half of the biryani I had ordered at a restaurant. I gave that packet of untouched food to an old lady who was sitting outside the restaurant. I still cannot forget the smile on her face," he recalls.
That night, Padmanabhan registered Nofoodwaste.in.
It was his habit to write down every new idea in his diary and buy a domain for it.
"It is like a hobby," he says.
He then formulated a plan to make children aware of the importance of not wasting food.
On October 16, 2014, International Food Day, he visited various schools and spoke to children about why they should not waste food.
"I told them that 15 per cent of India's population go hungry every day and we are on the top of the global charts when it comes to hunger and malnutrition. At the same time, in a city like Bengaluru, 940 tonnes of good untouched food is wasted annually in marriages alone. The children were shocked," he says.
Padmanabhan wrote to the schools in Coimbatore requesting the students to audit the amount of food wasted in their schools everyday.
Initially, 30 schools responded.
"I trained the student representatives on how to audit wasted food and how to spread awareness among other students. I also trained them to use the wasted food as compost for the school.
"I found that, in a school with less than 1,000 students, the daily food waste was about 10 to 12 kilos. There are 300 schools in and around Coimbatore so you can imagine the amount of food wasted daily! It is 9 lakh kilos a year!
"We also encouraged some of the schools to develop compost out of food waste, plant trees and use it as manure," continues Padmanabhan.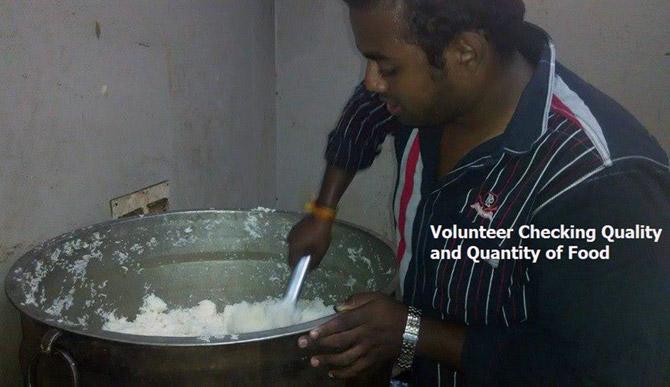 When he learnt that people associated with wedding planning and other functions didn't know whom to contact when they had extra food, he created a helpline number.
He also identified poor localities in the city where the food could be distributed.
January 2015 onwards, he started getting calls to collect food.
Unfortunately, he was a one-man army.
"Those were tough days as our company was going through a crisis. I wondered why I was all alone when I was trying to work for a good cause. There I was, going to various places, packing extra food and carrying them in shopping bags and travelling in public transport to distribute the food.
"I continued like this till Match. The number of calls also multiplied.
"By then, Dinesh came back and another college mate, Sudhakar M joined us. We managed to buy a second-hand Honda Activa and named it Foodiva for our food travels. With the scooter at our disposal, travelling became easier."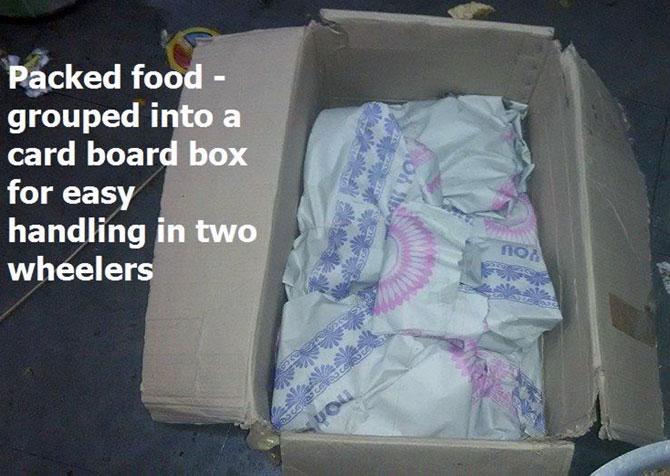 Padmanabhan now plans to buy a Maruti van to transport food and link self-help groups working for the poor through a mobile app.
Padmanabhan feels this idea can be replicated in any city by organising an awareness drive through a rally, marketing the helpline number and looking for sponsors for a vehicle. In the coming months, they are planning similar rallies and projects in four more cities.
Help from California
Padnamabhan recently won California's Pollination Project start-up grant of $1,000 that is given to individual change-makers and projects that 'promote compassion around the world'.
After his nomination by a previous awardee, Padmanabhan was chosen as one among four youngsters from thousands across the world.
He plans to use the money to scale up his nofoodwaste project.
Ideas, more ideas
Padmanabhan plans to build a biogas plant in Coimbatore, where the food waste from hotels can be deposited. This idea too, he says, can be replicated in other cities.
He also plans to work in solid waste management to create 'zero waste campuses'.
"Besides the nofoodwaste project, I have decided to restrict myself in three areas; educating school children, innovation and solid waste management."
Padmanabhan's biggest disappointment
His dream is to make India a 'no food waste economy' and promote sustainable ideas.
He wants to make his father feel proud of what he is doing. Padmanabhan's father, a central government employee, was dead against his son becoming an entrepreneur.
"I learnt simplicity, understanding the difference between need and want and doing things properly from him, but the cold war between us is still going on. Though I have been doing this for the last four years, I haven't had a single word of appreciation from my father. In fact, he doesn't even speak to me. I am waiting for the day when he will appreciate my work. I am sure that, one day, he will be proud of me."
Padmanabhan, who started dreaming of his journey as a social entrepreneur after meeting and hearing Dr Abdul Kalam is heartbroken that he and his team will not be able to meet him. They were given an appointment to meet Dr Kalam on July 31 at 7.30 pm.
"I feel like an orphan. I do not know why destiny played such a cruel joke on us. I will make India a 'no food waste' country by 2020. I will fulfil Dr Kalam's Vision 2020.'
Photographs: Kind courtesy AG Padmanabhan
ALSO SEE