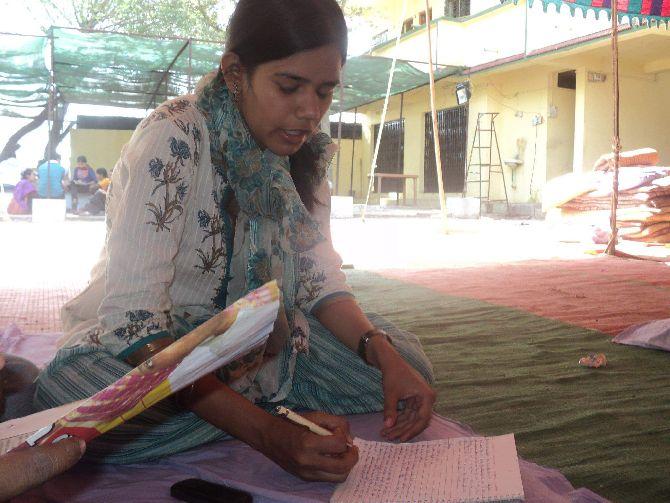 IMAGE: Parijata Bhardwaj during her stint in Chhattisgarh.
'In the districts of Jagdalpur and Dantewada, the only time the accused walked out of jail was when they were acquitted. There is no concept of bail.'
'The women were very clear -- they had to fight. Remaining silent any longer was not an option.'
Jyoti Punwani speaks to Parijata Bhardwaj.
From the comfortable environs of Symbiosis, Pune, and the Tata Institute of Social Sciences, Mumbai, to the depressing courtrooms of Jagdalpur and Dantewada in Chhattisgarh was quite a change.
Yet Parijata Bhardwaj, 27, was keen to go back to those courtrooms after her sojourn in Mumbai where she had come to brush up her legal skills.
She was to have left last week, but before she could, the lawyers with whom she was working were booted out of town. Chhattisgarh had once again become a 'no-activists-land.'
Parijata is part of the Jagdalpur Legal Aid Group (JAGLAG) that has been handling cases of Adivasis jailed for years in Chhattisgarh.
The group of three lawyers, two from Delhi and one from Mumbai, started working there in 2013. Their clients: Adivasis who had been in jail the longest, who could not afford lawyers, and were behind bars for Naxal prakaran (activities), a special category in Chhattisgarh's Maoist stronghold.
What took Parijata to Jagdalpur?
As a law student in Symbiosis, she was sometimes tempted by the pay package that awaited her if she chose to join a law firm. She knew she wanted to work for the poor; but she could choose to first earn some money and then devote herself to low-paid legal work.
"But I had seen too many of my seniors doing this and then being unable to wrench themselves out of the lifestyle they had got used to," says Parijata.
She decided to join TISS instead, to do her masters in social work, hoping the two years there would help her decide.
By the time she graduated from TISS, the torture of Adivasi activist Soni Sori was making news, and Chhattisgarh's jails were overcrowded with Adivasis picked up as Naxalite supporters. There was a need for lawyers there. Senior lawyers and Delhi's Human Rights Law Network were willing to fund them.
"I knew this was what I wanted," says Parijata. "If I'd let this opportunity go, I'd have always regretted it."
Her mother, a former teacher, was apprehensive. Surprisingly, her father, an ex-armyman, understood. "He knew what happened to populations in conflict areas; he knew there could be excesses by security forces," she says.
The two years she spent in Chhattisgarh opened her eyes to the manner in which the law can become an instrument that denies justice instead of giving it -- a concept her TISS teachers had taught her.
The JAGLAG activists spent their first six months filing Right to Information applications to get to know what they had to deal with -- how many prisoners, what charges, how many undertrials, convictions and acquittals.
Three startling statistics emerged. In Dantewada, there were hardly any normal Indian Penal Code cases. The Adivasis seemed to be free of crimes such as theft, robbery, sexual assault, rape, which were common elsewhere.
Here, the charges were all unlawful assembly with attempt to murder or murder, and the Arms Act.
Second, 95.8 per cent of the Naxal cases ended in acquittal. But whereas in 2005, the acquittals came within six months, after 2010, they were taking as long as six years.
Finally, was the shocking absence of bail.
Everywhere else, most accused walked out of custody on bail. Acquittal came much later. But in the districts of Jagdalpur and Dantewada, the only time the accused walked out of jail was when they were acquitted.
The judges knew the cases were weak, but they would allow the legal system to play out to the fullest. So years would go by as witnesses -- mostly policemen -- would not turn up. Defence lawyers would protest half-heartedly.
These long periods of detention were themselves a show of strength by the State, says Parijata. By the time the accused walked out of jail, they had lost touch with their families, who were too poor to keep visiting from their remote villages.
She remembers one accused pleading with the judge that he would lose his family if he remained in jail longer. The judge's reply: 'If you have no one left, you may as well stay on in jail.'
Another judge, urged to pass an urgent order for a medical examination of a tortured Adivasi, before the marks of torture disappeared, took off his shoes to display a scar on his foot. 'See this? I injured myself three weeks back, the mark is still there. Don't worry, his marks will remain too.'
Yet another judge told JAGLAG that it was the presence of iron in Bastar's water that made Adivasis so hot-headed.
Some lawyers charged their Adivasi clients so exorbitantly that they had to mortgage their land. Others represented them as part of legal aid offered by the State, so they had no interest in the cases at all and were quite happy to let JAGLAG work for them.
At first, JAGLAG was appreciated for working for the 'poor, simple Adivasis.'
But in the second year, as cases taken up by these lawyers started moving faster, with public prosecutors sometimes even getting pulled up, and witnesses being forced to appear, a resolution was passed by the Jagdalpur Bar that lawyers from outside would not be allowed. JAGLAG had to go to the state bar to get a stay.
In her limited interaction with Adivasis in their villages, Parijata found they weren't all that simple.
"The women were very clear -- they had to fight. Remaining silent any longer was not an option, they said. They would organise the rest to protest. The youngsters were the post-Salwa Judum generation, one or both of their parents had been killed by the Judum, they had to leave their villages."
Parijata and her colleagues, Shalini Gera and Esha Khandelwal, became an object of curiosity in the small towns of Jagdalpur and Dantewada. Parijata remembers shocked comments when they went to the local cinema house without dupattas, but overall, they were left alone. In fact, their landlord's family soon accepted them as their own. Ironically, it was their landlord who was pressurised by the police to terminate their contract.
Back home after the Supreme Court granted her bail, Soni Sori was becoming a nuisance. Thanks to her, Adivasis were protesting outside police stations, forcing police to set up inquiries. An official documentation of abuses by the State was being generated. That could not be tolerated.
The lawyers working with her had also become a nuisance -- Adivasis would contact them when in trouble. The lawyers' networks would quickly flash news of police atrocities across the country, to the National Human Rights Commission and even to Amnesty International. They too had to go.
Till last week, Parijata was getting calls from her clients saying: 'Didi, when are you coming back?' Last week, a client told her: 'First you left and now all the others have gone.'
What happens now to the Adivasis? Parijata points to the mega projects announced for the region soon after Narendra Modi came to power, which means more displacement for the Adivasis. "Until there's a strong local movement supporting the Adivasis, outsiders can do only so much," she says in frustration.