Her eyes crinkle as she speaks; a smile is never far away.
Though she speaks in a rush -- words tumbling over each other in a race to save time or keep up with her thoughts -- she is unfailingly polite.
A simple sari, a string of flowers in her hair, basic jewellery and a wrist watch... that's all one of India's richest women wears.
Sudha Murty has various roles -- philanthropist, author, teacher, wife, mother, grandmother, sister, aunt -- and she revels in each one of them, discovers Rediff.com's Savera R Someshwar in the first of a two-part fascinating profile.
Videos: Afsar Datayar/Rediff.com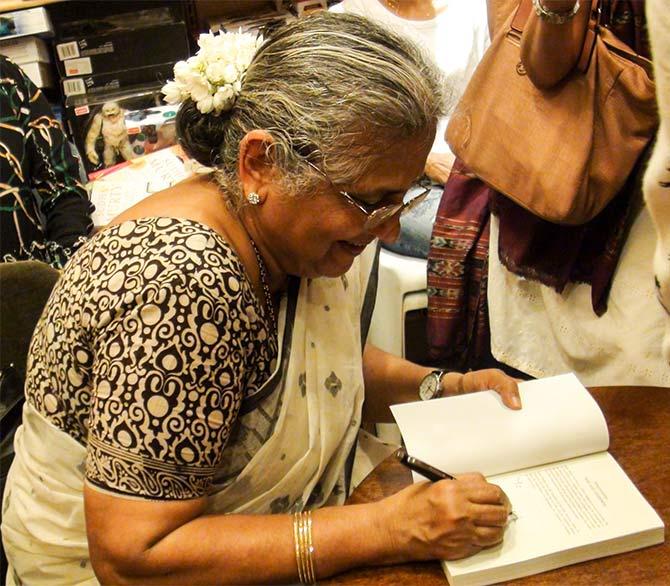 IMAGE: Sudha Murty signs a copy of her latest book for a fan. Photograph: Afsar Dayatar/Rediff.com
Let me tell you a story about Krishna, a fond Ajji (grandmother) visiting her granddaughters in London, said.
"I am very keen that our children should know the great epics, the Mahabharata and Ramayana, and I thought I should tell some stories to them and teach them like all naanis and daadis do."
So this Ajji, with a sweet smile, began to tell her two little granddaughters a story of a naughty, blue-skinned god, who stole the clothes of women who were bathing in a river, of how they pleaded with him and how Lord Krishna returned their clothes.
Before she could delve into the meaning of the story...
"Oh no, Ajji," said the other Krishnaa -- the feisty elder granddaughter who lived in today's modern world. "That's not how it happened."
"I will tell you Krishna's story."
So the grandmother listened.
"Krishna was a very naughty boy," began the granddaughter. "One day, he went to the swimming pool. There were many aunties there and they were complaining to his mother that your child comes to our house, opens the refrigerator and eats all the butter."
"He thought he should really teach them a lesson."
"But when he wanted to go inside, the security told him he could not as it was the ladies's hour at the pool."
"So he went to the first floor, took away all the clothes from the dressing room and waited to see what the aunties would do."
"When all the aunties finished their swimming session, they had a shower and when they came out there were no dresses at all."
"They thought, oh, Krishna must have done this. They called Krishna from the first floor and told him, 'Look, if you don't give our dresses, we will sue you'."
"So he said okay. Then, after some negotiation, Krishna returned the dresses."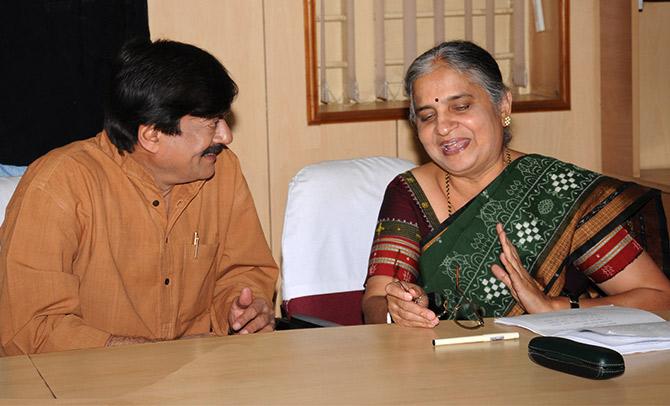 IMAGE: Sudha Murty with actor Anant Nag on the sets of the Kannada film, Prarthane, which released in 2012.
Sudha Murty, then author of 16 books in Kannada and 15 books in English, former teacher, chairperson of the Infosys Foundation, actor (yes, she's acted in the Marathi film, Pitruroon, which is based on her Kannada novel Rhun, and a Kannada film, Prarthane) and Infosys Co-founder N R Narayana Murthy, was "heartbroken."
"My God," she wondered, "what are my grandchildren learning about Krishna?"
"I think of Krishna, the lord, the young boy, Balakrishna, Gopalakrishna -- so many names we call him... And here they are going to sue him."
"Then I felt, that because of the environment they live in, a Krishna story or any Bhagvata story, or any story from our epics, would not make sense to them. Most of them are difficult to read because there is too much exaggeration, there is too much illogical narration."
"These stories had to be told in a much simpler way. More than my grandchildren, I felt my daughter should know about this. If the mother knows it, then she can pass it on to her children."
So she sent their mother, her daughter, Akshata, a book.
And promptly received an email in return. 'I don't want this huge fat book, 80 per cent of which is exaggeration and praising God all the time. I cannot go beyond 10 pages. Can you send something which is simple to read?'
Thus was born her latest book, The Serpent's Revenge: Unusual Tales From The Mahabharata, the first draft of which she wrote in 11 days "because the book was in my mind for 50 years."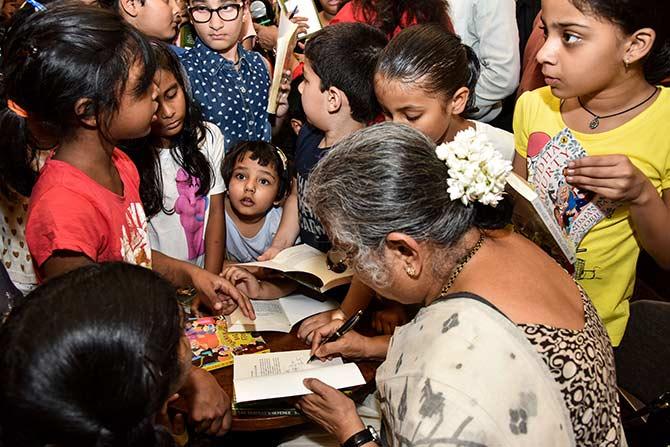 IMAGE: Sudha Murty signs every copy she is presented with at the launch of her latest book, The Serpent's Revenge, in Mumbai. Photograph: Kind courtesy Crossword Bookstores
Writing, says Murty, is her "pickle."
"I write," she says, "for my joy, but I don't make writing my full time. My work is my full time. Because of my work, I can write better. It makes me sensitive to people's difficulties, their reactions."
Murty describes her work at the Infosys Foundation -- a non-profit organisation founded by the IT behemoth in 1996 to support and help the underprivileged sections of society -- as her "bread."
She enjoys both aspects of her life tremendously, so much so that "every day at work is like a holiday for me," says one of the richest women in India -- according to Forbes, the Murty family ranked 62nd in 2016 among India's richest families, number 39 among the billionaries in India and number 959 among the world's richest billionaires.
Yes, you will spot Sudha Murty in simple saris and minimal jewellery, flowers in her hair and a watch on her wrist; she doesn't need more, she says.
For all her wealth, she hates shopping -- rumour has it that she hasn't shopped for 20 years -- and, if she absolutely has to, she will gift a book.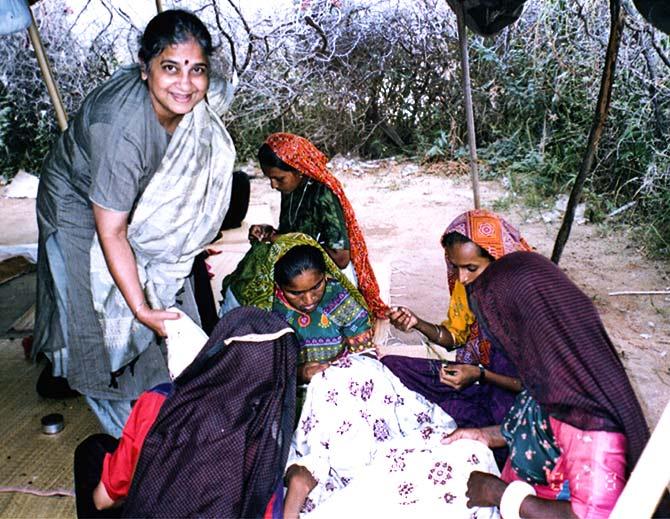 IMAGE: Sudha Murty, chairperson of the Infosys Foundation, believes that the "human touch" is more important than a blind pursuit of excellence.
If she is not travelling -- of which she does a lot for the foundation -- then you will find her at her desk at 8.30 in the morning.
A typical day at office will see her answer about "400 emails" and take "about 400 calls, both incoming and outgoing."
She is back at her two storied house in Jayanagar, Bengaluru -- it is where she has lived for over 28 years and brought up her two children, son Rohan and daughter Akshata -- by 5.30 pm.
The avid reader -- "I read about 100 to 200 pages a day" -- then reaches out for a book.
If there is nothing else to read, she kids, she will read the newspapers four times over. But with a personal library at home, that's a stage she hasn't reached yet.
"Right now, I am reading Shashi Tharoor's book (An Era Of Darkness: The British Empire In India) and Twinkle Khanna's fiction book (The Legend Of Laxmi Prasad) and Karan Johar's book (An Unsuitable Boy)."
"I just finished reading Rishi Kapoor's Khullam Khulla."
Then, she listens to music and watches a movie.
"Movie I have to watch for half an hour. I really enjoy watching movies," she says gleefully.
By 9 pm, she is in bed because "I get up at 5 am every day, and at 4 am if I am writing a book."
The 8.30 am to 5.30 pm is a routine she would like her staff to follow as well.
Though she won't comment on the murder of Infosys employee Rasila Raju OP at the company's Pune campus on January 29 -- "It is better you speak to the Infosys spokesperson" -- she does feel that women are still not considered equal citizens in society.
"At work," she says, "there is no problem. We are equal in work. Probably we are better in work. We are more hardworking. But when it comes to equality in social life, still we do not have it."
Personally, too, she says, she is careful.
Though her work at the foundation requires her to travel -- "I have travelled in areas infested by thieves and bandits" -- she prefers to err on the side of caution.
"I calculate the risk. In such areas, I avoid travelling at night even if it can save time. I ensure I travel between 10 am and 5 pm. I make sure I have somebody, or some security, with me."
"I am not a daredevil in such matters. If my gut says I should not take a risk, I don't."
Do watch the video to see what else Sudha Murty suggests working women should do to ensure their own safety.
When it comes to challenging stereotypes, though, Murty began early.
As an engineering student at the BVB College of Engineering and Technology in Hubli, Karnataka, in 1968 -- that's nearly 50 years ago -- Sudha Kulkarni, as she was known then, was the only female student in her class.
When she realised that none of the male students would help her, she decided she would not miss a class during the four year course. And she didn't.
"I was never dependent on my classmates for notes because they would never give it to me. If I didn't understand something, I would re-read it, and re-read it, and re-read it, till I understood it."
Soon, the situation reversed.
As her story continues, you glimpse the determined 16-year-old girl in the 66-year-old woman with flyaway hair that is now more silver than black, sitting in front of you, laughing at the memory.
"Later," she smiles, "they were dependent on me because I wrote proper notes in a proper handwriting. That made me realise I can stand on my own feet and face any difficult situation all alone."
It was an important lesson, one that has stood her in good stead all her life.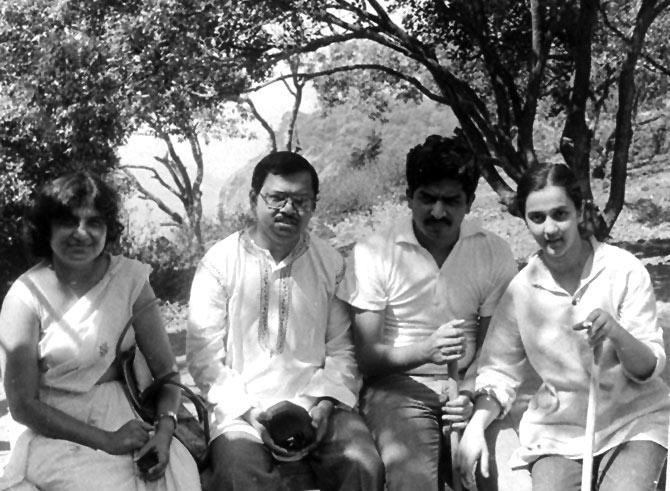 IMAGE: Sudha Murty, her husband N R Narayana Murthy, another Infosys Co-founder Nandan Nilekani and his wife Rohini Nilekani, at a picnic near Bangalore in the early 1980s. Photograph: Kind courtesy, Infosys
Her experience at engineering college has also translated into her next book, tentatively titled My BVB.
She jokes that Penguin always changes her working titles though "very few people have told me they brought my book because of its title" and she should know; she has sold over a million books and is one of India's most successful writers.
My BVB, she says, looks at her experiences in engineering college and the life lessons she learnt from those character-strengthening days.
Her next challenge came in 1974, when she was doing her master's course in computer science at what was then called the Tata Institute in Bangalore; today, we know it as the Indian Institute of Science.
Excellent at academics, the double gold medallist -- she won a gold medal that was given to her by the chief minister of Karnataka after she completed her engineering. Later, she was awarded another gold medal by the Indian Institute of Engineers, this time after she topped her master's in engineering, specialising in computer science, from the Indian Institute of Science -- was planning to go abroad for further studies when she spotted a flyer from Telco, asking for bright, young, male engineers only.
Infuriated at the discrimination, she dashed off a postcard to J R D Tata, protesting against the gender discrimination.
It was something she had not faced at home and it was not something she had expected from the Tatas.
Please click on the video below to find out how Sudha Murty was brought up, and how she brought up her children "my way".
According to her post on the Tata Web site, within 10 days, she 'received a telegram asking her to appear for an interview at the company's expense.'
Her postcard, clearly, had reached JRD.
During the interview, which went well, she was told that Telco, now known as Tata Motors, had never employed ladies on the shop floor.
'But you must start somewhere,' she told them, according to her post on the Tata Web site,'otherwise no woman will ever be able to work in your factories.'
She became the first female engineer to be employed by Telco. It was a decision that would change her life in more ways than one.
As she says in her post, 'I met a shy young man from Karnataka there, we became good friends and we got married.'
Do read the INTERESTING FEATURES in the RELATED LINKS below.