'My friend scored higher than me in the 12th exam, but he could not clear NEET because his parents could not pay the fees for private coaching.'
A Ganesh Nadar/Rediff.com listens to the voices at the DMK's day-long protest in Chennai against NEET.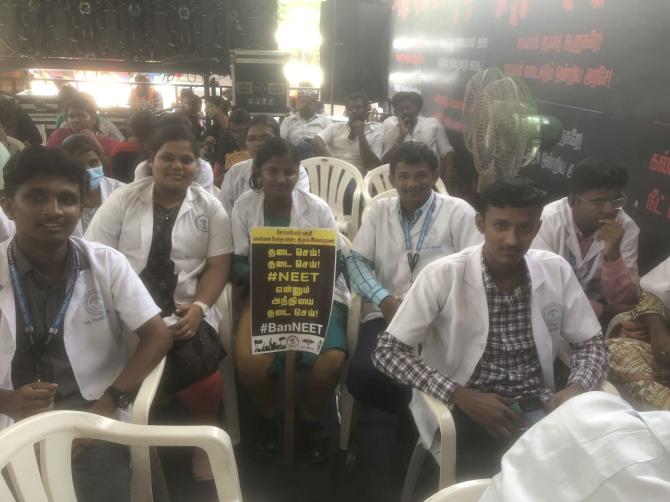 Valluvar Kottam is a huge, well maintained, memorial cum park in the heart of Chennai.
It is dedicated to the ancient Tamil saint, poet and philosopher Thiruvalluvar who composed the Thirukkural, comprising 1,333 couplets on all aspects of human life who has been consistently praised by Prime Minister Narendra D Modi.
The park has a bigger than life size statue of the saint overlooking the park.
Valluvar Kottam is a place where protests are held IN, just like Jantar Mantar in Delhi and Azad maidan in Mumbai.
On Sunday, August 20, 2023, the ruling Dravida Munnetra Kazhagam held a daylong anti-NEET hunger strike to demand a ban on NEET in Tamil Nadu.
The immediate provocation for this protest was the death of a student Jagadesswaran who committed suicide by hanging himself on August 12 as he failed to clear NEET twice.
The tragedy was worsened by the fact that his father Selvasekhar unable to bear the loss of his son committed suicide two days later.
Another likely reason for choosing this date was to take away some newspaper space from the Opposition All India Anna DMK which was holding a meeting in Madurai to launch its campaign for next year's Lok Sabha election.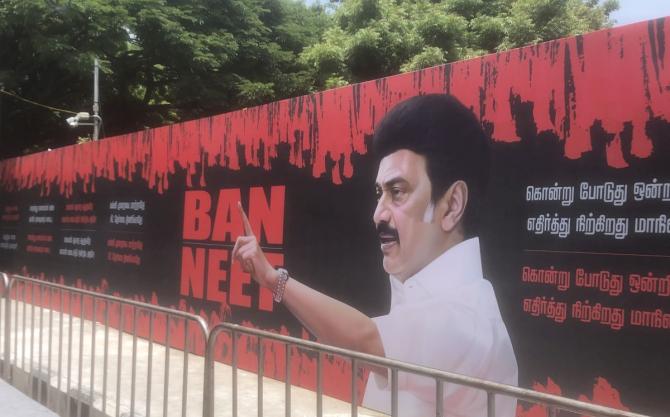 The DMK protest was held in all district headquarters in the state. The Chennai protest was held under the leadership of Udayanidhi Stalin, president of the DMK's youth wing and Tamil Nadu's minister for youth and sports.
Sitting beside Udayanidhi was his relative Dayanidhi Maran, who made a fiery speech in the debate on the no-confidence motion in the Lok Sabha, and other DMK bigwigs.
There was a centrestage where the VIPs sat, on both sides of them there were two other stages where the not so important DMK leaders were accommodated.
The demand was for NEET to be banned in Tamil Nadu. But how does the national test go against the state?
Tamil Nadu has the highest number of medical colleges in India and the second largest number of MBBS seats -- after Karnataka.
In the by-laws of NEET there is a provision for 15% seat reservation for the all-India quota.
That is exactly what the students, parents and the government are rallying against. They don't want students from other states grabbing these seats.
The DMK, which speaks up for federalism at the drop of a hat, doesn't seem to realise the irony of opposing students from other states.
Medical students in their white coats occupy the section in front of the stage.
Students who had come there to protest against NEET had cleared the exam by attending a coaching class.
"You don't know how expensive these coaching classes are, the poor and lower middle class cannot afford them," one young man tells me. "I passed NEET because my parents paid the fees and it is the same for all of us here."
"My friend scored higher than me in the 12th exam, but he could not clear NEET because his parents could not pay the fees for private coaching."
The friend is still studying for NEET and hopes to perform better in his next attempt, but it will be difficult.
"You know how difficult it is for Tamil medium students to attempt NEET. They get high marks in the 12th state board as it is in Tamil. You can appear for NEET in Tamil, but it is difficult to understand the questions."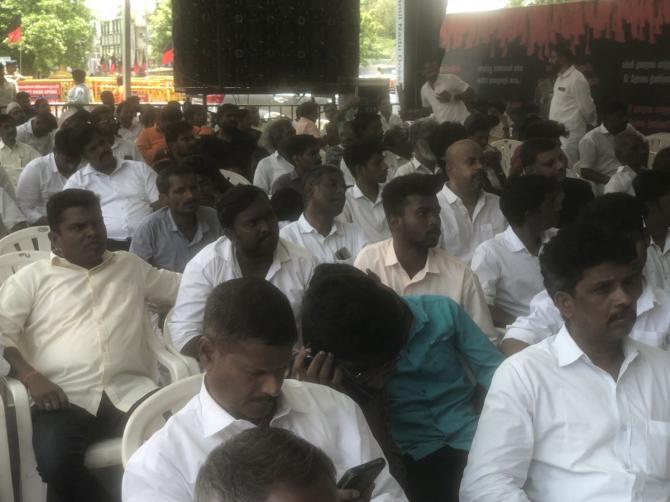 "I came here to support the agitation as my child failed at NEET because I could not pay for her coaching classes," says an elderly parent.
"My children are not studying medicine, I came here because I know that poor students are suffering simply because they cannot afford private coaching, not because they are not meritorious," says a senior manager at a mutual fund.
"Banks are giving loans for college education, why can't they give loans for NEET and JEE coaching classes?" asks another attendee at the fast.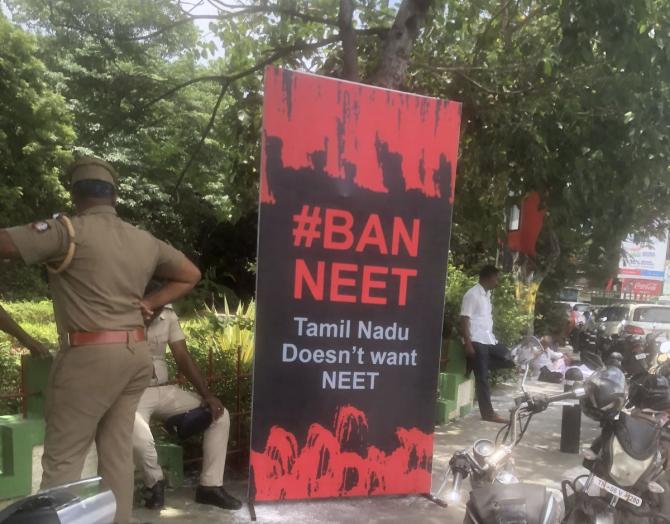 There was a continuous flow of speakers on the stage. They criticised the central government and they criticised the opposition All India Anna DMK and praised their party MPs and MLAs who had opposed NEET in Parliament and the assembly.
There was a slideshow displaying all the students who had committed suicide because of NEET; there were 20 of them, a majority being girls.
"The students did not die of suicide because of NEET," an elderly man says, watching the slide show, "they died because of parental pressure."
But it was only a token protest. Everyone knew that for NEET to be banned in Tamil Nadu, they need a new government at the Centre and they also needed to answer to the states which had fewer medical colleges.
Feature Presentation: Aslam Hunani/Rediff.com