Sonal Shukla lived the feminist slogan: The personal is political, in a way few feminists have been able to.
She will be remembered and missed for doing this not with a dour self-righteousness, but with humour and a rare joie de vivre, remembers Jyoti Punwani.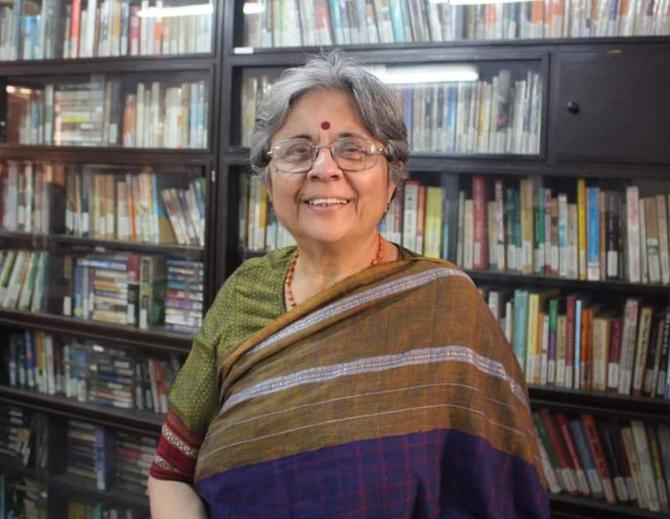 Sonal Shukla, who passed away on September 9, was a colossus whose presence was felt not only all across the women's movement, but also in the lives of thousands of adolescent girls from the most deprived sections of Mumbai.
Her death is a loss for both. But she will also be missed for her personality: A perfectionist but sympathetic to the vulnerable; one who enjoyed laughing at herself. Those fortunate enough to count as her friends will perhaps miss most of all, the sparkling company she provided.
As a reporter who interviewed Sonal many times, and also as one who joined Mumbai's first autonomous women's organisation Forum Against Rape when it started in 1980, co-founded by Sonal, I knew her for long, but was always intimidated by her.
Her caustic sense of humour, keen eye for nuance and impatience with generalisations, and her vast knowledge not only of feminism and the complexities of women's lives in India but also of literature and music, always made me feel inadequate.
I think I finally managed to earn her approval quite late, in 2016, when Women's Feature Service asked me to profile Vacha, the organisation she co-founded in 1990. After that profile (external link; subscription may be necessary) I was invited to Vacha's programmes and saw what an enormous job the organisation was doing.
Vacha was the first organisation to address girlhood issues. "All youth programmes in poor neighbourhoods are for boys," said Sonal. "Girls are bracketed with women or children. Their issues are different and I believe this phenomenon has to be recognised and dealt with."
Adolescence is when the world opens up for you, but Sonal had observed, for the girls coming from bastis (the girls preferred to use the word 'basti' for their neighbourhoods; they found the word 'slum' derogatory, so Vacha never used it), this period is seen only as a preparation for marriage, marked by reduced mobility and forced submissiveness.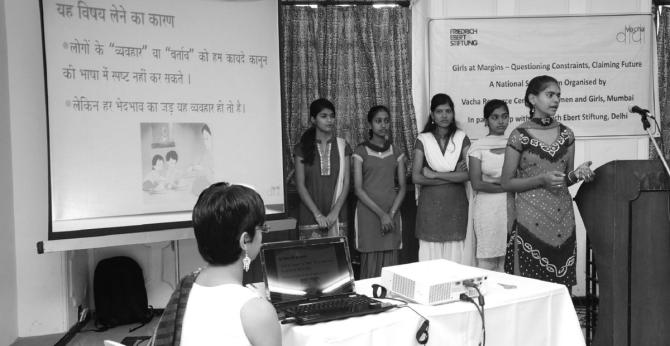 Thanks to Vacha, these inarticulate, suppressed adolescents blossom into confident young women who can challenge those who want them to remain invisible, be it in their families or their communities.
They manage to do this because of the spaces provided by Vacha, earlier in its office in a municipal school, later in centres in the bastis. Once they enter these centres, they can do what they can't at home: Talk and laugh loudly, read, learn photography, cycle around (Vacha got secondhand cycles for them), and through all of this, realise they have their own identity.
Among thousands of girls touched by Vacha, only one could not resist the pressure to get married at 16.
Vacha trains them to conduct surveys in their bastis, file RTIs, participate in seminars, and bring out newsletters. "Most importantly," said Sonal's colleague Nischint Hora, "the girls have a voice on issues concerning them."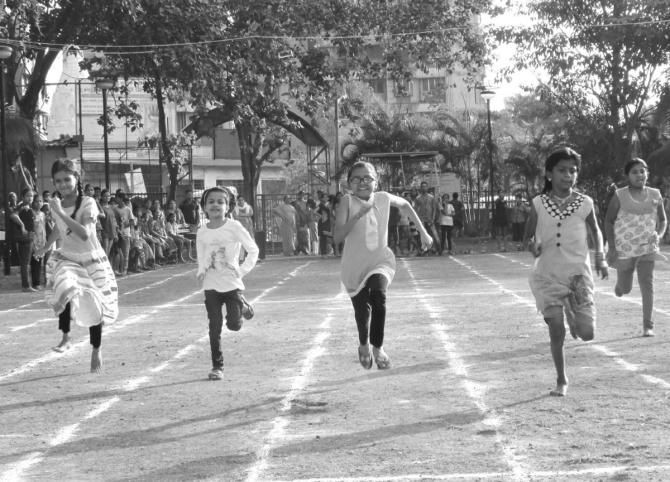 After months of coming to Vacha, these adolescents, some of whom have had to sneak out of their homes when their brothers were sleeping, have ended up being able to demand their due from crooked ration shop owners, apathetic municipal officials and indifferent corporators. Through the pandemic and lockdown, these girls have been arranging for and distributing essentials in their neighbourhoods.
It was her constant interaction with these girls, that made Sonal never lose hope. "When you work directly with them and experience their raw passion to do the right thing, their great enthusiasm to learn new things, you cannot be pessimistic," she said.
Last year, commissioned to profile Sonal as a feminist icon (external link) by the German foundation FES, I discovered more about this extraordinary woman.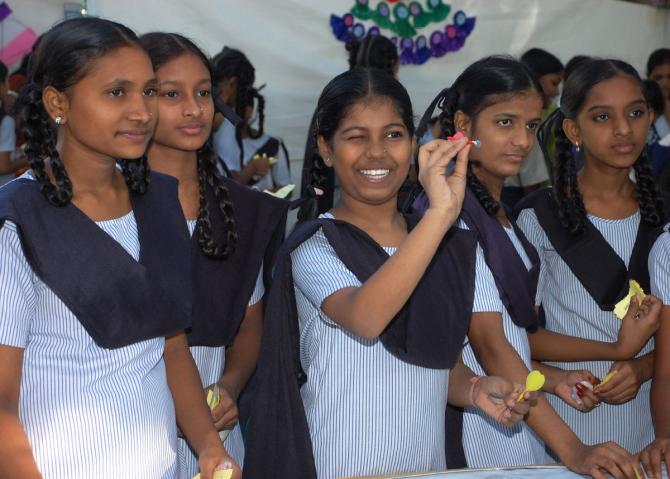 Sonal's multi-faceted personality was shaped by her rich childhood.
Her parents neither believed in the caste system nor did they observe any rituals, making her the odd one out in her school, where girls as young as 7 would observe fasts in the hope of getting a good husband.
Sonal's home had no images of deities, she didn't even know how to make a wick for a diya. The only exposure to religion was her lyricist father's rendition of Tagore's devotional songs and of the bhajans of medieval saints, both of which he saw as literature.
This love of music was seen in Vacha too: Among its lasting legacies is a compilation of music albums of women's songs and the only album of girlhood songs in India.
Another lasting contribution is the documentary Bheetar Bahe Mukti Dhara, profiling the lives of little known women freedom fighters. Documenting women's and girls' lives was an important aspect of Sonal's feminism, recalled her friend and colleague Nischint Hora.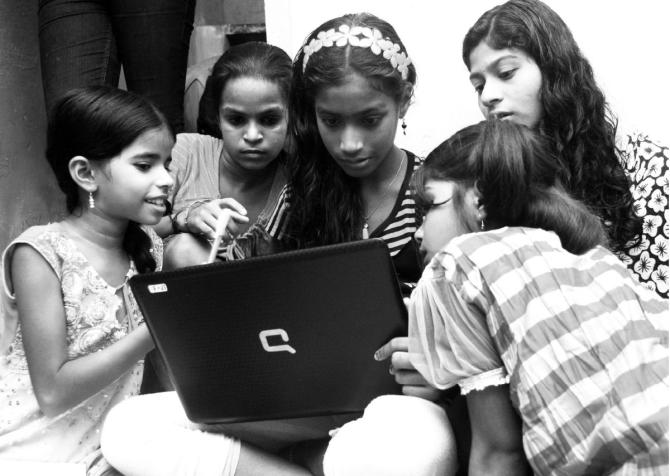 Sonal was introduced to Gandhi in her Gujarati school, when a new principal adopted Gandhi's Basic Education system, which had students cleaning the school and learning social studies by interacting with people in nearby bastis. They gave exams, took books from the library and bought stationery, all without any supervision.
Sonal understood the concepts behind these experiments when she worked for 16 years with the principal and his wife at the Teachers Training College they founded. "The idea was that students were not delinquents; we believed in our curriculum and methodology that provided training in ethics. If the students cheated it was our failure."
A brilliant student, Sonal broke a six year record by getting a first class in her master's degree in Gujarati literature and Aesthetics. All of this was reflected in the weekly column she started writing in 1980, which she wrote till the end.
Sonal could have written in English, but she chose Gujarati because she wanted to reach out to ordinary women. The first Gujarati column by a feminist, it received tremendous response, and as expected, some hostility from men. 'The writer with the acid pen', was how she was described when she went on stage to receive an award for it in 2000.
But the acid tongue also came with a generosity of spirit.
Sonal's home offered refuge to many: From Emergency resisters to battered women. She never forgot to acknowledge her husband Dr Himanshu Shukla's support in all that she did; he didn't mind even when one room of their house was turned into a shelter for battered women for two years.
Her experience with sheltering these women was one reason Vacha chose to work with adolescent girls, as a 'preventive measure', as Sonal put it, so that the latter could learn to stand up to abusive husbands and work out their own solutions.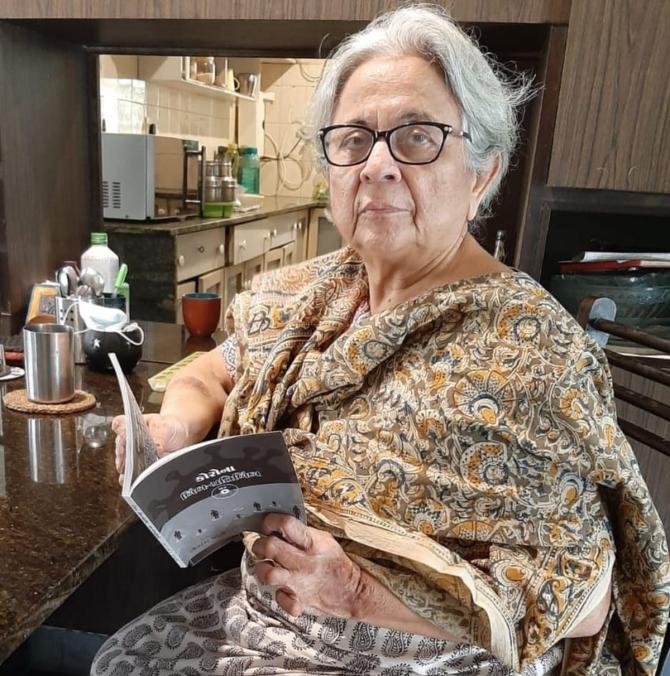 This accessibility and support to those in need, specially women from deprived communities, is what set Sonal apart from other feminists, said her longtime friend and comrade in arms Vibhuti Patel. "Sonalben's unique contribution was to integrate alternate cultural activities in the women's movement, and to share her material, financial, emotional and intellectual resources generously with anyone who touched her life."
This generosity was reflected in her relationship with her colleagues in Vacha. Not only would she send them to seminars outside Mumbai, but, recalls Nischint Hora, she would also tell them to stay back after the seminar for a day to discover the city and its food.
Nischint came to Vacha to work on a project that interested her; she stayed on for 23 years because of Sonal. "Working with Sonal gave me a sense of direction. She encouraged everyone to grow. With her, you could never be complacent. Her mind worked so fast, it was difficult to keep pace with it. Working with her was also enjoyable and fun."
Sonal lived the feminist slogan: The personal is political, in a way few feminists have been able to. She will be remembered and missed for doing this not with a dour self-righteousness, but with humour and a rare joie de vivre.
Feature Presentation: Aslam Hunani/Rediff.com