Ansuya Dutt, who never stopped fighting for women's rights, can be an inspiration to us never to lose sight of our basic beliefs, never mind peer pressure.
Jyoti Punwani salutes the incomparable lawyer who fought in court for the rights of thousands of Mumbai's women.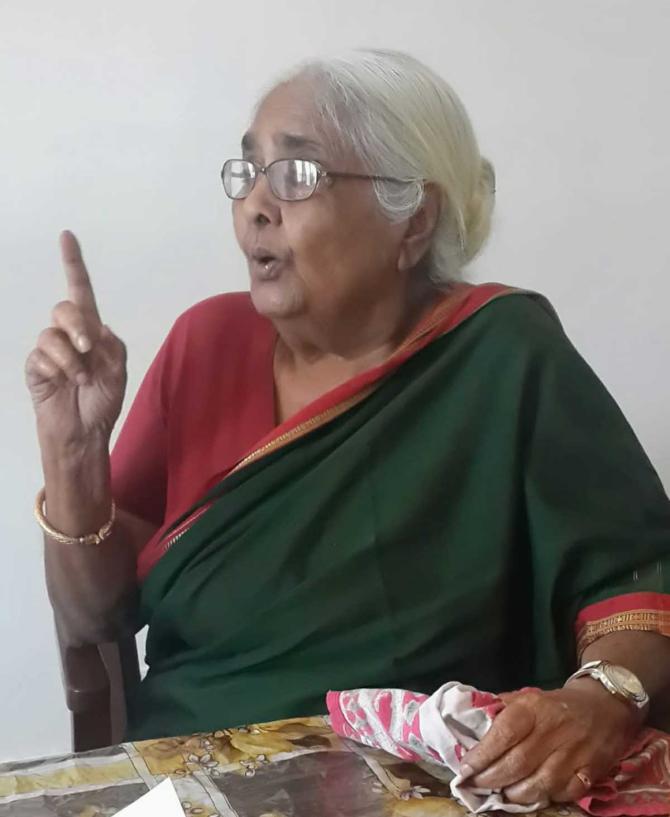 Meeting Ansuya Dutt remains one of the more pleasant memories I have of a time when I was interviewing many leading lawyers.
Ram Jethmalani, not given to tolerate fools, would scowl, his bushy eyebrows coming together, if you happened to ask a question revealing your ignorance or incomprehension about the legal point that he was then making.
Senior criminal lawyer P R Vakil would almost dictate his answers in a slow sonorous tone. Though I grew friendly with him, his imperious personality never failed to intimidate me.
Quite different from both these was Ansuya Dutt.
She was not just warm (which, depending on his mood, Jethmalani too could be), she was actually welcoming. Ammu Joseph, who knew her both as a journalist and a client, remembers, "I really appreciated the fact that she was not only a kind, warm, fun human being but also a quiet, solid source of support, prioritizing and protecting the interests of her client without grandstanding."
Interviews with Dutt, a lawyer who had specialised in divorce and matrimonial law for decades, always ended up giving you insights on the status of women. She was always on the side of women's rights, but never hesitated to point out when the woman was at fault in a particular case.
This was the 1980s. The Mathura Rape Case had spawned the first autonomous women's group in Bombay, which many of us had joined. We were all subscribers of Manushi, the country's first feminist magazine. So I would be shocked when Ansuya Dutt would narrate instances of indefensible conduct by women that she came across in the many cases she handled.
It is not always the man who is the wrongdoer, Dutt would smilingly say.
However, her experience had also shown her very clearly, just what the status of women in India was.
Having dealt with umpteen cases of violence against women in the matrimonial home, Dutt once told me, "The way we shoo off a dog, and kick it if it refuses to go, merely because its presence irritates us, in the same way is a woman beaten and thrown out by her in-laws."
In those days, not just parents, but also policemen and counselors at women's shelters (only one existed then in Mumbai: Bapnu Ghar) would advise battered woman to make the best of their marriage, even blame the woman for having provoked the violence.
Many women too, accepted marital violence as a norm. Dutt revealed that one of her clients, a post-graduate, asked her: "Isn't it a man's right to beat his wife?"
Not in Dutt's scheme of things, it wasn't. She advised wives to hit back, and since husbands were usually physically stronger than their wives, to use sticks to do so.
Not everyone took her advice, but two of her clients did, after much hesitation. Both found their children ready to help them take on their father, and while for one, the abuse stopped altogether, for the other, it reduced significantly.
"These wife-beaters are the greatest cowards," Dutt explained. "When they find their authority challenged, they just can't accept it." ('Loved, tied and beaten', The Sunday Observer, December 18, 1983)
As is obvious from her advice, Dutt was no respecter of convention. Nor did she hesitate to speak out against popular figures.
Bigamy became a hot topic when Dharmendra's marriage to Hema Malini, and Dilip Kumar's to Asma became public knowledge. Both marriages were regarded by their fans and much of the film industry as grand love stories. Amul even had a hoarding saying 'Two are better than one'.
But Ansuya Dutt had seen too many women suffer at the hands of bigamous men, either as spurned first wives or as deceived second wives, to gush about these stars.
Explaining what motivated men to break the law and commit bigamy, she said, "It's a question of values, Like Dharmendra, a man may be shameless." ('The second wife', The Sunday Observer, April 11, 1982)
Having seen how difficult it was to punish bigamous men, Dutt wanted it to be made a cognisable offence so that police could arrest the man if they got reliable information that he was to marry a second time.
Also, she felt the need to set up family courts for offences such as bigamy, because the normal criminal courts took too long and needed the wife's presence at every hearing.
"Women have neither the means nor the stamina nor the time to come to court every time," she observed.
It took seven years after this interview for the first family court to come up in Mumbai. But bigamy is yet to be made a cognisable offence!
Ansuya Dutt had varied interests. She was on the board of Kishore Bharati, an experimental project started in 1971 by well-known scientist and educationist Professor Anil Sadgopal in Hoshangabad, to teach science in innovative ways to school children.
She was always associated with progressive causes. But the two markers of her identity were women's rights (she was a feminist before the word became popular in India) and secularism.
The Shahbano affair in 1985, followed by the Ayodhya campaign led by L K Advani, led to established secular values being challenged in public by an aggressive Hindutva lobby.
A Uniform Civil Code had till then been a women's rights issue, because the personal laws of all faiths discriminated against women. But the BJP made this demand their own, giving it a clearly anti-Muslim tinge.
Wary of the BJP's majoritarian politics, women's rights groups dissociated with the demand, asking instead for reform in personal laws driven by the respective community's women.
In that atmosphere, to support the demand for a Uniform Civil Code carried the risk of being labeled communal.
But Ansuya Dutt wasn't the sort to be intimidated by public opinion.
Arguing that the way personal laws were implemented left women with hardly any rights, she asserted her belief in a Uniform Civil Code. As one who believed in secularism, she said, she could not accept religion as a basis for personal law.
Such a code would also help unite women to fight for their rights, she said. "You can have different communities co-existing, but not governed by different laws which discriminate between them. We will start thinking unitedly only when governed by one law." (The Sunday Review, July 23, 1995)
It takes a rare courage to stick to one's beliefs when even one's peers don't hesitate to ascribe motives.
In today's social media-dominated world, this is even more difficult.
Ansuya Dutt, who never stopped fighting for women's rights, can be an inspiration to us never to lose sight of our basic beliefs, never mind peer pressure.
Feature Presentation: Ashish Narsale/Rediff.com