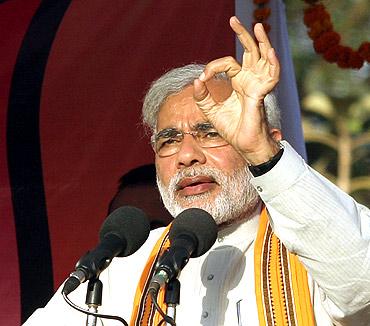 The kind of people Narendra Modi has chosen, the decisions he has taken and the rail and central budgets suggest that he is treading carefully in New Delhi. There is less of innovation and more of continuity, so far. He is not ready to rock the boat and start from scratch, says Sheela Bhatt/Rediff.com.
So how is the Modi sarkar doing?
This is the most-often asked question these days, laced with a million hopes, anxiety, anticipation, and a tinge of worry too, by people cutting across class, profession and even by vested interests all over India.
So much has happened and so fast in the last 60 days in Indian politics that it's too short a time to make a judgement on it. Obviously, any government should be given at least six months to settle down.
But the luxury is not available to the Narendra Modi-led government due to the rising food prices and rail fare hike. It has in a sudden way created a bitter feeling much before the celebration of the new government's arrival got over. It only shows that Indians are impatient now.
Since the government opted firmly in favour of price hikes, the hope of 'achche din' is becoming, increasingly, more a satirical expression than reality. It's interesting to see that millions of people who voted or not voted for the National Democratic Alliance government are watching every action with a sharp focus on Prime Minister Modi.
Repeatedly, one hears from common voters, "Dekhte hain aage kya hota hai. Mehngai toh kuch kam nahi hui" (Let us wait and watch. Prices haven't been brought under control).
It's a fascinating political phase in the nation's life when people really believe that something surprising will emerge from the government's actions which will lessen the drudgery of their lives.
As the people want to know what's up in New Delhi, rediff.com talked to a few important people in the government to make sense of what is happening in government.
In a country of 1.2 billion plus, where the government machinery is monstrous and sports the skin of a rhino, one can only judge the direction of the new government within two months, and nothing more.
The prime minister
A senior Bharatiya Janata Party leader who meets Modi frequently says, "The PM is concerned. He is not relaxed when he meets us. He wants the speed of the government to pick up."
An influential government functionary claims, "The PM sits in office for long hours. Except home and finance, he has taken a comprehensive briefing of all the important ministries. Normally the briefing starts in the afternoon and lasts till 9 pm to 10 pm. These meetings are to apprise Modi about the ministry, its agenda, scope of work, future plans and all that's being done to achieve its goals."
"Since even the ministers are new to the job, mostly secretaries present the case of their ministries before the PM. Some secretaries through PowerPoint presentations bring out all the data. Modi sits through the meetings and interacts too. The prime minister's major time has gone in understanding each ministry's spread and focus. In these meetings, the PMO's officer-in-charge of the particular ministry, who is normally a director or of joint secretary rank, takes notes and presents the entire meeting in perspective," he added.
He adds that in a couple of weeks Modi will have a complete picture of all the ministries and the PMO will map out the work that needs to be done.
On the one hand, Modi has a first-hand briefing of all the ministries and on other hand he has also got a first-hand introduction to the entire universe of international affairs.
One of Modi's key aides told rediff.com, "In the PMO, Modi has settled like a fish in water. He is able to grasp things easily. He delegates work and keeps tight schedules."
Another officer, dealing with diplomacy, says Modi's learning curve is fast. Never before has an Indian prime minister met so many world leaders in two months. At the end of six months, Modi will have a first-hand worldview as he will have met American, Russian, Chinese, Japanese, Australian and all SAARC leaders among many other dignitaries.
Modi is due to meet Japan's Shinzo Abe in Tokyo in September while China's Xi Jinping is coming to India soon after. Also, Modi will meet US President Barack Obama in Washington after Xi's visit concludes.
The PMO
Inside the PMO, essentially it's Modi's Principal Secretary Nripendra Mishra who is the bureaucrat entrusted to do the follow-up of all the administrative decisions taken by the prime minister.
P K Mishra, additional principal secretary, is entrusted with work which has political overtones -- like he is in charge of appointments within the bureaucracy. Of course, in most cases suggestions to Modi from BJP President Amit Shah, Finance Minister Arun Jaitley and Home Minister Rajnath Singh play a part in appointments and Mishra takes that into account.
It is said that P K Mishra will be entrusted with development work related to Modi's constituency Varanasi and also other UP-related issues. The work of modernisation of the defence forces and the plan for massive development of Varanasi are pet projects of the PM among many others.
Also, lots of attention is given to minute details of Modi's forthcoming US visit. As of now, the Modi PMO's priority is major decisions related to defence, foreign policy and economy-related hurdles. It is in the process of tweaking welfare related projects too.
The home ministry is, relatively, going slow on major changes that are required, says the BJP insider. In the home ministry an important appointment is underway -- that of IPS officer A K Sharma. Sharma is a controversial officer from Gujarat. It's expected that he will be entrusted special and largely confidential work of the ministry.
The pointers
The surprise-in-making is the Modi government's handling of Reliance Industries Limited. India's biggest and richest corporate house is headed by a Gujarati. Modi and Amit Shah are Gujarati too. But by all accounts Reliance is not the flavour of the season. It seems that Reliance's influence may not be as strong as it was in the United Progressive Alliance regime.
There is one case related to allegations of stealing of ONGC gas by Reliance which is now being seriously pursued. Reliance has stoutly denied the allegation (external link) of theft. Recently, the PMO has intervened to ensure that there is no interference in departmental legal proceedings and in selection of lawyers in the dispute between Reliance and the department of petroleum and gas. This has sent the political message down to the last officer within the government.
The most important question is, what is Modi doing to curb price rise? Two ministers and a senior BJP leader, who have taken part in many rounds of discussions, claim that the new government thinks that after kharif crop (monsoon crop), sowing of which is currently on, they would get a clear idea of the demand-supply balance and market situation in October.
Top political leaders within the government claim that they would inject a heavy dose of grains, sugar, pulses etc after a proper estimate is made. The agriculture officers and related ministries want two months to set things in order, said a senior BJP leader.
Although it's not confirmed, the Modi sarkar is very likely to end all the legal and illegal forward trading in any type of food items. This is to show that the government is sensitive to the issue of price rise and that it won't allow any risks to its image.
In the UPA government also, bureaucrats were recommending a ban on forward trading but Sharad Pawar, then agriculture minister, had resisted it. Modi is likely to come down heavily against speculators in grains and other food items. This is an important issue to judge the Modi sarkar.
Also, behind the scenes, the government's legal eagles are hyperactive on the legal hurdles for coal and iron ore mining. The law officers have been told to take up in various state courts and in the Supreme Court all pending cases related to coal and iron ore mining, trading and transportation. To push the economy to the next level, the first thing the industry needs is power and for it the PMO is tackling the issue at an emergency level.
Lots of discussion is on how to indigenise some of the expenditure-oriented items for Indian security forces, like bullets and other low-technology items. The sources said within five-seven years at least a few high-cost defence-related items will be manufactured in India to save foreign exchange.
Modi's worldview
Modi's hyperactive foreign policy endeavours, so far, gives an idea of the broad contours of his government's foreign policy. It can be surmised thus:
1. As the Obama government is entering its last phase -- the American election will take place in 2016, withthe current administration's term ending in January 2017 -- India is not likely to take up new initiatives. It would like to wait to deal with new American government which could be Republican. Delhi would like to wait and watch.
Also, in Washington and in New Delhi many right-wing supporters of Modi are sending hundreds of emails expressing dismay that in the name of 'pragmatic thinking on national interest' Modi is travelling to America disregarding the visa snub. The issue of denial of visa over Modi's role during the communal riots in Gujarat and the international snub that followed will be kept out of public debate before travelling to the US.
It's more or less certain that India will emphasise more on economy and trade-related issues and less about security and strategic issues till the new US government comes in.
2. By all accounts that have come in from Brazil, Modi and Russian President Vladimir Putin's meeting suggests that India under Modi will go steady with Russia. The value of nostalgia of the bilateral relation remains.
3. It's now certain that with all the neighbouring countries, security related issues will take priority over all other issues.
4. China will grab the most attention from Modi. The government is trying to ensure that the Western world is not in a position to use the China card or the India card against each other while dealing in South Asia. This is a difficult to achieve goal due to China's over-ambitions in the region and due to the long-pending complex border issue between the two countries.
However, all signs suggest that Modi believes that China-India's combined market force of over two billion can keep Western market manipulation under check.
Like Dr Manmohan Singh's government, on the border issue, the Modi sarkar won't and is not in a position to budge so the status quo is likely while trying to drive towards some surprising solution, if any emerges in bilateral talks. But, it seems from the recent statement of Rajnath Singh that there won't be any one-upmanship vis-a-vis China over it.
In fact, Modi may drive China to neutralise the Pakistan card and in return India could team up with China in the global marketplace. Again, it's a tall order.
5. China, Israel and Japan will remain Modi's short-term focus as the government wants technology and investments to boost the economy.
6. Modi is likely to have a go-slow policy with Pakistan, even though the tight focus of his government is on it all the time.
What do all these pointers suggest?
The Modi in the PMO and 7, Race Course Road is quite different from what he presented himself before the public during the long-drawn election campaign. He is sitting inside the broad iron framework of the governmental establishment built over many decades without showing any sign of being a rebel.
In New Delhi, the Establishment means essentially the decades-old Congress-moulded framework of bureaucracy to run the democratic government and provide governance to the aam-aadmi.
Also, it's crystal clear that his government will prove to be a tough nut in dealing with the delicate balance between the executive, legislature and the judiciary. This should be an area of tremendous interest for the entire country.
The kind of people Modi has chosen, the decisions he has taken and the rail and central budgets suggest that he is treading carefully in New Delhi. There is less of innovation and more of continuity, so far. He is not ready to rock the boat and start from scratch. Instead of displaying ego and discontinuing the many decisions of the UPA, he is actually adopting it in his new plans -- like continuing with AADHAR and direct cash transfers etc.
It seems as the economy stands today and the way Modi is going about it, the wait for 'achche din' may take longer than what the highly impatient voters think.