The ripping off the lid, that Mekhail did, on the chain of episodes that lead up to his sister's murder, while condemning Indrani for her actions, for the first time, paradoxically, allowed a more human -- if flawed and complicated -- picture to emerge of Indrani, allegedly The Woman Who Killed Her Own Daughter and shocked a nation.
Vaihayasi Pande Daniel reports from the Sheena Bora murder trial.
Illustration: Dominic Xavier/Rediff.com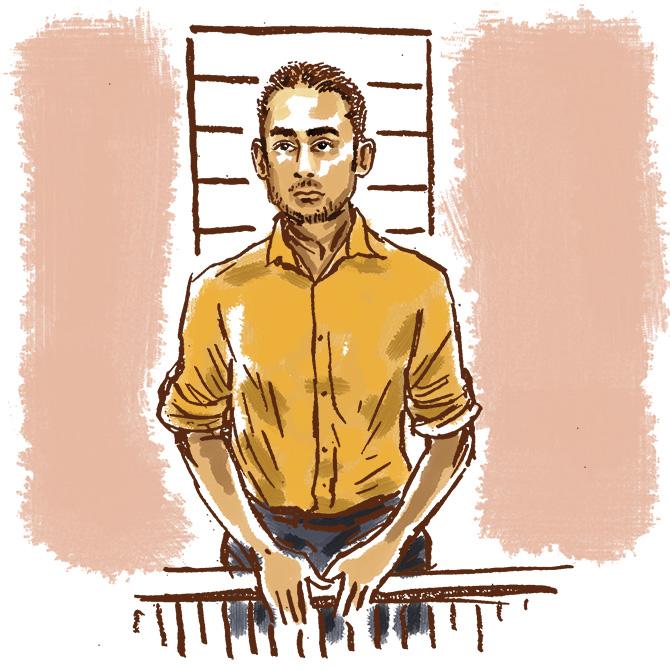 Mekhail Bora may not resemble his mother much.
Although there is something about his watchful, lively, eyes that reminds one of Indrani Mukerjea.
Looks apart, his confident, bold, testimony before the court, ironically against his mother, seemed to show him up to be Indrani's true son.
Like her, he seems to be a survivor. A fighter. He owns her chutzpah too.
The chutzpah that saw her leave her hometown of Guwahati and make something of herself in Kolkata as an HR consultant, before coming to Mumbai to begin INX Media, even if the decisions she made in her personal life were not the best.
On Tuesday, July 24, Mekhail Bora, the former media executive's second child and PW15, continued recounting his life story in CBI Special Judge Jayendra Chandrasen Jagdale's Courtroom 51 at the Kala Ghoda sessions court in the Sheena Bora murder trial.
Like Monday, Mekhail's remarkably unremarkable, deadpan manner of telling the extraordinary facts of his 28-year-old life unknowingly brought out its bleakness.
Theirs, his and sister's were lives that began as a tragedy and for Sheena -- except perhaps for the brief bittersweet days when she found happiness with Rahul Mukerjea, Peter's son from his first marriage -- never stopped being one, till the tragedy spiralled inexorably out of control and her life was cut short by murder.
It would difficult for a movie scriptwriter to come up with a life tale with such awful twists and so wretched in its final analysis, even as it takes years for the State to get Sheena justice posthumously.
Monday when he shutdown his testimony, part way through, as time ran out, Mekhail was describing the nightmarish "treatment" he received in the care of Mumbai psychiatrist Dr Yusuf Matcheswalla, whose arrangement with the Masina Hospital, Byculla, south central Mumbai, has since reportedly been terminated.
When he started up again on Tuesday, Mekhail did not touch upon the probable fallout in his relationship with Indrani post the month-and-a-half spent in the psychiatrist's 'care' and instead his tale cut to DLF Phase 5, near Cyber City, Gurgaon, outside Delhi.
Dates were again often missing, as the young man -- who was equally neat of appearance on Tuesday in an ochre shirt, with its sleeves rolled up and dark trousers, perfectly buffed shoes -- related how he relocated to Gurgaon to pursue studies towards his Class 12 exams at the National Institute of Open Schooling and apparently continued studying after that there.
Indrani, it would seem, organised some kind of PG accommodation for him at regional INX media head Vivek Mittal's home in Gurgaon.
Sheena and Mekhail kept in touch on the phone and through visits.
Sheena came to Gurgaon to see Mekhail and he, she and Mittal travelled to Nainital, Uttarakhand, together for a holiday one year.
She came again on his birthday another year, when she fell ill and had to be admitted to Artemis Hospital, Gurgaon, and was later transferred to a Bangalore hospital on Indrani's insistence. Mekhail did not provide details of the illness.
All the while Sheena updated Mekhail about her life, her relationships and the bonds or lack of them with their parent, who she could only refer to as a sister.
But Indrani assisted Sheena is securing admission in St Xavier's College where she did a bachelor of arts degree and she was living "Peter Mukerjea ke ghar pe (At their stepfather Peter Mukerjea's home)."
Mekhail knew Sheena and Indrani had a terrible rapport even as they probably attempted to quickly build bridges between their lives given the time lost.
Sheena kept Mekhail in the loop about these battles.
The secrecy surrounding Sheena's biological connection with Indrani and the presence of Vidhie, Indrani's daughter from her marriage with former husband Sanjeev Khanna, were significant roadblocks in the attempts made by Sheena and Indrani to put their relationship on a smooth, even, footing.
Mekhail: "Beech mein, mein ko khabar milee ki Indrani ke saath bahut ladai hua tha. Sheena ne reason bhi bolee uska. Vidhie ke saath bhed bhav kar rahi thi. Aur Sheena unko Ma bulana chahti thi aur Indrani nahin accept kiya. Sheena bolee ki college ke paas ek paying guest hai udhar shift ho gayee hai (In between I got the news that she was fighting with Indrani. Sheena gave me the reason. She said Indrani was creating too much differences between her and Vidhie. And she wanted to call Indrani as her mother, but Indrani would not accept that. She had found paying guest accommodation near her college and had moved there)."
Once Sheena moved out, things settled down a bit.
Mekhail reflected: "Uske baad do saal normally chal raha tha. Uska college bhi chal raha tha. (After that for two years things functioned normally and her college was also going on)."
As his story poured forth lucidly, facts about his relations with his mother, who had been absent from the first 15-16 years of his life, came out too.
It remains to be seen what kind of drubbing Mekhail gets at the hands of the defence lawyers, when his cross examination begins next week, but till date Mekhail, it could be concluded, has done one of the most masterful jobs in the witness box.
If his tale lacked emotion, it succeeded in remaining convincing for its balance and the conviction with which it was told.
The relationship between Indrani and her eldest daughter worsened -- and was doomed -- when Rahul and Sheena started dating.
Sheena was now going into combat with both Indrani and Peter, who did not approve of her seeing Rahul.
Mekhail: "Sheena yeh bhi bolee ki Rahul ke saath relationship mein hai. Yeh relationship Indrani aur Peter like nahin kar rahein the. Kareeb 2010 ka baat hai (jab) bolee ek saath living relationship mein hai (Sheena also said she was in a relationship with with Rahul and neither Peter nor Indrani liked it. She later specified in 2010 that it had become a live in relationship)."
By then Sheena had graduated and begun a job.
"2010-2011 mein bahut saara ladai hua (Through 2010 and 2011 a lot of fighting happened)."
Indrani in many different ways tried to coerce Sheena into ending her relationship with Rahul, even using Mekhail as a pawn.
"Aur Indrani phone karti thi beech mein ki un dono ka relationship pasand nahin hai. Mein ko bolti thi bolne ke liye ki yeh relationship achcha nahin hai (In between Indrani would phone me ssying she did not like the relationship between Rahul and Sheena and I should tell Sheena that the relationship was not a good thing)."
It was never entirely clear through Mekhail's telling of it why either Peter and Indrani were so against Sheena associating with Rahul.
What was clear was that Mekhail was squarely in the middle of it, his relations, individually, with Sheena and Indrani affected by each slide in the tricky, fatefully damaged mother-daughter equation.
There would be times when Sheena stopped talking to him perceiving him to be partisan to Indrani's machinations.
At other points, Indrani threatened Mekhail for not convincing Sheena of her folly and having her shake off Rahul's attentions.
When Sheena and he met in Guwahati to attend the wedding of Sheena's best friend Sanjana, Sheena was not talking to him.
Mekhail checked what the matter was and Sheena blurted out that she wondered what "problem" Mekhail could have over her connection with Rahul.
Mekhail said he clarified to Sheena that he personally had no issue and whatever he had said to her had been on Indrani's behalf.
Equally noticeable about Mekhail's testimony was the manner in which he never actually outright attacked his mother, with any low blows, even if the sequence of events that made up his account was utterly damning.
This ripping off the lid, that Mekhail did, on the chain of episodes, that lead up to his sister's murder, while condemning Indrani for her actions, for the first time too, paradoxically, allowed a more human if flawed and complicated picture to emerge of Indrani, allegedly The Woman Who Killed Her Own Daughter and shocked a nation.
His narration unravelled the frustrations that might have perhaps pushed Indrani to that unforgivable tipping point, where she decided allegedly to take away the life of the child to whom she had given life to 25 years before.
Inadvertently, Mekhail added the colour and realism to the hollow, black and white picture this baffling crime presented.
A crime that has captivated India ever since its news broke.
A crime for which the motive has never been clearly understood.
Mekhail also didn't play down what Indrani had tried to do for him and Sheena, making it a point to add that she helped Sheena get her first job and got a spare Alto car from Delhi for her use in Mumbai.
These are not things, if you think about it, a sister would do for younger siblings for show, but was done to perhaps mend a mother's relationship with her children rather too late.
Earlier television interviews of Mekhail, conducted in 2015, built him up to be a bit of a loose cannon, with way too much to say.
His letters to the court didn't dispel that notion and instead gave the additional impression that he was not entirely sensible.
But the young man in the witness box, who stood calmly, straight-backed, his hands holding the railing together in front of him on Tuesday was as sensible as they come, his tale straightforward and totally believable.
Matters deteriorated further in 2012, Mekhail recalled, with fights happening between Sheena and Peter and Indrani over the phone and on e-mail.
"March ke starting mein Indrani ne message bheja Sheena ko forward karne ke liye. Uss mein likha tha ki agar Rahul ke saath relationship kam nahin kiya toh (Sheena ko) property disinherit kiya jayega (At the start of March Indrani sent me a message -- either on e-mail or on the phone -- to forward to Sheena that if she did not end her relationship with Rahul she stood to be disinherited from the property, presumably the Guwahati property)."
Added Mekhail tiredly: "Mera man nahin tha forward karne ke liye, but she would threaten that nana-nani ka paisa band karegee (I was in no mind to forward this message, but she would always threaten that she would cut off the money she was sending to his grandparents if I didn't do it)."
It seemed by then Mekhail was back in Guwahati.
In between, out of the blue, confounding an already complex situation, Mekhail got a call from the Mukerjeas' then driver (and now Accused No 3 and approver) Shyamvar Pinturam Rai.
"April ke starting driver jo tha Shyamvar Rai mujhe phone kiya tha. Bola ki Madam ke ghar par bahut saara paisa rakha hai and aake (if Mekhail came and helped him take it) hum dono equally divide kar sakte hai."
"Jab yeh bola mujhe hajam nahin hua baat. Ek ki udhar agar utna paisa ha woh khud nikaal sakta hai mukhe Guwahati se kyo bula raha hai? Mein ne bola yeh sab mein interest nahin hai. Aapko nikalna hai toh nikal deejiye (At the start of April 2012, the driver Shyamvar Rai called me. He said there was a lot of money stashed at Indrani's Mumbai home and together they could take it and divide it. I could not digest that. If there was so much money there why didn't he take it out himself? Why was he calling me from Guwahati to help him? I told him I was not interested and if he wanted to take it away he could do it on his own)."
Mekhail's reply to Rai was odd and it was not entirely clear why he would encourage Indrani's driver to go ahead and rob her home.
CBI Special Prosecutor Kavita Patil did not probe further or ask if he had informed Indrani about Rai's dishonest intentions.
Slowly, bit by bit, Mekhail's testimony made its meandering way to the day of Sheena's murder.
Sheena's issues with Indrani and Peter were coming to a head and it affected Mekhail too since Sheena was "naaraaz (angry)" with him for doing Indrani's bidding.
Indrani, who by then was living abroad, Mekhail said, suggested they all discuss it -- "milke baat karenge (meet and speak)" when she was next in India.
That date happened to be April 24, 2012, the day Sheena was finally murdered.
Indrani asked Mekhail to buy a ticket and be in Mumbai by the time she arrived.
Mekhail, who was perennially short of money, got a flight coming into Mumbai at 8.30 pm April 24 by borrowing money from his then girlfriend, a Supriya Pathak, since Indrani's then secretary Kajal Sharma was on leave.
Mekhail's testimony about that day never strangely spoke about catching up with Sheena before he arrived in Mumbai that day or upon his arrival.
Instead, Mekhail told the court about a bizarre chain of happenings that began shortly after he landed in Mumbai.
When he arrived in Mumbai there was no one there to receive him.
Since he was unsure about how he could get to Indrani's home he called her.
She said she was in a meeting and the driver was also not available and told him the address and to take a taxi and that the keys to the house were downstairs at the guard room at Marlow, Worli, south central Mumbai.
Mekhail reached Marlow, but got the flat numbers mixed up and went to the wrong floor and entered a flat whose door was open.
He was about to change and relax when a woman arrived, who was the Mukerjeas' tenant.
She figured out that Mekhail had by mistake arrived at the Mukerjeas's rented-out flat and sent him one floor up to their actual home.
Indrani was not there when he arrived.
She arrived at 10-10.15 pm or so, he recalled, holding a bottle of water in her hand.
"Phir aake mere ko hug kiya aur phir hum log baith ke baat-waat kiya (She came and hugged me and then we sat down to talk)."
Indrani told Mekhail there was a restaurant that offered good Chinese nearby and that she would send Rai to get some food.
She plied him with drinks. "Hum ko drink offer kiya (She offered me drinks). Alcoholic drinks. Do peg liya tha. Mere ko do peg ke baad dizzy laga aur sweating (I took two pegs. After taking two pegs I felt dizzy and started sweating)."
Indrani asked him to have further drinks. But he threw what she offered away.
He was worried about how his body was reacting to just two drinks.
"Do drink ke baad jo halat hua woh normally nahin hota hai. Woh time mein ko suspicious laga ki yeh kyo ho raha hai (What happened to me after two drinks did not normally happen. At the time I became suspicious wondering why this was happening)."
He went and sat in an inside room to recover when Rai arrived with the food.
Along with Rai came Sanjeev Khanna.
Mekhail remembered: "Sanjeev Khanna darwaza ke paas khada tha. Jab mein Sanjeev Khanna ko dekha dar gaye. This was a man I was meeting for the second time, after he sent me to Masina Hospital. Mere ko sure laga yeh kuch galat karne wale hai. Last time (with him) drink karne ke baad Masina bheja (Sanjeev Khanna was standing at the door. When I saw him I got scared. I felt he was going to do something scary. He was the man with whom I had drinks last time and sent me to Masina)."
At that point in Mekhail's testimony, Indrani, sitting in the back of the courtroom in the accused box, wearing a bright red bandhini chunni with a white kurta-salwar, turned to Sanjeev and telegraphed her amusement with a lively, quizzical, glance.
Sanjeev gave a bemused look back and then a big smile of disbelief to the room in general.
Mekhail continued to describe a long evening that from his point of view got stranger and more sinister.
He was not feeling any better, but took care to not show them he was feeling ill.
Indrani, Rai and Sanjeev, he said, were discussing something at the corner of the balcony confidentially. He could not hear what it was about.
Indrani repeatedly asked him to have another drink, eat and then go to sleep.
He did none of these things, warily telling her he was not sleepy.
At some point Rai and Sanjeev left.
Mekhail: "Panch baje ke pahele woh phone se kisee se baat kar rahin thi. (Before 5 o'clock she was talking on the phone with someone)."
Judge Jagdale: "Subah? (Morning?)"
Mekhail: "Subah. Indrani aake bolee mein ko meeting mein jaana hai. Tum ko sona hai to jaake sona, lekin andar se darwaza lock mat karna. Phir mere ko andar se itna dar lag raha tha unke jaane ke baad directly lock kiya. Raat ko udhar se nikalne ko dar lag raha tha. Jaise sunrise hua saman le ke nikal gaye (Indrani came and said she had to go for a meeting. If you need to sleep, sleep, but don't lock the door from the inside. I felt a lot of fear inside me. As soon as she left the first thing I did was to lock the door. I didn't want to leave from there at night because I was scared. But as soon as it became sunrise I took my things and left)."
From Marlow, Mekhail took a cab straight to the airport.
He waited around there till he got a seat on a Jet Airways flight going to Guwahati for Rs 15,000 and left Bombay.
He never offered information on how he got the money this time to finance his ticket.
After arriving in Guwahati he said he was unwell the whole day and slept. His phone was either switched off or on flight mode.
Indrani had been trying to reach him and when she got through she asked him in anger why he had left the house so abruptly, leaving the door unlocked.
Mekhail told her he had been feeling unwell and decided to suddenly head home.
Indrani accepted his explanation and said she had some work in Kolkata soon and maybe he could accompany her there.
At half past 4 pm, CBI Special Public Prosecutor Kavita Patil closed down Mekhail's evidence giving process, saying they would finish it on Wednesday and then the defence could begin Mekhalil's cross examination.
As always, a fierce tussle commenced about future hearing dates. Indrani's trial lawyer Sudeep Ratnamberdutt Pasbola said since he had not been informed in time by the prosecution, about Mekhail being the 15th witness, he had already committed to being present at another court from Wednesday onwards and requested the cross examination to begin the following Monday.
An agitated Mekhail took the stand saying he could not afford to be absent from his new assignment for so long.
"Mere ko naukri mila hai das din pahele. Hum ko naya naukri kaun dila denge agar hum Mumbai mein ruk jayenge? (I got a new job just ten days ago. Who will get me a new job if I stay on in Mumbai?)." He works as a steward in Guwahati restaurant.
Judge Jagdale suddenly turned to Mekhail and asked in a sharp tone: "Kaun hai jo naukri se nikaal dega jab court mein aana hai? Bata do! (Who will remove you from a job if you come to court? Tell me!) Who is his employer?"
The judge said if an explanation was provided to the employer that Mekhail was needed in court, he could not have a problem with that.
Mekhail looked unconvinced. He muttered: "Indrani ka beta bolne se nahin hota. Kaise hoga? (Saying I am Indrani's son doesn't change things. How can it?)"
CBI Special Public Prosecutor Bharat Badami mused aloud: "Sab jagah (everywhere) bread and butter (issues)."
There was a discussion of who would bear the costs of Mekhail being in Mumbai till the following week.
Badami joked to Pasbola: "He is your son!"
As everyone continued to woefully discuss their scheduling issues and the commitments they had to work around, the judge quietly chose to tell the court that he was also scheduled to be at the wedding of his sister's son and subsequently after that at his sister's daughter's wedding.
"I did not disclose earlier... I said I cannot attend. So don't tell me about this!"
He explained that he excused himself when he heard Mekhail was going to be the next witness, realising that there would be many days of hearings back to back that should not be delayed.
For Judge Jagdale, nothing is more important than ensuring that justice is served up as quickly as possible in this case.