At the prison, both Ranjan and Manglik's cell phones were pressed into service by the CBI.
Why the CBI didn't bring its own equipment seems a mystery...
Ranjan's cell handset was given to Indrani and Manglik dialed it.
Indrani then spoke and her speech, that emanated from the phone, via speaker mode, was recorded.
Vaihayasi Pande Daniel reports from the Sheena Bora murder trial.
Illustration: Dominic Xavier/Rediff.com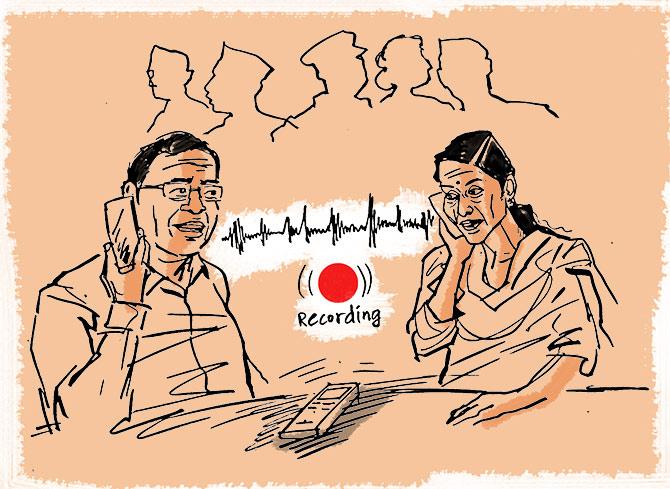 How did the paths of a young banker and "Indrani Ma'am" cross?
That's the thing about the Sheena Bora murder trial, happening in CBI Special Judge Jayendra Chandrasen Jagdale's Courtroom 51 at the Mumbai city civil and sessions court, south Mumbai.
Or maybe any trial.
It stitches together such an odd, assorted, group of witnesses and people to create the unusual tapestry of a trial.
People whose lives might normally not have ever touched or intersected before.
So you really never know what is written for you in life.
The way the cookie crumbled for young Raman Manglik, it found him in the witness box on Thursday, February 20, 2020.
An assistant manager working at the time at the overseas division of the Union Bank of India, at Nariman Point, south Mumbai, Manglik, 35, who, according to his Facebook account is a family man and is no expert in handwriting or voice samples or crime, but is interested in cricket, soccer, women and child rights, taxes, GST, new inventions, government policy, has never been to a court before as a witness or maybe for anything... let alone inside a jail.
But one not so fine day in 2015 -- November 7 -- his bosses at the bank ordered him and his colleague Jagesh Kumar Ranjan to fulfill a Central Bureau of Investigation request to stand as a panch witness for a handwriting and voice test being done at the overpopulated Byculla jail, south central Mumbai.
Public sector bank officers are perhaps obligated to act as panchas if a demand is made of them by the police or the CBI.
So off Manglik dutifully, but perhaps reluctantly went, at 10.30 am, first to the CBI office nearby and then along with a CBI investigating officer, H C Bhandari, who he referred to as "Bhandari Sir" to meet, by then, infamous Indrani Mukerjea in jail.
Indrani was produced by the jail officer.
She was asked to generate some writing samples and signatures on a blank piece of paper. What exactly she wrote, apparently on her own, was not made clear.
They came back the next day too at about 10.30 am for the voice recording sessions. This time they were joined by forensic experts from the Forensic Science Laboratory, Kalina, north west Mumbai, too.
At the prison, both Ranjan and Manglik's cell phones were pressed into service by the CBI. Why the CBI didn't bring its own equipment seems a mystery. Bhandari brought a voice recorder, a laptop and two blank data cards. The data cards were loaded into one cell phone and into the voice recorder.
Then Ranjan's cell handset, with the new data card in it, was given to Indrani and Manglik dialed it. Indrani then spoke and her speech, that emanated from the phone, via speaker mode, was recorded.
Manglik said they then used two types of software to process it -- something he called HashCal and Thumbscrew. Thumbscrew made it untamperable -- ensured that the recorded file is not modified -- and the other programme "gives a unique value to the file for identification purposes." He seemed very familiar and enthused by software.
Indrani's thin but elegant voice was thus captured for posterity.
An account in court is always devoid of anything except the driest of facts.
One wondered what a life-changing and maybe harrowing experience it must have been for Manglik to venture to a jail and meet an undertrial and participate, as just an ordinary citizen/bystander, without any choice (maybe against his wishes), so actively in a murder investigation.
But Manglik's task didn't end there.
On November 17, 2015, Ranjan and he had orders to go to the CBI office at Nariman Point.
There a voice recording test was conducted of former Star India head Peter Mukerjea and his son from his first marriage, Rahul Mukerjea. That took several hours and was only completed the next day, so Manglik and Ranjan came back, making their participation in this CBI matter four days long.
All these voice recording tests were critical because Rahul, after the disappearance of Sheena Bora, had begun recording, on his cellphone, back in 2012, certain conversations he had with Peter and Indrani. And to verify their legitimacy the CBI was required to collect voice specimens.
The account of the work he did on these four days in November 2015 was Manglik's testimony in chief on Thursday.
He was cross-examined on Friday by Indrani's lawyer Sudeep Ratnambardutt Pasbola.
Dressed formally both days, wearing long-sleeved office shirts and dark pants, black shoes (and a silver ring on the pinkie of his right hand), the bespectacled Manglik, a resident of an upscale Rustomjee complex at Thane, who now works at the private DCB Bank, turned out to be quite a novel pancha.
Most of the panchas the police or the CBI has produced, thus far in the case, have been of the unlettered, slightly bechara (forlorn) variety, participants who had strayed in off the streets, sort of accidentally, as per the police, to be freak witnesses.
But Manglik was different.
Educated, well-spoken, young, sophisticated, he knew what he was talking about and was not vague, his demeanour alternating between being deeply respectful in a perhaps artificial manner (with his overly polite "Indrani Miss and "Ma'ams" and "Rahul Sir"s) and also slightly cocky in an almost charming way.
That he was uncomfortable to be in the witness box was apparent. He fidgeted around, stretching, flexing his arms, rotating his head, polishing his glasses with a bright white handkerchief. When there were gaps in the proceedings his eyes glazed over and he looked listless and a tad anxious.
Describing the events of 2015, Manglik said: "She was given the transcript (by the CBI officer) and (told to) read at her own pace. Special sections were marked out for her. To do the recording the procedure was explained to her that the call would be initiated from my mobile which she would answer on Jagesh's mobile on a handset held by her. Once the call is answered the recording will be made on the mobile phone and the voice recorder kept next to her... (She was told) if she gets tired she can have water."
Once the recordings were done, the memory cards were removed from the devices and sealed in front of the bank manager and his colleague, they all signed on it including three jail officers. Manglik said the recording was done by 1 pm and they left at 2 pm, after signing various memorandums (memorandums were signed the first day too).
About the interaction with the Mukerjea father and son, Manglik recounted: "(On November 17) Mr Peter and Mr Rahul came to the CBI office, Nariman Point, around 2 pm. We came after lunch and were given certain transcripts by the CBI to read."
"Peter's recording took a lot of time and they completed the recording (only) on the next day."
The next day, November 18, Rahul was also recorded while reading from a transcript. Subsequently, the SD cards were sealed and the panchas signed as well as a CBI officer named Imran Aashique.
On November 19 that year, Peter was arrested.
Did the voice samples have anything to do with it?
Manglik said that in the end: "Myself and Jagesh helped prepare the transcripts."
Indrani's lawyer Gunjan Mangla questioned that: "He has just helped in the process."
Judge Jagdale, with a laugh: "He has co-authored it, you can say."
This co-authoring bit came up in a much larger fashion in the cross-examination on Friday.
Though Manglik and Ranjan were there just as panchas, for some reason the CBI had co-opted them to do some of its work. So after the recordings were done, the duo sat and helped transcribe. Jagesh would hear the recording and dictate to Manglik who took it down in shorthand and read it back to the stenographer the CBI had employed to type up the transcript.
This scenario emerged in the cross-examination when Pasbola asked how many people had worked on the transcript
Manglik: "Two. Myself and my colleague were doing the transcript."
Pasbola: "Writing it down?"
Manglik: "In shorthand."
Pasbola looked at Manglik in utter disbelief. "Shorthand?" he asked with a squeak.
The judge wondered why.
Pasbola said it had long since been "discontinued" in work places and definitely since before Manglik had been born even!
Judge Jagdale looked mildly miffed: "Every day I am using it!"
Manglik, also looking taken aback and slightly offended, insisted that shorthand was part of his job skill set.
Pasbola asked him to explain the process. It was totally unclear why two bank junior managers, acting as just panchas, has been assigned the task of decoding CBI transcripts over "five-six hours".
Whatever for?
In the middle of the cross examination, the muddy brown court cat, nicknamed playfully Sheena, arrived in the courtroom with all her kittens in her mouth, ferrying them in, one by one, past the lawyers's bench.
She deposited them near some papers beside a platform, to the right of the judge and they began to squeak loudly. The judge called for his peon. Someone whispered: "Does Indrani know she is a grandmother?"
The only other highlight of the cross-examination was that the transcripts Manglik spoke about had not yet been given to the defence.
Pasbola was at pains to point out to the judge that it was a case of the "The cart before the horse and we don't know when the horse is going to come?!!"
Or even if the horse is coming.
The horse here being Rahul Mukerjea.
The voice testing was required to show that the recording Rahul had made of his conversations with Indrani and Peter were authentic. But Rahul had not yet deposed as a witness and the clips had not yet been unveiled before the court.
So Manglik's arrival in the witness box was way too premature, he learned to his astonishment.
Judge Jagdale: "Tomorrow you may drop him (Rahul Mukerjea) as a witness?"
Pasbola: "And we need not examine him (Raman Manglik) as a witness?"
Manglik looked a bit bemused, a half smile playing on his face, as his uncertain future was discussed.
They all agreed it was a hypothetical situation, but still wondered of CBI Special Prosecutor Manoj Chaladan about the wisdom of bringing Raman Manglik to the stand now.
In spite of the misgivings the cross examination proceeded. Initially the lawyer had some difficulty pronouncing Manglik's name.
Manglik, with a smile, accommodatingly: "I know it is a difficult name to pronounce. You can call me (just) Raman."
Pasbola quipped: "I can call you Gentleman also."
The advocate asked some standard questions about the procedure and process of the voice sample collection, in what manner they were instructed to proceed, how many memory cards there were, where the recordings were made in the laptop.
It was often a taut, fraught 'cross'. There was a bit of a generational gap between Manglik and Pasbola and they often misunderstood each other.
Also, Manglik, who seemed a sharp, bright type, found it difficult to answer Pasbola's more-strangely worded questions with just a plain yes or no and was inclined to explain.
That upped Pasbola's ire. To calm the waters, Manglik would then get excessively respectful saying things like, "If the Honourable Sir could explain what he was asking."
Pasbola was basically collecting information to show that Manglik had not actually participated in this time-consuming process. Maybe he too wondered why the CBI would have put two banker panchas to work in this manner like they were stenos.
To that end he concluded with: "Mr Raman I put it to you that you marked your signature at the CBI's behest and none of these specimens of voice were taken in your presence."
Manglik, semi-outraged, loudly: "I don't agree with that." He launched into "I checked the hashtag" and went on to further elaborate on his role, until Judge Jagdale gently explained that Pasbola's accusations were part of the procedure. There ended Manglik's stint in the box.
Judge Jagdale has been transferred to Osmanabad and will join his new posting in summer. And the Sheena Bora murder trial will get a new judge.
Chaladan on Thursday presented his counter arguments to Indrani's fifth bail application in a dry, colourless fashion, of which the most important refutation was: "At this stage if the court considered a witness not reliable then the entire case would be vitiated... A court cannot look into the credibility or reliability of a case but can only look if there is reasonable grounds (for bail)."
Indrani will get an opportunity to reply to his argument on February 25.
The Mukerjeas had several friends to see them on Thursday and Friday including their neighbours from Bristol, UK, and a former senior colleague at Star India. There were squeals of delight, all around, as Indrani embraced her friend, friends who she knew were "real" ones.
Peter looks much more happy these days. Much less morose. Cracking jokes. Will he be out by Holi? Rumour is that he has completed a book.
Thursday and Friday were the first days in court after the launch of former Mumbai police commissioner Rakesh Maria's controversial book titled Let Me Say It Now, that has a chapter on the Sheena Bora investigation.
A few television journalists were in court perhaps hoping to somehow get some interesting sound bites or tidbits.
The relatives of some of the accused had procured copies of that crucial chapter to give them to read.
Maria's account and his accusations against his junior colleagues Ahmed Javed (his successor as CP in 2015) and Deven Bharti (then head of the crime branch), that they were friends with the Mukerjeas, raised several questions.
Had Bharti known the Mukerjeas?
If Maria had got to know that Bharti knew the Mukerjeas why had he not asked him about it, later/ever? Bharti's answer is missing from the book.
Is there any rule in the police manual that the police force cannot socialise with city residents?
Was Bharti actually handling the investigation?
Wasn't an unidentified skeleton showing up in Raigad the responsibility of the Maharashtra district police?
Had Rahul Mukerjea met Bharti?
It seemed the Mukerjeas and Bharti were not acquainted with each other beyond having met him for help while obtaining their Overseas Citizenship passports at the FRRO, a division Bharti was once in charge of.
Bharti and the Mukerjeas apparently lived in the same neighborhood and both, it appears, once took walks on Worli Seaface, south central Mumbai.
And there are no rules against them knowing each other.
As per the facts of the case, Bharti had never met Rahul Mukerjea.
Bharti told Rediff.com that he was unable to speak on the issue because the case was in court, but of his former colleague in the Indian Police Service, he said, "Mr Maria belongs to a family linked with Bollywood and, it seems, scriptwriters have a great influence on him. In addition, it appears to be a marketing strategy for the book as well as the Web series which attempts to grab more eyeballs rather than placing facts."
"Moreover, for a policeman, it's advisable to read the chargesheet and case diary rather than a piece of fiction. I won't comment much as the trial is in progress, but would definitely say that the whole investigation team was aware of all developments and were on the same page till the investigation was with the Mumbai police."
Vaihayasi Pande Daniel covers the Sheena Bora Murder Trial for Rediff.com.
You can read her fascinating coverage here.