Shailajanand Mishra lists The Top Videos of the Week! Take a look.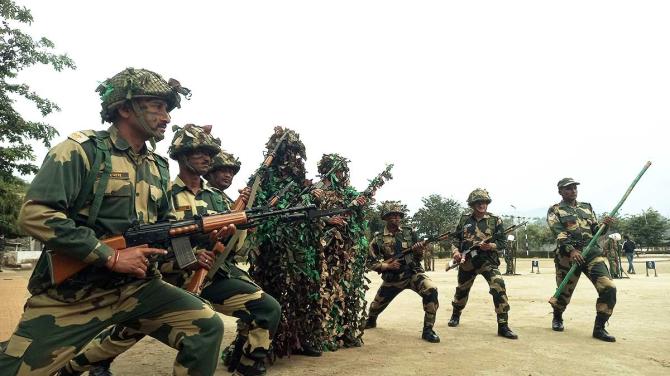 Every week is full of newsworthy events. And we make sure we bring you the most interesting ones, with a special twist.
These videos are chosen by you, through your likes.
So if you'd like to see your favourite video on our weekly round-up, please make sure you like them on iShare.
---
The magic of Kashmir's daan
Date: January 21
Location: Anantnag
Here's one more reason why traditional is beautiful. And healthy. And, yup, tasty.
Before the dawn of modern gadgets in the kitchen, it was the traditional ones that worked their magic.
In the Kashmir Valley, this is why the traditional Kashmiri stove -- known as daan in urban areas and daambur in rural Kashmir -- continues to be much beloved.
Made of clay, husk and water, this traditional stove used to be a prominent feature in Kashmiri kitchens.
Food used to be cooked on the daan in earthen pots that naturally add to flavour to the dish.
The locals believe that food cooked in earthen pots is nutrient-rich and the daan helps maintain its moisture and aroma.
Besides, the daan also helps maintain the temperature in the kitchen, which protects people from the bitingly cold winter.
---
Mrs World and the Kundalini Chakra
Date: January 22
Location: Mumbai
Her costume couldn't be more India-inspired.
No wonder Mrs India World 2021 Navdeep Kaur won the costume round in the Mrs World 2022 competition.
"My costume was inspired by the Kundalini Chakra," explains the stunning Navdeep. "The word Kundalini refers to a coiled snake in Sanskrit; it is the form of energy which starts from the spine and goes up through the crown.
"My costume was inspired by this feminine energy and how we waken empowerment within us."
---
Guinness World Record: 109 push-ups in a minute
Date: January 23
Location: Imphal
Push-ups. On fingertips. And a world record.
Watch how 24-year-old Thounaojam Niranjoy Singh did just that.
Niranjoy, incidentally, also broke the record of 105 complete push-ups that was earlier set by Graham Maly of the United Kingdom.
---
Aww! Isn't Siddhant a gentleman?
Date: January 25
Location: Mumbai
Dressed in a bikini top paired with white pants, the breezy Mumbai weather soon gave Ananya Panday the chills.
The gallant Siddhant Chaturvedi, and his jacket, came to Ananya's rescue.
Also putting in a stunning appearance was Gehraiyaan's lead star, Deepika Padukone.
Gehraiyaan, which has been directed by Shakun Batra, is scheduled to stream from February 11 on Amazon Prime Video.
---
How BSF recruits are trained
Date: January 25
Location: Udhampur
The Border Security Force has to be ready to fight terror. On any kind of terrain.
If you want to know why they are so effective in their role, do watch the video below.
New BSF recruits recently underwent rigorous training at the Subsidiary Training Centre in Udhampur.
They received Advance Combat Training to prepare them for their duty at the border, for their fight against terrorism, for counter-insurgency operations and other for stopping cross-border crimes.
"In this 44 week schedule, we give them comprehensive training so that they can fight in any terrain of the country, be it in Rajasthan or Jammu and Kashmir or Punjab or on the north-eastern border," says Pardeep Katyal, IG, STC-Udhampur.
The recruits, he adds, are also educated in anti-drone measures.
---
ITBP hoists flag at 15,000 feet
Date: January 26
Location: Ladakh
How does one even begin to salute the will power and courage of these soldiers?
These brave Himveers of the Indo-Tibetan Border Police stepped out into bone-chilling -35 degree Celsius weather at a height of 15,000 feet at the Ladakh border to hoist the national flag on Republic Day.
Like true soldiers, no challenge ever deters them.
---
How this mother remembers her brave son
Date: January 27
Location: Jashpur
He sacrificed his life for the nation.
His mother is proud of his bravery and his martyrdom and has made sure no one will ever forget him.
Police jawan Basil Toppo, who lost his life in a Naxalite attack in Bastar, Chhattisgarh, in 2011 remains alive in her heart and in the memorial she has constructed for him in their village, Perva Aara, in Jashpur.
The Navbharat Times reports that his sisters tie a rakhi to his statue every year. During Diwali, the memorial is lit with diyas. During Christmas, cakes are cut here.
This Republic Day, Basil Toppo's mother ensured the memorial got a fresh coat of paint.
---
Why this swim across a river is special
Date: January 28
Location: Aluva
He's 15 and differently abled.
But as far as Muhammad Aseem is concerned, capability is not limited by physicality.
On January 27, Aseem -- who studies in Class 8 -- proved this yet again.
He swam across Kerala's Periyar river in one hour.
Aseem -- who belongs to Velimanna village in Kozhikode district -- was born without hands and with weak legs.
His coach Saji Valasseril trained him for 14 days to perform this feat.
Feature Presentation: Ashish Narsale/Rediff.com