'He was such a diverse poet that he wrote the song M bole toh Master of Munnabhai MBBS and also Yeh Rishta kya kehlata hai of Meenaxi.'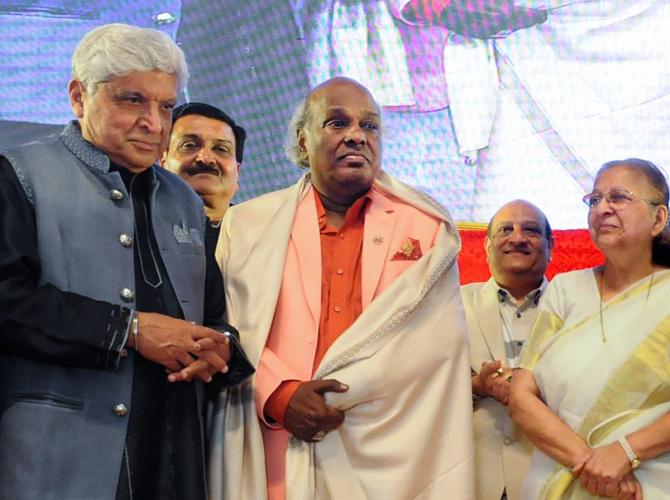 Iconic Hindi poet Ashok Chakradhar was a dear friend of Urdu poet and lyricist Rahat Indori, who passed away last week.
Chakradhar recounted his long association with the Urdu poet while talking to Rediff.com's Syed Firdaus Ashraf.
"The beauty of Rahat Indori's poems was that his first two lines were always very deep. But by the end, the verse became very simple," Chakradhar says.
---
I first met Rahat Indori in 1976 when I was a lecturer (of Hindi) at the Jamia Millia Islamia and he was doing his PhD on Urdu mushaira.
He used to call me bade bhai (elder brother), which always made me feel that he was younger to me. But when I went to The Kapil Sharma Show with him, I came to know that I was younger to him.
Because of the financial condition of his family, he took some extra years to complete his studies.
He came from a very poor background. He used to paint hoardings to make a living. Even today, some of the hoardings painted by him exist in Indore.
Even a poet himself has little idea what motivated him to become a poet. One only need to have an eye and proficiency in the language.
Hai shauq-e-deedar toh woh nazar paida kar, as one Urdu sher goes.
We used to exchange ideas and poetry very often. Once I had shared the following lines from my poem with him.
Tu ek darinda hai toh makaan tera hai
Aur parinda hai toh aasman tera hai.
In those days, Jamia was not a university, but a college. There were no different departments or sections. All professors used to sit in one room. It was a great hub of learning.
Later in my life, I started a trend to call Urdu poets in Hindi kavi sammelan. In 1982, when colour television came to India, we brought Hindi-Urdu poets on one platform even on TV shows.
The beauty of Rahat Indori's poems was that his first two lines were always very deep. But by the end, the verse became very simple. The following is an instance:
Woh shakhs mujhme samaya bahut lagta hai;
Woh shakhs mujhko paraya bhi bahut lagta hai;
Ji toh karta hai ja kar baar baar milon;
Par aaney jaaney mein kiraya bhi bahut lagta hai.
He was not subtle and used to be straightforward in his poetry, probably due to his background.
Like his line Kisike baap ka Hindustan thodi hai, which he wrote 20 years ago. Many people felt he was targeting some political party or a politician, but that was not the case. As the saying goes:
Jaaki rahi bhavna jaisi
Prabhu murat dekhi tin taisi
(You will in your God's appearance, a reflection of your own thoughts).
(Note: Kisi ke baap ka Hindustan thodi hai became very popular during the anti-Citizenship Amendment Act protests).
When Deenbandhu Nirala wrote Arey woh gulab ithla raha hai, it was an apparent swipe at then prime minister Jawaharlal Nehru.
But nowhere did Nirala take Nehru's name in this poem.
There has been a trend of such anti-establishment poems in every era.
Similarly, Rahat sahab never took any names while criticising politicians in his poetry.
People say he was only a poet of the masses, but that is not true. This is often mistaken for many poets, including myself.
Many people think I am a poet of Hindi kavi sammelans. But my poetry is taught in MA courses and my work is studied during preparation of competitive examinations.
In the same way, Rahat sahab had his literary achievements, but not many know about them.
He was such a diverse poet that he wrote the song M bole toh Master of Munnabhai MBBS and also Yeh Rishta kya kehlata hai of Meenaxi.
His passing away is a huge loss to all of us; I would say it is a maha-loss.
The Indian masses do not speak pure Persianised Urdu or Sanskritised Hindi, but simpler language is understood by most of them.
This is the kind of language which Rahat sahab learnt from the society and not from books.
The language of his poems was like that because of his experiences.
His words had great depth and his shayri used to touch people's hearts.
Once he asked me what was the Hindi equivalent of sahib-e-masnad, as he felt people may not understand that tough Urdu phrase.
I said sattadheesh and he found it even more difficult. So he kept sahib-e-masnad, which means a feudal lord or a king or ruler.
We often discussed culture and language, but never discussed religion as it was something very personal to both of us. And that is the beauty of India, which is like a bouquet.
On the personal front, my friendship was great with him. My friendship with him was like a journey. We used to speak about our personal lives and different issues. His going away is a big loss for me.
The last time I met him was on the Kapil Sharma Show, which happened after much delay due to the unavailability of common dates.
I recall that we reached the set after lunch and there was no food left for us. So we went outside to eat bhel puri and ragda pattice.
We ate that together with great fun. These are some small but beautiful memories of Rahat sahab which I will always remember fondly.
When we were asked to prepare for the show, we said we will speak impromptu and do not need any rehearsal.
We were given different vanity vans, but Rahat sahab and I preferred to sit in one.
I spoke to him regularly on the phone and were were in touch even during this pandemic.
He had a unique style to recite his poems, which is hard to replicate. He was impromptu.
It is sad that we can never know how Harivanshrai Bachchan used to recite Madhushala.
But Rahat Indori will always be with us, thanks to the Internet.