R Manikandan, 39, a resident of Coimbatore, Tamil Nadu, was named the South Zone Water Warrior in 2020 by the Government of India's Jal Shakti ministry.
Manikandan used the prize money of Rs 200,000 to plant trees around Periyakulam.
A Class 9 dropout, he has a lathe workshop. When he is not working in his workshop he is out saving water bodies.
R Manikandan speaks to Rediff.com's A Ganesh Nadar.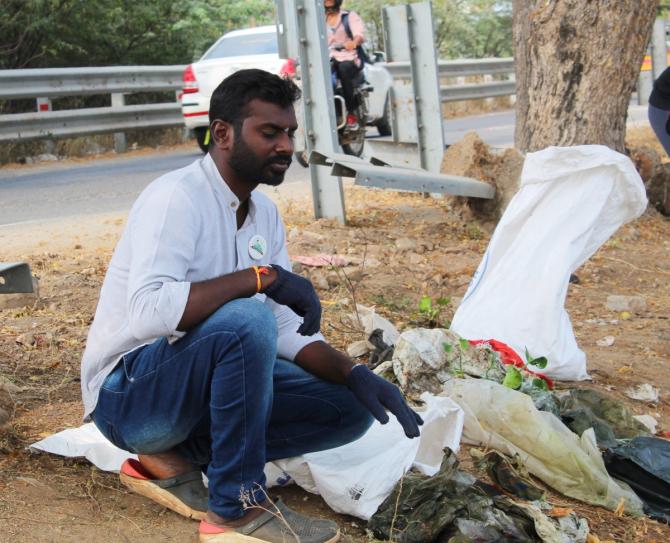 I live in south Coimbatore where there is a perennial water shortage.
We had built a new house there; there was a well in our compound. One day it dried up.
Outside our house, there was this small channel that had also dried up. I checked and found that a check dam supplied water to it.
The Kurichi lake was 3 km from my house. I knew that when the lake was full, there was water in our well.
It was the year 2004. I petitioned the collector to repair the check dam and de-silt the calvoy.
The collector got the work done and the water came back. I realised that though there are a large number of people living in this area, someone had to take the initiative to petition the authorities.
After that, I started working on other water bodies.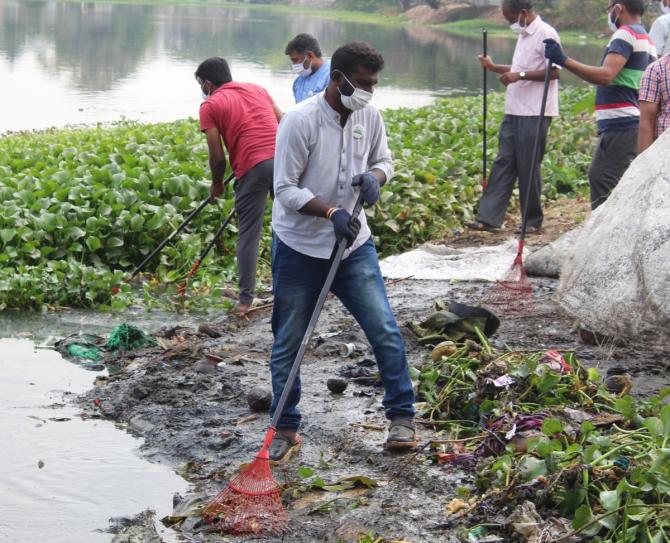 In 2014 there was a drought. The Kuruchi lake had very little water.
We first repaired the check dams. After that lots of people worked together to remove weeds and silt from the calvoys. Once this was done the water started flowing into the lake.
Annai Indira Nagar had a drinking water pipeline, but only the rich had pipes in their homes.
I collected only Rs 75 from each poor household and gave it to the local councillor as the panchayat said it did not have money to do connect the pipeline to every home in the area.
Water connections were provided to every household with this money. We had well water in that area, but it was salty.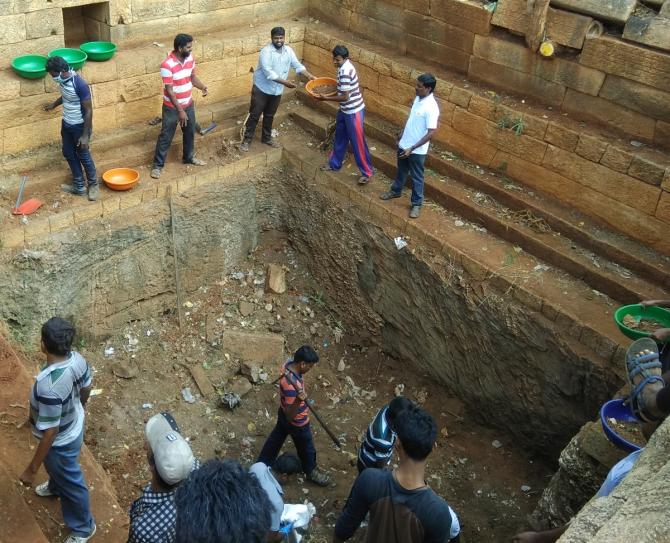 As many people were interested in preserving our water bodies we formed the Kovai Kulangal Padhukappu Amaippu in 2017.
We registered it as a Trust with six members. I am the organiser. We collect funds only for use for particular projects.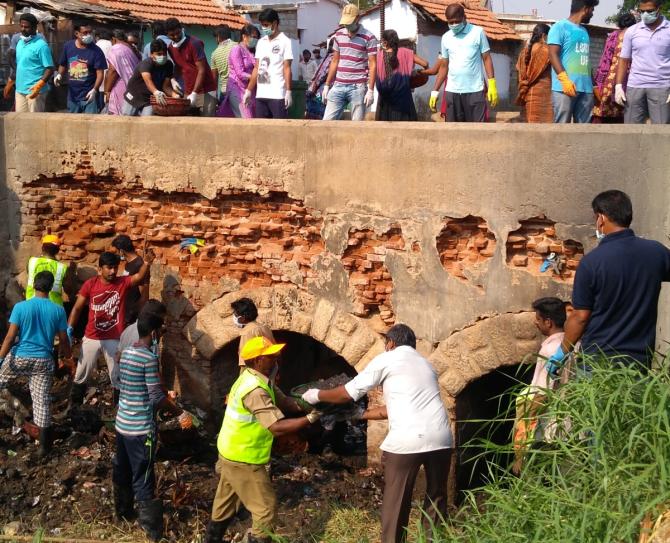 The Perur Periyakulam is a big lake spread over 265 acres. 60% of the lake was covered with Seemai Karuvelam, which is an invasive weed. We decided to clean it.
We put up notices on Facebook and also formed WhatsApp groups to spread the message.
On February 5, 2017, we had a meeting to discuss what we should do and we started work on February 12.
On the first day, 50 people turned up to work with us. We removed the weed and plastic.
On the first day, we used 2 JCBs, the next day 5 JCBs came. All were volunteers; we did not pay wages to anyone.
The JCBs were sponsored by well-meaning individuals. After the successful cleaning of this large lake which took us one month, we started cleaning one lake every week.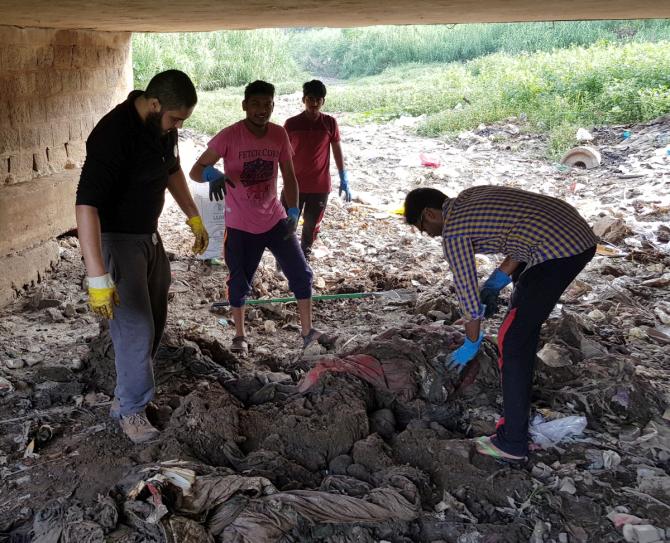 Our next target was the Vellalore lake. The lake was drying up as the 3 km long channel that was feeding it was fully encroached upon by people.
2,500 families were living there, mostly migrants who had come to work in our city. Among them were addicts and the children had skin diseases.
We met spoke to them, they were ready to relocate. We met Collector Hariharan and arranged a meeting with the people there.
We cleaned the channel. The people there were given houses in 2017. In October 2018, water came and filled the lake.
So far through our Trust, we have spent four crore rupees (Rs 40 million) to rejuvenate water bodies.
Thirty thousand volunteers have worked with us. We have planted 25,000 trees and 10,000 flowering plants in the areas we have cleared around water bodies. We follow the Miyawaki forest method.
During Adi Amavasya people offer prayers to the souls who have passed away in their families. They offer food on the river banks which later goes to waste.
We convinced the families that they should give this food to poor people. They agreed. We collect it in vessels and distribute it later in poor areas.
The Noyyal river is very important to Coimbatore. We have to save it from pollution and increase the green cover of the place. The Waterman of India Rajendra Singh came down to see it.
It flows from a height of 6,000 feet above sea level and thus flows very fast. It feeds 31 lakes and 1,200 ponds.
There is a problem of encroachment and also sewage flow. We are documenting all the ponds and lakes.
So far we have rejuvenated 9 ponds. Rajendra Singh told us that we needed to build more check dams in the river.
We are also conducting awareness programmes to tell people about rain water harvesting, plastic wastage and also saving drinking water.
While we were documenting we realised that there is 20% encroachment of people, there is also agriculture encroachment where people are growing food stalks on water bodies. There is silt accumulation.
The government is helping us remove the encroachment. We are doing the cleaning work.
We have to realise that lakes are not only providing us with water. They are also biodiversity spots that attract birds and animals.
My plan is to study the Noyyal river flow and then work to preserve it.
Feature Presentation: Rajesh Alva/Rediff.com