Arvind Kejriwal warned the media that "very big forces" would try and break the INDIA alliance by showing that there was a lot of acrimony among them.
Jyoti Punwani reports.
What was the pecking order among the INDIA Alliance constituents?
If the seating arrangement during the concluding press conference was any indication, the main players, apart from the hosts, were the Congress, Nitish Kumar and Lalu Prasad Yadav.
Flanking the two hosts: Uddhav Thackeray and Sharad Pawar, were Rahul Gandhi and Lalu Prasad on one side and Congress President Mallikarjun Kharge and Nitish Kumar on the other.
Nitish Kumar had sat leaving one chair empty between himself and Kharge. It was Uddhav who beckoned him more than once to move next to Kharge.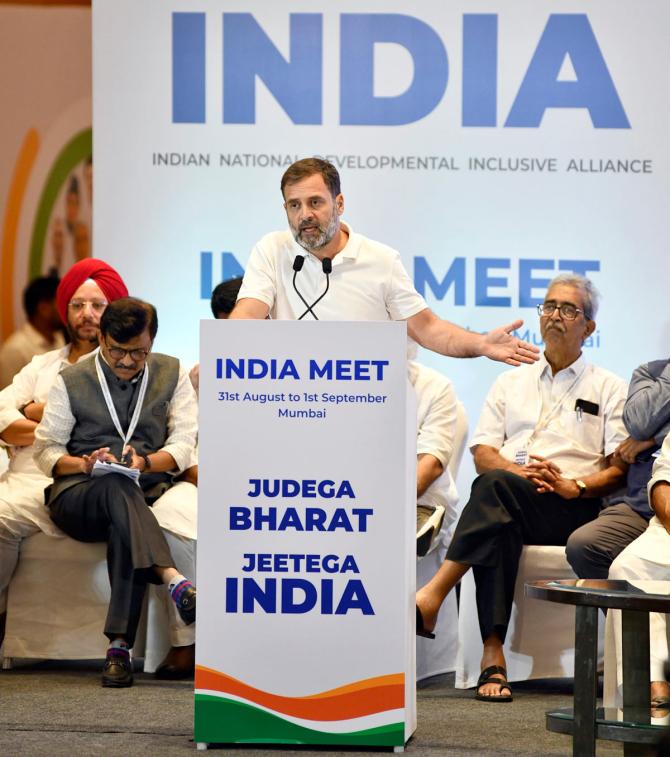 These leaders formed the nucleus.
Next to Nitish Kumar was Sitaram Yechury, the lone CPI-M representative, while Tamil Nadu CM Stalin sat next to Lalu Prasad Yadav, with Farooq Abdullah near him.
Hemant Soren, despite being a CM, was after Yechury; he wasn't called to speak at all.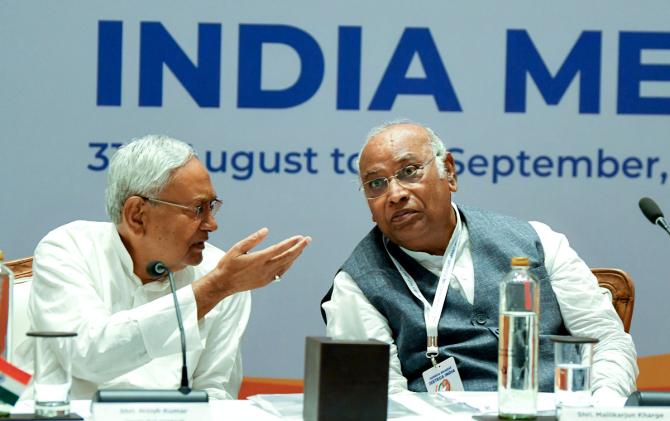 CPI leader Doraiswamy Raja, Mehbooba Mufti and Omar Abdullah sat at one extreme, with Delhi CM and AAP National Convenor Arvind Kejriwal, Punjab CM Bhagwant Singh Mann and Bihar Deputy CM Tejaswi Yadav at the other.
Another indication of the pecking order was who spoke and when.
The two hosts, Uddhav Thackeray and Sharad Pawar, gave the opening and closing remarks, but the last speech was by Rahul Gandhi.
He repeated the recent Adani revelations; Arvind Kejriwal was the only other politician to dwell on the 'Adani connection' to the government at length.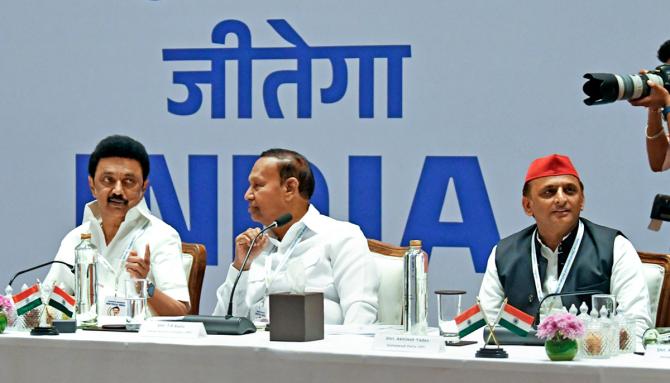 In an embarrassing moment for the media, two leaders, both from Bihar, both veterans, said that this regime had shackled the media into silence.
"That's why the party that does no work gets all the publicity while there's no mention of parties that work." Said Nitish Kumar.
Folding his hands, he requested the journalists present to "write about the work we do."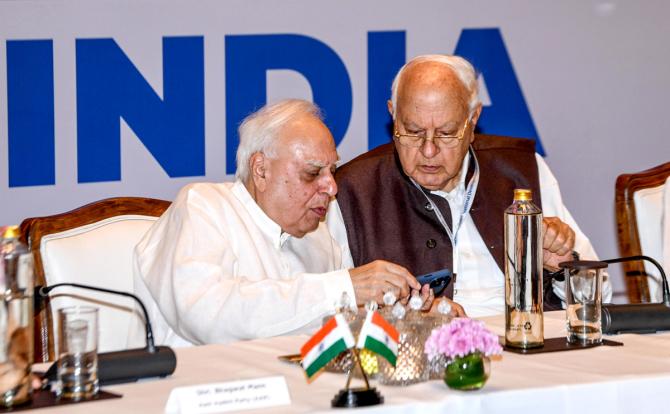 Lalu Prasad said the day INDIA defeated the BJP, would be a day of liberation for the media too; many journalists applauded.
The RJD chief spoke with his characteristic humour, referring to former BJP president L K Advani as "The man I arrested".
He recounted with his usual flourish how he and his family had opened 11 bank accounts (9 of his children and two of himself and his wife) after Modi in his prime ministerial campaign, had promised that Rs 15 lakh would be transferred to every account once all the money in Swiss banks was brought back. "Some of you must have also done so," he told the media.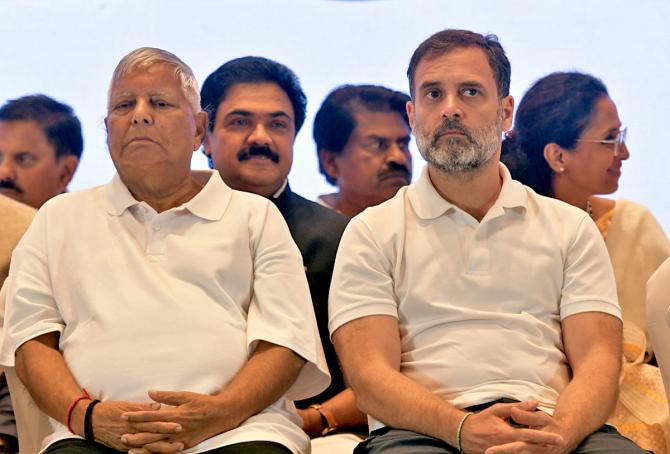 Talking of inflation, he spoke with feeling about how bhindi was being sold at Rs 60 a kg, and even tomatoes, despite being a "tasteless" vegetable, was beyond reach.
But Lalu Prasad brought the house down when he requested the ISRO scientists to bring further laurels to India by sending Modi on their next mission -- to the Sun.
While doing so, he also made a dig against Rahul's penchant for foreign travel.
"Rahul keeps going to America; it's only now that he's got the chance to travel within India. Next time you go to the US," He said, turning to Rahul, "you can boast that our PM has set off to the sun to bring glory to India, and all our best wishes are with him."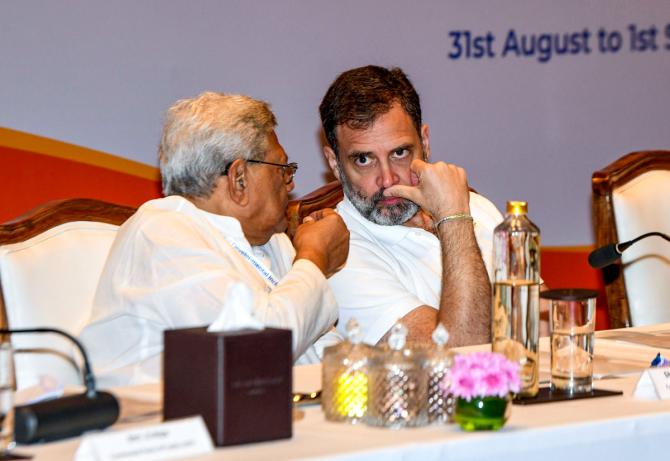 The former Bihar CM lived up to his secular reputation.
Early on in his long speech, he emphasised the insecurity of minorities under this regime as a major reason to dislodge it.
He recalled Atal Bihari Vajpayee's reprimand to Narendra Modi just after the 2002 Gujarat massacre, to observe Raj Dharma.
"Vajpayeeji was a neta, I've never seen another like him, " He added.
While Lalu Prasad was the only one to make a direct reference to the situation of minorities, Nitish Kumar was the only one to refer to the BJP's attempt to rewrite history.
"We won't let that happen," He declared, "We'll make sure no section is neglected in history. After all this country belongs to both Hindus and Muslims."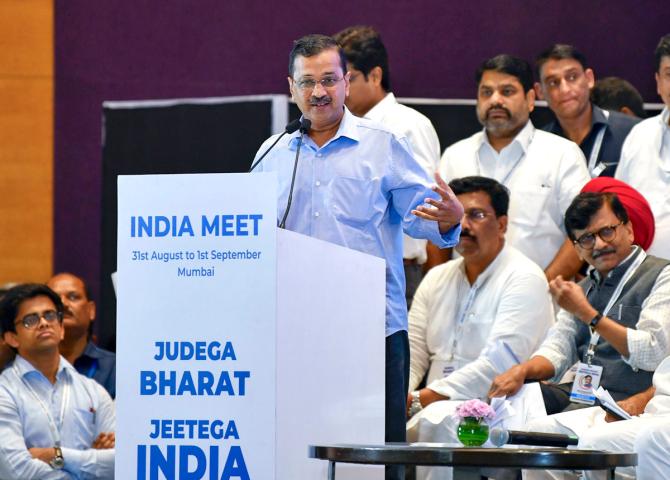 Warning the media that "very big forces" would try and break the INDIA alliance by showing that there was a lot of acrimony among them, Arvind Kejriwal said that in fact, all discussions had been conducted in an atmosphere of "pyaar aur mohabbat."
In an indication of how crucial the question of seat sharing was to the alliance, at the end of his speech, in a surprise gesture, Lalu Prasad turned to Rahul Gandhi and said: "We will surely accommodate the Congress in seat sharing."
A Bihar politician later told this reporter that in Bihar, the RJD and JD-U combine would have to leave some seats to the Congress to ensure that the Congress reciprocated in other states.
Lalu Prasad was also the only one to talk about the elephant in the room.
In a parting message to NCP chief Sharad Pawar, Lalu told him "Keep fighting, and strengthen your party."
Feature Presentation: Rajesh Alva/Rediff.com