The Congress is a dismal third in 17 of the 19 constituencies where the party's general secretary (east) campaigned in Uttar Pradesh.
Only in Rae Bareli did the party secure a victory. In Amethi, it came second.
Syed Firdaus Ashraf/Rediff.com reports.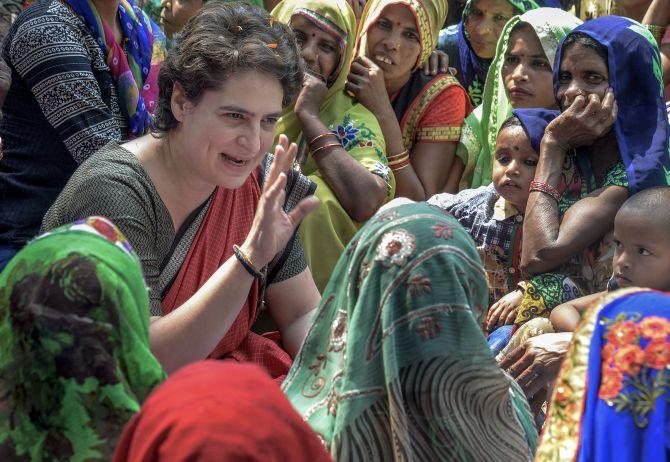 Congress workers expected Priyanka Gandhi Vadra to turn around the party's fortunes in Uttar Pradesh with the swish of a magic wand, yet her combative and calculated campaign failed to lift the grand old party from the abyss of political irrelevance in the state.
Priyanka, who was appointed Congress general secretary in charge of Uttar Pradesh (east) in January, created a buzz during the Lok Sabha election campaign, but failed to revive her party.
The Bharatiya Janata Party is expected to win 59 seats in UP. The Samajwadi Party-Bahujan Samaj Party-Rashtriya Lok Dal alliance gave the BJP a fight in many seats, but seems to have been blunted by the Modi factor.
It is only in Rae Bareli -- where Priyanka campaigned -- that the Congress won. Priyanka's mother and United Progressive Alliance Chairperson Sonia Gandhi contested from Rae Bareli.
A glance at the constituencies where Priyanka campaigned, her party's vote share and that of other parties.
| Constituency | BJP | Congress | SP | BSP | Apna Dal (Sonelal) | Jansatta Dal Loktantrik |
| --- | --- | --- | --- | --- | --- | --- |
| Mirzapur | | 91501 | 359556 | | 591564 | |
| Kushinagar | 597039 | 146151 | 259479 | | | |
| Maharajganj | 726349 | 72516 | 385925 | | | |
| Varanasi | 674664 | 152548 | 195159 | | | |
| Allahabad | 494454 | 31953 | 310179 | | | |
| Amethi | 468514 | 413394 | | | | |
| Pratapgarh | 436291 | 77096 | | 318539 | | 46963 |
| Jaunpur | 440192 | 27185 | | 521128 | | |
| Sultanpur | 459196 | 41681 | | 444670 | | |
| Unnao | 703507 | 185634 | 302551 | | | |
| Jhansi | 809272 | 86139 | 443589 | | | |
| Kanpur | 468937 | 313003 | 48275 | | | |
| Saharanpur | 491722 | 207068 | | 514139 | | |
| Fatehpur | 566040 | 66077 | | 367835 | | |
| Ghaziabad | 944503 | 111944 | 443003 | | | |
| Bhadohi | 510029 | 25604 | | 466414 | | |
| Meerut | 586184 | 34479 | | 581455 | | |
| Lucknow | 633026 | 180011 | 285724 | | | |
| Rae Bareli | 367740 | 534918 | | | | |