288 first-time offenders have been coaxed to leave the path of crime and lead a normal life.
A Ganesh Nadar/Rediff.com reports on a unique initiative by the Chennai police.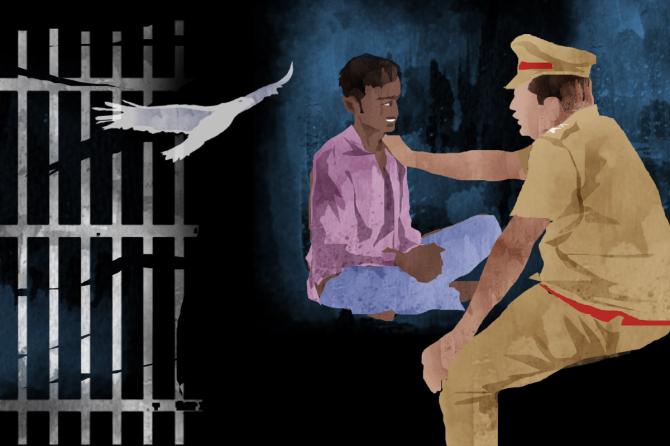 In the 10 months the Chennai police has been running its programme to wean away first-time offenders involved in petty crimes from straying into a criminal career, they have been working with 228 delinquents, counselling them in their effort to make good citizens out of them.
Paravai, or Personality and Attitude Reformation Assistance Venture for Affirming Identity, the brain child of the Chennai police, is being implemented in the jurisdiction of three courts in the city.
Paravai, meaning bird in Tamil, was launched in April 2022 and the stakeholders include the Prisons Correctional Services, the Tamil Nadu Legal Service Authority, the Institute of Mental Health, State Career Guidance, the department of social welfare and the NGO, PRISM.
To qualify for assistance under this scheme you have to be a first time offender, the crime should not attract a prison term of more than seven years and you have to be below 24 years age.
"When they commit a petty offence like snatching a mobile or a small theft, we usually warn them and let them off a couple of times," says a senior police officer. "Only when they repeatedly commit the same offence, we file an FIR and remand them, so by then they are not actually first time offenders, possibly it is their third of fourth offence."
Paravai works in a six-stage process where the young offender are followed up from the time of arrest and lodged in the Saidapet (a Chennai suburb) sub-jail and released on bail.
The Chennai police commissioner is in charge and under him there is a joint commissioner (south). Then there is an inspector, Kaushalya, who is assisted by Sub-Inspector Indumati and 30 nodal police officers.
The nodal police officers are policemen and women who have more than 10 years of service, are graduates and are known for their good conduct.
These police personnel are full time on Paravai duty, are not attached to any police station, and work out of rooms in the joint commissioner (south)'s office in St Thomas Mount.
The nodal police officer takes the subject (they don't like to call the youngsters as accused) under her/his wing right from the time of arrest. If no one comes forward to bail them out, s/he gets them out with the help of the state legal services.
They are then taken to the Institute of Mental Health for a valuation as many of them are drug addicts and commit theft to support their habit. Then they are assessed to find out if they have any skills which will help them find a job.
As most of them operate in gangs, to stop them from going back to the gang the state government has opened a drop-in centre at the Saidapet Model High School where indoor and outdoor games are played to keep them occupied.
M Parthiban is a nodal police officer who has been in the police force since 2011. He has 10 subjects for whom he is their mentor.
"Three are in college and seven are working, I helped them rejoin their college and workplace," says Parthiban. "Their principals and bosses are not willing to take them back as they are now criminals, but when we give them a guarantee for good behaviour they are reinstated."
The nodal police officer's job doesn't end there. "We meet them every 10 days to make sure they are sticking to their routine and not gone back to their old ways," adds Parthiban.
As it may happen some time. Of the 288 who are in the Paravai programme, 12 have been re-arrested, most of them juveniles.
Head Constable R Anusuya, who has been in the police since 2005, mentors five subjects.
"Four of them are in college and one is working, I had to help them get back to their former lives," she said.
Talking about one of her subjects, Rajesh (name changed), she said he was from an affluent family. He had been arrested and spent 20 days in the sub-jail as his family did not come forward to bail him out. He was also addicted to ganja.
"I bailed him out with the help of legal services and took him to the IMH for counseling and medicine. He used to study mass communication, but could not get back to that so I admitted him in a BA English course," Anusuya says.
Another subject was also addicted to ganja so she had to admit him in the IMH hospital for a month.
"I used to take food for him from outside as he did not like the food there. He came out but was not fully cured. With the help of my superior officer I got him admitted to the TTK anti-addiction centre, he was there for a fortnight and came out cured," she smiles.
To make sure he did not meet his ganja gang again she got him admitted to an ITI in Katpadi (150 km from Chennai), with the police paying his fees for a two-year course. After six months his family accepted him.
Another of her subjects is in the ITI in Ambattur, Chennai.
One of the subjects is an orphan, and after he was arrested none of his relatives came forward to help him. The cops bailed him out but Parthiban had to use all his persuasive skills to convince two relatives to stand surety for him (which is a necessity for securing bail).
He now work in a restaurant and earns Rs 12,000 a month.
B Suresh has been a policeman for 23 years; he has as many as 34 subjects under his charge.
"Half of them are children of single parents and have been neglected during childhood; they come from slums where parents are already struggling to make ends meet," he says.
"Another problem is that people don't like the police coming to their house, so we don't go in uniform. Many of the parents accuse us of foisting false cases against their children," he adds.
"The only way of getting them out of their criminal habits or addiction is to get them a job they like and one that fetches them a regular salary. No amount of counseling or IMH medicine helps as much as a regular job."
Once they start working, their addiction is forgotten, their criminal friends are not around. Most of the mobile snatching incidents are related to funding their addiction.
I spoke briefly to one of Anusuya's subjects on a conference call as she wanted to protect his number. He said he was studying BA English and that she had helped him get out on bail and also got him admitted into college.
"I will finish in 2025 and get a good job," he says.
, "These subjects came out on bail and have been rehabilitated by us, but the case against them is still pending," says Sub Inspector Indumati. "What we plan to do is after chargesheeting them we will inform our joint commissioner of police."
"There is a meeting every month between the JCP and the magistrate. As it is a first time offence we request the magistrate to dismiss the case, so it will not show in the subject's records," she adds.
This helps them go back into the world with a clean sheet.
This is a unique initiative by the Chennai police which will be soon implemented in all of Tamil Nadu and, possibly, the entire country as well.
After all, everyone deserves a second chance.
Feature presentation: Ashish Narsale/Rediff.com