'Farmers must get Maximum Support Price instead of Minimum Support Price.'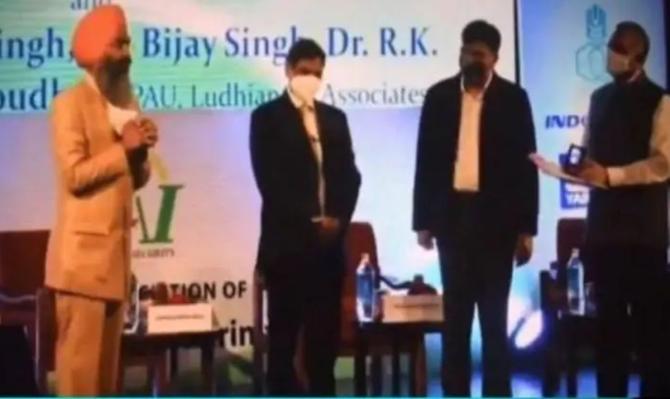 On Monday, December 7, Punjab agricultural scientist Dr Varinder Pal Singh became an Internet hero after he refused to accept an award from the Centre as a gesture of support to farmers protesting against the government's farm laws.
Dr Singh, the principal soil chemist at the Punjab Agricultural University in Ludhiana, was recognised by the Fertiliser Association of India for his work in the field of plant nutrition. At an event in Delhi, he was supposed to receive the award from Union Chemicals and Fertilisers Minister D V Sadananda Gowda.
But Dr Singh refused to accept the award saying that his conscience would not allow it at a time of crisis when 'our farmers are on the roads'.
Dr Singh tells Syed Firdaus Ashraf/Rediff.com that the "three farm laws will devastate Indian farming and need to be withdrawn immediately".
Conscience!
My conscience did not allow me to take the award when Indian farmers are out on the roads in this bitter cold, protesting against the three farm laws in Delhi.
All my life I have worked for the betterment of farmers and our nation. And when I see them in distress how can I accept an award? I was feeling guilty and therefore, I did not accept the award.
It is cold; they are on the roads protesting and urging the government to withdraw the laws. These farmers are very hard-working people. These farmers feed us and we are not listening to their grievances.
These farmers are in pain and therefore, I could not accept the award and also wrote how I felt on the issue to Prime Minister Narendra Modi (You can read the letter here).)
These farmers are protesting peacefully and requesting the government to withdraw these three farm laws as they feel it is not in the interest of the country so I feel the government must withdraw the laws.
I am also hurt that some media organisations are calling our annadata as terrorists. This is truly hurtful.
There are several who say that there is a communication gap about these farm laws, but I would like the government to clear these gaps and hopefully, they will withdraw these laws.
I never wanted to politicise this issue as it is not right. Several Padma Shri awardees too returned their awards and I believe there is no politics involved.
I would also like to highlight that there is misinformation being spread that farmers will have more options due to the new laws. Farmers have highlighted that these laws will allow corporate agencies enter the farming business and there is something very wrong about these laws.
Minimum Support Price has not been included in the laws and even where MSP is there it is treated as the Maximum Support Price by the markets. For example, take the case of rice whose MSP is Rs 1888 per quintal, but in the market the farmers get less than that for their rice crop.
So when Minimum Support Price is being treated as the Maximum Support Price, imagine what will be the plight of farmers if even the MSP goes away.
I pray to God that we find a solution soon. We, all Indians, must come together in these difficult times for farmers.
These laws will devastate Indian farming and need to be withdrawn immediately.