How did the newly-anointed heritage city bag the title and is it ready for the expected rush of tourists?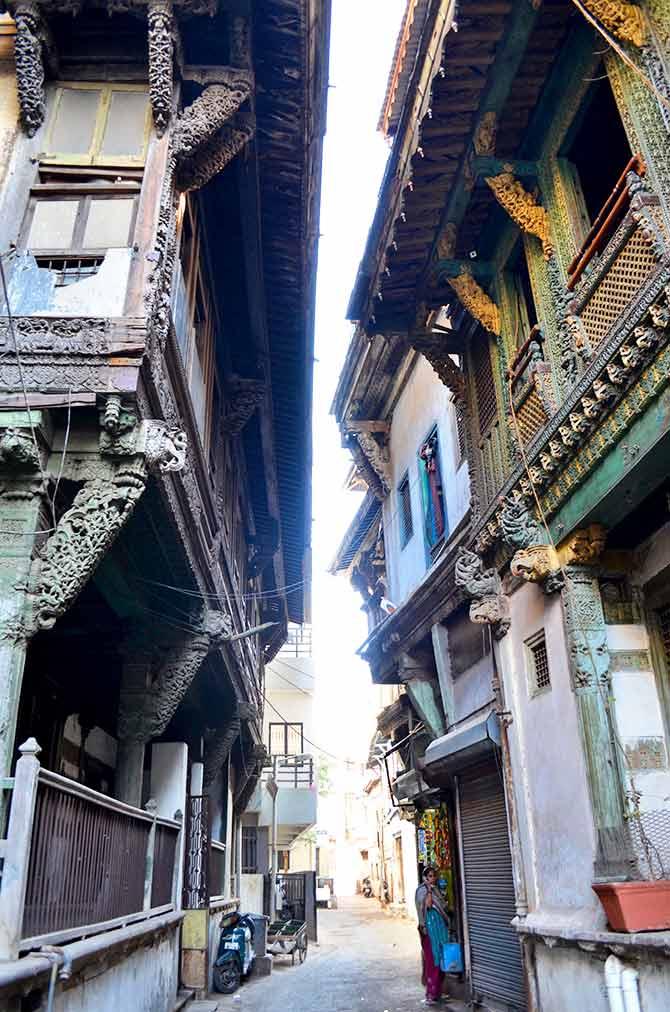 IMAGE: One of Ahmedabad's magnificent pols or old-fashioned housing clusters in the walled city. Photograph: Kind Courtesy Tarkik Patel/Wikimedia Commons.
UNESCO recently declared the 600-year-old walled city of Ahmedabad as a world heritage city.
With this, Ahmedabad has joined Paris, Vienna, Cairo, Brussels, Rome, Melaka (Malacca, Malaysia) and Edinburgh as one of the 287 world heritage cities.

IMAGE: A panoramic view of a yesteryear lane in the old city of Ahmedabad. Do please CLICK on the picture above to get a much larger view and scroll -- you will feel like you actually are in the heritage city. Photograph: Kind Courtesy Pranshu Dubey/Wikimedia Commons.
There are only two other cities in the Indian subcontinent which enjoy the same status: Bhaktapur in Nepal and Galle in Sri Lanka.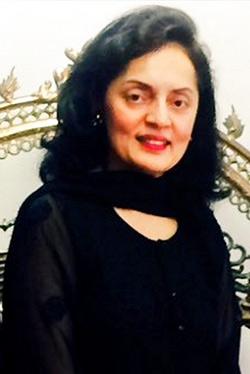 IMAGE: Ambassador Ruchira Kamboj, permanent representative of India to UNESCO till recently, had much to do with seeing that Ahmedabad made the list of 287 UNESCO world heritage cities. Photograph: Kind Courtesy @RuchiraKamboj/Twitter.
The nomination of Ahmedabad was supported by about 20 countries. India's team at UNESCO, led by the feisty Ruchira Kamboj, a 1987 batch IFS officer, lobbied successfully for Ahmedabad's candidature.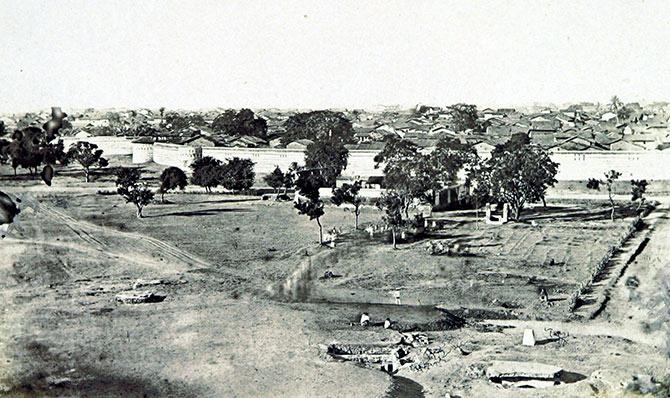 IMAGE: An 1866 photograph of Ahmedabad's walled city from Architecture at Ahmedabad, the Capital of Goozerat by British civil servant Theodore Cracraft Hope, who was in charge of Ahmedabad district and published three books on its archeological monuments. Photograph: Kind Courtesy Colonel Thomas Biggs/British Library.
The city's journey towards branding itself as a heritage destination began in 1984.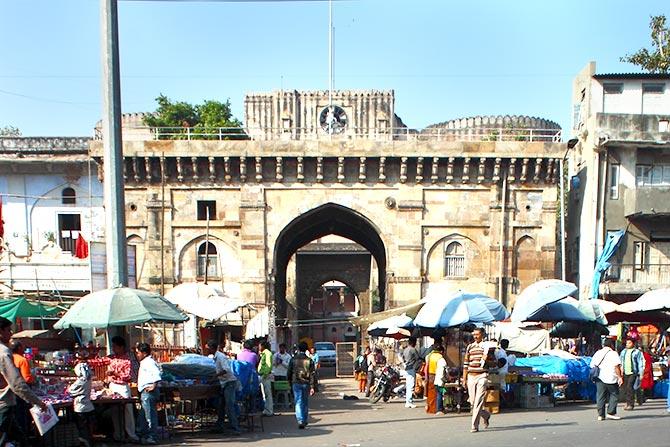 IMAGE: The front view of Bhadra Fort, Ahmedabad, one of the gates of the walled city. Photograph: Kind Courtesy Aviral Mediratta/Wikimedia Commons.
Ford Foundation instituted a study for conserving heritage structures in Ahmedabad that year. The goal came closer in 2010 when Prime Minister Narendra Modi, then chief minister of Gujarat, proffered a dossier on the status of heritage structures in Ahmedabad to UNESCO.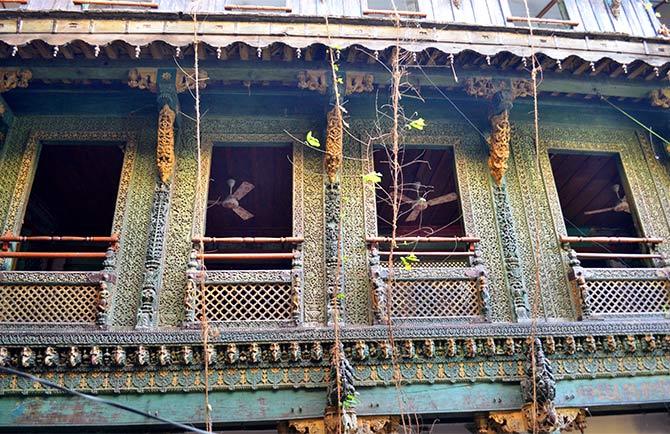 IMAGE: Pol comes from the Sanskrit, from pratoli. It is believed that the city founder Ahmed Shah also once lived in a pol. Photograph: Kind Courtesy Tarkik Patel/Wikimedia Commons.
In March 2011, Ahmedabad made it to UNESCO's 'tentative' list.
In January 2016, it was chosen over Delhi and Mumbai as India's entry.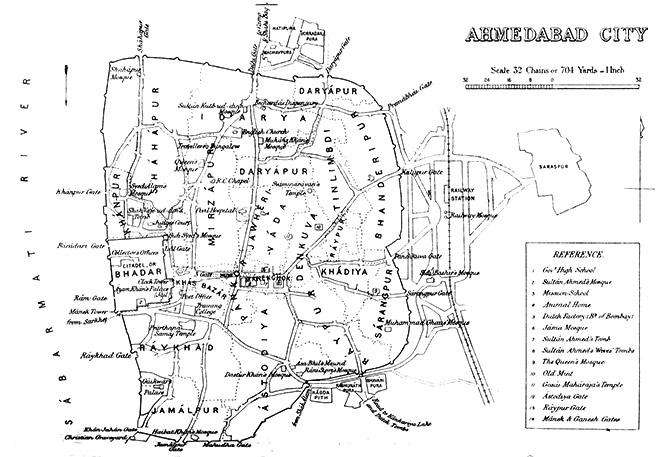 IMAGE: An 1855 map of Ahmedabad from the Gazetteer of the Bombay Presidency by James M. Campbell. Photograph: Kind Courtesy/British Library.
Ahmedabad was founded by Ahmed Shah in 1411 AD. It has 26 ASI-protected structures, 360 pols and tens of puras (distinctive neighbourhoods) that capture the unique community living of the walled city.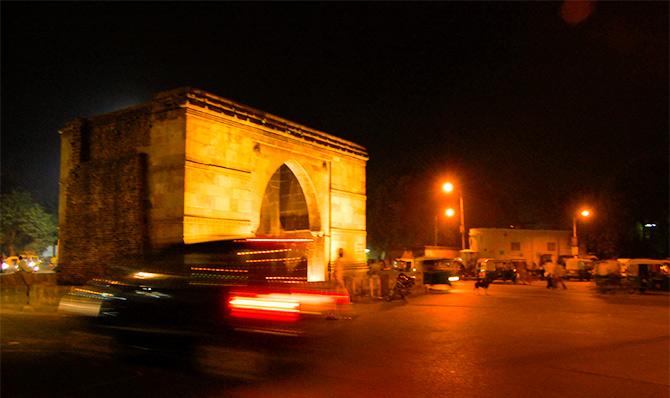 IMAGE: The walled city that Ahmed Shah built in 1411 AD had 12, or some say, 16 or 21 gates. This is

Astodiya Gate

by night. With three stone arches and once three guns, it is made from iron-plated timber. It stands 17 feet wide and 25 feet high. Photograph: Kind Courtesy Manishjogi/Wikimedia Commons.
The pols are an exuberant riot of beautiful wooden facades, lovely wooden brackets, lovingly carved fenestrated windows, magical balconies, chabutaras (bird feeders) and other architectural elements. And these densely packed clusters of rows upon rows of houses, joined by labyrinthine streets are where Indian architectural traditions live on. This is what prompted the UNESCO tag.
Many believe that the numerous sites associated with Mahatma Gandhi who lived in the city from 1915 to 1930 helped win the deal.

What are the benefits of being branded a heritage city?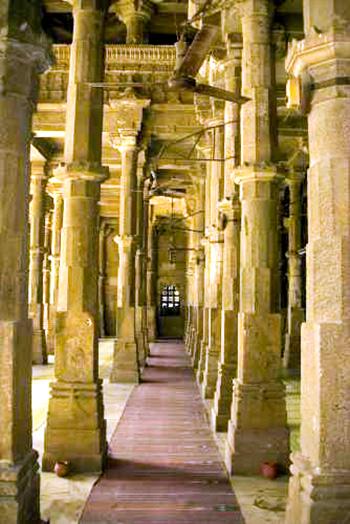 IMAGE: Ahmedabad's Jama Masjid dates from 1424. Photograph: Kind Courtesy Eric Pöhlsen/Wikimedia Commons.
Well, for starters, it is a huge advertising draw and a lure for tourists. It gives the city a global identity. Statistics from Japan show that Iwate Prefecture's historic Hiraizumi area in the northeast part of the country, had seen tourism plunge after the quake-tsunami catastrophe.
But post getting onto the heritage list, visitors have been flooding in, tripling from 98,067 in May to 292,640 in August last year. After the villages of Shirakawa-go and Gokayama (both more south and east) were inducted in 1995, tourism more than doubled from around 600,000 a year to 1.4-1.5 million.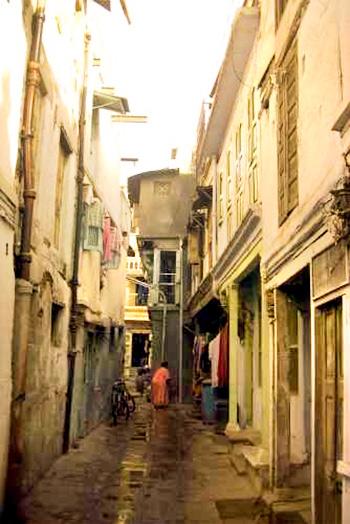 IMAGE: A street view of the old town in Ahmedabad. Photograph: Kind Courtesy Eric Pöhlsen/Wikimedia Commons.
This should be good news for Ahmedabad.

There are other associated benefits too. The heritage status can help attract funds for restoration, preservation and community training.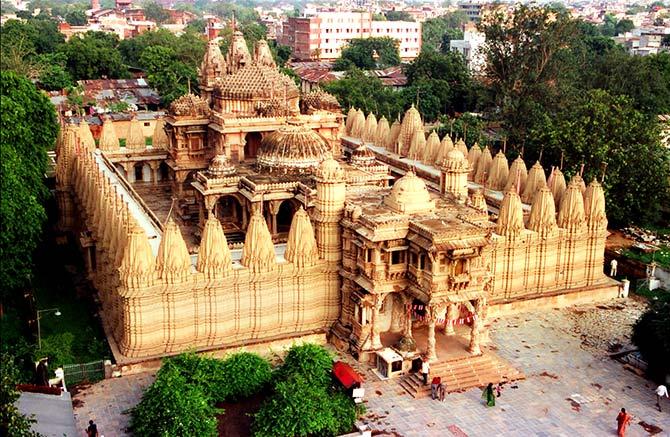 IMAGE: The Sheth Hutheesinh Jain Temple, near the Delhi Darwaza, was built in 1848 by the wife of a Jain merchant at the cost of Rs 8 lakhs. Photograph: Kind Courtesy Kalyan Shah/Wikimedia Commons.
For example, in 2001, the Taliban destroyed two 6th century, 150-feet statues of Buddha carved into the mountainside in the Bamiyan Valley in Afghanistan. The site has since received more than $4 million from UNESCO to help with reconstruction.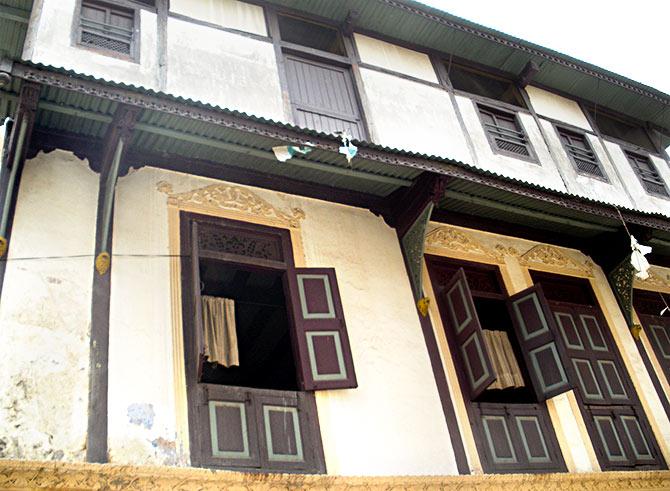 IMAGE: Pols of varying sizes, ie, varying numbers of homes, varying ornate-ness continued to be constructed in the old city right through till the 19th century. Photograph: Kind Courtesy Tarkik Patel/Wikimedia Commons.
By the way, the walled city will henceforth also be protected under the Geneva Convention against destruction or misuse during wartime.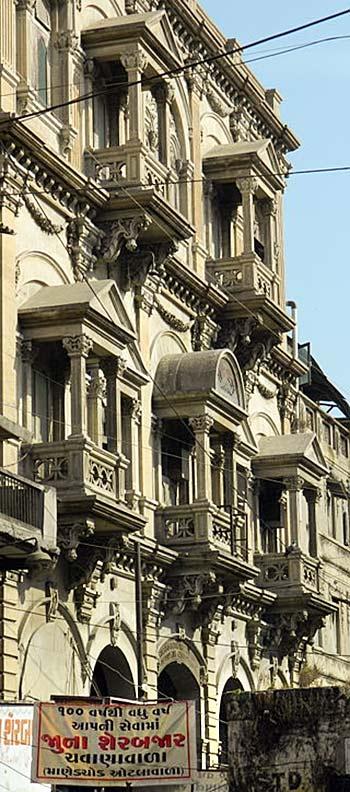 IMAGE: The old Ahmedabad stock exchange stands at Manek Chowk, one of the main squares in the old city. It was established in 1894. Photograph: Kind Courtesy Uwais/Wikimedia Commons.
Interestingly, another positive effect gleaned from heritage listed locations is the changed attitude of the locals. Research in Japan showed that 93 per cent of locals developed a greater attachment and affection to their hometowns, and became 'prouder' after the listing!

But is Ahmedabad ready for an exponential increase in tourism? Especially from overseas visitors.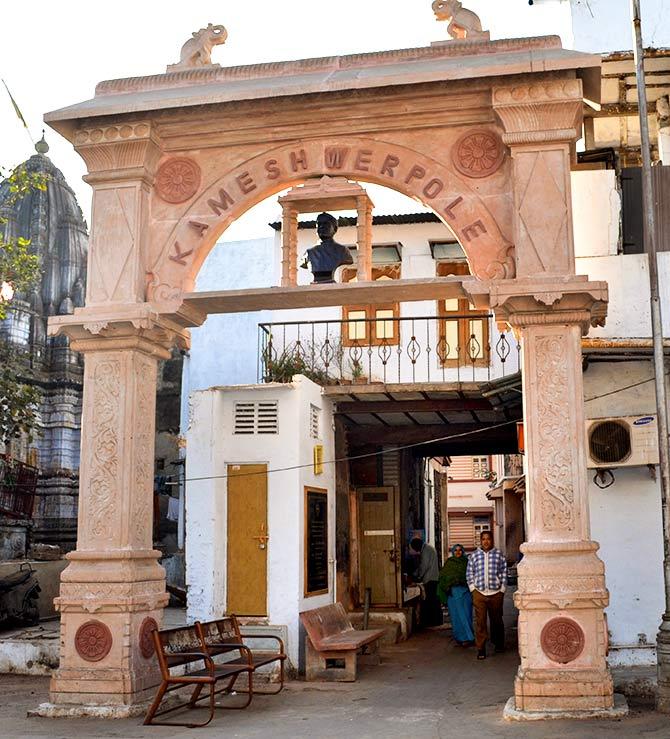 IMAGE: In all, the walled city today has 60,000 homes in 600 pols. Photograph: Kind Courtesy Tarkik Patel/Wikimedia Commons.
Remember, it is a dry city. That is surely going to be a major deterrent. The city will need to develop a 'tourism culture', a better equipped airport, many more hotels, wayside cafés, eateries, lots of casual dining options, hop-on-hop-off buses and precincts that will remain clean and hygienic.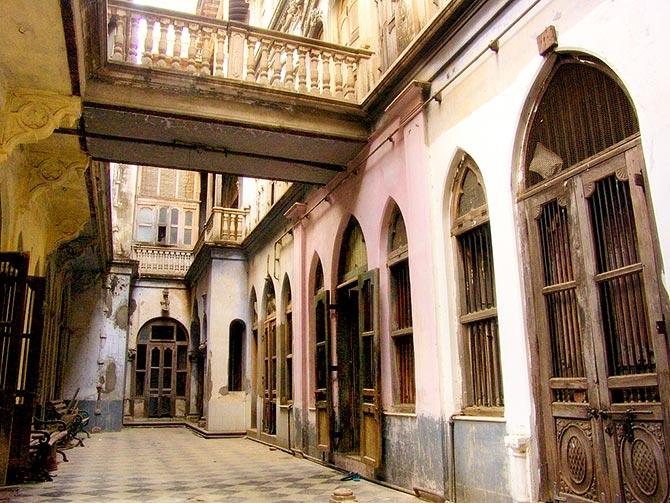 IMAGE: Some pols have just six homes and the largest has 3,000 homes. Some were large homes like this haveli which has 60 rooms. Photograph: Kind Courtesy Saad Akhtar/Wikimedia Commons.
Is Ahmedabad ready to be the brand the world now views it as?

Sandeep Goyal is an advertising and media veteran. He loves Ahmedabad.