After being rendered jobless post the nationwide lockdown, several autorickshaw drivers in Kalyan, Maharashtra, appeal to the prime minister and state authorities to consider them among daily wage labourers and include them in the relief package.
Rediff.com's Divya Nair reports.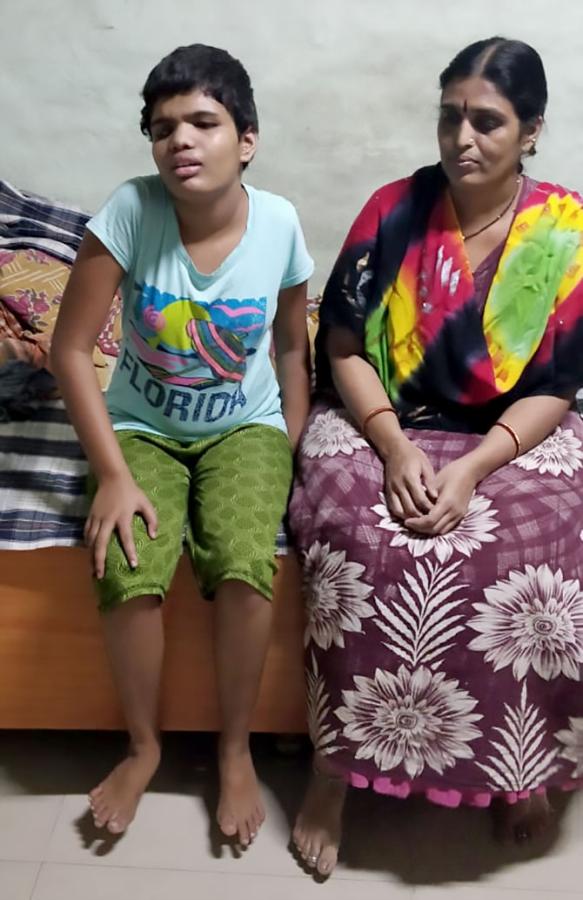 Four years ago, when Prime Minister Narendra Damodardas Modi announced on national television that all Rs 500 and Rs 1,000 currency notes would be invalid, it had caused huge inconvenience to several sections of the society.
Some time in 2017, E R Bhaan Raghunath Patil, who worked as a security guard at a housing society in Mumbra, a suburb in Thane district, had to resign his job because the apartment complex where he had worked for 27 years kept delaying his salary citing demonetisation.
Patil, who was 47 and did not have a formal education, could not afford to sit at home.
"I took a loan and put whatever savings I had to buy a rickshaw. After driving around for 12 to 14 hours, I would make Rs 500 a day out of which Rs 150 would be spent on fuel and maintenance," says the 51 year old from Kalyan whose eldest daughter Jhanvi, 14, is visually and mentally challenged since birth.
Since March 15, 2020, Patil is jobless and the family is struggling to keep up with daily expenses.
"My daughter doesn't have an Adhaar card, because for biometric, you need a retina scan and fingerprint ID, both of which are not possible to be recorded in Jhanvi's case. Without an Aadhar card, she cannot avail any facilities or services offered by the government," says Patil.
"She gets anxiety attacks and her medicines cost Rs 1,000 and above every fortnight. We used to send her to a special facility in Wada where she was taken care of for a monthly cost of Rs 5,000. But with the virus scare, they have sent her home and she is not comfortable here," says Jhanvi's mother, a homemaker.
"I have to pay rent and hafta for the rickshaw. My younger son's school fee is Rs 400 per month. If I am not allowed to ride a rickshaw, where do I get the money from?" asks the worried father.
Patil shares his many concerns in the video below:
Like Patil, as many as 25 families who live in Hirani chawl, Kumbhar chawl and Guma Patil chawls in Kalyan East are worried about how the lockdown, especially the next 21 days will affect the health and futures of their kids and families.
According to Bapu Chatur, vice-president, Rickshaw Drivers Owners Association, Kalyan East, the state government should try and include rickshaw drivers under the daily wage category and consider waiving off taxes on loans and announce relief on food and essentials so that no one starves and dies due to lack of jobs and incomes.
Watch him address the problems faced by families of rickshaw drivers in the video below: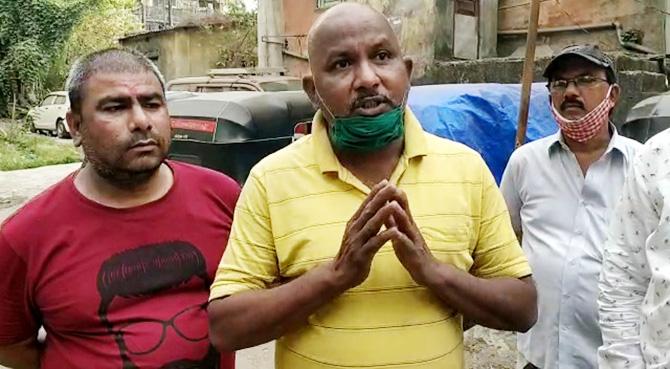 Sanjay Tukaram Pande, 47, above, has been riding a rickshaw for 22 years now. He has two sons -- the eldest is in first year of college pursuing a bachelor of financial markets degree, while the youngest is in Class 11.
"Ever since news of the virus was out, we have not been able to move out of our homes. One of our friends was beaten up badly by the constables and he is in the hospital. You can imagine how the family must be coping with these extra expenses," says Pande.
"First, they robbed us of our daily income. Then they stopped us from stepping out. How do they expect us to survive? We have loans to pay and expenses to meet. We are answerable to our families. They are dependent on us for food and basis needs."
"If the government doesn't do anything, we'll have no other option but to commit suicide. We may or may not die of corona. But we will die of hunger first."
Watch Pande appeal to the prime minister in the video below: