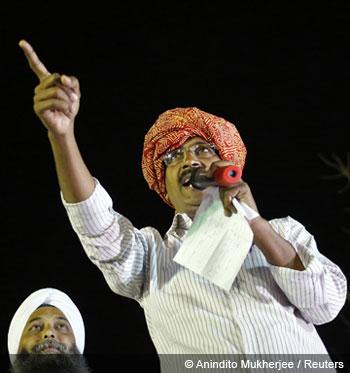 In Arvind Kejriwal's home turf, Kaushambi in Ghaziabad, the honeymoon with India's most famous aam aadmi is near its end. Archana Masih and Rajesh Karkera/Rediff.com listen in.
One afternoon last week we made our way to Girnar, the building where Aam Aadmi Party chief Arvind Kejriwal lived till recently.
In a cluster of grey buildings with names taken from India's great mountains and rivers -- Shivalik, Kailash, Girnar etc -- it is quiet in the Kaushambhi area of Ghaziabad.
On the ground floor behind a desk are building staff -- security, drivers, carpenters, a cook, an electrician -- the aam aadmi in the building where Kejriwal lived as an Indian Revenue Service officer, an activist, and won an election from.
Ramdaras Yadav is the first to speak. Kejriwal is a nice man, he made sure that a carpenter's son got a hospital bed when he was very sick, he says.
We ask if they think he will win again -- the reply is unexpected.
"Yahan par unko ek bhi vote nahin milega," says driver Kamlesh Mishra. ("He will not get a single vote here.")
"The support for him has greatly reduced. Haath se haath mila ke jhadu ko jitaya aur woh chhod ke chala gaya," says Ramjirao, who belongs to Ghazipur in Uttar Pradesh. ("We joined hands to make AAP victorious and they left the government.")
It is 3 in the afternoon. Most of the IRS officers and their families are indoors. The men talk about the time the building teemed with people and how they followed Kejriwal's meteoric rise.
Mishra complains that Kejriwal did not bid them goodbye when he moved out. "We hired three Scorpios to go and meet him on Holi and he did not meet us," says Mishra, the most vocal in the group.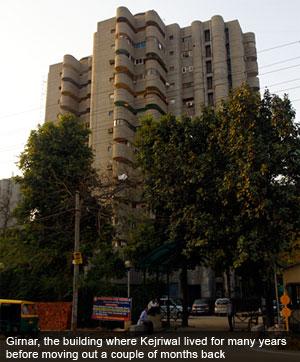 They feel Kejriwal blundered in not continuing as chief minister of Delhi. Only one person in the group, Ramdaras, stands firm in his support for Kejriwal. "The Congress and BJP did not allow him to function," he says, holding his ground.
Dr Bipin Mittal, Kejriwal's long-time friend who lives across the road, provides a personal clarification on the AAP leader's behalf.
"As far as people's complaints that he has forgotten them, I'd like to say that he has so many things to deal with. After he became CM, both my sons and I had dengue, he didn't call us. That doesn't mean he doesn't care about us! Not at all!" exclaims Dr Mittal.
The attacks on Kejriwal during the campaign... his car attacked... ink thrown on him... being punched and slapped.... Does that bother them? I ask the group in Kejriwal's building.
"Humara desh ka neta, joota se hi theek hota hai," says Ramjirao to a rousing guffaw. ("Our country's politicians get straightened only after shoes are hurled at them.")
"But he is still 80% better than other netas. Didn't you see when he asked for donations, in one day they he got 1 crore (Rs 10 million)," says Prem Kumar, a driver. "But he does not have the support he had before."
***
"Aap question put up kijiye mujhse. Silent. Keep silent. Keep to silence."
In another part of Ghaziabad, it is Saturday night and some residents are sitting down for a drink. A row of tables and chairs are laid out under an open night sky, with an assortment of food being sold from make-shift shops -- momos, fried chicken, omelettes, fish...
Ghaziabad's most famous resident, Arvind Kejriwal, is the topic of discussion.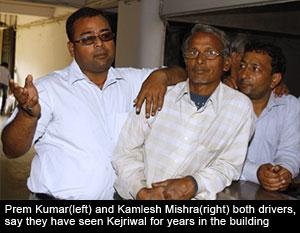 "Woh person A1 hain, soch bhi uski acchi hain. Lekin woh practical nahin hain," says Aman Kumar Sharma. ("He is an A1 person, but is impractical.")
"Aam janta sochne lagi ki yeh banda kuch karega par usne resign maar diya," Aman adds. ("People thought he'd bring change, but he resigned.")
"I support him even today. Kejriwal wanted to do something different in society. Mera dil toota tha us din jab resign kiya tha un ne." ("He broke my heart the day he resigned.")
Sitting with a bunch of friends, he says he was impressed with Kejriwal when he told people that he wasn't hungry for the chief minister's chair or when he said that every person is the prime minister of this country, that people should rule the country...
The young men discuss the various reasons behind Kejriwal's resignation -- how the Congress did not let him function but say they don't know the real reasons behind his resignation.
"This guy is a great Kejriwal supporter and he also doesn't know why," says Bobby Chauhan, a textile designer, pointing to a friend sitting beside him.
"He won't get many seats from Delhi now. He did a big blunder by resigning. He should have suffered the CM's post, he had so much promise," says Chauhan.
"Harbarahat. Jaldibazi. Banda naya hain, confused hain." ("He was hasty. He is new and confused.")
I is Kejriwal's foray into national politics that hasn't met with their approval. He was riding on the wave of unprecedented people's support, they feel, fighting for their causes and then suddenly just like that he parachuted out of Delhi.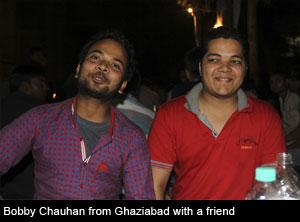 "He went to Kashmir. To Lucknow -- pehle Dilli ka toh kuch kare?" says Sunny Singh. ("Shouldn't he have done something for Delhi first?")
Ghaziabad is home to AAP stalwarts Kejriwal, Manish Sisodia and Kumar Vishwas, but the group of young men we met that Saturday evening were disillusioned by the man they saw as a hero just a few months ago.
"Khatam hai Kejriwal (Kejriwal is finished)," declares another young man, "The Sardar (Prime Minister Manmohan Singh) did nothing. It is because of Pakistan, I am supporting Modi. When you hear his speech, you feel bande mein kuch hain."
"Har Mahadev Har Har Modi."
Images: Main Photograph: Arvind Kejriwal addresses his party supporters. Photographs from Kejriwal's building and elsewhere in Ghaziabad: Rajesh Karkera/Rediff.com
Also Read:
The real Indian voter is at the chai, halwai and tailor shop