Sheela Jaywant invites you to explore the GoaWriters's interesting look at the lockdown.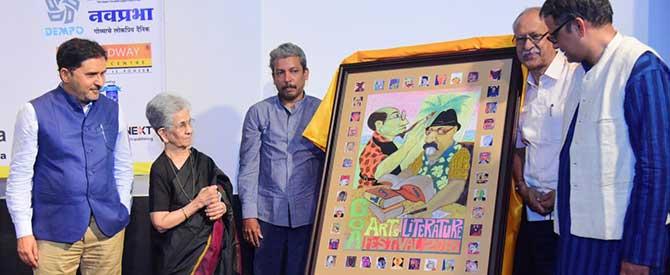 A bunch of writers compulsorily confined to their homes have started The Lockdown Journals, an entertaining and philosophical blog with various genres and topics related to the planet's present illness.
There are haibun (a combination of prose and haiku, it originated in Japan) and haiga (Japanese style of painting) describing nature, easy-to-read essays that bring out the effects of solitude on human lives, humorous pieces recording the humdrum of daily domestic chores, contemplative pieces, memories of other curfews, the consequences of it on education, etc.
The age group of the writers ranges from the twenties to the nineties.
The blog has sown the seeds of Pandemic Literature.
The members of the extraordinary GoaWriters live on different continents and upload their work in different time zones.
GoaWriters is an approximately 15-year-old informal group of writers (of course!) -- some well-known, others aspiring -- who meet regularly online and physically a couple of times a year.
It is an important part of the annual non-commercial and charming Goa Art and Literature Festival (GALF) held every December at the International Centre, Goa.
Past members have included Amitav Ghosh, Jerry Pinto and Wendell Rodricks.
Present members include Damodar Mauzo, Dr Isabel S R Vas, Vivek Menezes, Victor Rangel-Ribeiro and another 46 or so.
To read The Lockdown Journals is like taking a trip through some of the best minds that have any link to this tiny state on India's west coast.
One young college professor describes her online classes: '... aren't as easy as the world says, not when you live in a village, in one corner of the state, in a third world country.
'...I (have) never seen the 4G symbol on my phone though I'm paying for it, but the perpetual shift from E ...to 2G has me fuming constantly...
'Day after day, my 45 students and I gather in front of our computers, fingers clicking away, waiting for our cameras and microphones to connect.
'Test. Check. Can you hear me?
'We do a roll call to see if all are audible and just as we're about to begin class, I glimpse a red cross over Claire's name.
'Her picture is visible, mouth still moving but no sound emerges.
'Claire, can you hear us?
'Radio silence greets me back.
'Ma'am, I think her microphone isn't connected, a student chirps in.
'I ask him to call her offline and guide her through the process.
'Done ma'am.
'But Claire remains incommunicado.'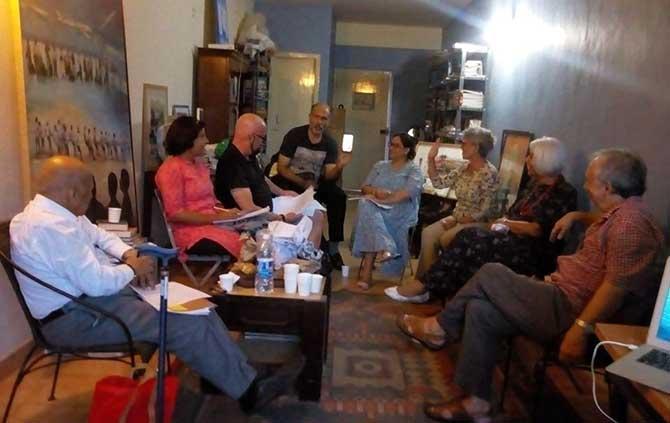 A poet tells us about the effect of the lockdown on her grandchildren:
'Expressions that had
'Lost all meaning
'Were tested by new tongues
'And fell upon
'Little ears to pick up
'And learn.'
One member's husband 'locked down' due to (viral?) meningitis when the country did it for another virus.
Whilst fellow Indians ran around for groceries, she chased prescriptions from the ICU to the pharmacy.
One doctor said to her '...We in India are dancing over Corona, when there are a million more dangerous viral infections floating around in our country.'
Another writer's metaphor is striking:
'The grain of wheat,
'It fell into the ground
'They then took it
'And wrapped it in a shroud
'And locked it down
'In a new hewn tomb.
'To keep it safe.
''Cept that the grain
'Had other plans.'
Evolving new routines and quarantine lifestyles, coping with health issues, lack of money, loneliness along with de-cluttering, playing indoor games, listening to music, empathising with and helping stray animals or just observing and bonding through virtual journeys have been typed and uploaded on
https://thelockdownjournals.wordpress.com.
These people are lovers of the written word.
GoaWriters has held workshops by the prize-winning author-member Venita Coelho, artist Savia Viegas, writer Ben Antao, music-historian Victor Rangel-Ribeiro, keeping its activity level high over the years.
The late Wendell Rodricks mentioned in The Green Room that it was a challenge posed by the GoaWriters that triggered off his memoir.
In 2011, GoaWriters published an anthology of original writing by members, Inside/Out – New Writing from Goa, edited by Helene Derkin Menezes and Jose Lourenco.
For its launch, the book was enveloped in banana leaves, encased in yeast-fermented dough and baked.
Amitav Ghosh cut open the edible wrapping to get to the book.
The picture on the cover of Inside-Outside was apt: bread coming out of an oven.
Could you expect any less from highly creative, maverick folk?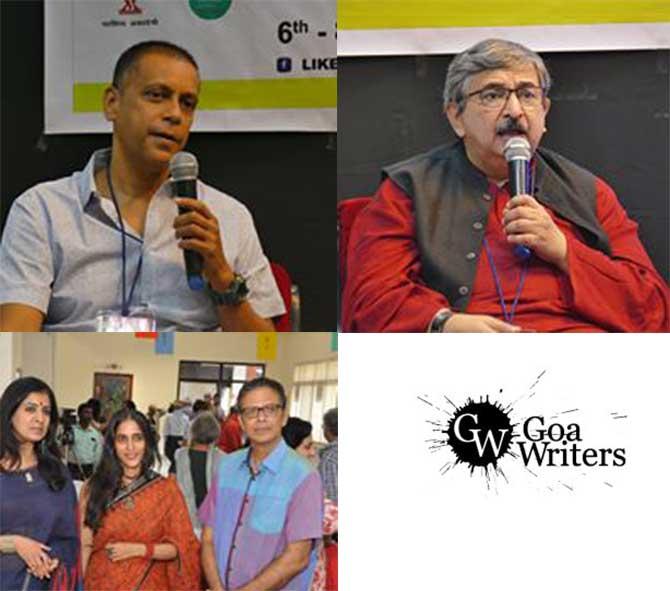 The writing journeys of these writers -- from an aeronautical engineer to a professional mountaineer to a helicopter pilot -- has been documented in From Mind To Keyboard, published by Goa 1556 with a grant from the government of Goa.
This is the tenth year that the GALF will be held, COVID-19 permitting.
It is known for including lesser known but exceptional writers from the north east, Kashmir, Pakistan and Bangladesh.
The atmosphere is non-commercial and intimate.
Noted writers like Teju Cole, U R Anantmurthy, Gulzar, Pavan Kumar Varma, Sethu Madhavan and Landeg White have graced GALF events in years past.
GoaWriters's members are skilled in varied genres: travel writing, commentating on current topics, humour, theatre, short stories, writing for children, poetry of all kinds, food, anything...
The only criteria for membership are: you must want to improve your writing skill and be, in some way, connected to Goa.
It's a rare example of writers coming together with no office-bearers, no structure, no regulations.
They come together 'consistently and enthusiastically', said senior member engineer Jose Lorenco, 'in a genuine spirit of camaraderie, to spur themselves and their literary comrades in the quest of greater writing'.
Their latest exercise is the Covid Alphabet, in which each writer has expressed his/her thoughts through a chosen letter.
For example, a part of what describes the letter Z says:
'...The last letter. The end. Like the sunset, or dessert, or a graduation ceremony.
'A memorable letter.
'Definitive.
'You can't end an entire alphabet with 'why', can you?
'Unless you're listening to The Last Post playing at a sad, quiet gathering?
'Or the chanting of shlokas at an antyesthi?
'Zee or Zed, we need to reconsider its usage.
'Like, when are we going to see the Z of the Covid Lockdown?
'Or, will there ever be a Z of the Covid Lockdown?
'Or is this the Z era of Mankind? Like that.'
The Lockdown Journals is worth visiting to see how GoaWriters is documenting the times in an entertaining and effective way.
---
Sheela Jaywant is a humour columnist (Navhind Times, Gomantak Times, Goa Today), feature and short story writer.