'The government has made good arrangements to tackle this situation.'
'At the ITBP camp, doctors have arrived from different hospitals from every state of India.'
'They have training on how to deal with suspected coronavirus cases.'
'So I am sure India will handle the coronavirus situation well.'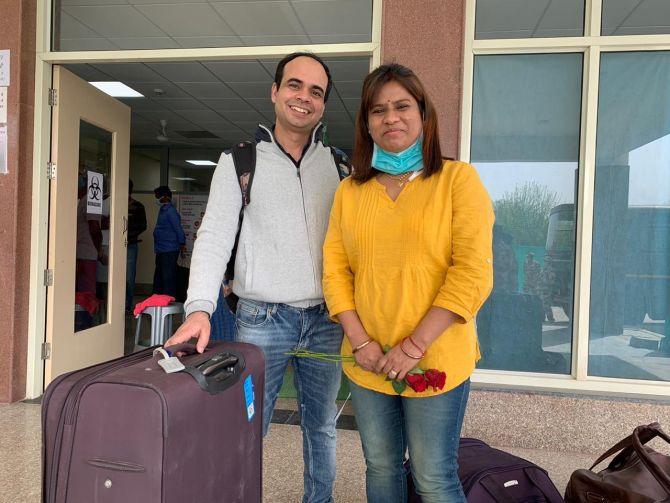 Ashish Yadav, a resident of Etah in Uttar Pradesh, is an associate professor at the Wuhan Textile University in Wuhan city, China, epicentre of the coronavirus pandemic.
He was trapped along with his wife Neha in Wuhan due to a medical emergency after they missed the Air India flight arranged by the government to evacuate Indians.
Ashish was stuck in China for a month after that till the government sent a special Indian Air Force plane to evacuate all Indians on February 27, 2020.
Though he landed in India with his wife Neha and no symptoms of coronavirus was found on them, they were still quarantined for 14 days at the Indo-Tibetan Border Police's quarantine facility in Chhawla, Haryana.
Along with Ashish there were other 76 Indians at the camp, apart from 23 Bangladeshis, one American national, two Chinese and four Myanmarese and five Maldivian citizens.
On Friday, March 13, 2020, Ashish and his wife Neha were discharged from quarantine after testing negative. Soon after he left the facility, Ashish Yadav spoke to Rediff.com's Syed Firdaus Ashraf about the experience of being cooped up among coronavirus patients and how not to catch the deadly virus by leading a quarantined life.
---
The life of a coronavirus patient can be described only in one word: Depression.
The patient is kept in isolation. He cannot talk to anyone. And even if you don't carry the coronavirus and are still quarantined as a suspect, you are sure shot going to go in depression.
If you don't have a phone or Internet access, then life will be even more of a hell.
As far as food is concerned, you can eat anything cooked at home.
Our schedule at the ITBP outpost was that we had to get up at 6.30 am and between 7 and 8 am we used to get our morning tea. And then between 8.30 am and 9.30 am we used to get breakfast.
After 9.30 am we used to go for medical check-up and that used to last for one hour. Our blood pressure and temperature were checked.
Between 12 noon and 1 pm we used to get lunch, after which we could go for a siesta.
At 3.30 pm we used to get either tea or some snacks depending on availability.
After that we were free and in this free time we used to watch movies or chat with friends on the Internet as we were given wi-fi access. And between 8 and 9 pm we used to go for dinner.
This was our daily schedule.
Paneer was a fixed food item on the menu for sure. Either we used to get mattar paneer, shahi paneer or mushroom paneer. And for lunch it used to be one vegetable or dal. The choice of vegetables changed every day.
The most fearsome thing was the testing of body temperature. One boy who was with us, his body temperature rose suddenly and so was immediately moved to the Safdarjung hospital in Delhi for three days.
All his tests were re-done at Safdarjung hospital and luckily it came out negative. The same was the case with all of us who came from Wuhan.
What I have learnt from my stay at the ITBP camp is that the first precaution we should take is to keep away from any suspected patient.
To protect oneself one must use a mask to cover the mouth, and if you don't have a mask then keep a handkerchief.
If a person carrying coronavirus sneezes or coughs, if her/his spit falls on you then you will get infected.
One way to prevent this is if you drink morning tea then you can put ginger in it or kaali miri in it which makes your immune system strong. This can stop coronavirus from spreading to some extent as tea with ginger makes your immune system stronger.
The most dangerous way of spreading of coronavirus is metal. If a coronavirus patient holds a metal door handle the coronavirus attaches itself to it.
Coronavirus can easily stay alive longer on any metal. Therefore, whenever you touch any metal object, then you must wash your hands instantly, use a sanitiser or wash your hands with soap. Train metal doors and handles are also very dangerous.
There is no vaccine to cure, but the HIV vaccine can help. There is no guarantee, but China has done so and managed to save some patients, I have learnt.
The worst part is that one patient can spread the virus to at least 10 people and those 10 people can in turn spread it to 100 and those 100 to another 1,000 and so on.
Therefore, prevention is better than cure so ensure that you follow all precautions to avoid contacting coronavirus.
We were told by the ITBP that if any of us had been found positive, then all of us would have to stay in quarantine for 14 days more.
We all were very scared of this. If anyone sneezed by mistake then there used to be a fight. Because no one wanted to add another 14 days because of just one patient.
There were three South Indians who sneezed and they were taken away immediately. Again, thankfully, it was found out that it was because of the little weather change and therefore they were sneezing.
At the end of it we all became friends. We now have friends the world over right from Myanmar, Maldives to China because we were on that floor at the ITBP hospital.
I am planning to go back to China at the end of April, to Beijing. I am not tense about it because life in Beijing is normal and I am getting scared in India.
Just now, when I sat in the car, the driver saw us wearing maskS and he got scared because we had just come out of the ITBP hospital. We immediately took our masks off. If not, I felt he would have asked me a lot of questions about why we were wearing the maskS.
I feel India is fully prepared to take on coronavirus. Right now I have come to know that at the ITBP camp there are 1,800 beds that have been made available.
There are Indians who are going to come from Iran and around 5,000 of them are coronavirus suspects. The government has made good arrangements to tackle this situation.
At the ITBP camp, doctors have arrived from different hospitals from every state of India. They saw our camp and saw what kind of systems are in place to tackle coronavirus.
They have got first-hand information and training on how to deal with suspected coronavirus cases. So I am sure India will handle the coronavirus situation well.
Today I am leaving the ITBP centre and going back home, but I have been told by doctors that I must keep away from my ageing parents for 14 days because coronavirus is lethal for old people.
I am happy that finally I will be out in the open air and breathe rather than live a quarantined life for nearly almost two months.