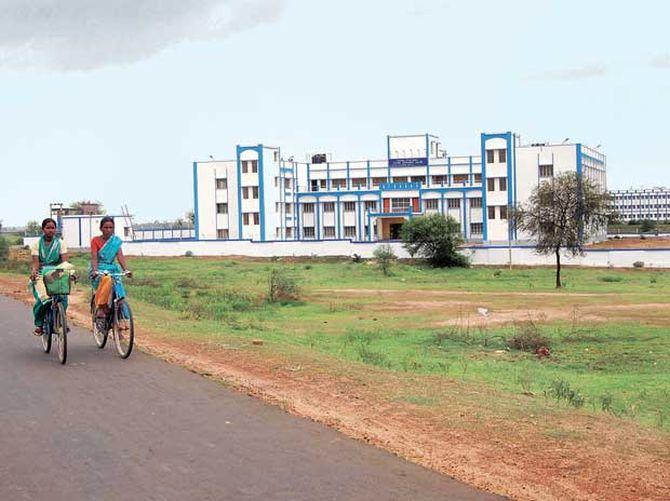 About 170 km from Kolkata, it is mid-afternoon in Lalgarh and the Kansabati riverbed is bustling with activity. It is a mega construction site, with cranes and trucks roaring and workers carrying head loads of mud. The construction of the bridge over the Kansabati is on at full momentum and the administration intends to complete the work by next year.
"Once completed, it will reduce the distance between Lalgarh and Jhargram, the sub-divisional headquarters, by over 50 km," says Abhijit Samanta, block development officer of Lalgarh. "The bridge was proposed and sanctioned a decade back, but work started only in 2014, under Didi's (Chief Minister Mamata Banerjee's) government," says 60-year-old Nijoy Sen.

Lalgarh, a village in the West Medinipur district of West Bengal, is part of Jangalmahal, a region in the south-western part of the state. This area had become the nerve centre of Naxal insurgency in West Bengal but now represents a different place. Sen calls it a place "where people don't experience fear".

A few kilometres from the riverbed is the 8-km long concrete road between Lalgarh and Netai, which Banerjee had announced immediately after she came to power. Infrastructure development is on at full pace across Lalgarh. "Being from the city you would have been reluctant to visit Jangalmahal. But this is a different Jangalmahal today, there is no fear now and we are walking towards progress" says 45-year-old Nidhiram Mahato who had seen the tumultuous years from close quarters.

Lalgarh had made headlines in 2008 when a motorcade with former West Bengal Chief Minister Buddhadeb Bhattacharjee and Ram Vilas Paswan, then union minister of steel, was attacked by Naxals. They were returning after attending the foundation stone-laying ceremony of JSW Bengal Steel's proposed plant near Salboni. The state hit back with all its might on the residents of Lalgarh, mostly Santhal tribals, who were indiscriminately put behind bars with the Naxal tag attached to them. Historically, the Santhals were never silent spectators to oppression. Under Chhatradhar Mahato, a local leader, they formed a huge resistance under the aegis of the People's Committee Against Police Atrocities.

A region bereft of basic necessities became a fertile ground for a turf war between the Naxalites and Banerjee. The residents, disturbed by years of violence and bloodshed, chose Banerjee. Today, the Trinamool Congress has a complete monopoly over the region. The government has also responded by favourably rewarding these districts with a host of development packages. Hunger, universally a reason which leads to armed struggle, has been fought with a Rs 2-per-kg rice scheme. Recently, the government exempted electricity bills to the amount of Rs 20 crore for the Jangalmahal area. "From November 2008 to July 2014, the bill has been exempted as it became impossible to send bills when the Naxal insurgency was at its peak," Ujwal Rai, West Bengal State Electricity Board divisional manager for Jhargram, says.

But the monopoly of TMC, people claim, has led to discrimination. "It's the usual story playing out. You will be treated based on the colour you wear, none from this village got work despite having job cards," says Naresh Digar of Gamaria village. According to official data, while 3,932 households have been issued job cards, only 1,967 have been allotted work. "I can't give you an exact account as we are still making the accounts, but the Mahatma Gandhi National Rural Employment Guarantee Scheme is a success here," says a government official.

The politician in Banerjee was quick to identify the committee members as potential vote bank. "The erstwhile rebels were soon welcomed to mainstream with a condition applied. Amra sobai Trinamool (We are all Trinamool)," says Digar who was also a former panchayat member.

"Yes, we took up arms, our area was light years away from development and it has paid off. Sangram (struggle) brought the right people to power, banished the harmads (communist cadres) and we are now leading a normal life," Manaj Mahato says. Mahato is now a builder who has been contracted by the state government to build low-cost houses for a sponsored scheme.
Image: Concrete roads between districts in Lalgarh have helped take development to remote areas